Search our Entire Diesel Engine and Machinery Equipment Parts Catalog
Use the search field to find the Diesel Engine parts, Machinery Equipment, and spare parts in our part list. Most parts are in stock and could be ordered for either FOB from Toronto, Canada, or Delivered to the final destination. 
Contact us if you have any questions or if the parts you are looking for are not on the list.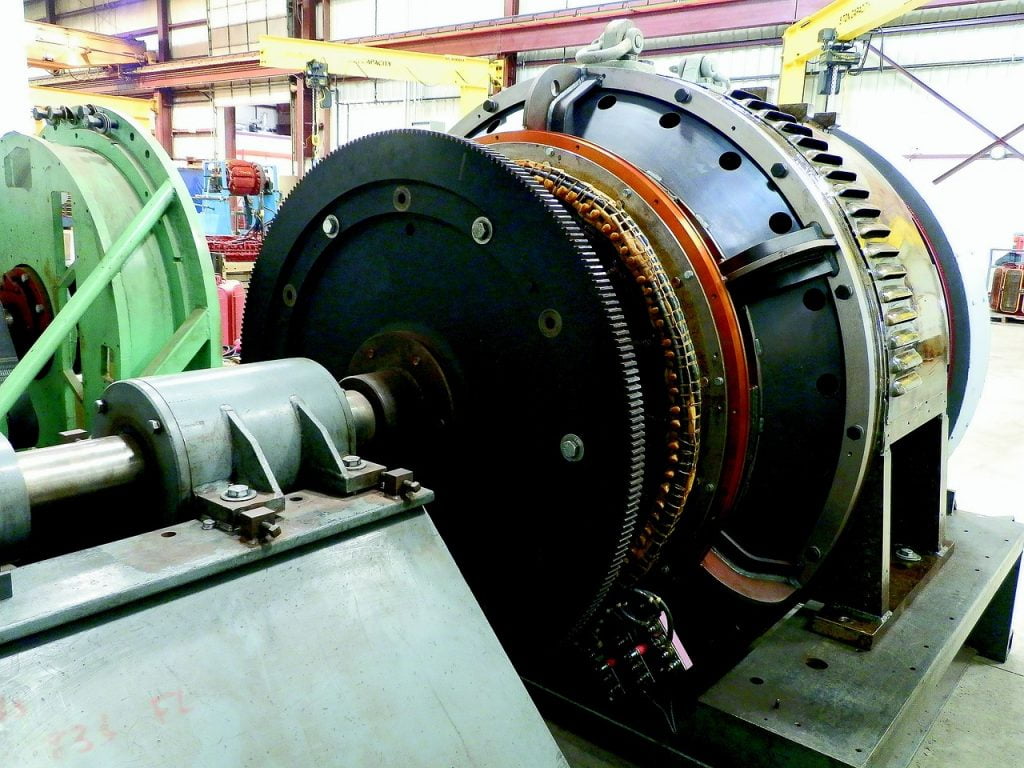 Equipment and Engine Parts Catalog
| Part Number | Name | Categories |
| --- | --- | --- |
| P29-14M-55 | SHEAVE- MOTOR QT POWER CHAIN | Oil and Gas Parts Equipment |
| RC100-3COT | CHAIN- 1-1/4 COTTERED TRIPLE ROLLER | Oil and Gas Parts Equipment |
| 648408409 | SEAL- INBOARD- FOR 250 CENTRIFUGAL PUMP | Oil and Gas Parts Equipment |
| 648414308 | SEAL- MECHANICAL- FOR 6X8 250CENTRIFUGAL MAG PUMP PN: 648414308 | Oil and Gas Parts Equipment |
| 10399-46-1A | KIT- SEAL- FOR 250 CENTRIFUGAL PUMP PN: 648408102.00 | Oil and Gas Parts Equipment |
| A648408359 | SEAL- OUTBOARD- FOR 250 CENTRIFUGALPUMP PN: 648408359 | Oil and Gas Parts Equipment |
| 648408300 | SEAL- INBOARD- FOR 250 CENTRIFUGAL PUMP PN: 648408300 | Oil and Gas Parts Equipment |
| 2011872 | SEAL-OIL STOP HEAD | Oil and Gas Parts Equipment |
| 260-0902 | SEAL | Oil and Gas Parts Equipment |
| 262-7224 | SEAL | Oil and Gas Parts Equipment |
| 77-47 | SEAL- OIL | Oil and Gas Parts Equipment |
| 205-8 | SEAL | Oil and Gas Parts Equipment |
| O100 | OIL SEALREF# 77-47 | Oil and Gas Parts Equipment |
| M100-8 | MOTOR SEAL | Oil and Gas Parts Equipment |
| 23018958 | RING- SEAL | Oil and Gas Parts Equipment |
| 60AB502 | RACE- OIL SEAL | Oil and Gas Parts Equipment |
| 1625-234 | SEAL- BACK-UP- DISCHARGE CONNECTION | Oil and Gas Parts Equipment |
| 28-P-212 | SEAL-OIL- 1-3/4″ I.D. X 2-9/16″ O.D. | Oil and Gas Parts Equipment |
| 37505250 | SEAL | Oil and Gas Parts Equipment |
| 75AB508 | RACE- OIL SEAL | Oil and Gas Parts Equipment |
| LPD6528 | SEAL | Oil and Gas Parts Equipment |
| 1625-224 | SEAT- VALVE- C/W SEAL | Oil and Gas Parts Equipment |
| 7006B110 | SEAL | Oil and Gas Parts Equipment |
| 5577310 | Ring Filter Seal (3-4 Wks) | Oil and Gas Parts Equipment |
| 25327 | Oil Seal 3-7/16″ x 4-1/4″ x 3/8″ | Oil and Gas Parts Equipment |
| 28-P-211 | Oil Seal | Oil and Gas Parts Equipment |
| 06-001-857 | Seal Rotor | Oil and Gas Parts Equipment |
| 60AB108 | SEAL- OIL RACE | Oil and Gas Parts Equipment |
| 53 x 2894 | Seal | Oil and Gas Parts Equipment |
| 473239 | Seal | Oil and Gas Parts Equipment |
| 53 x 3228 | SEAL | Oil and Gas Parts Equipment |
| 8700A616 | SEAL- RING 0 OPN.80TX792 | Oil and Gas Parts Equipment |
| 8700A617 | SEAL- OIL CR37390(80TX427) | Oil and Gas Parts Equipment |
| 7006B146 | SEAL OPN.37505250 | Oil and Gas Parts Equipment |
| 7006B457 | SEAL- OIL 6-1/2″ X 5″ X 12″ PN.50148-CR | Oil and Gas Parts Equipment |
| 7004B063 | SEAL- OIL t# 57521CR | Oil and Gas Parts Equipment |
| 13585 | SEAL(Replaces LPD6528) | Oil and Gas Parts Equipment |
| 80TX905 | SEAL 35039 | Oil and Gas Parts Equipment |
| 0626554D | SEAL HOUSING | Oil and Gas Parts Equipment |
| 80TX903 | SEAL(PARKER) | Oil and Gas Parts Equipment |
| 80TX904 | SEAL(PARKER) | Oil and Gas Parts Equipment |
| 80TX643 | SEAL | Oil and Gas Parts Equipment |
| 7006B309 | SEAL | Oil and Gas Parts Equipment |
| 416380 (CR43691 | OIL SEAL – RIGHT ANGLE DRIVE K600 RIG KREMCO | Oil and Gas Parts Equipment |
| 53X2297 | OIL SEAL–HYDROMATIC BRAKE-K-600 RIG-KREMCO | Oil and Gas Parts Equipment |
| YS-6870 | SEAL- OIL | Oil and Gas Parts Equipment |
| 1625-B-101 | SEAL- CARRIER | Oil and Gas Parts Equipment |
| 1625-338 | SEAL-O-RING- COVER PLATE | Oil and Gas Parts Equipment |
| 30124575 | SEALS- ACCUM. 6″ | Oil and Gas Parts Equipment |
| 72219 | SEAL-PISTON (14079) | Oil and Gas Parts Equipment |
| 108894-G17 | SEAL- ROD/GLAND SET | Oil and Gas Parts Equipment |
| 108894-L25 | SEAL-LIP PISTON (16701-3- 87018-2) | Oil and Gas Parts Equipment |
| 91250-1 | SEAL- OIL- (VITON) STD. BORE. TDS | Oil and Gas Parts Equipment |
| 77039 | SEAL-LIP- 8.25 X 9.5 X .62 | Oil and Gas Parts Equipment |
| 68-630-955 | SEAL- OIL- LOWER | Oil and Gas Parts Equipment |
| 7006B082 | ROTOR SEAL (SAME AS 1625116 & 7006B143) | Oil and Gas Parts Equipment |
| 1625B405 | SEAL CARRIER- PONY ROD | Oil and Gas Parts Equipment |
| 60AB507 | RACE-OIL SEAL | Oil and Gas Parts Equipment |
| 7006B010 | ROTORSEAL- SINGLE PASSAGE | Oil and Gas Parts Equipment |
| 6001983 | 250-094-002 Deublin Rotor Seal | Oil and Gas Parts Equipment |
| 30362/005 | SEAL RING RETANER RING | Oil and Gas Parts Equipment |
| L40 | LIP SEAL | Oil and Gas Parts Equipment |
| 7006?010 | Rotor Seal | Oil and Gas Parts Equipment |
| 7006B011 | Oil Seal | Oil and Gas Parts Equipment |
| 7006B019 | Oil Seal | Oil and Gas Parts Equipment |
| 7006B075 | Seal- Oil | Oil and Gas Parts Equipment |
| 7006B020 | Seal- Oil | Oil and Gas Parts Equipment |
| 68-630-715 | SEAL- OIL | Oil and Gas Parts Equipment |
| R2067 | O-ring- viton 20×1.5 F/Bauer air compressor on hydrocyclone | Oil and Gas Parts Equipment |
| 8143446 | Seal O-Ring | Oil and Gas Parts Equipment |
| 28-P-240 | O-RING | Oil and Gas Parts Equipment |
| 2455 | O-Ring Unable To id | Oil and Gas Parts Equipment |
| 7006B162 | O-RING (2-214) | Oil and Gas Parts Equipment |
| L300617 | O-RING | Oil and Gas Parts Equipment |
| 00SE-2-115 | O-RING 2-115 | Oil and Gas Parts Equipment |
| 00SE-2-235 | EXT. PIS. O-RING | Oil and Gas Parts Equipment |
| 80TX800 | O- RING | Oil and Gas Parts Equipment |
| 80TX756 | O- RING | Oil and Gas Parts Equipment |
| 2228 | O-RING | Oil and Gas Parts Equipment |
| 25309 | O-Ring 8-1/4″ ID x 3/16″ C.S. | Oil and Gas Parts Equipment |
| 346 | O-RING 4-1/2″ X 4-1/8″ X 3/16″ | Oil and Gas Parts Equipment |
| 51300-425-B | O-RING (19550.88) | Oil and Gas Parts Equipment |
| 51300-381-B | O-RING | Oil and Gas Parts Equipment |
| 51300-273-B | O-RING | Oil and Gas Parts Equipment |
| 51300-038-B | O-RING | Oil and Gas Parts Equipment |
| 99-607-501 | O-Ring | Oil and Gas Parts Equipment |
| 1625-232 | O-RING | Oil and Gas Parts Equipment |
| 1625-235 | O-RING | Oil and Gas Parts Equipment |
| 568243/050 | O-RING | Oil and Gas Parts Equipment |
| Y58-21-43 | O-RING | Oil and Gas Parts Equipment |
| 67755193 | SHAFT- SHIFT- DISCONNECT | Oil and Gas Parts Equipment |
| A646490557 | SHAFT- FOR 5X6 250 CENTRIFUGAL PUMP PN: 646490558 | Oil and Gas Parts Equipment |
| 8251762 | SHAFT | Oil and Gas Parts Equipment |
| 139X1291 | Shaft & Gear – Drive | Oil and Gas Parts Equipment |
| 139X1292 | Shaft & Gear – Idler | Oil and Gas Parts Equipment |
| 8201602 | SHAFT .. TERMINAL – | Oil and Gas Parts Equipment |
| 8069697 | SHAFT LINK | Oil and Gas Parts Equipment |
| 8028460 | SHAFT ROKER ARM | Diesel Locomotive Parts |
| 8028361 | Stubshaft | Oil and Gas Parts Equipment |
| 8028790 | Lever Trip Shaft | Oil and Gas Parts Equipment |
| 60-MB-702 | BRAKE SHAFT ASSEMBLY . | Oil and Gas Parts Equipment |
| 8700A062 | SHAFT- INPUT | Oil and Gas Parts Equipment |
| 0618833D | Shaft | Oil and Gas Parts Equipment |
| 75AB505 | SHAFT- INPUT | Oil and Gas Parts Equipment |
| 75AB509 | SHAFT- OUTPUT | Oil and Gas Parts Equipment |
| 8700A423 | DRIVE SHAFT ASSEMBLY .-TUBE TYPE- SIZE: 58-1/2″ F-C- SERIES- 1810 | Oil and Gas Parts Equipment |
| 60-MR-774 | SHAFT ASSEMBLY .- REAR | Oil and Gas Parts Equipment |
| 75-MS-501 | SHAFT | Oil and Gas Parts Equipment |
| 60-MS-101 | Shaft Main Drum | Oil and Gas Parts Equipment |
| 75-2MB-302 | BRAKE SHAFT ASSEMBLY | Oil and Gas Parts Equipment |
| 06-037-050 | Shaft | Oil and Gas Parts Equipment |
| 8700A615 | SHAFT OUTPUT 0619800F | Oil and Gas Parts Equipment |
| 55-SB-717 | LINK LIVE END | Oil and Gas Parts Equipment |
| 75-SB-422M | BRAKE SHAFT ASSEMBLY | Oil and Gas Parts Equipment |
| 75-SB-400 | STUB SHAFT | Oil and Gas Parts Equipment |
| 0628298D | SHAFT | Oil and Gas Parts Equipment |
| 0626561D | SHAFT | Oil and Gas Parts Equipment |
| 0628577D | SHAFT | Oil and Gas Parts Equipment |
| 60-MB-717 | LINKS-BRAKE SHAFT | Oil and Gas Parts Equipment |
| 60-MR-778 | SHAFT ASSEMBLY .- FLATFORM | Oil and Gas Parts Equipment |
| 98217-CS-405 | SHAFT- 4-1/4″ DIA. X 6-5/8″ | Oil and Gas Parts Equipment |
| 60-MR-767A | Shaft Assembly- Brake Lever | Oil and Gas Parts Equipment |
| 60MR767A | SHAFT ASSEMBLY .- BRAKE LEVER | Oil and Gas Parts Equipment |
| 74195 | Shaft- Motor- 6600/6800 Kelly | Oil and Gas Parts Equipment |
| 7594 | SHAFT -7838 STANDARD BRAKE | Oil and Gas Parts Equipment |
| 6047091 | SHAFT- BRAKE | Oil and Gas Parts Equipment |
| IGB102 | ALLISON SHAFT | Oil and Gas Parts Equipment |
| IGB116 | ALLISON SHAFT | Oil and Gas Parts Equipment |
| 6039093 | SHAFT-TRANS SHIFTER | Oil and Gas Parts Equipment |
| 6038407 | Tachometer Flexible Shaft ASSEMBLY | Industrial Parts & Misc |
| TDACCB206 | DRIVE SHAFT BEARING | Oil and Gas Parts Equipment |
| BS S32 34 | Stub Shaft (p/n 6-53-4105) | Oil and Gas Parts Equipment |
| 10-300-030 | JACKSHAFT | Oil and Gas Parts Equipment |
| 06-044-020 | SHAFT- OUTPUT | Oil and Gas Parts Equipment |
| 06-027-069 | CLUTCH- OUTPUT SHAFT | Oil and Gas Parts Equipment |
| 06-036-021 | SHAFT- #3 | Oil and Gas Parts Equipment |
| 6835755 | SHAFT- OUTPUT- FOR TRANSMISSION- CATSA-1268Y GROUP 16 | Oil and Gas Parts Equipment |
| 29506042 | SUN GEAR- SHAFT ASSEMBLY- CENTER FOR740 | Oil and Gas Parts Equipment |
| 6883702 | SHAFT- SUN GEAR 740 FOR | Oil and Gas Parts Equipment |
| 6881547 | SHAFT- ADAPTER- PUMP | Oil and Gas Parts Equipment |
| 23047981 | BEARING-BALL DOUBLE | Oil and Gas Parts Equipment |
| A29507729 | BEARING- BALL- # 9213-HI MRC | Oil and Gas Parts Equipment |
| 6209-2RS | BEARING- BALL RUBBER SEALED- IBI GROUP13174- . | Oil and Gas Parts Equipment |
| 6305 | BEARING- BALL- IBI GR. 105626- | Oil and Gas Parts Equipment |
| 6305ZZ | BEARING- BALL DOUBLE SEAL/SHIELDED- IBIGROUP 105628 | Oil and Gas Parts Equipment |
| 6308C3 | BEARING- BALL SINGLE GROOVE | Oil and Gas Parts Equipment |
| 6308ZZ | BEARING- BALL- SINGLE ROW- | Oil and Gas Parts Equipment |
| 6309ZZ | BEARING- BALL D/METAL SHIELD | Oil and Gas Parts Equipment |
| 6310ZZ | BEARING- BALL- SINGLE ROW- | Oil and Gas Parts Equipment |
| 6205-2RS | BEARING- BALL DOUBLE RUBBER SHIELD | Oil and Gas Parts Equipment |
| 6313ZZ | BEARING- BALL- SINGLE ROW- | Oil and Gas Parts Equipment |
| 7208B | BEARING- BALL IBI GROUP 128120 | Oil and Gas Parts Equipment |
| 6305-2RS1 | BEARING- BALL D/RUBBER SHIELD | Oil and Gas Parts Equipment |
| 6205RS | BEARING BALL- SINGLE ROW- CONRAD SEAL-IBI GROUP 105605 | Oil and Gas Parts Equipment |
| 6204ZZ | BEARING- BALL IBI GROUP 105195 | Oil and Gas Parts Equipment |
| 6205-2Z | BEARING- BALL- SINGLE ROW- CONARD- 2SHIELDS- IBI GROUP 105561 | Oil and Gas Parts Equipment |
| 6306ZZ | BEARING BALL- SINGLE ROW- CONRAD 2SHIELDS IBI GROUP 12055 | Oil and Gas Parts Equipment |
| 65-011-280 | Bearing Cone | Oil and Gas Parts Equipment |
| 117X1070 | BEARING-HALF | Oil and Gas Parts Equipment |
| 903493 | BEARING | Oil and Gas Parts Equipment |
| 23041452 | BEARING | Oil and Gas Parts Equipment |
| MRC310MXL(310/C4) | BEARING | Oil and Gas Parts Equipment |
| 23047970 | BEARING-BALL, SINGLE ROW B OR AU ONLY | Oil and Gas Parts Equipment |
| 6754783 | BEARING ASSEMBLY .- NEEDLE | Oil and Gas Parts Equipment |
| 9432185 | BEARING- BALL | Oil and Gas Parts Equipment |
| 8700A773 | BEARING- SHAFT | Oil and Gas Parts Equipment |
| 99BG5216TS | BEARING | Oil and Gas Parts Equipment |
| 378389 | BEARING- NEEDLE | Oil and Gas Parts Equipment |
| 62092RS | BEARING | Oil and Gas Parts Equipment |
| 210875-1X | BEARING-STEADY- DRIVELINE (1810) | Oil and Gas Parts Equipment |
| 7006B339 | Bearing NUP 2222 | Oil and Gas Parts Equipment |
| 7004B003 | Bearing 22224 | Oil and Gas Parts Equipment |
| NA56425SW | Bearing ASSEMBLY 4-1/4″ Shaft Bore Timken c/ Cone & Cup NA56425SW & 56650D | Oil and Gas Parts Equipment |
| 06-039-084 | BEARING- CARRIER | Oil and Gas Parts Equipment |
| 74555-5 | Ball Bearing | Oil and Gas Parts Equipment |
| 23047997 | BEARING- BALL | Oil and Gas Parts Equipment |
| 23047977 | BEARING- BALL | Oil and Gas Parts Equipment |
| 23047974 | BEARIN- BALL (2950778) | Oil and Gas Parts Equipment |
| 550944 | BEARING | Oil and Gas Parts Equipment |
| 23126 | ROLLER BEARING | Oil and Gas Parts Equipment |
| 22220 | ROLLER BEARING | Oil and Gas Parts Equipment |
| 7008B001 22226 | BEARING- ROLLER SKF | Oil and Gas Parts Equipment |
| 80GX728 | CONE BEARING 643 | Oil and Gas Parts Equipment |
| 0628015B | ASSY BEARING KIT | Oil and Gas Parts Equipment |
| 378769 | BEARING- THRUST 1-3/8″ I.D. X 2-3/16″ O.D. | Oil and Gas Parts Equipment |
| ZT-7006 | BEARING | Oil and Gas Parts Equipment |
| ZB8120 | BEARING- MAIN | Oil and Gas Parts Equipment |
| ZA6870 | BEARING | Oil and Gas Parts Equipment |
| 51126 SKF | BEARING- SINGLE ROW- 3-PIECE THRUST W/ GROOVED RACES- 5.1100″ ID X 6.6900″ OD X 1.1800″ W | Oil and Gas Parts Equipment |
| 118844-16-08 | BEARING-SLEEVE-1.00 X 0 .50 FIBERGLIDE | Oil and Gas Parts Equipment |
| 118844-16-12 | BEARING-SLEEVE-1.00 X 0.75 FIBERGLIDE | Oil and Gas Parts Equipment |
| 30154362 | SHIELD-BEARING- SMALL BORE (30118959) | Oil and Gas Parts Equipment |
| 112754-130 | BEARING-SINTERED- BRONZE- FLANGED | Oil and Gas Parts Equipment |
| 65-010-511 | BEARING COMPLETE- THRUST | Oil and Gas Parts Equipment |
| 65011318 | BEARING CONE- IN/OUT SHFT 840- | Oil and Gas Parts Equipment |
| ZT12002 | BEARING- SHEAVE (SAME AS 6099A3H) | Oil and Gas Parts Equipment |
| 600326 | BEARING ASSEMBLY | Oil and Gas Parts Equipment |
| ZT9990 | BEARING- SHEAVE | Oil and Gas Parts Equipment |
| 27279/005 | MAIN THRUST BEARING | Oil and Gas Parts Equipment |
| 205619/005 | ROLLER BEARING LOWER | Oil and Gas Parts Equipment |
| 59281/005 | HIGH SPEED SHAFT BEARING | Oil and Gas Parts Equipment |
| 59530/005 | GEAR BEARING INTERMEDIATE | Oil and Gas Parts Equipment |
| 59708/005 | BEARING LOWER- MOTOR DRIVE | Oil and Gas Parts Equipment |
| 214099/005 | BEARING TWO BOLTS FLANGE | Oil and Gas Parts Equipment |
| 65-011-250 | CONE- BEARING | Oil and Gas Parts Equipment |
| 116X1070-1 | Bearing – Camshaft | Oil and Gas Parts Equipment |
| 65-001-500 | BEARING ASSEMBLY | Oil and Gas Parts Equipment |
| A9040301340 | MAIN BEARING | Oil and Gas Parts Equipment |
| A9260300060 | cr bearing | Oil and Gas Parts Equipment |
| 23041915 | BAERING-BALL SINGLE (907564) | Oil and Gas Parts Equipment |
| 54-233-2 | VALVE-HYDRAULIC- A35- AA4- MA53- SA53- Z-16 | Oil and Gas Parts Equipment |
| V600 | HYDRAULIC VALVEREF# 54-233-2 | Oil and Gas Parts Equipment |
| WM314B | Valve Quick Release Two Way | Oil and Gas Parts Equipment |
| WM325 | Valve Maxi Brake | Oil and Gas Parts Equipment |
| 06-000-051 | Valve Assembly Transmission Selector | Oil and Gas Parts Equipment |
| ORB 88 | VALVE-TOGGLE FOR CROWN | Oil and Gas Parts Equipment |
| 217256/006 | VALVE DUAL CONTROL | Oil and Gas Parts Equipment |
| 217257/006 | VALVE SINGLE CONTROL | Oil and Gas Parts Equipment |
| 278614 | VALVE- SHUTTLE 2-WAY- RIG 100 | Oil and Gas Parts Equipment |
| 065410-V001 (New PN | Valve- press safety 1523-3263PSI F/ 3/8 | Oil and Gas Parts Equipment |
| 10253 (New PN | Valve- safety 2nd stage @ 348PSI F/Bauer breathing air compressor | Oil and Gas Parts Equipment |
| 12886 | Valve- safety 3rd stage @ 10560PSI F/Bauer breathing air compressor | Oil and Gas Parts Equipment |
| 10255 | 105. Valve- safety 1st stage @ 80-102PSI F/Bauer Breathing air compressor | Oil and Gas Parts Equipment |
| 540107 | VALVE- SHUTTLE 1/4″ W/ 2 HOLE MOUNT BASE PNEUMATIC BODY | Oil and Gas Parts Equipment |
| 06-000-059 | VALVE- PILOT AIR 1/2″ | Oil and Gas Parts Equipment |
| 06-000-019; P59331-2 | VALVE- PILOT AIR- 1/4″- 2HA-1 | Oil and Gas Parts Equipment |
| 06-000-017 | Valve Double Pilot | Oil and Gas Parts Equipment |
| R431005003 | VALVE- PILOT AIR- 1/4″- 2HA-2 | Oil and Gas Parts Equipment |
| P50967-1 | CONTROL- THROTTLE AIR VALVE- H4 "REXROTH" | Oil and Gas Parts Equipment |
| P59335-2HA2 | VALVE- AIR SLIP CONTROL (MAX INLET PSI: 250) "REXROTH" | Oil and Gas Parts Equipment |
| P55556-3 | VALVES-SHIFTER CONTROL ROTAIR- MDL 8P-1S- "REXROTH" | Oil and Gas Parts Equipment |
| PT64101-0114 | VALVE- CHANGE OVER (PNEUMATIC DIRECTIONAL CONTROL VALVE) "REXROTH" | Oil and Gas Parts Equipment |
| 8700A069 | | Oil and Gas Parts Equipment |
| Y291 | VALVE-AIR-RELEASE | Oil and Gas Parts Equipment |
| 06-000-558 | Valve Throttle Foot | Oil and Gas Parts Equipment |
| SV25150 | Valve Air Relief Set 150 PSI- 1/4″ NPT | Oil and Gas Parts Equipment |
| WM342B 'WILLIAM CONT | VALVE-AIR RELIEF- SET 150 PSI- 1/4″ NPT CONN. | Oil and Gas Parts Equipment |
| P50973-1 | VALVE- CONTROL AIR-MAIN DRUM THROTTLE- HD-2-X- 100 PSI OUTLET- 200 PSI INLET "REXROTH" | Oil and Gas Parts Equipment |
| 7026B121 | VALVE- BRAKE TREADLE | Oil and Gas Parts Equipment |
| 215022/005 | BUTTON AIR VALVE PUSH | Oil and Gas Parts Equipment |
| 214925/005 | VALVE AIR SHUTTLE | Oil and Gas Parts Equipment |
| 904 | Packing set 39S- 904 series | Oil and Gas Parts Equipment |
| 777-7 SOUTHWEST | Valve Complete 6-1/2″ Full Opening – Type with Urethane Insert (Southwest) | Oil and Gas Parts Equipment |
| 5620807 | VALVE (29536843) | Oil and Gas Parts Equipment |
| P54350-2 | Shuttle Valve | Oil and Gas Parts Equipment |
| 181-24-1 | VALVE- CHECK | Oil and Gas Parts Equipment |
| V514 | CHECK VALVE REF# 181-24-1 | Oil and Gas Parts Equipment |
| V516 | VALVE HANDLE (A20 COMM)REF# 867-23 & 867-22 | Oil and Gas Parts Equipment |
| 6776683 | BODY ASSEMBLY .- MAIN PRESS. REG VALVE | Oil and Gas Parts Equipment |
| 235 | REPLACEMENT KIT- | Industrial Parts & Misc |
| 99VAC293001 | VALVE- SINCLAIR COOLING | Oil and Gas Parts Equipment |
| VA3 Air Key | Valve Butter fly 3″ Keystone Valve | Oil and Gas Parts Equipment |
| P 52935-4 | Valve Quick Release | Oil and Gas Parts Equipment |
| 480155462 | Float Valve Size 5F-6D MDL Flapper Type | Industrial Parts & Misc |
| 480135462 | Float Valve Size 5F-6R MDL Plunger Type | Industrial Parts & Misc |
| 1561525 | Complete Valve | Oil and Gas Parts Equipment |
| A35-AA4-MA4-MA4 | Valve Assembly | Oil and Gas Parts Equipment |
| 76161 | HOSE ASSEMBLY- QUICK EXHAUST VALVE | Oil and Gas Parts Equipment |
| 76236 | VALVE- MODIFIED MOTOR | Oil and Gas Parts Equipment |
| 104520 | Valve Quick Release 1/2″ (Equal to 145407DF) | Oil and Gas Parts Equipment |
| A35-MA53 | VALVE-SECTION | Oil and Gas Parts Equipment |
| 145407DF | VALVE- QUICK RELEASE 1/2″ | Industrial Parts & Misc |
| 1625-C-101 | VALVE-STOP-DISCHARGE | Oil and Gas Parts Equipment |
| 1625-219 | VALVE- ASSEMBLY . F/6K500 MUD PUMP | Oil and Gas Parts Equipment |
| 94537-130N | PILOT-TO-CLOSE CHECK VALVE | Oil and Gas Parts Equipment |
| 94536-14N | CHECK VALVE | Oil and Gas Parts Equipment |
| 108216-12 | BALL VALVE | Oil and Gas Parts Equipment |
| 141304 | VALVE- RELIEF | Oil and Gas Parts Equipment |
| 1625C107 | STOP- SUCTION VALVE | Oil and Gas Parts Equipment |
| 1625219 | VALVE ASSEMBLY | Industrial Parts & Misc |
| 8700A473 | VALVE ASSEMBLY | Oil and Gas Parts Equipment |
| 8700A054 | VALVE-COMMERCIAL SHEARING | Oil and Gas Parts Equipment |
| 7500244001 | VALVE- WABCO P50967/1 | Oil and Gas Parts Equipment |
| 6038461 | Valve-control WAB-P52518-3 | Oil and Gas Parts Equipment |
| 216954/005 | VALVE CONTROL | Industrial Parts & Misc |
| 214536/006 | VALVE REGULATOR | Industrial Parts & Misc |
| 72013/007 | MOD REMOTE RELIEF PILOT VALVE | Oil and Gas Parts Equipment |
| 61949/010 | VALVE ENGINE KILL CONTROL | Oil and Gas Parts Equipment |
| 58537/006 | VALVE SAFETY | Oil and Gas Parts Equipment |
| 62849/005 | BALL VALVE | Oil and Gas Parts Equipment |
| 20476/005 | CHECK VALVE | Oil and Gas Parts Equipment |
| 72013/005 | RELIEF VALVE | Oil and Gas Parts Equipment |
| 72013/006 | VALVE REMOTE RELIEF PILOT | Oil and Gas Parts Equipment |
| 78341/005 | CHECK VALVE- 3/4″ | Oil and Gas Parts Equipment |
| 214356/006 | FLOW REGULATOR VALVE | Industrial Parts & Misc |
| 9H0F648JGNBSNIN | VALVE- BALL 6IN x 4IN1500LB- REDUCE PORT-RTJ- ASTM A105 BODY- GEAROPERATED-TRUNNION MOUNTED- F4141BALL/STEM- NYLON SEAT- NSSNV- FLANGE TOFLANGE 28IN | Oil and Gas Parts Equipment |
| 9105-035027-121 | Wheatley check valve- 3″ 150# RF FP WHEATLEY SWING CHECK VALEVE WCC BDY STD TRIM 9D-510-035027-821 | Oil and Gas Parts Equipment |
| N/A | Tape- Teflon 0.75 | Oil and Gas Parts Equipment |
| 2191540-18-02 | VALVE- BALL 8IN 150LB RF BODY WCB BALL304- RGC PSV BLOCK VALVES 1STG- FLG TOFLG 18IN- STEM 316 SEAT RTFE NACEMR0175-90- 370D4-150-24TFF23 WG LP | Industrial Parts & Misc |
| XA4255A | Valve, quick release | Oil and Gas Parts Equipment |
| A9060500326 | valve in | Oil and Gas Parts Equipment |
| A9060500327 | valve ex | Oil and Gas Parts Equipment |
| A9060530130 | valve guid | Oil and Gas Parts Equipment |
| 179872 | | Oil and Gas Parts Equipment |
| 4018-94 | | Oil and Gas Parts Equipment |
| 9085894 | BOLT | Diesel Locomotive Parts |
| 179835 | Bolt | Diesel Locomotive Parts |
| 181339 | Bolt | Diesel Locomotive Parts |
| 181427 | Bolt | Diesel Locomotive Parts |
| 186266 | Bolt 1/4-20 | Diesel Locomotive Parts |
| 273023 | Bolt HEX 3/4-16 X 5-1/4 GR8 | Diesel Locomotive Parts |
| 138203 | Bolt | Diesel Locomotive Parts |
| P95443-X | BOLT- EYE | Oil and Gas Parts Equipment |
| S140-1 | Bolts Grade 8- 1/2″ NC x 1-1/2″ | Oil and Gas Parts Equipment |
| S140-2 | Bolts 3/4″ x 2-3/4″ NC | Oil and Gas Parts Equipment |
| S140-3 | Bolt W/Nut 1″ x 3″ | Oil and Gas Parts Equipment |
| 75-074-694 | Bolt | Oil and Gas Parts Equipment |
| 06-046-117 | PIN- BRAKE TOGGLE | Oil and Gas Parts Equipment |
| S140-4 | BOLT- SOCKET HEAD 3 1/4″ X 3″ | Oil and Gas Parts Equipment |
| S140-5 | BOLTS W/ NUTS COUNTER SUNK 3/4″X4″ | Oil and Gas Parts Equipment |
| 00NB-F12C44 | COUNTER SHUNK BOLT 3/4:NC HX HD X 3″LG | Oil and Gas Parts Equipment |
| 5/8″NC X 6″LG | SQ HD BOLT | Oil and Gas Parts Equipment |
| 0628442B | BOLT | Oil and Gas Parts Equipment |
| 7321252 | BOLT- LOCK- STANDARD IMPELLER- FOR 250CENTRIFUGAL PUMP PN: 7321252 | Oil and Gas Parts Equipment |
| 8159340 | BOLT ASM | Oil and Gas Parts Equipment |
| 1948536 | Motor Starter Bolt | Oil and Gas Parts Equipment |
| 181374 | BOLT- SELF LOCKING 1-1/4IN- T/C HOUSING | Oil and Gas Parts Equipment |
| 67710544 | NUT- OUTPUT SHAFT- FOR TRANSMISSION- CAT SA-1268Y GROUP 16 | Oil and Gas Parts Equipment |
| 75-510-528 | NUT- JAM | Oil and Gas Parts Equipment |
| 181568 | Nut | Diesel Locomotive Parts |
| 124824 | Nut | Diesel Locomotive Parts |
| 80VX1839 | NUT- LOCK | Oil and Gas Parts Equipment |
| BAT133013R | NUT | Oil and Gas Parts Equipment |
| 8700A555 | NUT | Oil and Gas Parts Equipment |
| IBV CI1716 | 2 | Oil and Gas Parts Equipment |
| 545065 | NUT- LOCK | Oil and Gas Parts Equipment |
| 55-SB-713 | ADJUSTING ROD NUT EQUALIZER | Oil and Gas Parts Equipment |
| 3/4″? NC | TORQUES LOCKNUT | Oil and Gas Parts Equipment |
| 1″? NC | TORQUES LOCKNUT | Oil and Gas Parts Equipment |
| 5/8″? NC | TORQUES LOCKNUT | Oil and Gas Parts Equipment |
| 55-SB-713-1 | ADJUSTING ROD NUT EQUALIZER | Oil and Gas Parts Equipment |
| 75-LJ-701-5 | JACK LOCK NUT | Oil and Gas Parts Equipment |
| 80BX161 | NUT | Oil and Gas Parts Equipment |
| 80VX153 | NUT | Oil and Gas Parts Equipment |
| 80BX190 | LOCKNUT | Oil and Gas Parts Equipment |
| 3/4″?NC | TORQUES NUT | Oil and Gas Parts Equipment |
| 1″?NC | TORQUES NUT | Oil and Gas Parts Equipment |
| 55324-C | NUT- HEX-JAM (UNF-28) | Oil and Gas Parts Equipment |
| 80569 | NUT-HEX. JAM 2-0UN | Oil and Gas Parts Equipment |
| 22-024-114 | DOWEL- WITH NUT- TAPERED | Oil and Gas Parts Equipment |
| 1625C105 | NUT (4 1/2)- STUFFING BOX | Oil and Gas Parts Equipment |
| 6047327 | NUT MAIN BRAKE | Oil and Gas Parts Equipment |
| 6314022 | Keplock Nut 3/8″ | Oil and Gas Parts Equipment |
| 6044225 | NUT | Oil and Gas Parts Equipment |
| 8334366 | NUT | Oil and Gas Parts Equipment |
| 1947537 | Nut | Oil and Gas Parts Equipment |
| 75-514-012 | NUT-LOCK- 7/8″ – 9 | Oil and Gas Parts Equipment |
| 75-514-010 | | Oil and Gas Parts Equipment |
| 75-514-017 | NUT- LOCK – AUX. BRAKE | Oil and Gas Parts Equipment |
| 8421416 | Cable 2100 | Diesel Locomotive Parts |
| RIG12026 | Description missing | Oil and Gas Parts Equipment |
| CMP SOOW | 12/3C BLK Cabtire Cable 600 V | Oil and Gas Parts Equipment |
| 2016E1FW050NPT7 | Glands Cable | Oil and Gas Parts Equipment |
| Z6000.9 CAN | LOCKWIRE- .047 DIA. (168 FTCAN) | Oil and Gas Parts Equipment |
| Z6001-CAN | LOCKWIRE- .051 DIA | Oil and Gas Parts Equipment |
| 700f3135 | HOSE- GASOLINE PUMP 3/4INCH x 12FT LONG-FOR FUEL STATION PN: 700f3135 | Oil and Gas Parts Equipment |
| 23046148 | HOSE ASSEMBLY . | Oil and Gas Parts Equipment |
| 1000T29 | HOSE- ASSEMBLY OIL LUBRICATION ITEM-3- TRIPLEX PUMP | Oil and Gas Parts Equipment |
| 301TEE127 | HOSE- ASSEMBLY OIL LUBRICATION ITEM-4- TRIPLEX PUMP | Oil and Gas Parts Equipment |
| 30031008 | HOSE- ASSEMBLY OIL LUBRICATION ITEM-6- TRIPLEX PUMP | Oil and Gas Parts Equipment |
| 1001T55 | HOSE- ASSEMBLY OIL LUBRICATION ITEM-10- TRIPLEX PUMP | Oil and Gas Parts Equipment |
| 6758486 | HOSE DRAIN | Oil and Gas Parts Equipment |
| 45-804-374 | Hose Assembly | Oil and Gas Parts Equipment |
| 6100009 | Hose 1-1/2 | Oil and Gas Parts Equipment |
| None | Blade C4 Spares for Wire Rope Hydraulic Cutter 1-3/4 | Oil and Gas Parts Equipment |
| 72920 | Hose Assembly | Oil and Gas Parts Equipment |
| 76160 | HOSE ASSEMBLY- THROTTLE VALVE | Oil and Gas Parts Equipment |
| 75924 | HOSE ASSEMBLY- RIGHT MOTOR | Oil and Gas Parts Equipment |
| 0627423B | HOSE ASSEMBLY 1/2 X 16.75 CRIMP | Oil and Gas Parts Equipment |
| 65579/008 | HOSE 1 1/4 " JIC FEMALE -50FT LONG | Oil and Gas Parts Equipment |
| 96-104-240 | HOSE- RUBBER – THERMOID 1-1/2″ I.D. X 11 FT. LG. | Oil and Gas Parts Equipment |
| 45171736 | 4F-2MB-13IN Anchor Hose ASSEMBLY | Industrial Parts & Misc |
| 96300092 | HOSE- 1-1/2 ID 200PSI- 2BRD (Sold Per Foot) | Oil and Gas Parts Equipment |
| 214062/008 | HOSE REEL PUMP | Oil and Gas Parts Equipment |
| 67342/005 | HOSE DRAIN 1″X 100FT LONG | Oil and Gas Parts Equipment |
| 65579/005 | HOSE 1 1/4″ X 50 LONG | Oil and Gas Parts Equipment |
| 200493/006 | CASE DRAIN HOSE ASSEMBLY | Oil and Gas Parts Equipment |
| 66574 | 1/4″-50FT AIR HOSE | Oil and Gas Parts Equipment |
| 59560-005 | HOSE- PRESSURE TO SWIVEL- FOR 85POWER SUB 2.5C | Oil and Gas Parts Equipment |
| 64-271-214 | ELBOW- 90 DEG.- 1/2″ MALE PIPE – MALE 37 DEG. JIC | Oil and Gas Parts Equipment |
| 140X2170 | Pipe with Flange – Lube Oil Drain | Diesel Locomotive Parts |
| 8414444 | ELBOW | Oil and Gas Parts Equipment |
| 11-241 | ELBOW- 1″ STREET BLACK CONN. | Oil and Gas Parts Equipment |
| 64-016-128 | Fitting | Oil and Gas Parts Equipment |
| 00F1-E2MP04T | MALE ELBOW 1/4″TUBING TO 1/8″NPT | Oil and Gas Parts Equipment |
| 80JX187 | FITTING | Oil and Gas Parts Equipment |
| 80JX633 | FITTING | Oil and Gas Parts Equipment |
| 80JX686 | FITTING | Oil and Gas Parts Equipment |
| 1/4″? | COPPER PIPE | Oil and Gas Parts Equipment |
| 3/8″? | COPPER PIPE | Oil and Gas Parts Equipment |
| 83791 | WASHPIPE | Oil and Gas Parts Equipment |
| 64-016-115 | FITTINGS- GREASE- 1/8″ PIPE THREAD-STRAIGHT | Oil and Gas Parts Equipment |
| 7805052 | FITTING- GREASE- 1/8″- STRAIGHT | Oil and Gas Parts Equipment |
| 7805138 | FITTINGS- ALEMITE 45 DEG. | Oil and Gas Parts Equipment |
| 53219-2 | FITTING- GREASE | Oil and Gas Parts Equipment |
| 22-029-024 | GOOSENECK- 4 | Oil and Gas Parts Equipment |
| 8700A071 | PIPE PLUG 3/8″ | Oil and Gas Parts Equipment |
| 218111/006 | WASHPIPE ASSEMBLY | Oil and Gas Parts Equipment |
| 8135330 | Washer Thrust | Oil and Gas Parts Equipment |
| 453844 | Washer | Diesel Locomotive Parts |
| 810794 | Washer | Diesel Locomotive Parts |
| 120382 | Washer | Diesel Locomotive Parts |
| 127688 | Lock Washer | Diesel Locomotive Parts |
| 1290315 | Washer Screw Wedge Adjusting | Oil and Gas Parts Equipment |
| 7610040 | Washer Timken TW-119 Bearing Lock | Oil and Gas Parts Equipment |
| 7618018 | | Oil and Gas Parts Equipment |
| 330735 | WASHER | Oil and Gas Parts Equipment |
| 3308806 | WASHER | Oil and Gas Parts Equipment |
| 330869 | WASHER | Oil and Gas Parts Equipment |
| 330734 | WASHER | Oil and Gas Parts Equipment |
| 330810 | WASHER. THRUST | Oil and Gas Parts Equipment |
| 80DX103 | LOCKWASHER | Oil and Gas Parts Equipment |
| 80DX104 | LOCKWASHER | Oil and Gas Parts Equipment |
| 80DX102 | LOCKWASHER | Oil and Gas Parts Equipment |
| 46719 | WASHER- FLAT- 1/2″ | Oil and Gas Parts Equipment |
| 1953237 | Washer | Oil and Gas Parts Equipment |
| 1979451 | Spring washer | Oil and Gas Parts Equipment |
| 6881352 | WASHER- THURST 2.671 IN ID 740 | Oil and Gas Parts Equipment |
| 6881638 | WASHER- THRUST 2.750IN ID 740 | Oil and Gas Parts Equipment |
| 6835321 | WASHER- THRUST 3.412 IN ID 740 | Oil and Gas Parts Equipment |
| 6883492 | WASHER- THRUST 2.00 IN ID FOR 740 | Oil and Gas Parts Equipment |
| 68-097-494 | BUSHING | Oil and Gas Parts Equipment |
| PE421 | BUSHING- ECCENTRIC CONROD ITEM-2- TRIPLEX PUMP | Oil and Gas Parts Equipment |
| PE229 | BUSHING- PIN CROSSHEAD ITEM-3- TRIPLEX PUMP | Oil and Gas Parts Equipment |
| 202TEE152 | BUSHING- GLAND ITEM-7- TRIPLEX PUMP | Oil and Gas Parts Equipment |
| 68-097-496 | BUSHING- 'DODGE' TAPER LOCK | Oil and Gas Parts Equipment |
| 8146495 | BUSHING .. PILOT VALE – LOAVE CONTROL | Diesel Locomotive Parts |
| 8275539 | BUSHING .. SPEED ADJUSTING PILOT VALVE | Diesel Locomotive Parts |
| 77-54 | BUSHING- DRAG RING F/ FOSTER CATHEAD | Oil and Gas Parts Equipment |
| D101 | DRAG RING BUSHINGREF# 77-54 | Oil and Gas Parts Equipment |
| 1625-S-16 | BUSHING- 4.5 | Oil and Gas Parts Equipment |
| A105 | PLUG- HEX 1/4IN 3000LB SCREWED- A105 | Oil and Gas Parts Equipment |
| 80VX781 | Bushing | Oil and Gas Parts Equipment |
| 06-027-676 | Bushing | Oil and Gas Parts Equipment |
| 06-046-329 | BUSHING- EQUALIZER | Oil and Gas Parts Equipment |
| 06-114-276 | BUSHING | Oil and Gas Parts Equipment |
| 06-114-277 | BUSHING | Oil and Gas Parts Equipment |
| 75-660-121 | RING-RETAINER | Oil and Gas Parts Equipment |
| 75-670-002 | RING- RETAINER | Oil and Gas Parts Equipment |
| 75-670-005 | RING- RETAINER | Oil and Gas Parts Equipment |
| 06-114-434 | Bushing | Oil and Gas Parts Equipment |
| 80VX2142 | BUSHING OIL LITE | Oil and Gas Parts Equipment |
| 118844-22-22 | BUSHING-SLEEVE-1.38 X .50 FIBERGLIDE | Oil and Gas Parts Equipment |
| 118844-16-24 | BUSHING- SLEEVE- 1.00 X 1.50 FIBER GLIDE | Oil and Gas Parts Equipment |
| 118844-16-16 | BUSHING-SLEEVE-1.00 X 1 .00 FIBERGLIDE | Oil and Gas Parts Equipment |
| 118844-22-30 | BUSHING-SLEEVE-1.38 X 1.88 FIBERGLIDE | Oil and Gas Parts Equipment |
| 118844-12-16 | BUSHING-SLEEVE- 0.75 X 1.00 FIBERGLIDE | Oil and Gas Parts Equipment |
| 115176 | BUSHING-SLEEVE- 1.0 X 1.25 | Oil and Gas Parts Equipment |
| 1625S15 | BUSHING- SEAL 6K500 PACKING | Oil and Gas Parts Equipment |
| 6027678 | BUSHING | Oil and Gas Parts Equipment |
| 6027676 | BUSHING | Oil and Gas Parts Equipment |
| 45220003 | Y127-21-3 BUSHING | Oil and Gas Parts Equipment |
| 6.5-3-1371KX | YOKE ASSEMBLY – SLIP (1810) | Oil and Gas Parts Equipment |
| 60-MB-718 | YOKE ROD ASSEMBLY .- 4-3/4″ | Oil and Gas Parts Equipment |
| 06-114-306 | Yoke Clutch | Oil and Gas Parts Equipment |
| 8700A609 | YOKE- SLIP OPN.8531371 KX | Oil and Gas Parts Equipment |
| 8700A611 | YOKE- FLANGE OPN.62749 | Oil and Gas Parts Equipment |
| 55-SB-713L | LEFT HAND YOKE END | Oil and Gas Parts Equipment |
| 55-SB-713R | RIGTH HAND YOKE END | Oil and Gas Parts Equipment |
| 55-MB-718 | YOKE 1/2″ X 4 3/4″LG | Oil and Gas Parts Equipment |
| 55-NB-724 | YOKE ROD ASSEMBLY X 9 3/8″LG | Oil and Gas Parts Equipment |
| 652359 | YOKE- FLANGE | Oil and Gas Parts Equipment |
| 60MB722 | YOKE ROD ASSEMBLY .- 9-3/8″ LONG | Oil and Gas Parts Equipment |
| 6046164 | YOKE-AUX BRK SHIFTER 660-E3000 | Oil and Gas Parts Equipment |
| 10-300-064 | GASKET – DIAPHRAGM SUPPORT (LH) | Oil and Gas Parts Equipment |
| 10-300-065 | GASKET – DIAPHRAGM SUPPORT (RH) | Oil and Gas Parts Equipment |
| 10-300-272 | GASKET- CRANKCASE COVER | Oil and Gas Parts Equipment |
| 10-303-042 | GASKET- INSPECTION DOOR | Oil and Gas Parts Equipment |
| 20-100-014 | | Oil and Gas Parts Equipment |
| 20-100-017 | | Oil and Gas Parts Equipment |
| 25C1945 | GASKET- BEARING HOUSING ITEM-8- TRIPLEX PUMP | Oil and Gas Parts Equipment |
| 25C1948 | GASKET- OIL STOP HEAD/FRAME ITEM-4- TRIPLEX PUMP | Oil and Gas Parts Equipment |
| 25C1271N | GASKET- SUCTION MANIFOLD/CYLINDERITEM-10- TRIPLEX PUMP | Oil and Gas Parts Equipment |
| 10-300-061 | GASKET- SIDE DOOR | Oil and Gas Parts Equipment |
| 10-300-062 | GASKET- DIAPHRAGM HOUSING | Oil and Gas Parts Equipment |
| R-2815 | Gasket- Pneumatic modulation control unit F/Bauer hydrocyclone air compressor | Oil and Gas Parts Equipment |
| R-3779 | Gasket- flat pneumatic modulation control unit f/Bauer hydrocyclone air compressor | Oil and Gas Parts Equipment |
| 40055466 | GASKET | Diesel Locomotive Parts |
| 8022448 | Gasket | Diesel Locomotive Parts |
| 8024287 | Gasket | Diesel Locomotive Parts |
| 8081359 | Gasket | Diesel Locomotive Parts |
| 8221289 | Gasket | Diesel Locomotive Parts |
| 5181902 | Gasket | Oil and Gas Parts Equipment |
| 10-300-011 | Valve Gaskets | Oil and Gas Parts Equipment |
| 45-148-408 | Suction Flange Gasket | Diesel Locomotive Parts |
| 06-014-320 | Gasket | Oil and Gas Parts Equipment |
| 74555-8 | Gasket Motor To Gear Housing | Oil and Gas Parts Equipment |
| 58403 | GASKET | Oil and Gas Parts Equipment |
| 6758442 | GASKET- P.T.O. | Oil and Gas Parts Equipment |
| 68049 | Gasket- control | Oil and Gas Parts Equipment |
| 21110029 | GASKET (0.016′) FOR RT2010D | Oil and Gas Parts Equipment |
| 21090164 | GASKET GARLOCK | Oil and Gas Parts Equipment |
| 45803381 | GASKET | Oil and Gas Parts Equipment |
| 60AB102 | GASKET- 1/16″ | Oil and Gas Parts Equipment |
| 45-802-547 | GASKET | Diesel Locomotive Parts |
| 45-802-546 | GASKET | Diesel Locomotive Parts |
| A9060101405 | Engine gasket | Oil and Gas Parts Equipment |
| CM 100003821 | CUP FRONT AXLE | Oil and Gas Parts Equipment |
| CM 100003822 | CUP FRONT AXLE | Oil and Gas Parts Equipment |
| CM103599 | CUP REAR AXLE | Oil and Gas Parts Equipment |
| CM103601 | CUP REAR AXLE | Oil and Gas Parts Equipment |
| CM103598 | CONE REAR AXLE | Oil and Gas Parts Equipment |
| CM103600 | CONE REAR AXLE | Oil and Gas Parts Equipment |
| 55437 | BEARING- CUP- IBI GROUP 30620 | Oil and Gas Parts Equipment |
| 65-013-587 | CUP- BEARING- #48620 "TIMKEN" | Oil and Gas Parts Equipment |
| 80GX1446 | CUP- BEARING | Oil and Gas Parts Equipment |
| 80GX727 | CUP BEARING 632 | Oil and Gas Parts Equipment |
| 75-660-042 | Snap Ring | Oil and Gas Parts Equipment |
| 80SX111 | Ring Snap | Oil and Gas Parts Equipment |
| 6753487 | RING- SNAP | Oil and Gas Parts Equipment |
| 00BG-5100 | EXT. PIS. SNAP RING | Oil and Gas Parts Equipment |
| 7008B017 | RING-SNAP INTERNAL | Oil and Gas Parts Equipment |
| 230105446 | SLEEVE-CENTER SUPPORT- KIT 740 | Oil and Gas Parts Equipment |
| 6410502181 | SLEEVE- SHAFT- FOR 250 CENTRIFUGAL PUMP PN: 6410502181 | Oil and Gas Parts Equipment |
| 8261195 | SLEEVE | Oil and Gas Parts Equipment |
| 29501206 | SLEEVE- CONVERTER GROUND | Oil and Gas Parts Equipment |
| 1045G20 & 52 | Sleeve w/Seal & Gasket | Oil and Gas Parts Equipment |
| 60-LJ-500-4 | SLEEVE- HYDRAULIC JACK | Oil and Gas Parts Equipment |
| TDA A483222P2200 | Shoe lan FRONT | Oil and Gas Parts Equipment |
| TDA A633222D2006 | Shoe lan REAR | Oil and Gas Parts Equipment |
| 620570 | BRAKE MASTER ASSEMBLY . Model 62 | Oil and Gas Parts Equipment |
| 99BB-181112R | BLOCK- SOFT BRAKE- 11″ X 1-1/8″ X 12″ | Oil and Gas Parts Equipment |
| 1025 | Brake Block Set (20 Pcs 18 Soft & 2 Hard) c/w Nuts- Bolts & Plugs (2 Wks) | Oil and Gas Parts Equipment |
| 75-MB-303 | Band Brake 44″ x 11″ (Reqd. NDT/MPI Test Cert.) | Oil and Gas Parts Equipment |
| 06-044-356 | Brake Blocks 8″ x 1-1/8″ x 12″ | Oil and Gas Parts Equipment |
| 06-044-351 | Brake Band | Oil and Gas Parts Equipment |
| 06-047-133 | BLOCKS – BRAKE- SIZE: 1-1/4″ X 10″ X 12″ X 6-HOLE BRAKE (26PCS/SET) | Oil and Gas Parts Equipment |
| 06-039-327 | Band API 7K | Oil and Gas Parts Equipment |
| 99B181115H | BRAKE BLOCK HARD 1-1/8 x 11 x 12 | Oil and Gas Parts Equipment |
| 06-015-212 | | Oil and Gas Parts Equipment |
| 6047264 | FLANGE BRAKE 60″TTE E-2000 DWWKS (SUPCDS 06047038) | Oil and Gas Parts Equipment |
| 6047396 | BAND BRAKE | Oil and Gas Parts Equipment |
| 6047580 | BRAKE BLOCK- NON-ASBESTOS | Oil and Gas Parts Equipment |
| W-27848-200 | Brake Drum Assembly | Oil and Gas Parts Equipment |
| 109270RV005 | CABLE- RACKING BOARD | Oil and Gas Parts Equipment |
| 109270RV010 | CABLE-MAKE-UP RAM WIRE ROPE W/ BLUELOK H.D. THIMBLE EYE (1/2″ X 75 FT- 6 X 36 FIBRE CORE) | Oil and Gas Parts Equipment |
| 109270RV012 | CABLE- BACK-UP TONG WIRE | Oil and Gas Parts Equipment |
| 109270RV001 | CABLE- RACKING BOARD W/ THIMBLE EYES AND 6 CLAMP (3/8″ X 275 FT- 6 X 19 IWRC) | Oil and Gas Parts Equipment |
| 109270RV011 | CABLE-COUNTER WEIGHT WIRE ROPE W/ BLUELOK THIMBLE EYE- 3/4″ H.D. SHACKLE (1/2″ X 130 FT- 6 X 36 FIBRE CORE) | Oil and Gas Parts Equipment |
| 109270RV007 | | Oil and Gas Parts Equipment |
| 9002-B-132 | ROPE SOCKET-1″-DRILLING LINE-(DRILL LINE CLAMP)-KREMCO- PN | Oil and Gas Parts Equipment |
| 5326651 | LINERS- "MISSION" SIZE: 6-1/2″ ID X 8-3/8″ OD X 17″ LG. | Oil and Gas Parts Equipment |
| 203PZJ456 | LINERS-SIZE: 5-1/2″ I.D. | Oil and Gas Parts Equipment |
| 9318833 | LINER LASER HARDENED | Diesel Locomotive Parts |
| 8268641 | INSERT | Industrial Parts & Misc |
| 8160209 | TUBE | Diesel Locomotive Parts |
| 8039842 | LINER ASM. | Diesel Locomotive Parts |
| 5466045 | LINER- 4-1/2″ | Oil and Gas Parts Equipment |
| 9318831 | LINER ASYM CYLINDER CAST IRON LINER, BORE 18 CHROME PLATED | Diesel Locomotive Parts |
| 5330651 | | Oil and Gas Parts Equipment |
| 10-300-184 | Liner Plate Wear | Oil and Gas Parts Equipment |
| 061101507 "MISSION" | SEAT-VALVE- SUPREME 7DD-B1 | Oil and Gas Parts Equipment |
| 8700A399 | Seat | Oil and Gas Parts Equipment |
| 061-101-507 | Valve Seat (Equialvent to 52080500) | Oil and Gas Parts Equipment |
| 877-7 | Valve Seats | Oil and Gas Parts Equipment |
| 61101507 | Valve seat supreme 7DD-B1 | Oil and Gas Parts Equipment |
| 1625224 | SEAT- VALVE | Oil and Gas Parts Equipment |
| 15180300 | Piston Rubber 6-1/2″ Mission | Oil and Gas Parts Equipment |
| 12180535 | PISTON COMPLETE- 6-1/2″ MISSION | Oil and Gas Parts Equipment |
| R-2382 | Piston- Retaining f/Bauer air compressor on hydrocyclone | Oil and Gas Parts Equipment |
| 9533163 | Piston Asm Complete | Diesel Locomotive Parts |
| 8481489 | Piston Asm | Diesel Locomotive Parts |
| 8201590 | PISTON .. POWER COMPENSATING | Diesel Locomotive Parts |
| 8284087 | PLUNGER .. SPEED SETTING PILOT VALVE | Diesel Locomotive Parts |
| 8113825 | PLUNGER .. PILOT VALVE | Diesel Locomotive Parts |
| 123-9 | PISTON- 2-3/4″ O.D. | Oil and Gas Parts Equipment |
| L512 | PISTON REF# 123-9 | Oil and Gas Parts Equipment |
| 6775840 | PISTON ASSEMBLY .- HI-RANGE | Oil and Gas Parts Equipment |
| 1625-C-106 | PLUNGER- 4-1/2″ | Oil and Gas Parts Equipment |
| 12180337 | Piston Complete 5-1/2 | Oil and Gas Parts Equipment |
| 1625C106 | CLAMP | Oil and Gas Parts Equipment |
| 952 | PISTON E3B | Diesel Locomotive Parts |
| A9060306017 | Piston | Oil and Gas Parts Equipment |
| 6772141 | SHIM | Oil and Gas Parts Equipment |
| 6772140 | SHIM PACK- MDL:6061/5861 | Oil and Gas Parts Equipment |
| 77G16 | SHIM- ITEM-45- TRIPLEX PUMP | Oil and Gas Parts Equipment |
| 80VX222007 | SHIM IDLER .007 | Oil and Gas Parts Equipment |
| 75AB206 | SHIM KIT-PACK | Oil and Gas Parts Equipment |
| 80VX221005 | Shim Idler .005 | Oil and Gas Parts Equipment |
| 2230010 | Shim 007 | Oil and Gas Parts Equipment |
| 2231024 | Shim .005 | Oil and Gas Parts Equipment |
| 7300107 | Shim .005 | Oil and Gas Parts Equipment |
| 0626408B | SHIM SET | Oil and Gas Parts Equipment |
| 22-019-147 | SHIM SET | Oil and Gas Parts Equipment |
| 2005051 | PIN- CROSSHEAD ITEM-2- TRIPLEX PUMP | Oil and Gas Parts Equipment |
| 10-303-014 | PIN- CROSSHEAD | Oil and Gas Parts Equipment |
| 112726 | Pin | Diesel Locomotive Parts |
| 60-MB-714 | PIN-BRAKE 1-1/8″ X 5-1/2″ | Oil and Gas Parts Equipment |
| 60-MB-715 | PIN- 1″ DIA. X 3-5/16″ | Oil and Gas Parts Equipment |
| 99YR12C | YOKE AND PIN 3/4″ X 2″ NF | Oil and Gas Parts Equipment |
| 60-MB-709 | PIN- 1″ X 3-5/16″ | Oil and Gas Parts Equipment |
| 99YK08 | YOKE PIN 1/2″ X 1-1/2″ | Oil and Gas Parts Equipment |
| 06-046-112 | PIN- MAIN BRAKE A.- 2″ DIA. X 8″ LG. SS | Oil and Gas Parts Equipment |
| 06-038-215 | PIN | Oil and Gas Parts Equipment |
| 8700A620 | PIN- ROLL 1/4″ X 1-1/4″ PN.801X117 | Oil and Gas Parts Equipment |
| 1625-C-405 | PIN- WRIST | Oil and Gas Parts Equipment |
| 55-MB-715 | PIN- 1″ X 3-3/8″ | Oil and Gas Parts Equipment |
| 1/2″X 11/2″ X 13/8″B | YOKE PIN | Oil and Gas Parts Equipment |
| 82099 | PIN- LOCKING- WASHPIPE | Oil and Gas Parts Equipment |
| 31482/005 | BAIL PIN | Oil and Gas Parts Equipment |
| 215126/005 | BAIL PIN RETAINER | Oil and Gas Parts Equipment |
| 27289/005 | DOWEL PIN | Oil and Gas Parts Equipment |
| 51222-05-12 | PIN- SPIRAL | Oil and Gas Parts Equipment |
| 98402-PIN | PIN- FLOW CONTROL VALVE | Oil and Gas Parts Equipment |
| 30157306 | PIN- LYNCH | Oil and Gas Parts Equipment |
| 51402-12 | PIN- COTTER (11-26 & 939672-19) | Oil and Gas Parts Equipment |
| 117783 | PIN RETAINER- .5 DIA. X 7.0 | Oil and Gas Parts Equipment |
| 117782 | PIN-JOINT 2.0 DIA. X 12.5- MS28 | Oil and Gas Parts Equipment |
| 6038208 | PIN | Oil and Gas Parts Equipment |
| 6114329 | PIN | Oil and Gas Parts Equipment |
| 06-041-147 | PIN- MAIN BRAKE | Oil and Gas Parts Equipment |
| 60-980-813 | MOTOR- OIL PUMP- ELECTRIC- 1HP- 900 RPM- 230V/460 VAC- 3-PHASE- 60HZ- EXPLOSION PROOF- WITH FRAME 182-T | Oil and Gas Parts Equipment |
| 06-039-078 | PUMP- OIL #4 'BROWN & SHARP' | Oil and Gas Parts Equipment |
| V20F4P11P1C9F22 'VIC | PUMPS-POWER STEERING | Oil and Gas Parts Equipment |
| P37X378 BAJC25-7 | PUMP ASSEMBLY .- HYDRAULIC | Oil and Gas Parts Equipment |
| 64-182-010 | B & S Oil Pump (Replaces 64-182-008) | Oil and Gas Parts Equipment |
| V20F4P11P1C9F11 | PUMPS-POWER STREEING | Oil and Gas Parts Equipment |
| PS 252415L102 | STEERING PUMP(T.R.W.) | Oil and Gas Parts Equipment |
| P25X397 BEIL 12-25 | PUMP ASSEMBLY .-HYDRAULIC (7/8" – 13-TOOTH SPLINE) | Oil and Gas Parts Equipment |
| 64-182-042 | FLUID END DWG.NO P403-AX1 OIL PUMP B AND S MODEL 2-S | Oil and Gas Parts Equipment |
| 61514 | PUMP ASSEMBLY-MAIN HYDRAULIC- VARIABLE DISPLACEMENT | Oil and Gas Parts Equipment |
| 6037046 | Brown Sharp N030 oil Pump | Industrial Parts & Misc |
| 7020B001 | Hydraulic Pump | Oil and Gas Parts Equipment |
| A9062006201 | water pump | Oil and Gas Parts Equipment |
| 1260044 | P/F. National Triplex Slush pump Type 12-P-160 | Oil and Gas Parts Equipment |
| 165-4450 | FUEL PUMP-UNIT INJECTOR | Oil and Gas Parts Equipment |
| 6880125 | PUMP ASSEMBLY . -INPUT PRESS. AND SCAVENGE | Oil and Gas Parts Equipment |
| 80VX1755 | PUMP DELTA D4 | Oil and Gas Parts Equipment |
| 7786-C | PUMP- GREASE- HIGH PRESSURE- USED FORGREASING WELLHEAD | Oil and Gas Parts Equipment |
| 7020B003 | PUMP- ROTARY GEAR | Oil and Gas Parts Equipment |
| 215115/006 | MAIN PUMP | Oil and Gas Parts Equipment |
| 215117/005 | PUMP DRIVE SINGLE | Oil and Gas Parts Equipment |
| 64-182-008 | PUMP- GEAR- FOOT MOUNTED- #2 – "BROWN & SHARP" | Oil and Gas Parts Equipment |
| 29530557 | FILTER OIL ASSEMBLY .- REMOTE MOUNT PRIMARY | Oil and Gas Parts Equipment |
| 25011747 | FILTER ASSEMBLY .- OIL | Oil and Gas Parts Equipment |
| 64212832 | Filter- Oil | Oil and Gas Parts Equipment |
| 64-212-832 | FILTER- OIL- (WINSLOW ECX-2075) | Oil and Gas Parts Equipment |
| 64-212-848 | OIL FILTER ELEMENT | Oil and Gas Parts Equipment |
| ACPF951A | FILTER ELEMENT- OIL | Oil and Gas Parts Equipment |
| 1625-143 | FILTER- LUBE OIL | Oil and Gas Parts Equipment |
| 110814 | Oil filter 1050814 | Oil and Gas Parts Equipment |
| A0001801709 | Oil Filter | Oil and Gas Parts Equipment |
| BT259 | FILTER- OIL ENGINE- IFI GROUP F2025 | Industrial Parts & Misc |
| BT365 | FILTER- 25 MICRON- IFI GROUP F2293- HYDRA-MAC 105C-V | Industrial Parts & Misc |
| B253 | FILTER- OIL- IFI GROUP F2069- | Industrial Parts & Misc |
| 29510910 | FILTER- ELEMENT (23018851) W/ SEAL (23018950) | Oil and Gas Parts Equipment |
| 64212848 | Element- Oil Filter | Oil and Gas Parts Equipment |
| P534557-016-190 | FILTER-PANEL- NOMINAL SIZE 20X20X5IN-EXACT SIZE 19.5X19.5X5IN- EFFICIENCY 80-90%FOR VRC MOTOR | Oil and Gas Parts Equipment |
| 6130E? | Six (6) Pack of 130E Elements for 130 Filter?? | Oil and Gas Parts Equipment |
| 219275/005 | FILTER HIGH PRESSURE | Oil and Gas Parts Equipment |
| 30173216-1 | ELEMENT-FILTER HYD. (114416-1) | Oil and Gas Parts Equipment |
| 216991/005 | ELEMENT FILTER | Oil and Gas Parts Equipment |
| 216990/005 | FILTER ASSEMBLY – RETURN LINE | Oil and Gas Parts Equipment |
| 11320/005 | FILLER BREATHER CAP | Oil and Gas Parts Equipment |
| BF892 | FILTER- FUEL- IFI GROUP F2492- FOR WELDINGMACHINE | Oil and Gas Parts Equipment |
| A0000901551 | Fuel FILTER | Oil and Gas Parts Equipment |
| BF787new part#BF1280 | ELEMENT- FUEL FILTER- IFI GROUP F2046- ENGINE- | Industrial Parts & Misc |
| TYPECS09BCFN | Cuno filter element- MPF II boiler feed water filter- 5 microns | Oil and Gas Parts Equipment |
| 29542705 | GAUGE- OIL TEMP. 12 V | Oil and Gas Parts Equipment |
| 27H105 | GAUGE- TEMPERATURE ITEM-13- TRIPLEX PUMP | Oil and Gas Parts Equipment |
| 27A13 | GAUGE- OIL PRESSURE ITEM-41- TRIPLEX PUMP | Oil and Gas Parts Equipment |
| 82306 | GAUGE- WATER TEMP. | Oil and Gas Parts Equipment |
| 82706 | Gauge Stewart Warner | Oil and Gas Parts Equipment |
| 82327-72 | Gauge Stewart Warner | Oil and Gas Parts Equipment |
| 29544557 | GAUGE- OIL PRESSURE- CLUTCH | Oil and Gas Parts Equipment |
| 361411 OTECO | | Oil and Gas Parts Equipment |
| MGS 10/3E-223 | Gauge Type 213.53 2.5″ 1/4″ NPT CBM 0-3000 PSI KPA Nuova Fima (2 Wks) | Oil and Gas Parts Equipment |
| 2230068 | Gauge Pressure Oil | Oil and Gas Parts Equipment |
| 7056B028 | GAUGE WITH SENDER- | Oil and Gas Parts Equipment |
| 82311 | GAUGE- AMPERAGE | Oil and Gas Parts Equipment |
| 63019 | GAUGE-PRESSURE- 0 – 600 PSI | Oil and Gas Parts Equipment |
| 8700A048 | GAUGE- AIR 200 PSI 1/4″ NPT CONN. | Oil and Gas Parts Equipment |
| 108119-16B | GAUGE-SIGHT- PDM HPU | Oil and Gas Parts Equipment |
| 8700A391 | GAUGE ROTO TORQUE- W/ 25FT HOSE | Oil and Gas Parts Equipment |
| 59642/005 | PRESSURE GAUGE | Oil and Gas Parts Equipment |
| 201375/005 | OIL LEVEL GAUGE | Oil and Gas Parts Equipment |
| 45-1009SL-02B-30 | GAUGE- PRESSURE – 0-30PSI 4-1/2IN DIALFACE- | Oil and Gas Parts Equipment |
| 63-1008AL-02L-200 | GAUGE- PRESSURE 0-200PSI 2-1/2IN DIALFACE | Oil and Gas Parts Equipment |
| 45-1279SS-04L-XSG-XN | GAUGE- PRESSURE 0-400 PSI- 4-1/2IN DIALFACE- | Oil and Gas Parts Equipment |
| 45-1279SS-04- | GAUGE- PRESSURE 0-600PSI 4-1/2 DIAL FACE | Oil and Gas Parts Equipment |
| 45-1082PS02B10000PSI | GAUGE- TEST 0-10000PSI 50PSI SUB-DIVISIONS- | Oil and Gas Parts Equipment |
| 45-1279SS-04L-200 | GAUGE- PRESSURE 0-200PSI 4-1/2 DIAL FACE-1/2 IN NPT LM | Oil and Gas Parts Equipment |
| 9834931 | GAUGE-PRESS 0-5000PSI 4-1/2IN DF 1/2NPT BC-BACK CONNECTION | Oil and Gas Parts Equipment |
| 983-4885 | GAUGE- PRESSURE – 0-600 PSI- | Oil and Gas Parts Equipment |
| J4848 | GAUGE- PRESSURE RANGE 0-100PSI/KPA | Oil and Gas Parts Equipment |
| 2008C | GAUGE- MAGNEHELIC PRESS RANGE 15PSI- | Oil and Gas Parts Equipment |
| 45-1009S-04L-0-200 | GAUGE- PRESSURE – 0-200PSI- 4-1/2IN DIALFACE- 1/2IN NPT LOWER MIDDLE CONNECTION | Oil and Gas Parts Equipment |
| 45-1009SL-02B-2500 | GAUGE- PRESSURE 0-2500PSI 4-1/2IN DIALFACE 1/4IN NPT LOWER BACK CONNECTIONGLYCERINE FILLED- REINJECTION GASCOMPRESSORS | Oil and Gas Parts Equipment |
| 63-1008S-02B-0-100 | GAUGE- PRESSURE 0-100PSI-2-1/2IN DIALFACE-1/4IN NPT BMXNH BACK CONNECTION | Oil and Gas Parts Equipment |
| 45-1279SSL-04L-0-100 | GAUGE- PRESSURE – 0-100 PSI- 4-1/2IN DIAFACE- 1/2IN NPT- WITH THROTTLE SCREW-SILICONE FLUID- LOWER CONNECTION | Oil and Gas Parts Equipment |
| 45-1279SS-04L-0-300P | GAUGE- PRESSURE 0-300PSI 4-1/2IN DIALFACE- 1/2IN NPT BOTTOM CONNECTION-PHENOL CASE- BACK BLOWOUT- 316 SSTELEMENT AND SOCKET | Oil and Gas Parts Equipment |
| 45-1279SSL-04L-800 | GAUGE- PRESSURE – 0-800PSI- 4-1/2 DIALFACE 1/2IN NPT LOWER MIDDLE BOTTOMCONNECTION- PHENOL CASE- LIQUID FILLED-BACK BLOWUT- 316SS ELEMENT AND SOCKET | Oil and Gas Parts Equipment |
| 45-1279SS-04L0-2000 | GAUGE- PRESSURE 0-2000PSI- 4-1/2IN DIALFACE 1/2IN NPT LOWER MIDDLE CONNECTION-PHENOL CASE- BACK BLOWOUT- 316SSTELEMENT AND SOCKET | Oil and Gas Parts Equipment |
| 45-1279SSL-04L0-3000 | GAUGE- PRESSURE – 0-3000PSI 4-1/2IN DIALFACE- 1/2IN NPT BOTTOM CONNECTION- LIQUIDFILLED- PHENOL CASE- BACK BLOW OUT-316SST ELEMENT AND SOCKET | Oil and Gas Parts Equipment |
| 45-1279SS-04L-3000 | GAUGE- PRESSURE 0-3000 PSIG- 4-1/2IN DIAL-FACE 1/2IN BOTTOM CONNECTION- PHENOLCASE- BACK BLOWOUT-316SST- ELEMENT ANDSOCKET | Oil and Gas Parts Equipment |
| 45-1279SSL-04L0-100P | GAUGE- PRESSURE 0-100PSI 4-1/2IN DIALFACE- 1/2 NPT BOTTOM CONNECTION- PHENOLCASE- LIQUID FILLED– BACK BLOWOUT- 316SST ELEMENT AND SOCKET | Oil and Gas Parts Equipment |
| 45-1020R-04L-5000PSI | GAUGE- PRESSURE – 0-5000PSI- 4-1/2IN DIALFACE- 1/2IN NPT BOTTTOM CONNECTION- BACKBLOWOUT 316SST ELEMENT AND SOCKET | Oil and Gas Parts Equipment |
| 45-1009-SL-04B-3000P | 45-1009-SL-04B-3000PSI- GAUGE- PRESSURE – Dial: 4-1/2 inch- Body: 316 Stainless Steel- Wetted Parts: 316 Stainless Steel- Connection: 1/2 inch NPT Back Mount- | Oil and Gas Parts Equipment |
| 45-1009-S-04L-3000PS | 45-1009-S-04L-3000PSI- GAUGE- PRESSURE Dial: 4-1/2 inch- Body: 316 Stainless Steel- Wetted Parts: 316 Stainless Steel- Connection: 1/2 inch NPT Lower Mount- | Oil and Gas Parts Equipment |
| USG Model 656 | Gauge- pressure 0-200PSI 2.5 | Oil and Gas Parts Equipment |
| MODELJ120K-38 | DIFF.PRESS GAUGE-RANGE 30-300PSID .2-2MPA- PROOF 2500PSI 17MPA T.J120K-38-K-3051A K-3051B- GAS TURBINE/COMPRESSOR | Oil and Gas Parts Equipment |
| 6751630 | COUPLING- DISCONNECT | Oil and Gas Parts Equipment |
| 64-226-080 | Coupler 1/4 | Oil and Gas Parts Equipment |
| 06-18820D | Coupler Clutch | Oil and Gas Parts Equipment |
| 06-038-669 | COUPLING ASSEMBLY .-AUXILIARY BRAKE | Oil and Gas Parts Equipment |
| 00C0-C02P | 1/8″ COUPLING | Oil and Gas Parts Equipment |
| 69122/005 | COUPLING 1-1/4″ | Oil and Gas Parts Equipment |
| 214094/005 | COUPLING- 3PORT | Oil and Gas Parts Equipment |
| 6038669 | COUPLING-AUXILIARY BRAKE DWKS | Oil and Gas Parts Equipment |
| 06-038-034 | Coupling Elmago | Oil and Gas Parts Equipment |
| S40012 | Connector Male 1/4″ x 1/8″ NPT | Oil and Gas Parts Equipment |
| 00F1-C02MP04T | MALE CONNECTOR 1/8″ TUBING to 1/8″NPT | Oil and Gas Parts Equipment |
| 00F1-C04MP04T | 1/4″ MALE CONNECTOR | Oil and Gas Parts Equipment |
| 00F1-C06MP06T | 3/8″ MALE CONNECTOR | Oil and Gas Parts Equipment |
| 00F1-E06MP06T | | Oil and Gas Parts Equipment |
| 592SBC5 | STEERING BOX ASSEMBLY – C/W PITT ARM PN: 2584293K | Oil and Gas Parts Equipment |
| 60-SS-208 | SPROCKET- 37-TEETH | Oil and Gas Parts Equipment |
| 75-SS-608 | Sprocket 35 Teeth 1-3/4″ Pitch DBL | Oil and Gas Parts Equipment |
| 75-MS-511 | Sprocket | Oil and Gas Parts Equipment |
| 60-MS-122 | Sprocket | Oil and Gas Parts Equipment |
| 75-HB-728 | Sprocket 20 Teeth 1-1/4″ Pitch Quad | Oil and Gas Parts Equipment |
| 06-036-397 | Sprocket – 34 T- 1-1/2″ | Oil and Gas Parts Equipment |
| 06-036-398 | Sprocket 30 T- 1-1/2″ | Oil and Gas Parts Equipment |
| 06-042-052 | Sprocket 48T- 1/2″ | Oil and Gas Parts Equipment |
| 06-047-104 | Sprocket 32 T- 1/2″ | Oil and Gas Parts Equipment |
| 06-039-056 | SPROCKET- 36T – 2P – DOUBLE | Oil and Gas Parts Equipment |
| 06-039-127 | SPROCKET | Oil and Gas Parts Equipment |
| 06-047-143 | Sprocket Oil Pump 54T | Oil and Gas Parts Equipment |
| 75-MS-522 | SPROCKET | Oil and Gas Parts Equipment |
| 06-510-426 | SPROCKET- PINION 50-TEETH MAX. 1-1/2″ P-6 (SEXTUPLE) | Oil and Gas Parts Equipment |
| 75HB708 | Sprocket 75-HB-708 20T- 1 1/4″ PT Triple | Oil and Gas Parts Equipment |
| 60MS122 | Sprocket 60- MS-122 1 11/4″ P 112T Triple | Oil and Gas Parts Equipment |
| 06-037-019 | Spacer With Sprocket | Oil and Gas Parts Equipment |
| 75AB501 | SPROCKET- 21T- 1.5 P TRIPLE" | Oil and Gas Parts Equipment |
| 6039059 | 59T 1 1/2IN-P Triple Sprocket | Oil and Gas Parts Equipment |
| 06-030-365 | SPROCKET- 52T DOUBLE | Oil and Gas Parts Equipment |
| 06-044-054 | SPROCKET | Oil and Gas Parts Equipment |
| 06-044-011 | SPROCKET- FLOATING- 26T-DBL | Oil and Gas Parts Equipment |
| 06-044-022 | SPROCKET | Oil and Gas Parts Equipment |
| 06-044-023 | SPROCKET | Oil and Gas Parts Equipment |
| 06-044-025 | SPROCKET ASSEMBLY | Oil and Gas Parts Equipment |
| 06-044-032 | SPROCKET- 37T DBL. | Oil and Gas Parts Equipment |
| 06-044-037 | | Oil and Gas Parts Equipment |
| 06-044-183 | | Oil and Gas Parts Equipment |
| 06-044-098 | SPROCKET | Oil and Gas Parts Equipment |
| 06-036-008 | SPROCKET- 30T 1-1/2″P – SEXTUPLET | Oil and Gas Parts Equipment |
| 60LJ500 | JACK ASSEMBLY -LEVELLING | Oil and Gas Parts Equipment |
| 904 SERIES | JACK ASSEMBLY .- LEVELLING 904 SERIES- DWG NO. 2855-D102 | Oil and Gas Parts Equipment |
| 75-LJ-701-1 | 6″ JACK CYLINDER | Oil and Gas Parts Equipment |
| 75-LJ-701-2 | JACK EXTENDED PISTON | Oil and Gas Parts Equipment |
| 75-LJ-701-3 | JACK RETURN GLAND | Oil and Gas Parts Equipment |
| 75-LJ701-4 | JACK EXTENDION GUIDE | Oil and Gas Parts Equipment |
| 75-LJ701-6 | JACK CYLINDER END CAP | Oil and Gas Parts Equipment |
| 75-LJ-701-7 | JACK PLUNGER | Oil and Gas Parts Equipment |
| 75-LJ-701-8 | JACK RET. PISTON & PLUNGER | Oil and Gas Parts Equipment |
| 55-LJ-501 | Hydraulic Jack (Equal to 60-LJ-501) | Oil and Gas Parts Equipment |
| 8481449 | DISC | Diesel Locomotive Parts |
| 8481450 | DISC | Diesel Locomotive Parts |
| 8700A060 | DISC- BRONZE CLUTCH | Oil and Gas Parts Equipment |
| 8700A061 | DISC-CLUTCH OPPOSING | Oil and Gas Parts Equipment |
| 6750468 | DISC FLEX FLYWHEEL | Oil and Gas Parts Equipment |
| 6769277 | Disc Assembly- Flex Wheel (Bad #) | Oil and Gas Parts Equipment |
| 68-059-052 | CLUTCH-TWIN DISC- MDL. P0230 | Oil and Gas Parts Equipment |
| 145268KM | | Oil and Gas Parts Equipment |
| 75-MS-514 | Drum Clutch 33″ (Reqd. NDT/MPI Test Cert.) | Oil and Gas Parts Equipment |
| 101305 | Clutch Assembly Size 33VC650 Single Element Gummi (Equal to 142644HN) (2 Wks) | Oil and Gas Parts Equipment |
| 142216GU | Clutch Airflex Size 24E475 (2 Wks) | Oil and Gas Parts Equipment |
| 06-039-063 | CLUTCH- SPLINE | Oil and Gas Parts Equipment |
| 60SS202 | DRUM- CLUTCH | Oil and Gas Parts Equipment |
| 0628297D | CLUTCH | Oil and Gas Parts Equipment |
| 6047015 | DRUM CLUTCH | Oil and Gas Parts Equipment |
| 7018B003 | Clutch | Oil and Gas Parts Equipment |
| 06-044-053 | CLUTCH- CARRIER | Oil and Gas Parts Equipment |
| 06-036-011 | CLUTCH-SPLINE | Oil and Gas Parts Equipment |
| 06-039-114 | DRUM-CLUTCH- SIZE: 32″ O.D. X 11″ WIDTH | Oil and Gas Parts Equipment |
| 5171417 | SPRING DETENT | Oil and Gas Parts Equipment |
| R-0837 | Spring- compression f/Bauer air compressor | Oil and Gas Parts Equipment |
| 8291771 | SPRING .. GUARD ROD | Diesel Locomotive Parts |
| 8284078 | SERVO ASSEMBLY.. SPEEDER SPRING | Diesel Locomotive Parts |
| 8429101 | SPRING .TENSION | Diesel Locomotive Parts |
| 8063275 | Supar Spring | Diesel Locomotive Parts |
| P132793 | SPRING- WAVE | Oil and Gas Parts Equipment |
| P132757 | SPRING- VALVE | Oil and Gas Parts Equipment |
| 8700A204 | Spring Brkae 1″ -0.62″ x 2-1/2″ | Oil and Gas Parts Equipment |
| 01A140 | Spring | Oil and Gas Parts Equipment |
| 1625B118-1 | SPRING- HEAVY | Oil and Gas Parts Equipment |
| 1625B118-2 | SPRING- LIGHT | Oil and Gas Parts Equipment |
| 109528-3 | SPRING-BRAKE DISK TDS9 | Oil and Gas Parts Equipment |
| 8028783 | Spring | Diesel Locomotive Parts |
| 86-422-003 | NIPPLE- 1/4″ X 2″- STANDARD BW STEEL PIPE | Oil and Gas Parts Equipment |
| 86-426-009 | Nipple | Oil and Gas Parts Equipment |
| 00N1-0680 | 3/8″ HEAVY DUTY NIPPLE | Oil and Gas Parts Equipment |
| 0626713B | ASSY ORIFICE NIPPLE | Oil and Gas Parts Equipment |
| 9439624 | Motor starter | Diesel Locomotive Parts |
| 1936466 | Motor Washer | Diesel Locomotive Parts |
| HC40GE230 | Motor OD PSC | Oil and Gas Parts Equipment |
| 1922457 | Motor starter | Oil and Gas Parts Equipment |
| 1948519 | Motor starter | Oil and Gas Parts Equipment |
| 10-300-088 | KEY | Oil and Gas Parts Equipment |
| 75-633-154 | Screw 3/8″ x 1-1/2″ | Oil and Gas Parts Equipment |
| 113229 | Screw | Diesel Locomotive Parts |
| 132007 | Screw | Diesel Locomotive Parts |
| 1290178 | Screw Wedge Adjusting | Oil and Gas Parts Equipment |
| 20-150-123 | Piston Rod | Oil and Gas Parts Equipment |
| 7000397-11 | Screw | Oil and Gas Parts Equipment |
| 45-142-406 | CAPSCREW | Oil and Gas Parts Equipment |
| 99BOS10C92 | SCREW- SET 5/8″ X 2″ LG. | Oil and Gas Parts Equipment |
| 8700A613 | CAPSCREW OPN.C1040-29 | Oil and Gas Parts Equipment |
| 5/8″NC X 8″LG | SQ HD SET SCREW | Oil and Gas Parts Equipment |
| 80AX127 | CAPSCREW | Oil and Gas Parts Equipment |
| 80AX133 | CAPSCREW | Oil and Gas Parts Equipment |
| 80AX146 | CAPSCREW | Oil and Gas Parts Equipment |
| 80AX224 | CAPSCREW | Oil and Gas Parts Equipment |
| 80AX385 | CAPSCREW | Oil and Gas Parts Equipment |
| 80AX535 | SHOULDER SCREW | Oil and Gas Parts Equipment |
| 80AX155 | CAPSCREW | Oil and Gas Parts Equipment |
| 80AX114 | CAPSCREW | Oil and Gas Parts Equipment |
| 80AX106 | CAPSCREW | Oil and Gas Parts Equipment |
| 80AX116 | CAPSCREW | Oil and Gas Parts Equipment |
| 80AX316 | CAPSCREW | Oil and Gas Parts Equipment |
| 75-634-384 | CAPSCREW | Oil and Gas Parts Equipment |
| 1625-228 | SCREW- PLUNGER CLAMP | Oil and Gas Parts Equipment |
| 6030602 | AIR PASSAGE CAPSCREW | Oil and Gas Parts Equipment |
| 75MSA01 | CAPSCREW – 3/4″ NC X 3″LG HEX- C/W LW & NUT | Oil and Gas Parts Equipment |
| 75-632-129 | CAPSCREW 3/8″-16 X 3/4″ | Oil and Gas Parts Equipment |
| 06-000-998 | CYLINDER- AIR | Oil and Gas Parts Equipment |
| 75341 | CYLINDER ASSEMBLY- LIFT | Oil and Gas Parts Equipment |
| 00ST-252 | STEERING CYLINDER | Oil and Gas Parts Equipment |
| 00ST-392 | CYLINDER BALL SOCKET | Oil and Gas Parts Equipment |
| Clippard UDR12-1 | Cylinder Emergency Kill Air | Oil and Gas Parts Equipment |
| P55557-3 | Cylinder 8 Position | Oil and Gas Parts Equipment |
| 8700A577 | CYLINDER- EMERGENCY KILL AIR | Oil and Gas Parts Equipment |
| P55557 | CYLINDER- 8 POSITION- '"REXROTH" M6-N-1B | Oil and Gas Parts Equipment |
| 20365/005 | AIR CYLINDER W/ SPHERICAL EYE | Oil and Gas Parts Equipment |
| 20771/005 | ENGINE KILL CYLINDER | Oil and Gas Parts Equipment |
| HBL HBL5266C | 2P3W 15A 125V Plug | Oil and Gas Parts Equipment |
| 80JX340 | PLUG | Oil and Gas Parts Equipment |
| 80JX349 | PLUG | Oil and Gas Parts Equipment |
| 80JX547 | PLUG | Oil and Gas Parts Equipment |
| 80JX107 | PLUG | Oil and Gas Parts Equipment |
| 0628576A | PLUG | Oil and Gas Parts Equipment |
| 80JX102 | PLUG | Oil and Gas Parts Equipment |
| 80VX1210 | PLUG | Oil and Gas Parts Equipment |
| 93667-M11 | CAVITY PLUG- T-11A SHORT | Oil and Gas Parts Equipment |
| 53003-16 | PLUG-SQ. HD MAGNETIC | Oil and Gas Parts Equipment |
| 3100010 | OO-100-010 BUMPER COMP W/PLUG | Oil and Gas Parts Equipment |
| 73109/005 | SIGHT PLUG | Oil and Gas Parts Equipment |
| 76841 | PRESSURE SWITCH- AIR | Oil and Gas Parts Equipment |
| 83095-1 | PRESSURE SWITCH- IBOP | Oil and Gas Parts Equipment |
| H122-S146B | SWITCH- PRESSURE – RANGE 0-30 PSI 0-200KPA- PROF 40PSI 275KPA R.15A 250VAC- FORFRAME 5 GAS TURBINE/COMPRESSOR | Oil and Gas Parts Equipment |
| MODELH122-612 | SWITCH- PRESSURE – RANGE 200-3000PSI1.4-20MP- PRF 10.000PSI 70MPA R.15A 250V-FOR FRAME 5 GAS TURBINE/COMPRESSOR | Oil and Gas Parts Equipment |
| 798245 | SWITCH | Oil and Gas Parts Equipment |
| 80VX1785 | SWITCH COLE | Oil and Gas Parts Equipment |
| 10-300-142 | EXTENSION ROD- CROSS HEAD (CHROME-PLATED) | Oil and Gas Parts Equipment |
| 1290HW-1 | ROD-SUB- SOUTHWEST | Oil and Gas Parts Equipment |
| 132X1666 | Control Rod Assembly | Oil and Gas Parts Equipment |
| 1625336 | Wiper Ring Pony Rod (2-3 Wks) | Oil and Gas Parts Equipment |
| 752MB717 | Link | Oil and Gas Parts Equipment |
| 20-150-125 | ROD EXTENSION-PISTON | Oil and Gas Parts Equipment |
| 8700A424 | ROD- SHIFTING PN.02TR4373A | Oil and Gas Parts Equipment |
| 55-MB-506 | LINK ANCHOR END | Oil and Gas Parts Equipment |
| 75-MR-766 | REMOTE BRAKE LINK | Oil and Gas Parts Equipment |
| 3/4″NC THD ROD X 7″L | LINK | Oil and Gas Parts Equipment |
| 75-SB-428 | ANCHOR LINK | Oil and Gas Parts Equipment |
| 75-SM-1205 | DRAG LINK | Oil and Gas Parts Equipment |
| 75-SM-1206 | DRAG LINK | Oil and Gas Parts Equipment |
| 0628295B | SHIFT ROD | Oil and Gas Parts Equipment |
| 1625C407 | ROD- PONY | Oil and Gas Parts Equipment |
| P313? | Safety Shield for 130 Filter??? | Oil and Gas Parts Equipment |
| 75-MS-529 | SHIELD- OILSHIELD | Oil and Gas Parts Equipment |
| 83785/005 | GOOSENECK | Oil and Gas Parts Equipment |
| 98217-CS-430 | SHEAVES-SANDLINE- SIZE: 20″ X 9/16″ X 6-1/2′ | Oil and Gas Parts Equipment |
| 8700A231 | SHEAVES-SIZE: 30″ X 1-1/8″ | Oil and Gas Parts Equipment |
| 88135-CS-403 | SHEAVES SIZE- 20″ | Oil and Gas Parts Equipment |
| 72135CS404 | SHEAVES-SIZE 8″ | Oil and Gas Parts Equipment |
| 4300536 | SHEAVES- GROVED 1-1/8″ w/Line 150 Ton Block 1-1/8″ x 30″ x 6.498 Bore | Oil and Gas Parts Equipment |
| 42227033 | Sheave | Oil and Gas Parts Equipment |
| 116199-14 | FUSE- INVERTER- 250V- 30A | Oil and Gas Parts Equipment |
| 116199-15 | FUSE- INVERTER- 1000V- 630A | Oil and Gas Parts Equipment |
| 116199-25 | FUSE- INVERTER- 2A | Oil and Gas Parts Equipment |
| 116199-26 | FUSE- INVERTER- 800V- 800A | Oil and Gas Parts Equipment |
| 116199-27 | FUSE- INVERTER- 250V- 7A | Oil and Gas Parts Equipment |
| 116199-24 | FAN- RADIAL- 230. INVERTER- AC | Oil and Gas Parts Equipment |
| 7734 | ROTOR 7838 STANDARD | Oil and Gas Parts Equipment |
| 7279 | ROTOR | Oil and Gas Parts Equipment |
| 60-MS-102 | DRUM ASSEMBLY . | Oil and Gas Parts Equipment |
| 06-047-290 | Lebus Grooving | Oil and Gas Parts Equipment |
| 6047014 | DRUM- SANDREEL E2000 | Oil and Gas Parts Equipment |
| 6047027 | DRUM- MAIN 2000 DWWKS | Oil and Gas Parts Equipment |
| 8271289 | Adaptor | Diesel Locomotive Parts |
| 0619795F | Adapter Housing Disconnect | Oil and Gas Parts Equipment |
| 60SS203 | ADAPTER- CLUTCH | Oil and Gas Parts Equipment |
| 75SS603A | ADAPTER- CLUTCH | Oil and Gas Parts Equipment |
| 55-SS-223 | ROTOR SEAL ADAPTER | Oil and Gas Parts Equipment |
| 75-SS-620 | GUARD ADAPTER | Oil and Gas Parts Equipment |
| 6038180 | CATHEAD ADAPTER HUB | Oil and Gas Parts Equipment |
| 6038253 | Tachometer, Side-outlet jones# | Industrial Parts & Misc |
| 8160289 | MANIFOLD ASM | Diesel Locomotive Parts |
| 76101 | MANIFOLD | Oil and Gas Parts Equipment |
| 202530/005 | MOTO MANIFOLD L.H. | Oil and Gas Parts Equipment |
| 202531/005 | MOTOR MANIFOLD R.H. | Oil and Gas Parts Equipment |
| 0C2276DD | | Industrial Parts & Misc |
| 6773381 | FLYWHEEL ASSEMBLY .- TRANSMISSION ENGINE | Industrial Parts & Misc |
| 6769326 | PLATE-REACTION, CLUTCH | Industrial Parts & Misc |
| 6832138 | PLATE | Industrial Parts & Misc |
| 10300142 | Crosshead rod oilwell a-850-pt | Industrial Parts & Misc |
| 10-303-097 | GUIDE-LOWER CROSS HEAD | Industrial Parts & Misc |
| 259-4737 | Wheel Loader RH Steering Cylinder (Rebuilt) | Industrial Parts & Misc |
| R5084 | Ring- grooved K pneumatic modulation control unit f/Bauer hydrocyclone air compressor | Industrial Parts & Misc |
| R-7316 | Plate- valve#3 f/Bauer air compressor | Industrial Parts & Misc |
| 8399841 | KIT ASSEMBLY ARC CHUTE ROUND FRONT TYPE | Industrial Parts & Misc |
| 8460403 | Magnet FCT | Diesel Locomotive Parts |
| 83671775 | GFRER-OLAP FOR FTU | Industrial Parts & Misc |
| 8442229 | MODULE GX2 | Industrial Parts & Misc |
| 8460225 | Module EL11 | Industrial Parts & Misc |
| 8462769 | Module TH14 | Industrial Parts & Misc |
| 9532050 | Modules SE13 | Industrial Parts & Misc |
| 9357588 | control panel regulator | Industrial Parts & Misc |
| 8209958 | Chute | Industrial Parts & Misc |
| 8135970 | RACE | Industrial Parts & Misc |
| 9319503 | ROLLER | Industrial Parts & Misc |
| 9090607-1 | SUPPORT | Diesel Locomotive Parts |
| 8383745 | Trip Asm | Industrial Parts & Misc |
| 8028487 | TRIP ASSEMBLY | Industrial Parts & Misc |
| 2801374 | ARMATURE | Industrial Parts & Misc |
| 8329900 | Support | Industrial Parts & Misc |
| 8104667 | CLEVIS ASM. | Industrial Parts & Misc |
| 140X2724 | Water Discharge Header | Industrial Parts & Misc |
| 128X1636 | BELLOWS | Diesel Locomotive Parts |
| 9326768 | LIMITER ASSEMBLY .. FUEL | Industrial Parts & Misc |
| 8357355 | HEADER AFTERCOOL | Industrial Parts & Misc |
| 2802906 | COMMUTATOR | Industrial Parts & Misc |
| 9323942 | SPIDER | Industrial Parts & Misc |
| 5228798 | Body | Industrial Parts & Misc |
| 8028736 | Dowel | Industrial Parts & Misc |
| 8247813 | Timer | Industrial Parts & Misc |
| 8299457 | String | Industrial Parts & Misc |
| 77-4-1 | DRIVE- FINAL | Industrial Parts & Misc |
| F501-14 | ELL 1″ STD BLK 90REF# 11-320 | Industrial Parts & Misc |
| 6776451 | SCREEN- SCAVENGE PUMP SUCTION | Industrial Parts & Misc |
| 60SS213 | RIMS- BRAKE 8″ X 38″- (SET = 2 PCS.) | Industrial Parts & Misc |
| 60MB710 | BELL CRANK | Industrial Parts & Misc |
| WM642F1 | ACTUATOR- THROTTLE- "WILLIAMS CONTROLS" SB388U1A1A | Oil and Gas Parts Equipment |
| 620504 | DRYER ASSEMBLY .-AIR MDL 68 | Industrial Parts & Misc |
| 75-MS-503 | RIMS-BRAKE- WATER COOLED SIZE: 11″ X 44″ | Industrial Parts & Misc |
| 5308X (1880) | CROSS JOINT | Industrial Parts & Misc |
| K-353-W-12-101 | TIRES- KENDA 5.3 X 12 SCONA | Industrial Parts & Misc |
| 99SGLSP2016 | GLASS- IN SIGHT | Industrial Parts & Misc |
| FH 89 | Heater Element | Industrial Parts & Misc |
| APP ADR20034 | 200 Amp Receptacle | Industrial Parts & Misc |
| APP ADR1044 | WPF Receptacle Only 4W4P100A 600V | Industrial Parts & Misc |
| RIG 38083 | Beam Clamp | Industrial Parts & Misc |
| 321693-7037 | Coil Condenser | Industrial Parts & Misc |
| ABR 609-BEW | Push Button Station | Industrial Parts & Misc |
| 60-MB-719 | Roller | Industrial Parts & Misc |
| 60-MB-727-Z | Equalizer Brake | Industrial Parts & Misc |
| P 60263-2 | Throttle Actuator AA1 | Industrial Parts & Misc |
| D5500 | Wipers | Industrial Parts & Misc |
| 129827 | Follower | Industrial Parts & Misc |
| Y302679 | Wiper | Oil and Gas Parts Equipment |
| 102328 | Gummi 42FKT 1200 FSA Equal to Airflex 42VC1200 | Industrial Parts & Misc |
| 06-038-288 | Retainer Bearing | Oil and Gas Parts Equipment |
| 06-038-084 | Clutch Spline | Oil and Gas Parts Equipment |
| 06-038-286 | Spline Female | Oil and Gas Parts Equipment |
| 65-011-318 | Bearing Cone | Industrial Parts & Misc |
| N66701 | Diaphragm | Industrial Parts & Misc |
| 60-DG-603 | Chain Case Hydromatic | Industrial Parts & Misc |
| 0618836G | Case | Industrial Parts & Misc |
| 80KX102 | Ball Steel 7/16 | Industrial Parts & Misc |
| 1292140 | VALVE GUIDE INSERT HOLDER | Oil and Gas Parts Equipment |
| 1292141 | INSERT, VALVE GUIDE | Oil and Gas Parts Equipment |
| 1290376 | Wedge Set Complete | Industrial Parts & Misc |
| 1045G 20/32/52/82 | Fastener Set | Industrial Parts & Misc |
| 2C14SOOW | Cabtyre 1500 F | Industrial Parts & Misc |
| 4C12 S00W | Cabtyre 3500 FT | Industrial Parts & Misc |
| 4C18 S00W | Cabtyre 3000 FT | Industrial Parts & Misc |
| 53036 | Clamp Shock Mount Rig-A-Lite | Industrial Parts & Misc |
| MAR800-4-AL | Lighting Fixture Complete no mounting fixture | Industrial Parts & Misc |
| ECP2023 | Male End | Industrial Parts & Misc |
| EFSR-2023 | Receptacle Single | Industrial Parts & Misc |
| 10-303-073 | Crosshead | Industrial Parts & Misc |
| 64-325-980 | Oil Flow Indicator | Industrial Parts & Misc |
| 10-300-098 | Oil Catcher | Industrial Parts & Misc |
| 10-300-279 | Liner Removal Tool | Industrial Parts & Misc |
| M-1060 | Hydraulic Valve Seat Puller (Equivalent to 515969) | Industrial Parts & Misc |
| 2231001 | Box Sprocket And Bearing | Industrial Parts & Misc |
| 2230012 | Box Sprocket And Bearing | Industrial Parts & Misc |
| 2230614 | Desurger | Industrial Parts & Misc |
| 2231103 | Stator | Industrial Parts & Misc |
| 2231104 | Pump & Drive Bell | Industrial Parts & Misc |
| 06-039-120 | EQUALIZER | Industrial Parts & Misc |
| 28599 | Bell Assembly | Industrial Parts & Misc |
| 22222 | Linke- Block | Industrial Parts & Misc |
| 942453-11 | Roller Frame – Outer Ring | Industrial Parts & Misc |
| J-3767 | Flex Handle Right Slip | Industrial Parts & Misc |
| 74236-2 | REGULATOR | Industrial Parts & Misc |
| 74236-3 | LUBRICATOR | Industrial Parts & Misc |
| 7056B246 | BUTTON STARTER- ENGINE | Industrial Parts & Misc |
| LB522199 | ALARM- BACK-UP | Industrial Parts & Misc |
| 9746524 | COLLAR- CLUTCH | Industrial Parts & Misc |
| 1069 12 V Only | RODA RIG SAVER 5-1/2″ FOR | Oil and Gas Parts Equipment |
| 1069 24 V Only | SHUTDOWN SOLENOID | Oil and Gas Parts Equipment |
| 7018B025 | CROSS JOINT OPN.5308X | Industrial Parts & Misc |
| 57-1/2″ C-C 1810 | SHORT COUPLED DRIVE | Industrial Parts & Misc |
| 8700A612 | REDUCER OPN. X42-14 | Industrial Parts & Misc |
| 25278 | PULLMASTER | Industrial Parts & Misc |
| 21P383 | CHELSEA FLANGE ASSEMBLY .- PUMP COTTA BOX PARTS | Industrial Parts & Misc |
| 8700A621 | IGI IT WINDOW- OIL LEVEL PN.80VX1377 | Industrial Parts & Misc |
| 1625-D-404 | CROSSHEAD | Industrial Parts & Misc |
| 1625B417 | SOCKET- SERVICE | Industrial Parts & Misc |
| 55-SB-710 | BELL CRANK | Industrial Parts & Misc |
| 55-MB-505 | ROLLER | Industrial Parts & Misc |
| 00BG-MFC 2 1/4″ | FLANGE BEARING | Oil and Gas Parts Equipment |
| 00BG-HFC32LJ | BEARING FLANGE | Oil and Gas Parts Equipment |
| 55-MB-205 | ROLLER | Industrial Parts & Misc |
| P50-2-100-RV3 | STRAINER ASSEMBLY | Industrial Parts & Misc |
| 5″? | 78 SNAP JOINT VIC | Industrial Parts & Misc |
| 0626570F | CASE | Industrial Parts & Misc |
| 80VX2212 | NAMEPLATE | Industrial Parts & Misc |
| 80VX1692 | TAG-OIL EMPTY | Industrial Parts & Misc |
| 80VX2183 | BREATHER FBS-75-1 | Industrial Parts & Misc |
| 80VX842 | WINDOW OIL LEVEL | Industrial Parts & Misc |
| 80VX2318 | NAMEPLATE | Industrial Parts & Misc |
| 0628194F | CASE DISCONNECT | Industrial Parts & Misc |
| 0628193B | SEAL HOUSING | Oil and Gas Parts Equipment |
| 55-WB-200 | WATER UNION | Industrial Parts & Misc |
| 3/4″ | MAIN DRUM COOLING SYSTEM | Industrial Parts & Misc |
| 1156 | BULB- LIGHT BACK UP | Oil and Gas Parts Equipment |
| TM851000-3120 | Actuator Crown Saver (Equal to P681863120) | Oil and Gas Parts Equipment |
| P 50973-1 | HD-2-X Air Main Drum Control | Industrial Parts & Misc |
| 60TU983 | TURN BUCKLE ASSEMBLY . Y-BASE | Industrial Parts & Misc |
| 062-400-338 | Valve Insert (Equal to UDD-7B Mission) | Oil and Gas Parts Equipment |
| UDD-7B | Valve Insert | Oil and Gas Parts Equipment |
| 22904 | JOINT- 1″- DRAIN SWIVEL- STYLE 30 | Industrial Parts & Misc |
| 214087/006 | STRAINER OIL | Industrial Parts & Misc |
| 8415993 | LINER ASSEMBLY CAST IRON | Diesel Locomotive Parts |
| 3013288 | Chute | Industrial Parts & Misc |
| 122627-45 | INPUT- ANALOG- REMOTE I/O- 4 POINT | Industrial Parts & Misc |
| 122627-46 | INTERFACE- 24 DI- 8 DO- REMOTE I/O | Industrial Parts & Misc |
| 122627-47 | OUTPUT- ANALOG- REMOTE I/O- 4 POINT | Industrial Parts & Misc |
| 116199-77 | BOARD- CBP- AC INVERTER | Oil and Gas Parts Equipment |
| 30122725 | ENCODER- DIGITAL | Industrial Parts & Misc |
| 122627-09 | MODULE- DIGITAL INPUT- 16 POINT- 24 VDC | Industrial Parts & Misc |
| 122627-18 | MODULE- RELAY OUTPUT- 8PT | Industrial Parts & Misc |
| 96290 | MODULE- REGULATOR- +24 VDC +5 VDC | Industrial Parts & Misc |
| 140698-4 | MODULE- PROFIBUS 4 X POTENTIOMETER | Industrial Parts & Misc |
| 116551-1 | THROTTLE ASSEMBLY | Industrial Parts & Misc |
| 116551 | THROTTLE RHEOSTAT ASSEMBLY | Oil and Gas Parts Equipment |
| 7000B001 | ACTUATOR- CROWN SAVER | Industrial Parts & Misc |
| 1625-C-104 | STUFFING-BOX (4.5″) | Industrial Parts & Misc |
| 122627-64 | EEPROM MEMORY CARD (6ES7132-0HH00-0XB0) | Industrial Parts & Misc |
| 94534-1CXN | LOGIC CARTRIDGE | Industrial Parts & Misc |
| 30155438 | CAM FOLLOWERS 6″ | Industrial Parts & Misc |
| 30158767-04 | CAM FOLLOWERS 4″ | Industrial Parts & Misc |
| 118368 | STABILIZER ASSEMBLY – FRONT | Industrial Parts & Misc |
| 93548-1S30N | CARTRIDGE-VBJ CHECK VALVE- BX ELEV. | Industrial Parts & Misc |
| 71847 | CAM FOLLOWER | Industrial Parts & Misc |
| 109302-130NC | CARTRIDGE-TDS VALVE- FLOW CONTROL | Oil and Gas Parts Equipment |
| 71613 | RESERVOIR- BREATHER- HYDRAULIC POWER SUPPLY | Industrial Parts & Misc |
| 63404 | ACTUATOR- THROTTLE | Industrial Parts & Misc |
| 65845 | PLATE- VALVE- F/BOWEN AIR COMPRESSOR BENDIX TU FLO 400 BW | Industrial Parts & Misc |
| 127908-J2??????????? | solenoid- 3 position- 24 volt | Industrial Parts & Misc |
| 114706 | ASSY-LWR IBOP- 65/8X65/8W/REL GRV-STD NOV # 114706-500SUPERCEDES 89451-500 | Oil and Gas Parts Equipment |
| 116199-3 | IGBT TRANSISTOR MODULES-MATCHED PAIR | Oil and Gas Parts Equipment |
| 116199-21 | CONTROL PCE FOR INPUT RECTIFER TDS-9S | Oil and Gas Parts Equipment |
| 116199-22 | PCB- CONTROL- PER3- INVERTER | Oil and Gas Parts Equipment |
| 116199-30 | THYRISTOR BLOCK WITH SNUBBER- INVERTER- AC | Oil and Gas Parts Equipment |
| 116199-31 | THYRISTOR BLOCK WITH SNUBBER- INVERTER- AC | Oil and Gas Parts Equipment |
| 116199-34 | INVERTER- TACH- DIGITAL- BOARD- TDS9S | Oil and Gas Parts Equipment |
| 116199-42 | SIEMENS AC 575V DB CHOPPER | Oil and Gas Parts Equipment |
| 1625C100 | VALVE COVER- DISCHARGE | Oil and Gas Parts Equipment |
| 1625C103 | RETAINER- SUCTION VALVE STOP | Oil and Gas Parts Equipment |
| 6046168 | SHEAR BLOCK | Industrial Parts & Misc |
| 21106016 | RACE- OUTER B27-1/2 (21106088) | Industrial Parts & Misc |
| 21106014 | RACE- INNER B27-1/2 (21106088) | Industrial Parts & Misc |
| 21106071 | TURNTABLE B27 1/2 ROTARY | Industrial Parts & Misc |
| 21104019 | LOCKING DOG | Industrial Parts & Misc |
| 6038084 | SPLINE CLUTCH | Industrial Parts & Misc |
| 7040B159 | PEDAL- THROTTLE | Industrial Parts & Misc |
| 75SS612 | DRUM- SANDLINE | Industrial Parts & Misc |
| 75SS635 | RIMS- (2 PC SET)-42 X 8 BRAKE | Industrial Parts & Misc |
| 75SS617 | RETAINER- BEARING | Industrial Parts & Misc |
| 6047030 | Carrier, Lo-Clutch Sprocket | Industrial Parts & Misc |
| 217022/005 | MOTOR WITH GASKET | Industrial Parts & Misc |
| 218833/005 | HEAT EXCHANGER | Industrial Parts & Misc |
| 214536/005 | CARTRIDGE PRESSURE | Industrial Parts & Misc |
| 215519/005 | ELEMENT | Industrial Parts & Misc |
| 30384/005 | TORQUE | Industrial Parts & Misc |
| 214865/005 | SNUBBER | Industrial Parts & Misc |
| 83800/005 | STEM 3-1/2″ | Industrial Parts & Misc |
| 27238/005 | GROVE OIN 5/8″ X 2″L | Industrial Parts & Misc |
| 83786/005 | BONNET | Industrial Parts & Misc |
| 59299/005 | BODY | Industrial Parts & Misc |
| 204928/005 | 1-1/4″ CHICKSAN | Industrial Parts & Misc |
| 219275/006 | ELEMENT | Industrial Parts & Misc |
| 219275/007 | INDICATOR | Industrial Parts & Misc |
| 217021/005 | DRIVE HUB TORQUE DRIVE WHEEL | Industrial Parts & Misc |
| 65439 | 1-1/4″H.P. SWIVEL JOINT | Industrial Parts & Misc |
| 29481 | 1/4″ QUICK DISCONNECT | Industrial Parts & Misc |
| 9835.2239.0918.1563 | Joint- Engine 16 1/8″ | Industrial Parts & Misc |
| 11513-5 | Jaws Tong Short 2-3/8 | General Parts |
| 13665 | CONTROL-DRILLER- MODEL NO. 7900 "BAYLOR" | Industrial Parts & Misc |
| M231002421 | REMOTE BRAKE CON LINK-166″ | Industrial Parts & Misc |
| 54238 | ELMAGCO CURRENT BRAKE 7040 | Industrial Parts & Misc |
| 5713 | Driving- Ring | Industrial Parts & Misc |
| 10-13760-000 | SHOCK SAC ABSORBER | Industrial Parts & Misc |
| 852XBAKP-F4X5 Part#8 | PTO ASSEMBLY – CHELSEA DANA FOR KREMCO RIGS SPICER | Industrial Parts & Misc |
| 289443 | COMPRESSOR COMPLETE-"TU-FLO 400" AIR "BENDIX" | Industrial Parts & Misc |
| 06-044-029 | CARRIER- CUP | Industrial Parts & Misc |
| 06-041-031 | RETAINER- BEARING | Oil and Gas Parts Equipment |
| 06-044-068 | RETAINER- BEARING | Oil and Gas Parts Equipment |
| 06-033-355 | SHIFTER SHOE | Oil and Gas Parts Equipment |
| 06-030-412 | CLUTCH- SPLINE | Oil and Gas Parts Equipment |
| 06-044-003 | DRUM- BRAKE | Industrial Parts & Misc |
| A9060300224 | Rings | Industrial Parts & Misc |
| DR 19011403 | STARTER | Oil and Gas Parts Equipment |
| DR 8600201 | alternator | Industrial Parts & Misc |
| 29538507 | TURBINE- ASSEMBLY- 5860-6961 | Industrial Parts & Misc |
| 29524133 | CARRIER ASSEMBLY- CENTER PLANETARY-FOR 740 | Industrial Parts & Misc |
| 9432125 | RACE THRUST BEARING- FOR 740 ALLISONTRANSMISSION. | Industrial Parts & Misc |
| 6837562 | RACE THRUST BEARING- FOR 740 ALLISONTRANSMISSION. | Industrial Parts & Misc |
| P55474 | REPAIR KIT- MAJOR F/ PILOT VALVE 2HA | Oil and Gas Parts Equipment |
| 29532370 | KIT- OVERHAUL- SEAL AND GASKET- FORTRANSMISSION | Oil and Gas Parts Equipment |
| 7321384 | KIT- WITH GASKET AND O-RING- FOR 250CENTRIFUGAL PUMP PN: 6410501076 | Oil and Gas Parts Equipment |
| 8479836 | KIT GASKET CYLINDER HEAD | Diesel Locomotive Parts |
| 150X1069-2 | Kit – Water Pump Overhaul | Diesel Locomotive Parts |
| 8228321 | Seal Asm Kit | Diesel Locomotive Parts |
| 123-20 | REPAIR KIT | Oil and Gas Parts Equipment |
| L520-A | LIFT REPAIR KITREF# 123-20 | Oil and Gas Parts Equipment |
| 238HCR | REPAIR KIT-CR BRAKE | Oil and Gas Parts Equipment |
| 8700A025 | REBUILD KIT F/ 75MWA400/401 | Industrial Parts & Misc |
| 5-280X SPICER | JOINT KIT-UNIVERSAL (1710) | Oil and Gas Parts Equipment |
| 23019152 | SEAL & GASKET OVERHAUL KIT | Oil and Gas Parts Equipment |
| 8700A528 | Rebuild Kit Major SD 113 | Oil and Gas Parts Equipment |
| 25373 | Seal Kit | Oil and Gas Parts Equipment |
| 8700A152 | Repair Kit Major For SD 93 Cylinder | Oil and Gas Parts Equipment |
| P 56556-5 | Repair Kit F/ Wabco 8 Position Cylinder | Oil and Gas Parts Equipment |
| 6773331 | Kit- Wiper Scraper and Oil Seal | Oil and Gas Parts Equipment |
| ZP16681PN | Plug Kit | Oil and Gas Parts Equipment |
| 25-106-924-812 | Contact Kit | Oil and Gas Parts Equipment |
| 8700A614 | PACKING ASSEMBLY .- 9-3/8″ | Oil and Gas Parts Equipment |
| 8700A608 | KIT- REBUILD F/HYD PUMP | Oil and Gas Parts Equipment |
| 25337 | PULLMASTER SEAL KIT | Oil and Gas Parts Equipment |
| 391 1804 163 | REBUILD KIT FOR HYD- RAISING RAM SD93DC | Oil and Gas Parts Equipment |
| 75-LJ-701-10 | SEAL KIT | Oil and Gas Parts Equipment |
| 8700A136 | SEAL KIT -60" MAKE-UP RAM CYLINDER | Oil and Gas Parts Equipment |
| P2500S1 | Seal Kit (Equal to 4912500-101) | Oil and Gas Parts Equipment |
| DVA35 | Repair Kit Valve Bank (Valve Bank Require 24 DVA35) | Oil and Gas Parts Equipment |
| 5-281X | Joint Kit Universal | Oil and Gas Parts Equipment |
| 76666 | KIT-REPAIR- VALVE MODULATOR | Oil and Gas Parts Equipment |
| 207800/005 | SAFETY CABLE INST.KIT | Oil and Gas Parts Equipment |
| 200201/005 | REPAIR KIT- 1-1/4 SEAL SEA | Oil and Gas Parts Equipment |
| 204962/005 | SEAL KIT | Oil and Gas Parts Equipment |
| 5-281X SPICER | U-JOINT KIT 1810- UNIVERSAL | Oil and Gas Parts Equipment |
| 4912500-101 | SEAL KIT- P25X HYDRAULIC PUMP | Oil and Gas Parts Equipment |
| 8700A394 | REPAIR KIT-VALVE BANK A20-AA128-DA53-DA53-DA53-Z16 | Oil and Gas Parts Equipment |
| Cup ?160?130 | Packing set of rear jacks 60 – L J – 3000 (Series 904) Cup ?160?130 | Oil and Gas Parts Equipment |
| 99503-2 | KIT- REPAIR- LOWER IBOP H2S | Oil and Gas Parts Equipment |
| 87605-1 | SEAL KIT- FLOOR 4″ ID ACCUMULATOR | Oil and Gas Parts Equipment |
| 98006-13N | SEAL KIT AR3200 | Oil and Gas Parts Equipment |
| 98006-12N | SEAL KIT AR3200 | Oil and Gas Parts Equipment |
| 98006-22N | SEAL KIT- CARTRIDGE VALVE | Oil and Gas Parts Equipment |
| 1625-250 | PACKING- 4-1/2″ | Oil and Gas Parts Equipment |
| 23019147 | KIT- SEAL AND GASKET | Oil and Gas Parts Equipment |
| 6960162 | Voltagemeter | Diesel Locomotive Parts |
| 9319505 | ARM ROCK VALVE | Diesel Locomotive Parts |
| 8328695 | ROCKER ARM | Diesel Locomotive Parts |
| 132X1679 | Delivery Valve & Seat | Diesel Locomotive Parts |
| 8048880 | VALVE | Diesel Locomotive Parts |
| 9319735 | VALVE | Diesel Locomotive Parts |
| 9524027 | SENSOR ASSEMBLY .. LIMITER | Diesel Locomotive Parts |
| 60PN1015 | SENSOR- CROWN SAVER | Oil and Gas Parts Equipment |
| 8357383 | Sensore | Oil and Gas Parts Equipment |
| 16F1841=B2525HTM-SW= | Rims Complete Clark Front Base | Oil and Gas Parts Equipment |
| BD121 B2525HTM-SW=S3 | Rims Complete Clark Rear Base | Oil and Gas Parts Equipment |
| 53303-14 | WRENCH- ALLEN-LONG ARM | Oil and Gas Parts Equipment |
| 76-621-038 | | Oil and Gas Parts Equipment |
| 108894-Y2 | WRENCH-PARKER CYLINDER GLAND | Oil and Gas Parts Equipment |
| 108894-Z703 | WRENCH-PARKER CYLINDER SPANNER | Oil and Gas Parts Equipment |
| 108894-Y3 | WRENCH-GLAND | Oil and Gas Parts Equipment |
| 77408 | WRENCH-SOCKET- HEX. .88 | Oil and Gas Parts Equipment |
| THS G2-14 | | Oil and Gas Parts Equipment |
| F4-10 | Terminal See Quote | Oil and Gas Parts Equipment |
| J20-38 | Terminal See Quote | Oil and Gas Parts Equipment |
| 54110 | Terminal | Oil and Gas Parts Equipment |
| 8064047 | Spacer | Diesel Locomotive Parts |
| 60-SS-209 | SPACER | Oil and Gas Parts Equipment |
| 60-MB-720 | SPACER 1″ STANDARD | Oil and Gas Parts Equipment |
| 75-MS-516 | SPACER | Oil and Gas Parts Equipment |
| 75-MS-505 | SPACER | Oil and Gas Parts Equipment |
| 75-MS-512 | Spacer | Oil and Gas Parts Equipment |
| 75-HB-704 | Spacer | Oil and Gas Parts Equipment |
| 06-036-065 | Spacer Sprocket 1/2″P 50T | Oil and Gas Parts Equipment |
| 06-036-004 | Spacer | Oil and Gas Parts Equipment |
| 75-HB-703 | Spacer | Oil and Gas Parts Equipment |
| 10-300-033 | Bearing Spacer | Oil and Gas Parts Equipment |
| 10-300-034 | Bearing Spacer | Oil and Gas Parts Equipment |
| 06-039-028 | SPACER | Oil and Gas Parts Equipment |
| 06-039-036 | SPACER | Oil and Gas Parts Equipment |
| 06-039-054 | SPACER | Oil and Gas Parts Equipment |
| 60SS218 | SPACER | Oil and Gas Parts Equipment |
| 60SS222 | SPACER | Oil and Gas Parts Equipment |
| 60MS116 | SPACER | Oil and Gas Parts Equipment |
| 8700A618 | SPACER OPN.0621658B | Oil and Gas Parts Equipment |
| 1625-B-4 | SPACER- COUPLING | Oil and Gas Parts Equipment |
| 75MS526 | SPACER | Oil and Gas Parts Equipment |
| 55-MB-720 | SPACER 1″ STD PIPE X 3/4″LG | Oil and Gas Parts Equipment |
| 55-DW-900-3 | SPACER SHAFT EXTENSION | Oil and Gas Parts Equipment |
| 60-MS-112 | SPACER | Oil and Gas Parts Equipment |
| 58640 | SPACER- LOWER BEARING- STEM | Oil and Gas Parts Equipment |
| 1625B4 | SPACER- COUPLING | Oil and Gas Parts Equipment |
| 6046100 | SPACER | Oil and Gas Parts Equipment |
| 6047011 | SPACER- 2000DWKS | Oil and Gas Parts Equipment |
| 6038092 | SPACER | Oil and Gas Parts Equipment |
| 6047099 | SPACER | Oil and Gas Parts Equipment |
| 59795/005 | SPACER- 1ST REDUCTION GEAR | Oil and Gas Parts Equipment |
| 06-044-021 | SPACER | Oil and Gas Parts Equipment |
| 06-044-035 | SPACER | Oil and Gas Parts Equipment |
| 06-044-057 | SPACER | Oil and Gas Parts Equipment |
| 06-044-080 | SPACER | Oil and Gas Parts Equipment |
| 06-044-082 | SPACER | Oil and Gas Parts Equipment |
| 06-036-003 | SPACER | Oil and Gas Parts Equipment |
| 06-044-009 | SPACER | Oil and Gas Parts Equipment |
| 06-044-012 | SPACER | Oil and Gas Parts Equipment |
| 06-027-077 | SPACER | Oil and Gas Parts Equipment |
| 06-044-044 | SPACER | Oil and Gas Parts Equipment |
| 06-044-048 | SPACER | Oil and Gas Parts Equipment |
| 06-044-067 | SPACER | Oil and Gas Parts Equipment |
| 06-044-182 | SPACER | Oil and Gas Parts Equipment |
| 06-036-006 | SPACER | Oil and Gas Parts Equipment |
| 6774704 | SPACER- T/C | Oil and Gas Parts Equipment |
| 8361774 | RELAY BR 1-2 | Diesel Locomotive Parts |
| 8363130 | relay BR 1-2 | Diesel Locomotive Parts |
| 59865/005 | RELAY- STARTER SOLENOID | Oil and Gas Parts Equipment |
| 6759381 | TUBE- SPLITTER RANGE | Oil and Gas Parts Equipment |
| P305 | Transparent Tube for 130 Filter | Oil and Gas Parts Equipment |
| 40049018 | TUBE | Diesel Locomotive Parts |
| 8206804 | Tube | Diesel Locomotive Parts |
| 9549578 | TUBE | Diesel Locomotive Parts |
| 8700A610 | TUBE YOKE OPN.628347 | Oil and Gas Parts Equipment |
| 1/4″ | COPPER PIPE | Oil and Gas Parts Equipment |
| 1/8″ | COPPER TUBING (1/4″OD) | Oil and Gas Parts Equipment |
| 3/8″ | COPPER PIPE | Oil and Gas Parts Equipment |
| 06-037-390 | TUBE- AIR | Oil and Gas Parts Equipment |
| 8159354 | Furcate Piston Rod | Industrial Parts & Misc |
| 9544257 | BLADE ROD | Diesel Locomotive Parts |
| 6779036 | GEAR | Oil and Gas Parts Equipment |
| 8360839 | GEAR | Diesel Locomotive Parts |
| 9515336 | GEAR | Diesel Locomotive Parts |
| 8419054 | GEAR | Diesel Locomotive Parts |
| 8042976 | GEAR 37T | Industrial Parts & Misc |
| 8029522 | Gear | Diesel Locomotive Parts |
| G100 | FINAL DRIVE GEARREF# 77-4 | Oil and Gas Parts Equipment |
| D106 | DRIVE GEAR WEAR RINGREF# 77-13-1 | Oil and Gas Parts Equipment |
| 6774735 | GEAR- POWER TAKE OFF | Oil and Gas Parts Equipment |
| 75AB522 | GEAR- 29 TEETH | Oil and Gas Parts Equipment |
| 75AB523 | GEAR- 28 TEETH | Oil and Gas Parts Equipment |
| 75RB-D0002 | Helical Gear and Pinion 62T and 31 Teeth | Oil and Gas Parts Equipment |
| 978120 | GEAR- 4TH | Oil and Gas Parts Equipment |
| 978182 | GEAR- REVERSE | Oil and Gas Parts Equipment |
| 973551 | GEAR- DRIVE | Oil and Gas Parts Equipment |
| 97125 | GEAR- 2ND GEAR | Oil and Gas Parts Equipment |
| SP296 | CHELSEA GEAR- INPUT CLUSTER | Oil and Gas Parts Equipment |
| 8700A619 | GEAR- INPUT 47 TEETH | Oil and Gas Parts Equipment |
| 0626559D | GEAR 53T | Oil and Gas Parts Equipment |
| 0626560D | GEAR 46T | Oil and Gas Parts Equipment |
| 59280/005 | PINION GEAR BEARING | Oil and Gas Parts Equipment |
| 27208/005 | MAIN DRIVE GEAR | Oil and Gas Parts Equipment |
| 59592/005 | GEAR INTERMEDIATE | Oil and Gas Parts Equipment |
| 59293/005 | GEAR REDUCTION DRIVE | Oil and Gas Parts Equipment |
| 59294/005 | GEAR MOTOR DRIVE | Oil and Gas Parts Equipment |
| 59531/005 | GEAR COVER PLATE LOWER | Oil and Gas Parts Equipment |
| 59348/005 | GEAR REDUCTION DRIVEN | Oil and Gas Parts Equipment |
| 6039064 | 85T Reverse Gear | Oil and Gas Parts Equipment |
| 8028868 | GEAR ASM. | Oil and Gas Parts Equipment |
| 06-044-026 | GEAR- 112 TEETH | Oil and Gas Parts Equipment |
| 6883703 | GEAR- RING CENTER PLANETARY- FOR 740 | Oil and Gas Parts Equipment |
| 21-P-383 | FLANGE- PUMP | Oil and Gas Parts Equipment |
| 06-044-305 | FLANGE-BRAKE | Oil and Gas Parts Equipment |
| A9060510650 | CAMSHAFT BEARING | Oil and Gas Parts Equipment |
| A9060510550 | CAMSHAFT BEARING | Oil and Gas Parts Equipment |
| 8357354 | COVER ASM. AFTERC | Diesel Locomotive Parts |
| 131X1053-2 | Cover – Generator End | Diesel Locomotive Parts |
| 9090608-1 | SUPPORT ROCKER ARM | Diesel Locomotive Parts |
| 1625-C-102 | COVER- FLUID END CAP | Oil and Gas Parts Equipment |
| 60 LJ 50019 | Cap- Steel | Oil and Gas Parts Equipment |
| 0624762B | COVER PLATE | Oil and Gas Parts Equipment |
| 0626567D | CAP | Oil and Gas Parts Equipment |
| 21106082 | B27 1/2 ROTARY COVER | Oil and Gas Parts Equipment |
| 59300/005 | UPPER GEAR COVER | Oil and Gas Parts Equipment |
| 8143444 | Retainer | Diesel Locomotive Parts |
| 60SS216 | RETAINER | Oil and Gas Parts Equipment |
| 60-SS-217 | RETAINER | Oil and Gas Parts Equipment |
| 60-SS-201 | RETAINER | Oil and Gas Parts Equipment |
| 06-038-328 | Retainer Bearing | Oil and Gas Parts Equipment |
| 60SS217 | RETAINER | Oil and Gas Parts Equipment |
| 60SS201 | RETAINER | Oil and Gas Parts Equipment |
| 75-SS-616 | RETAINER- DRUM SUPPORT INPUT | Oil and Gas Parts Equipment |
| 117496-1 | RETAINER-SELF LOCK TDS9S | Oil and Gas Parts Equipment |
| 21106076 | B27 1/2 ROTARY OIL RETAINER | Oil and Gas Parts Equipment |
| 21106015 | RETAINER- BALL 27-1/2(21106088 | Oil and Gas Parts Equipment |
| 6038050 | RETAINER PLATE | Oil and Gas Parts Equipment |
| 3601034 | RETAINER- GREASE | Oil and Gas Parts Equipment |
| 06-036-002 | RETAINER | Oil and Gas Parts Equipment |
| 06-036-012 | RETAINER | Oil and Gas Parts Equipment |
| 06-036-026 | RETAINER | Oil and Gas Parts Equipment |
| 8029137 | Stud | Diesel Locomotive Parts |
| 379056-47 | Stud Mounting 1/2″ diameterSelf Locking | Oil and Gas Parts Equipment |
| 1625-B-401 | STUD- PONY ROD | Oil and Gas Parts Equipment |
| 60-DG-604 | Guard Front Sandline | Oil and Gas Parts Equipment |
| 60-DG-605 | Guard Upper Left | Oil and Gas Parts Equipment |
| 60-DG-606 | Guard Upper Right | Oil and Gas Parts Equipment |
| 60-DG-611 | Guard Off Driller Side | Oil and Gas Parts Equipment |
| 60-DG-612 | Guard Driller Side | Oil and Gas Parts Equipment |
| 68-069-994 | RING- DRIVING | Industrial Parts & Misc |
| 77-13-1 | RING- BASE W/ NOTCH | Industrial Parts & Misc |
| 1625-230 | RING- BACK-UP- VALVE CAP | Oil and Gas Parts Equipment |
| 7008B047 | RING- RETAINER | Industrial Parts & Misc |
| N5000387 | RING- RETAINER | Industrial Parts & Misc |
| 8700A059 | RING- PISTON | Industrial Parts & Misc |
| X781150 | RING- PISTON | Oil and Gas Parts Equipment |
| 3912683042 | RING- PISTON | Industrial Parts & Misc |
| 3912693034 | RING- PISTON | Industrial Parts & Misc |
| J1003110 | RING- BEARING | Industrial Parts & Misc |
| 3913026011 | RING- WIPER | Industrial Parts & Misc |
| J100317 | RING- BEARING | Industrial Parts & Misc |
| 3912691017 | Ring Back Up End Lug | Industrial Parts & Misc |
| 75-670-006 | RING-RETAINER | Industrial Parts & Misc |
| 75-660-145 | RING- RETAINER | Industrial Parts & Misc |
| 75-660-154 | RING- RETAINER | Industrial Parts & Misc |
| 75-670-001 | RING- RETAINER | Industrial Parts & Misc |
| U300617 | RING- BACK-UP | Oil and Gas Parts Equipment |
| X78725 | RING- PISTON | Oil and Gas Parts Equipment |
| 0626565B | RING PILOT | Industrial Parts & Misc |
| 378266 | RING- LOCK | Industrial Parts & Misc |
| 75-670-003 | RING- RETAINER – R3T125 | Industrial Parts & Misc |
| W3023-115 | RING- PISTON BEARING | Oil and Gas Parts Equipment |
| 30117775 | RING-RETAINER- EXTERNAL | Industrial Parts & Misc |
| 30119357 | RING- THRUST 12.5 X 7.75 X 10.0 | Industrial Parts & Misc |
| 1625C112 | RING, COMBINATION LATERN | Industrial Parts & Misc |
| 1625S16 | RING- BUSHING- TRIPLEX PUMP | Industrial Parts & Misc |
| 1625-253 | O-RING | Industrial Parts & Misc |
| 1625-254 | RING- PRESSURE- TRIPLEX PUMP (PART OF 1625250) | Industrial Parts & Misc |
| 9001B8 | Ring- Oil-control | Industrial Parts & Misc |
| 1894643 | Ring | Industrial Parts & Misc |
| 6758367 | HUB | Industrial Parts & Misc |
| 60-SS-207 | HUB | Industrial Parts & Misc |
| 75-MS-528 | HUB- SPROCKET | Industrial Parts & Misc |
| 06-038-289 | Hub Coupling | Oil and Gas Parts Equipment |
| 06-038-049 | Clutch Hub | Oil and Gas Parts Equipment |
| 1045G10-20 | RSB Flex Hub This item is blank bore so will need to be machined by customer for bore and keyway | Industrial Parts & Misc |
| 2231105 | Hub Turbine | Industrial Parts & Misc |
| 06-039-023 | HUB- SPROCKET | Industrial Parts & Misc |
| 60SS204 | HUB- CLUTCH | Industrial Parts & Misc |
| 75HB 720 | Hub Clutch | Industrial Parts & Misc |
| 60-SS-204 | HUB- CLUTCH | Industrial Parts & Misc |
| 60-MS-104 | HUB- MAIN DRUM | Industrial Parts & Misc |
| 75-SS-607 | HUB- OUTPUT SPROCKET | Industrial Parts & Misc |
| 75-SS-621 | HUB- INPUT SPROCKET | Industrial Parts & Misc |
| 6047039 | HUB- DRUM SHAFT | Industrial Parts & Misc |
| 6038049 | CLUTCH HUB | Industrial Parts & Misc |
| 6038314 | HUB | Industrial Parts & Misc |
| 06-044-030 | HUB- SPROCKET | Industrial Parts & Misc |
| 06-037-049 | HUB- CLUTCH | Oil and Gas Parts Equipment |
| 8461331 | POWER CONTACTOR | Diesel Locomotive Parts |
| 8365513 | contactor LTT | Diesel Locomotive Parts |
| 9315518 | CONTACTOR 200AMP 32VDC | Industrial Parts & Misc |
| 8459854 | CONNECTOR ASSEMBLY .. WIRING | Diesel Locomotive Parts |
| ABB A110-30-11-81 | Contactor 24VAC Coil | Oil and Gas Parts Equipment |
| 8269261 | HOUSING ASM | Industrial Parts & Misc |
| 40004233 | HOUSING | Industrial Parts & Misc |
| 60SS214 | HOUSING- BEARING | Industrial Parts & Misc |
| 60SS219 | HOUSING- BEARING | Industrial Parts & Misc |
| 60-SS-205 | HOUSING- BEARING | Industrial Parts & Misc |
| 1625-D-10 | HOUSING- BEARING- FRONT CRANKSHAFT | Oil and Gas Parts Equipment |
| 75-SS-619 | HOUSING- BEARING (SHAFT SUPPORT INPUT SIDE) | Industrial Parts & Misc |
| 75-SS-614 | HOUSING BEARING- INPUT SIDE | Industrial Parts & Misc |
| 75-MS-509 | HOUSING- BEARING | Industrial Parts & Misc |
| 75-MS-507 | HOUSING- BEARING (HYDRAUMATIC SIDE) | Industrial Parts & Misc |
| 06-036-001 | Bearing Housing | Oil and Gas Parts Equipment |
| 305-8025-137 | Housing Gear for P37X378BAJC257 | Industrial Parts & Misc |
| 0618830D | Housing | Oil and Gas Parts Equipment |
| 06-039-047 | Bearing Housing | Oil and Gas Parts Equipment |
| 60-MS-109 | HOUSING- BEARING | Industrial Parts & Misc |
| 60-SS-215 | Housing Bearing | Industrial Parts & Misc |
| 010-03-4006 | HOUSING- BREATHER | Oil and Gas Parts Equipment |
| 60SS215 | HOUSING- BEARING | Industrial Parts & Misc |
| 6014424 | HOUSING CAP | Industrial Parts & Misc |
| 6014422 | HOUSING- BEARING | Industrial Parts & Misc |
| 6038046 | BEARING HOUSING | Industrial Parts & Misc |
| 06-041-188 | HOUSING- BEARING | Oil and Gas Parts Equipment |
| 103904 | KEY 3/32 X 1/2 PLAIN | Diesel Locomotive Parts |
| 45-802-378 | Key | Industrial Parts & Misc |
| 45-803-366 | Key | Industrial Parts & Misc |
| 2402610 | | Industrial Parts & Misc |
| 45-122-301 | KEY- 5/8″ X 5/8″ X 3-3/8″ | Industrial Parts & Misc |
| 45-122-411 | KEY- 1-1/4″ X 7/8″ X 9-3/4″ STL HT | Industrial Parts & Misc |
| 5000079 | KEY- WOODRUFF | Industrial Parts & Misc |
| 01T285 | KEY 3/4 X 3/4 X 1-5/16 | Oil and Gas Parts Equipment |
| 45122904 | Y53-29-4 KEY | Industrial Parts & Misc |
| 45803102 | KEY | Industrial Parts & Misc |
| 45802967 | KEY 2-1/2X1-3/4X17LG RD ENDS H | Industrial Parts & Misc |
| 45803062 | KEY 1-1/4X7/8X5-1/4LG DWG Y53- | Industrial Parts & Misc |
| 45-122-216 | KEY | Industrial Parts & Misc |
| 10S14/IF-130 V | Lamp 120V 10 W | Oil and Gas Parts Equipment |
| 8903SPW23V02 4P | Schneider Contactor Lighting | Oil and Gas Parts Equipment |
| 30087708-44 | LAMP- INDICATING- 2 WATT | Oil and Gas Parts Equipment |
| 867-23 | HANDLE- CONTROL | Oil and Gas Parts Equipment |
| 60SB827 | Lever ASSEMBLY -Brake | Oil and Gas Parts Equipment |
| 75-SB-773 | BRAKE LEVER | Oil and Gas Parts Equipment |
| 6038833 | HANDLE-MAIN BRAKE 860 DWKS | Oil and Gas Parts Equipment |
| 6041224 | LIMIT LEVER | Oil and Gas Parts Equipment |
| 60MR732 | LEVER-BRAKE-MAIN DRUM | Oil and Gas Parts Equipment |
| 8392344 | Resistor | Diesel Locomotive Parts |
| 10377?100 | Air filter 10377?100 | Oil and Gas Parts Equipment |
| DNP607965 | air FILTER | Oil and Gas Parts Equipment |
| 8365925 | Resistor | Diesel Locomotive Parts |
| 8416107 | RESISTOR | Diesel Locomotive Parts |
| 136X1982 | Resistor | Diesel Locomotive Parts |
| 8399938 | RESISTOR 4.8 OHMS 400 WATTS 5% | Diesel Locomotive Parts |
| 8445755 | Resistor Dynamic brake grid -757 ohms includes motor tap@602 ohms | Diesel Locomotive Parts |
| 06-037-120 | Shoe Shifter Fork | Oil and Gas Parts Equipment |
| 0618818D | FORK | Oil and Gas Parts Equipment |
| 0628296D | FORK | Oil and Gas Parts Equipment |
| 06-037-119 | FORK- SHIFTER | Oil and Gas Parts Equipment |
| 06-038-169 | FORK- SHIFTER | Oil and Gas Parts Equipment |
| 8310840 | GUIDE | Diesel Locomotive Parts |
| 124X1036-3 | Crosshead Guide – Intake Or Exhaust | Oil and Gas Parts Equipment |
| 109270-TR-08 | GUIDES-SPLIT BRONZE ( 1-SET OF 2 PCS OF SPLITS) | Oil and Gas Parts Equipment |
| 1625-D-405A | GUIDE- UPPER CROSSHEAD | Oil and Gas Parts Equipment |
| 6121 | GUIDE- CUT LIPPED 5 3/4 6121 S.F.S- BOWEN 53/4 OVERSHOT S.F.S | Oil and Gas Parts Equipment |
| 9541016 | BRACEKT | Diesel Locomotive Parts |
| 6046122 | BRACKET | Oil and Gas Parts Equipment |
| 8248248 | IMPELLER | Oil and Gas Parts Equipment |
| 8274588 | Clamp | Oil and Gas Parts Equipment |
| TEC36150 | GE Breaker (Refurbished | Oil and Gas Parts Equipment |
| TEC36100 | GE Breaker (Refurbished) | Oil and Gas Parts Equipment |
| QOB 2020 | Breaker Bolt In 20 Amp- 240 V | Oil and Gas Parts Equipment |
| TB13100BWE | Breaker (Refurbished | Oil and Gas Parts Equipment |
| 6770848 | PLATE- CLUTCH BACKING | Oil and Gas Parts Equipment |
| 8461AW "TWIN DISC" | PLATE- DRIVING | Oil and Gas Parts Equipment |
| 75HB718 | PLATE- END | Oil and Gas Parts Equipment |
| 60-AB-519 | PLATE- END | Oil and Gas Parts Equipment |
| 51937 | Plate Assembly | Oil and Gas Parts Equipment |
| 51952 | Plate Assembly- Spider Guide 6-5/8 | Oil and Gas Parts Equipment |
| 51958 | Plate Assembly-Spider Guide 13-3/8 | Oil and Gas Parts Equipment |
| 74555-21 | Plate End Upper | Oil and Gas Parts Equipment |
| 74555-23 | Plate End Lower | Oil and Gas Parts Equipment |
| 60AB132 | PLATE- END | Oil and Gas Parts Equipment |
| 0628016B | PLATE CLAMP | Oil and Gas Parts Equipment |
| 0620577B | PLATE LIFTING | Oil and Gas Parts Equipment |
| 629227 | PLATE | Oil and Gas Parts Equipment |
| 75AB516 | END PLATE | Oil and Gas Parts Equipment |
| 217385/005 | THRUST PLATE | Oil and Gas Parts Equipment |
| 5659P | Plate- Driving MD1 9.75 ID | Oil and Gas Parts Equipment |
| 5659CW | DRIVE PLATE-TWIN DISC, Driving MD1 9.75 ID | Oil and Gas Parts Equipment |
| 06-037-081 | PLATE-END | Oil and Gas Parts Equipment |
| 6768990 | PLATE- PTO COVER | Oil and Gas Parts Equipment |
| 8351993 | TRASNFORMER ASSEMBLY | Oil and Gas Parts Equipment |
| 8328694 | ARM ASM | Diesel Locomotive Parts |
| 9319504 | ARM ROCK INJECT | Industrial Parts & Misc |
| 8456127 | ROCKER ARM | Diesel Locomotive Parts |
| BU7APTAB30 | 454 KG Mid Drum Air Winch | Oil and Gas Parts Equipment |
| PS2400R-L-G | 2400 KG Mid Drum Air Winch | Oil and Gas Parts Equipment |
| PS2400R-L-G-QZ | 2400 KG Mid Drum Air Winch | Oil and Gas Parts Equipment |
| 124 | Test Part 2 | Industrial Parts & Misc |
| 23012852 | FORK- DISCONNECT | Oil and Gas Parts Equipment |
| 6758395 | TUBE- SCAVENGER OIL DISCHARGE | Oil and Gas Parts Equipment |
| 6772168 | FLANGE- OUTPUT SHAFT- 3-1/2IN LONG SPLINE- FOR TRANSMISSION | Oil and Gas Parts Equipment |
| Y6BH936 | CORROSION INHIBITOR- (Y6BH936) | Oil and Gas Parts Equipment |
| 9893-30037 | BEARING- THRUST- FOR 4IN 150LB BALL VALVE-REF WHSE 12466-52105195 | Oil and Gas Parts Equipment |
| 0140-21-01 | FUEL LINE- GROUP NO.0140- | Oil and Gas Parts Equipment |
| 0140-08-10 | VALVE- GROUP NO.0140- | Oil and Gas Parts Equipment |
| 855529-1 | ELEMENT-480 VOLT-FOR BRAISING PAN | Industrial Parts & Misc |
| 41200 | Wiper- extra strong X70 12.5 | General Parts |
| 661007008 | PACKING- SET- FOR 250 CENTRIFUGAL PUMP PN: 661007008 | Oil and Gas Parts Equipment |
| G314 | IDLER SWITCH ITEM 06- LINCOLNWELDING SET | Oil and Gas Parts Equipment |
| 149X1058 | Coil-field | Industrial Parts & Misc |
| 1432823-1 | RELAY- 24VDC F/ | Oil and Gas Parts Equipment |
| 1-WW-30045-3406-465 | SHAFT- PROPELLER F/ | Oil and Gas Parts Equipment |
| 01367-054 | MOTOR- STARTER 12V F/ | Water Well Rig |
| 36.7032.01 | VALVE- ASSEMBLY- DISCHARGE- ITEM 105FORTRIPLEX PLUNGER PUMP | Industrial Parts & Misc |
| PRS 64001 | GLASS- WELDING- SHADE NO.10- 2IN X 4-1/4IN-METALCOTE FILTER | Oil and Gas Parts Equipment |
| 261-306 | DIODE- IN5404- 3AMP | Industrial Parts & Misc |
| ATO30 | FUSE- 32VAC 30 AMP BLADE TYPE F/ POWER DISTRIBUTION BOX | Oil and Gas Parts Equipment |
| TYPE E | KEY- BLANK- TYPE E- FOR 6 PIN CORE (Minimum 100 ) | Oil and Gas Parts Equipment |
| 75LM162N | SCREW- LOCK CONROD ITEM-5- TRIPLEX PUMP | Oil and Gas Parts Equipment |
| A1005 | PLUG- HEX 1/2IN 3000LB SCREWED- A1005 | Oil and Gas Parts Equipment |
| 64AC2 | PLUG- CONROD ITEM-4- TRIPLEX PUMP- | Oil and Gas Parts Equipment |
| 9416374 | Ring | Industrial Parts & Misc |
| 342-15 | STRIP- TERMINAL- 15AMP 22MM X 135MM X18MM | Oil and Gas Parts Equipment |
| S140-6 | BOLT- STUD 5/8IN X 3-3/4IN LONG-A193-B7-W/2EA HEX NUTS A194-B7 | Oil and Gas Parts Equipment |
| P-1000-17 | O-RING- LEGEND F FOR 3-WAY SOLENOIDVALVE- 1/2IN BODY ASSEMBLY 2-POSITIONACTUATORS | Oil and Gas Parts Equipment |
| P-1000-19 | O-RING- LEGEND J FOR 3-WAY SOLENOIDVALVE- 1/2IN BODY ASSEMBLY 2-POSITIONACTUATORS | Oil and Gas Parts Equipment |
| 5301 | TERMINAL- BATTERY 12V AUTOMOTIVE-E-TRON TYPE 105BT | Oil and Gas Parts Equipment |
| L81-1 | HOSE- MULTIPURPOSE- 1 IN ID X 1-1/2 IN OD | Oil and Gas Parts Equipment |
| S345-1 | NIPPLE- PIPE 3/4IN X 4IN LONG TBE XS- ASTMA106 GRADE B- SEAMLESS | Oil and Gas Parts Equipment |
| 808-00 | SWITCH- SAXON PLATE 1 GANG 1WAYSTANDARD PACKAGE QTY 10EA | Oil and Gas Parts Equipment |
| P-10500-13 | O-RING- LEGEND D FOR 3-WAY SOLENOIDVALVE 1/2IN BODY ASSEMBLY2-POSITIONACTUATORS ON RGC ABCD | Oil and Gas Parts Equipment |
| P-10500-10 | O-RING- LEGEND G FOR 3-WAY SOLENOIDVALVE- 1/2IN BODY ASSEMBLY 2-POSITIONACTUATORS | Oil and Gas Parts Equipment |
| P-1000-10 | O-RING- LEGEND K FOR 3-WAY SOLENOIDVALVE 1/2IN BODY ASSEMBLY 2-POSITIONACTUATORS | Oil and Gas Parts Equipment |
| 25F44 | GASKET- COPPER RETAINER STUD NUT ITEM-13- TRIPLEX PUMP | Oil and Gas Parts Equipment |
| S345-4 | NIPPLE- PIPE 1IN X SHORT TBE XSGALVANIZED- ASTM A53 GRADE B- SEAMLESSTYPE S | Oil and Gas Parts Equipment |
| TYPE PG-1 | GAUGE- PLASTI- TYPE PG-1- | Oil and Gas Parts Equipment |
| TYPE PR-1 | GAUGE- PLASTI- SIZE 0.002 TO 0.006- | Oil and Gas Parts Equipment |
| W771004-023ITEM#257 | SCREW- SET- PULSA METERING PUMP | Oil and Gas Parts Equipment |
| W771003-002ITEM#504 | SCREW– PULSA METERING PUMP | Oil and Gas Parts Equipment |
| TYPE PB-1 | GAUGE- PLASTIC- TYPE PB-1 | Oil and Gas Parts Equipment |
| 460-575 | MARKER- BLANK TERMINAL BLOCK | Industrial Parts & Misc |
| 11-24700 | NIPPLE- ITEM 94FOR BURNER COMPONENTS &EHASR GUN | Oil and Gas Parts Equipment |
| 238-AM2 | CONNECTOR- HOSE CROWS FOOT-1/2IN MALEEND | Oil and Gas Parts Equipment |
| 7907A1 | LIGHTER- ROUND FILE | Industrial Parts & Misc |
| 265204R1 | SLEEVE- TUBE F/ | Oil and Gas Parts Equipment |
| AM-7 | CONNECTOR- HOSE CROWS FOOT- 3/4IN MNPT | Oil and Gas Parts Equipment |
| AM-12 | CONNECTOR- HOSE- CROWS FOOT- 1IN MALENPT | Oil and Gas Parts Equipment |
| FC133 BLK | PLUG- FEMALE SINGLE HIGH IMPACT 13 AMP-BLACKSTANDARD PACKAGE QTY 10EA | Oil and Gas Parts Equipment |
| 1-101-0 | TIP- CUTTING SIZE 0 TYPE 1-101 6 MEDIUM-FOR OXYGEN AND ACETYLENE CUTTING | Industrial Parts & Misc |
| 1-101-1 | TIP- CUTTING SIZE 1 TYPE 1-101 6 MEDIUM- FOR OXYGEN AND ACETYLENE CUTTING | Industrial Parts & Misc |
| S140-10 | BOLT- STUD 5/8IN X 3-1/2IN LONG A193-B7-W/2EA HEAVY HEX NUTS A194-2H | Oil and Gas Parts Equipment |
| 105A9C8 | KEY- ITEM 105A9B- FOR PUMP SIZE 3 X 1-1/2-WITH SKIM AND OIL SUMP | Industrial Parts & Misc |
| S345-2 | NIPPLE- PIPE 1IN X 6IN LONG TBE XS- ASTMA106 GR B- SEAMLESS | Oil and Gas Parts Equipment |
| S140-9 | BOLT- STUD 5/8IN X 3IN LONG-A193-B7- W/2EAHEAVY HEX NUTS A194-2H | Oil and Gas Parts Equipment |
| 4L290 | V-BELT- FHP LIGHT DUTY- IDBI GROUP70443FOR STATIONARY SAW | Oil and Gas Parts Equipment |
| 1068 | VALVE- GATE 3/4IN 150LB BRONZE SCREWED | Industrial Parts & Misc |
| 13339 | COUPLING- 3/4IN 3000LB SS 316- FITTINGS-COUPLINGS | Oil and Gas Parts Equipment |
| 696WHI | ADAPTER- SOCKET OUTLET TWIN 13AMP | Oil and Gas Parts Equipment |
| 72TH/72TM | GASKET- LEVEL GAUGESEPARATOR/DESALTER | Oil and Gas Parts Equipment |
| 73TM/73TL | GASKET- 3/4IN NO 7- GAUGE GLASS ASSEMBLY-FUEL GAS SCRUBBER | Oil and Gas Parts Equipment |
| 403-241 | BASE- RELAY 105 PIN COMPACT OPEN CHANNELMNT | Oil and Gas Parts Equipment |
| 300 14 | TRUNKING- MINI DLP 32MM X 12.5MM- 3 METRELONG | Industrial Parts & Misc |
| 02-151-00 | | Oil and Gas Parts Equipment |
| 475-392 | BLOCK- TERMINAL- KLIPPON MARKERS- PRENUMBERS 01-50 EACH CARD- STANDARDORDER 100 CARDS | Industrial Parts & Misc |
| 503 | VALVE- GATE- 1IN 150LB BRONZE SCREWED | Oil and Gas Parts Equipment |
| PAR 38ECONOMY | LAMP- FLOOD 240V 120W K7 SEALED BEAM-SCREWED BASE | Oil and Gas Parts Equipment |
| 1015 | GLOVES- WELDING- LEATHER- DURABLE | Industrial Parts & Misc |
| S345-3 | NIPPLE- PIPE 1-1/2IN X 6IN LONG TBE XS- ASTMA106 GRADE B SEAMLESS | Oil and Gas Parts Equipment |
| 02-093-00 | Bearing- Ball Ref WHSE Item-36- Travel Cutter- MOD-E | Oil and Gas Parts Equipment |
| 37025988 | SCREW- GUIDE HOLDER FOR INSTRUMENTUTILITY AIR COMPRESSOR | Industrial Parts & Misc |
| S140-8 | BOLT- STUD 1/2IN X 3IN LONG-A193-B7- W/2EAHEAVY HEX NUTS A-194-2H- CADMIUM PLATED | Oil and Gas Parts Equipment |
| 114089 | TEE- EQUAL- 1/2IN NPT 2000LB SCREWED-ASTM A105 GALVANIZED | Oil and Gas Parts Equipment |
| 1013 | WRENCH- COMBINATION 9IN 7/16IN-1-1/8IN-BOXED OPENING F/B+MC ACETYLENE | Oil and Gas Parts Equipment |
| 1829 | LAMP- 28VDC 3 WATT-T-3 1/4 MIN BAYONETBASEFOR ANNUNCIATOR 44 X12SM- VRCCENTRIFUGAL COMPRESSOR | Oil and Gas Parts Equipment |
| 53000-6TX | CHART- CONSOTROL FOLDING S/ROOT | Industrial Parts & Misc |
| 201PEE715 | GASKET- OIL PUMP/ADAPTER ITEM-38- TRIPLEX PUMP | Oil and Gas Parts Equipment |
| S345-9 | NIPPLE- SWAGE 3/8IN X 1/4IN XS TBE | Oil and Gas Parts Equipment |
| 8271449 | STUD – M.B | Diesel Locomotive Parts |
| 59675 | SEALANT- SILICONE RTV HIGH TEMPERATURE RED 5927 F/ CAT ENGINES 300ML/TUBE | Industrial Parts & Misc |
| FE-019-40 | FUSE-50 AMP-300VOLT-FOR OVEN | Oil and Gas Parts Equipment |
| 8472380 | Resistor 10k ohm | Diesel Locomotive Parts |
| 12-03900 | VALVE- NEEDLEFOR BURNER COMPONENTS &EHASR GUN | Oil and Gas Parts Equipment |
| 02-062-00 | Seal- Ref Item-7- Travel Cutter MOD-E | Oil and Gas Parts Equipment |
| 105A9C6 | KEY- ITEM 105A9B- FOR PUMP SIZE 3 X 1-1/2-WITH SKIM AND OIL SUMP | Industrial Parts & Misc |
| UNION | UNION- 3/4IN 3000LB SCREWED- ASTM A105 | Oil and Gas Parts Equipment |
| 492167S | SPARK- PLUG- CAMP FOGGING UNIT | Industrial Parts & Misc |
| 25AL35 | GASKET- VALVER COVER ITEM-8- TRIPLEX PUMP | Diesel Locomotive Parts |
| S345-15 | NIPPLE- PIPE- 3/4IN X 6IN LG- TOE/BOE 5000LB-ASTM- A106 GRADE B- SEAMLESS | Oil and Gas Parts Equipment |
| S345-10 | NIPPLE- SWAGE 1/2IN X 3/4IN NPT- XS- TBE-ASTM A53 GR B-TYPE S- GALVANIZED | Oil and Gas Parts Equipment |
| 791-105-5-06729-00 | SEAT DISC- BUNA-N 1 1- POST/PRE LUBE PUMPREGULATOR- | Oil and Gas Parts Equipment |
| 426-395 | PLUG- MOULDED WITH SOCKET SET WHITESTRAIGHT | Oil and Gas Parts Equipment |
| 423847-1 | STRIKE DOOR-FOR OVEN | Industrial Parts & Misc |
| 07-01700. | ELECTRODE ( LH )FOR BURNER COMPONENTS& EHASR GUN | Industrial Parts & Misc |
| 07-05800 | NOZZLE- FUELFOR BURNER COMPONENTS &EHASR GUN | Industrial Parts & Misc |
| 1068*2 | VALVE- GATE- 1-1/2IN 150LB BRONZE SCREWED / | Industrial Parts & Misc |
| HIF-108-0.35 | FILTER- 0.35 SUB MICRON- DIM. 2-3/4IN X1-1/16IN ID X 9- 3/4 LG.BOX 24 EA- FORFOGGING SKID | Water Well Rig |
| 1050-000283-200 | O-RING- BEARING HOUSING ITEM-142-CRANKSHAFT | Oil and Gas Parts Equipment |
| FKTP-1001 | PRIMARY FUSE KIT- CAT-FKTP-1001 FOR ALLSTARTERS MCCS | Oil and Gas Parts Equipment |
| 7607 | WIRE- GROUND- CAMP FOGGING UNIT | Oil and Gas Parts Equipment |
| MODELBA-100 | VALVE- BALL 1/2 IN- 150LB SCREWED FNPTBRONZE- RATED AT 600 PSI | Oil and Gas Parts Equipment |
| 07-05800. | NOZZLE- BURNERFOR BURNER COMPONENTS& EHASR GUN | Industrial Parts & Misc |
| S345-5 | NIPPLE- PIPE- 1-1/2IN X 4IN LONG- TBE- XS-GALVANIZED- ASTM A53 -GRADE B- SEAMLESSTYPE S | Oil and Gas Parts Equipment |
| S140-7 | BOLT- STUD 7/8IN X 8-1/2IN LONG- A193-B7-W/2EA HEX NUTS ASTM A194-2H- CADMIUMPLATED | Oil and Gas Parts Equipment |
| 5233-4521 | SEAT, FOR MECO REGULATOR HP 5500LB MAX,ADJUSTABLE SCREW, TYPE, STYLE P-1-DA | Oil and Gas Parts Equipment |
| 0390-0057 | KIT- REPAIR- SEAL HEAD- FOR CUTTING TORCH | Oil and Gas Parts Equipment |
| 45A9614X012 | CAM- FEEDBACK TYPE A- FOR VALVEPOSITIONER TYPE 3582 | Industrial Parts & Misc |
| EC410 | SWITCH. BURNER- FOR DIESEL DRIVEN STEAMCLEANER MFG: HTS | Oil and Gas Parts Equipment |
| TV5461-32 | VALVE- OXYGEN CYLINDER CGA STD-540-3000LB TYPE B 3/4IN MALE CONNECTION | Oil and Gas Parts Equipment |
| A700T | TRANSFORMER- CURRENT- 0.6 KV- CAT 3412ARNG2W7077 SN81Z05782- EPC PANEL- REFWHSE NO. RT1425- 50-400HZ- 800/5 RATIO-25 AT60 HZ BURDEN | Oil and Gas Parts Equipment |
| V-4532-1/2In | KIT- SERVICE- 1/2IN VALVE- FOR SHUTDOWNVALVES | Oil and Gas Parts Equipment |
| TV5160 | VALVE- ACETYLENE CYLINDER CGA0510- 3/4INFEMALE CONNECTION | Oil and Gas Parts Equipment |
| S345-6 | NIPPLE- PIPE 2IN X 4IN LG TBE XS GALVANIZED-ASTM A53 GRADE B- SEAMLESS | Oil and Gas Parts Equipment |
| 30300 | TERMINAL- JUMPER SCREW (minimum 100) | Oil and Gas Parts Equipment |
| 02-064-00 | Bearing- Needle Ref WHSE Item-10- Travel Cutter- MOD-E | Oil and Gas Parts Equipment |
| 9425-1200 | CONNECTOR- WELDING CABLE | Oil and Gas Parts Equipment |
| 1-CP | STRAP- HEADGEAR REPLACEMENT | Industrial Parts & Misc |
| 31373376 | GASKET- INLET/DISCHARGE VALVES H40110/11-RECYCLE GAS COMP TYPE ESH-1- 11INSTROKE 8.5IN CYLINDER- S/N X1XK697/698/699 | Oil and Gas Parts Equipment |
| 37039260 | GUIDE INSERT- INLET/DISCHARGE VALVEH41721- RECYCLE GAS COMP TYPE ESH-1- 11INSTROKE 8.5IN CYLINDER- S/N X1XK697/698/699 | Oil and Gas Parts Equipment |
| 854717-1 | SWITCH MICRO LIMIT UP-FOR BRAISING PAN | Oil and Gas Parts Equipment |
| 1E793638992 | TRAVEL INDICATOR FOR FISHER 1IN EZ VALVE-INSTRUMENTATION- | Industrial Parts & Misc |
| 65A33 | RING- PISTON OIL SEAL ITEM-44- TRIPLEX PUMP | Industrial Parts & Misc |
| B4-15 | HEATER- RELAY | Oil and Gas Parts Equipment |
| 32153819 | GASKET- MANIFOLD INTERCOLLER ASSEMBLY FIG-9-INST UTILITY AIR COMP MOD 30T- SERIALNO.30T572773 | Oil and Gas Parts Equipment |
| 9505835 | Resistor 75k ohm | Diesel Locomotive Parts |
| S345-7 | NIPPLE- PIPE 2IN X 6IN LONG TBE XSGALVANIZED- ASTM 53 GRADE B- SEAMLESSTYPE S | Oil and Gas Parts Equipment |
| 810005158 | SEAL- OIL 1IN SHAFT LIP TYPE CR544257- | Oil and Gas Parts Equipment |
| 1U910235032 | NUT- CAP FEEDBACK ARM- FOR VALVEPOSITIONER | Oil and Gas Parts Equipment |
| PL5105-05-C | ELEMENT- FILTERFOR REINJECTION GASCOMPRESSOR- LUBE OIL CONSOLE- GASGENERATOR | Oil and Gas Parts Equipment |
| 1000T09 | HOSE- ASSEMBLY OIL LUBRICATION ITEM–5 TRIPLEX PUMP | Oil and Gas Parts Equipment |
| W770023-STA | SCREW- CAP SOCKET HEAD | Oil and Gas Parts Equipment |
| 3VX670 | V-BELT- NARROW MULTIPLE WEDGE I- FORYLNG GLYCOL COOLER | Oil and Gas Parts Equipment |
| 6771144 | NUT- OUTPUT SHAFT- FOR TRANSMISSION- CAT SA-1268Y GROUP 16 | Oil and Gas Parts Equipment |
| C-65ACTUATOR | O-RING- SET- FOR 6IN TYPE 51560 TCV ABCDACTUATOR 1ST STAGE RGC | Oil and Gas Parts Equipment |
| BC015742221002 | SPIRAL WOUND GASKET- ROUND SHAPE "IOR" – 1500#- FILLER GRAPHITE- 316L- 98x60x46X40X4.8 mm | Oil and Gas Parts Equipment |
| GAS-104567-000 | SEAL- OIL ITEM-224 ADAPTER ROD- POWEREND- FRESH WATER INJECTION | Oil and Gas Parts Equipment |
| 1U909735032 | HOLDER- PIN- FEEDBACK ARM- FOR VALVEPOSITIONER | Industrial Parts & Misc |
| 854700-1 | FUSE-3 AMP-TIME DELAY 480 VOLT-FORBRAISING PAN | Oil and Gas Parts Equipment |
| 342575-1 | INDICATOR LIGHT-208-240 VOLT-FOR GRIDDES | Oil and Gas Parts Equipment |
| O43810 | COOLANT-LOW CONDUCTIVITY | Oil and Gas Parts Equipment |
| 800T-XD2 | BLOCK- CONTACT- 1NCFOR REVERSEOSMOSIS UNIT | Industrial Parts & Misc |
| 6Z632 | CLEANER- HAND- INDUSTRIAL 4.5 LB PER CAN- GOJOSTD CASE 12 CAN | Oil and Gas Parts Equipment |
| Abpn122r50418 | Sep FILTER | Water Well Rig |
| TB140-R | ASSEMBLY, AIR CYLIN | Oil and Gas Parts Equipment |
| S345-8 | NIPPLE- PIPE 2IN 9IN LONG TBE XSGALVANIZED ASTM A106 GRADE B SEAMLESSTYPE S | Oil and Gas Parts Equipment |
| BA-100 | VALVE- BALL 1IN 150LB SCREWED FNPTBRONZE | Oil and Gas Parts Equipment |
| 9092979 | CRAB-INJECTOR | Diesel Locomotive Parts |
| 71A8473-001D | KIT- REPAIR SSFN-S-HPS 400- FOR FIXTURELAMPS 120-460V 60HZ | Oil and Gas Parts Equipment |
| AF-25 | HOLDER- ELECTRODE- 200 AMP- 1/0 DUTY CL60% | Industrial Parts & Misc |
| P303B?? | Tie Rods for 130 Filter | Oil and Gas Parts Equipment |
| J6FU | GAUGE- PRESSURE 0-200PSIG- | Oil and Gas Parts Equipment |
| 7105 | BELT- ENGINE- CAMP FOGGING UNIT | Oil and Gas Parts Equipment |
| 7807 | GASKET- HEAD FOGGING- CAMP FOGGINGUNIT | Oil and Gas Parts Equipment |
| 7808 | GASKET- ELBOW BASE- CAMP FOGGING UNIT | Oil and Gas Parts Equipment |
| S345-12 | NIPPLE- SWAGE 2IN X 1IN SCH 80 TBE | Oil and Gas Parts Equipment |
| S345-13 | NIPPLE- SWAGE 2IN X 1-1/2IN XS A106 TBE | Oil and Gas Parts Equipment |
| CA2593L | FILTER- DISPOSABLE PANEL- | Diesel Locomotive Parts |
| 41300 | Workhorse X70 BRAG Box white 12.5 | General Parts |
| L0122RQ | CHART- PAPER- FOR SINGLE PEN RECORDER-MARIB POWER | Industrial Parts & Misc |
| Chemetrics | DISSOLVED OXYGEN AMPOULES / | Industrial Parts & Misc |
| R-7540 | DISSOLVED OXYGEN AMPOULES | Industrial Parts & Misc |
| T000322-16 | Blade- 16 | Oil and Gas Parts Equipment |
| 934-35 | TAPE- WRAP CORROSION COATING- 4IN WIDE X50 LONG- 35MIL THICK- 3IN CORE | Industrial Parts & Misc |
| EV-35A2 | VALVE- QUICK EXHAUST- FOR ACTUATORSYSTEM- – REINJECTION GAS COMPESSOR1202 A/B/C/D | Oil and Gas Parts Equipment |
| 415230.SUPPLY | GAUGE- SUPPLY PRESSURE 0-30 PSIG-INSTRUMENTATION- AJAX COMPRESSOR | Oil and Gas Parts Equipment |
| 9581924 | HEAD RING SEAT (Viton) | Industrial Parts & Misc |
| CM 100003823 | CONE FRONT AXLE | Oil and Gas Parts Equipment |
| 60G63 | SEAL- OIL ECCENTRIC SHAFT ITEM-10- TRIPLEX PUMP | Oil and Gas Parts Equipment |
| DA8954900SR | PISTON LINK FOR ENERPAC MOD 39HANDPUMP | Oil and Gas Parts Equipment |
| 7503 | V-BELT- PUMP FORMULATION- CAMP FOGGINGUNIT | Oil and Gas Parts Equipment |
| 7404 | V-BELT- PUMP FUEL- CAMP FOGGING UNIT | Oil and Gas Parts Equipment |
| SLW 609 | WRENCH- OPEN ENDED- 9/16 X 5/8-WHITWORTH- TOOLS- WRENCH- OPEN ENDED | Oil and Gas Parts Equipment |
| BR3837 | Chart- Circular 7 day ammeter 0-200 AMP 100/box | Industrial Parts & Misc |
| 9L6639 | V-BELT- WEDGE TYPE- IDBI | Oil and Gas Parts Equipment |
| W206833-000ITEM#261 | COLLAR- DWG PL161- PULSA METERING PUMP | Oil and Gas Parts Equipment |
| 210-43-4-07093-00 | DIAPHRAGM- NEOPRENE/NYLON 1 1- POST/PRELUBE PUMP REGULATOR- | Industrial Parts & Misc |
| 33060 | Kit- repair thread 3/8 | Oil and Gas Parts Equipment |
| 300TEE308 | VALVE- CHECK ITEM-15- TRIPLEX PUMP- | Industrial Parts & Misc |
| P-1050N-35-004 | VALVE- NEEDLE- 1/2IN 10000LB- M x F SCRD-Y-ST- CARBON STEEL | Oil and Gas Parts Equipment |
| M-1500-SH (Old P1500 | Chart- circular 7 days 24 hour 150-1350PSI 10-90 Differential inches water F/American meter 100/box | Industrial Parts & Misc |
| GAS-1050752-000 | SHIM- BEARING END MAIN ITEM-1404-CRANKSHAFT | Oil and Gas Parts Equipment |
| 2R 150RF 310F B100-C | VALVE- BALL- 3/4IN- 150LB BRONZE- FEMALENPT SCREWED | Industrial Parts & Misc |
| 8309 | HOSE- BURNER VALVE TO FUEL SOLENOID-CAMP FOGGING UNIT | Oil and Gas Parts Equipment |
| 8310 | HOSE- FUEL SOLENOID TO BURNER CHAMBER-CAMP FOGGING UNIT | Oil and Gas Parts Equipment |
| 8314 | HOSE- FUEL PUMP TO PRESSURE GAUGE-CAMP FOGGING UNIT | Oil and Gas Parts Equipment |
| 8300 | HOSE- FORMULATION PRESSURE GAUGE TOPANEL BOARD- CAMP FOGGING UNIT | Oil and Gas Parts Equipment |
| 8301 | HOSE- PRESSURE GAUGE TO BURNER VALVE-CAMP FOGGING UNIT | Oil and Gas Parts Equipment |
| 8302 | HOSE- PARTICLES SIZE SELECTOR VALVE TOFOG VALVE- CAMP FOGGING UNIT | Oil and Gas Parts Equipment |
| 8303 | HOSE- PANEL BOARD TO FORMULATION PUMP-CAMP FOGGING UNIT | Oil and Gas Parts Equipment |
| 8304 | HOSE- FORMULATION PUMP TO PARTICLE SIZESELECTOR VALVE- CAMP FOGGING UNIT | Oil and Gas Parts Equipment |
| 8305 | HOSE- GRAVITY TANK TO CARBURATOR- CAMPFOGGING UNIT | Oil and Gas Parts Equipment |
| 8306 | HOSE- FOG VALVE TO BURNER CHAMBER-CAMP FOGGING UNIT | Oil and Gas Parts Equipment |
| 8307 | HOSE- GRAVITY TANK RETURN TO FUEL TANK-CAMP FOGGING UNIT | Oil and Gas Parts Equipment |
| 8308 | HOSE- FORMULATION P/GAUGE TO PARTICLESIZE SELECTOR VALVE- CAMP FOGGING UNIT | Oil and Gas Parts Equipment |
| 8313 | HOSE- FUEL TANK TO FUEL PUMP- CAMPFOGGING UNIT | Oil and Gas Parts Equipment |
| 8315 | HOSE- FUEL PUMP TO GRAVITY TANK- CAMPFOGGING UNIT | Oil and Gas Parts Equipment |
| 1U909646332 | PIN- TRAVEL- FEEDBACK- FOR 30/34 VALVEPOSITIONER | Oil and Gas Parts Equipment |
| 1U909835032 | PIN- LOCK SST- FOR VALVE POSITIONERSERIES 3582/3583- KEY 59 | Oil and Gas Parts Equipment |
| 7589A23 | ADHESIVE- RTV RED SILICONE- HIGHTEMPERATURE/STRENGTH 2.8 OZ PER TUBE- GE RTV 159 | Oil and Gas Parts Equipment |
| 3WA89 | TORCH- INSTANT FIRING 3500 DEGREE F- 4800 BTU-USE WITH 14.1 PROPANE TANK WELDINGTOOL | Industrial Parts & Misc |
| VS030 | SWITCH- PRESSURE – FOR DIESEL DRIVENSTEAM CLEANER MFG:HTS | Oil and Gas Parts Equipment |
| DA6853446SRR | PISTON SLEEVE FOR MOD 39 ENERPAC HANDPUMP | Oil and Gas Parts Equipment |
| 496 | BEARING- CONE- IBI GROUP 21604 | Oil and Gas Parts Equipment |
| CAN IATA | CAN- IATA APPROVED- TO SHIP BY AIR/SEACRUDE OIL SAMPLES | Industrial Parts & Misc |
| 2934-641 | BUSHING- HAMMER CASE- FOR IMPACT TOOLIR PUBLICATION- FORM P6198 | Oil and Gas Parts Equipment |
| ECH50. | SWITCH- HEAT 86-250 DEGREE F- FOR DIESELDRIVEN STEAM CLEANER MFG:HYS | Oil and Gas Parts Equipment |
| ECH50 | CONTROL- TEMPERATURE 0-90 DEGREE C | Industrial Parts & Misc |
| 105A9A738 | KEY- COUPLING- MODEL H-HC UTILITY WATERPUMP | Industrial Parts & Misc |
| 3214A15X56HA001-619 | WASHER- IMPELLER PUMPS END ITEM-3214 | Oil and Gas Parts Equipment |
| 100CR | IC cores Master keyed- keyed differentw 4 key IC cores combinated in DB keyway- master keyed- keyed different with 4 keys | Industrial Parts & Misc |
| 512069-1 | SHAFT- UNK ASSEMBLY .FOR F4-S1- | Oil and Gas Parts Equipment |
| 411499-3 | BUZZER-230-D-MODEL FOR OVEN | Industrial Parts & Misc |
| 8312 | HOSE- FORMULATION SOLENOID VALVE TOFOGGING- CAMP FOGGING UNIT | Oil and Gas Parts Equipment |
| 8316 | HOSE- SUCTION HOSE TO FORMULATION TANKTO PANEL- CAMP FOGGING UNIT | Oil and Gas Parts Equipment |
| 83105 | HOSE- PANEL BOARD TO FORMULATIONRETURN- CAMP FOGGING UNIT | Oil and Gas Parts Equipment |
| FG110-1 | Holder- Spring Loaded F/Solar Generator bearing | Oil and Gas Parts Equipment |
| W047526-000 | SEAL- OIL- ITEM # 264- FOR METERING PUMP | Oil and Gas Parts Equipment |
| W047533-000 | BEARING- ITEM # 253- FOR METERING PUMP | Oil and Gas Parts Equipment |
| 34A1034 | CHART- PAPER- FOR PRESSURE RECORDER-CONTROL PANELS- PIPELINE STATION- OLDP/N 34A1034X012 | Industrial Parts & Misc |
| 121051*3 | VALVE- GATE 1/2IN 800LB- SCREWED- A105 C5+PLANT / | Industrial Parts & Misc |
| 105B4036X032 | GAUGE- PRESSURE -0-160PSI 1-1/2IN DIALFACE- 1/8IN NPT BACK CONNECTION- FORPRESSURE CONTROLLER- CRYO. GAS PLANT-FV-7206/FV-7512/FV-7518 | Oil and Gas Parts Equipment |
| 47.0805.70 | PACKING RETAINERSFOR TRIPLEX PLUNGER PUMP | Oil and Gas Parts Equipment |
| S345-11 | NIPPLE- SWAGE 1/2IN X 2IN XS NPT TBE- ASTMA53 GRADE B TYPE S- GALVANIZED | Oil and Gas Parts Equipment |
| PS-6328 | SEAL- MECHANICAL- FOR PUMP LUBE OIL MAKEUP | Oil and Gas Parts Equipment |
| 29 E12 | HOSE- ASSEMBLY ITEM-36- TRIPLEX PUMP- | Oil and Gas Parts Equipment |
| 29R26 | HOSE- ASSEMBLY ITEM-32- TRIPLEX PUMP- | Oil and Gas Parts Equipment |
| 121051 | VALVE- GATE 1/2IN 800LB- SCREWED- A105 C5+PLANT | Industrial Parts & Misc |
| ENI-C1 1/8IN | Machinable welding Rod-1/8IN/3.25mm ENI-C1–SOFTWELD CAST IRON- SUPPLEID 10LB PERCANWILL comes in 10 box | Industrial Parts & Misc |
| CH103P1W0 (Option 4) | Head- Connection F/Solar Generator bearings | Oil and Gas Parts Equipment |
| 4030-A-AL? | CAMLOCK- ALUMINUM- TYPE A- 4″ ADAPTOR C/W 3″ FEMALE NPT REDUCER INLET | Industrial Parts & Misc |
| 6N0073 | V-BELT- WEDGE TYPE- IDBI 72549- | Oil and Gas Parts Equipment |
| 1002071002 | OIL SEAL- PUMP SIDE- HI-PRESS. PUMP- MODELMRO72B/O5B-S/N 7607/7557- REVERSEOSMOSIS UNIT | Oil and Gas Parts Equipment |
| P80-K | KIT REPAIR FOR P80 HYDRAULIC HAND PUMP | Oil and Gas Parts Equipment |
| Koehlor | API GRAVITY THERMOHYDROMETERTHERMOMETER IN BODY ASTM 74HL | Industrial Parts & Misc |
| CH103P1W6 (Option 5) | Head- Connection F/Solar Generator bearings | Oil and Gas Parts Equipment |
| B-431-1/2 IN | VALVE- GATE 1/2IN 150LB BRONZE SCREWED | Oil and Gas Parts Equipment |
| FE-023-55 | FUSE HOLDER-FOR OVEN | Oil and Gas Parts Equipment |
| BPV10 | VALVE- FUEL 1055VAC- FOR DIESEL DRIVENSTEAM CLEANER MFG:HTS | Oil and Gas Parts Equipment |
| 1447-00 | HIGH RANGE CHLORINE TEST KIT- | Oil and Gas Parts Equipment |
| P39-K4 | KIT REPAIR FOR MOD 39 HYDRAULIC PUMPLAST ITEM | Oil and Gas Parts Equipment |
| 32028706 (New PN3221 | PIN-THRUST- CENTRIF UNLOADER/PILOTVALVE-REF WHSE 12-13 | Oil and Gas Parts Equipment |
| 02-076-00 | Bearing- Ball Ref WHSE Item-17- Travel Cutter- MOD-E | Oil and Gas Parts Equipment |
| 7602 | GASKET- HEAD- CAMP FOGGING UNIT | Oil and Gas Parts Equipment |
| VS005 | SWITCH- FLOW- FOR DIESEL DRIVEN STEAMCLEANER MFG: HTS | Oil and Gas Parts Equipment |
| 9096838 | Light frame | Diesel Locomotive Parts |
| 8323753 | Lighting | Oil and Gas Parts Equipment |
| 8416 | SWITCH- PRESSURE- CAMP FOGGING UNIT | Oil and Gas Parts Equipment |
| 10A2167X012 | POSITIONER- TRAVEL PIN FEED BACK LINKAGE- HIGH VIBRATION SERVICE- FOR TYPE 3582 VALVE AL-RAJA J/T VALVES | Oil and Gas Parts Equipment |
| 824277 | T-STAT KNOB-FOR GRIDDES | Industrial Parts & Misc |
| CH103P1T0 (Option 1) | Head- Connection F/Solar Generator bearings | Oil and Gas Parts Equipment |
| CH103P1T6 (Option 2) | Head- Connection F/Solar Generator bearings | Oil and Gas Parts Equipment |
| 411500-13 | TRANSFORMER-FOR OVEN | Oil and Gas Parts Equipment |
| 202TEE317 | RING- JUNK ITEM-4- TRIPLEX PUMP- | Industrial Parts & Misc |
| 3990 | ELBOW- 2IN- 6000LB- 90 DEG- SCREWED- ASTMA105- BLACK CS | Oil and Gas Parts Equipment |
| 7320191 | GLAND- PACKING- FOR 250 CENTRIFUGALPUMP PN: 6410503338 | Industrial Parts & Misc |
| 347545-1 | CATCH DOOR-FOR OVEN | Industrial Parts & Misc |
| 121051*1 | VALVE- GATE 1 IN SCREWED 800LB- RATING1975LBS -20 TO 100 DEGREE F- ASTM A105 BODY | Industrial Parts & Misc |
| 8401 | ELECTRODE- IGNITION- CAMP FOGGING UNIT | Industrial Parts & Misc |
| 304CN614466 | SWITCH- VALVE POSITION INDICATOR-W/MOUNTING BRACKETS- TYPE-304-CLASS 1C&D- ENCL. 4 HOUSING | Oil and Gas Parts Equipment |
| 411500-12 | TRANSFORMER-120/240-FOR BRAISING PAN | Oil and Gas Parts Equipment |
| 425138 | Wrench- Impact box end Oteco 2.188 | Oil and Gas Parts Equipment |
| CH103P1T8 (Option 3) | Head- Connection F/Solar Generator bearings | Oil and Gas Parts Equipment |
| W096687-000ITEM#506 | SCREW- ADJUSTMENT- PULSA METERINGPUMP | Oil and Gas Parts Equipment |
| NO7-99123KIT | VALVE ASSEMBLY- SUCTION- | Oil and Gas Parts Equipment |
| No75dau10 | NOZZLE- AUTO ASSEMBLY – SIZE 3/4 IN- FOR FULLSERVICE LEADED GASOLINE PUMPFORGASOLINE STATION PN: No75dau10 | Industrial Parts & Misc |
| 28-0240 | AC Adaptor (200-To-240 VAC Altek IndustrialCorporation | Industrial Parts & Misc |
| RC506K | KIT REPAIR FOR 50 TON HYDRAULIC CLYINDER | Oil and Gas Parts Equipment |
| 200ALPENAML | COUPLING ASSEMBLY -COMPLETE-W/NEOPRENESPIDER– MOTOR HALF 1-1/8×1/4 IN KEY– PUMPHALF 3/4×3/16-IN KEY- CONTROL VALVE-PIPELINE | Oil and Gas Parts Equipment |
| 1027 | Primer- Polyken # 1027 1Gal/Can | Industrial Parts & Misc |
| 55196 | BEARING- CONE- IBI GROUP 21007 | Oil and Gas Parts Equipment |
| 7010509831621 124001 | DIAPHRAGM SUB ASSEMBLY EMBLY DIRECT- FORTHE GAS BOOT FLARE VALVE CONTROLSYSTEM | Industrial Parts & Misc |
| 340324-8 | SWITCH HOLD-D-MODEL-FOR OVEN | Oil and Gas Parts Equipment |
| 1050P | HELMET- WELDERS- PIPELINER- GREY | Industrial Parts & Misc |
| 22969265 | FILTER- FUEL ELEMENT PRIMARY F/ INGERSOL RAND COMPRESSOR XP375 WIR/2009/C ENGINE TYPE: | Oil and Gas Parts Equipment |
| M5VDC-44 | | Oil and Gas Parts Equipment |
| 22969257 | FILTER- FUEL ELEMENT FINAL F/ | Oil and Gas Parts Equipment |
| TDAR675X | U jont | Oil and Gas Parts Equipment |
| 9314870 | COVER HANDHOLE | Diesel Locomotive Parts |
| SF32 | BEARING- ASSEMBLY FLANGED- IBI GROUP13655- SEALMASTER | Oil and Gas Parts Equipment |
| NOR210219 | CLOSER- DOOR TRI-STYLE NON HOLD OPEN | Industrial Parts & Misc |
| S851PD115Z36 | RTD- Platinum 100 OHM F/Solar Generator bearing case length: 1.5 | Industrial Parts & Misc |
| 92220020 | BEARING- PILLOW BLOCK FAG TYPESYH-108TANK FLARE RECOVERY SYSTEM | Oil and Gas Parts Equipment |
| 60DD1053 | PACKING- STYLE 1067 PACKING ITEM-5- TRIPLEX PUMP | Oil and Gas Parts Equipment |
| D624 | SOLDER- 60/40 LEAD ALLOY- SWG 24- SUPPLIED500G PER REEL | Industrial Parts & Misc |
| PE238 | GLAND- OIL STOP HEAD ITEM-10- TRIPLEX PUMP | Industrial Parts & Misc |
| KCP-GF | GAUGE- PRESSURE 0-60PSI- 2-1/2 IN DIALFACE- 1/4IN NPT BACK CONNECTION-GLYCERINE FILLED PANEL MOUNT | Oil and Gas Parts Equipment |
| 105796 | TERMINAL- END SECTION- KLIPPON (minimum 20) | Oil and Gas Parts Equipment |
| 251-000-74H | API GRAVITY THERMOHYDROMETER THERMOMETER IN BODY ASTM 74HL | Industrial Parts & Misc |
| 411496-F1 | SWITCH DOOR-FOR OVEN | Oil and Gas Parts Equipment |
| 21058384 | FILTER- OIL ELEMENT ITEM-2- TRIPLEX PUMP- | Oil and Gas Parts Equipment |
| 5V1120 | V-BELT- NARROW MULTIPLE WEDGE IDBIGROUP 73629- FOR INSTRUMENT AIRCOMPRESSOR | Oil and Gas Parts Equipment |
| 2WAJ5105 | SCREEN- OIL STRAINER ITEM-4- TRIPLEX PUMP | Industrial Parts & Misc |
| 30221584 | SPRING- VALVE DISCHARGE 20GA F/ INGERSOL-RAND COMPRESSOR MODEL 7T2 S/N 00001575FORM SCD-449B | Oil and Gas Parts Equipment |
| 195098 | CONNECTOR- TC TYPE K 2-PIN MALE (10 PACK) | Oil and Gas Parts Equipment |
| RCH 302-K-1 | KIT REPAIR FOR 30 TON HYDRAULIC CYLINDER | Oil and Gas Parts Equipment |
| 4030-DA-AL | CAMLOCK- ALUMINUM- TYPE DA- 4″ COUPLER X 3″ ADAPTOR | Industrial Parts & Misc |
| 854537-1 | SWITCH CONTROL MANUAL LIFT CONTROL-FOR BRAISING PAN | Oil and Gas Parts Equipment |
| RGASKETX312 | KIT- GASKET- FOR CONTROL VALVE 1INEZ-ED-EAD | Oil and Gas Parts Equipment |
| TYPEB11-02DJC-M3 | REGULATOR- 0-125 PSI- SIZE 1/4IN WITHINTEGRAL FILTER | Oil and Gas Parts Equipment |
| B11-02DJDM3 | REGULATOR- 0-250 PSI- 1/4IN- WITH INTEGRALFILTER | Industrial Parts & Misc |
| MS-KLCE | KIT- MICRO SWITCH- FOR OIL LEVELCONTROLLER | Oil and Gas Parts Equipment |
| Midland Scientific | HYDRANAL- COULOMAT AG- FORCOULOMETRIC KARL FISHER TITRATION | Industrial Parts & Misc |
| 26-60 | BATTERY- 12 VOLT- TYPE 26-60- FOR TOWERLIGHTS AND PRESSURE WASHER | Industrial Parts & Misc |
| 5641-8470-m | SEAT- FOR MECO REGULATOR HP 5500LB MAX | Oil and Gas Parts Equipment |
| CBCG-LKN | Cartridge- sun CBCG-LKN F/Service Rig | Industrial Parts & Misc |
| 5174K5 | TUBING- COPPER- 0.032IN WALL THICKNESS-3/8IN x 50FT ROLL | Oil and Gas Parts Equipment |
| 821762 | THERMOSTAT LIMIT HIGH-FOR BRAISING PAN | Industrial Parts & Misc |
| 4030-D-AL | CAMLOCK- ALUMINUM- TYPE D- 4″ COUPLER C/W 3″ FEMALE NPT REDUCER INLET | Industrial Parts & Misc |
| 81-146002 | DISK- SUB ASSEMBLY – SET PRESSURE 20PSIG-FOR 2IN RELIEF VALVE TYPE- 81-288210504SITEM-4- START GAS SYSTEM AJAX AL-SHURA | Oil and Gas Parts Equipment |
| 400-DD-AL | CAMLOCK- ALUMINUM- TYPE DD- 4″ COUPLER X 4″ COUPLER- | Industrial Parts & Misc |
| 50-EI60E-06-50/400F | THERMOMETER- 50-400 DEGREE F- 6IN STEM 5INFACE- 1/2 IN NPT CONNECTION- EVERYANGLE-EXTERNAL ADJUSTMENT | Industrial Parts & Misc |
| T-14875 | ALTERNATOR BRUSH PAGE 124-G ITEM 19-LINCOLN WELDING SET | Oil and Gas Parts Equipment |
| ELHFT230 | CONTROL- MODULAR SERIVCE COUNTER | Industrial Parts & Misc |
| 30284749 | PISTON- UNLOADER COMPLETE- BARECOMPRESSOR- REF WHSE 1-109 | Oil and Gas Parts Equipment |
| 194965 | ROPE- HIGH TEMPERATURE 1″ WIDE 50 FT | Oil and Gas Parts Equipment |
| CN464051SRS | PUMP PLUNGER FOR MODEL P80 HYDRAULICHAND PUMP | Oil and Gas Parts Equipment |
| 6016J | BEARING- IBI GROUP 14654- FOR ALLISONTRANSMISSION | Oil and Gas Parts Equipment |
| 2641A071 | PUMP- FUEL- LINCOLN WELDER- SAE 400-45236 | Oil and Gas Parts Equipment |
| 353589-1 | PROBE ASSEMBLY -D- MODEL-FOR OVEN | Industrial Parts & Misc |
| 30286 | O-RING, 85-90 DURO | Oil and Gas Parts Equipment |
| ST007 | GUN- WANDFOR STEAM CLEANING EQUIPMENT | Industrial Parts & Misc |
| 41611 | Jumbo Roll white/blue Wypall X70 12.5 | General Parts |
| 2-475-001-999 | SEAL- MECHANICAL- FOR PUMP LUBE OIL MAKEUP | Oil and Gas Parts Equipment |
| 34836-500ML | HYDRANAL- COULOMAT AG- FORCOULOMETRIC KARL FISHER TITRATION | Industrial Parts & Misc |
| 103824-000 | PACKING- 4INCH NON-ADJUSTABLELUBRICATE | Oil and Gas Parts Equipment |
| R-2E75-S-TP | TRANSFORMER- SHOP LIGHTS 120V RIG-100 | Oil and Gas Parts Equipment |
| 32170797 | VALVE- AUXILIARY RANGE 101-250 PS- FORLOADING & UNLOADINGFOR INSTRUMENT AIRCOMPRESSOR | Industrial Parts & Misc |
| CM 100003824 | CONE FRONT AXLE | Oil and Gas Parts Equipment |
| FGO-512-2 | ELEMENT- FILTER- AQUACONFOR AVIATIONFUEL SKID- PRS# 2 | Oil and Gas Parts Equipment |
| S345-14 | NIPPLE- SWAGE 1IN X 3IN XS NPT TBE- ASTMA234 WPB- GALVANIZED | Oil and Gas Parts Equipment |
| 204877 | COOLANT JUMPERS | Oil and Gas Parts Equipment |
| MODEL: 779 | GAUGE- DRUM- FOR CHEMICAL PUMP / | Oil and Gas Parts Equipment |
| 411690-2 | TIMER-208/240 VOLT-D-MODEL -FOR OVEN | Industrial Parts & Misc |
| FIG206A | VALVE- GATE- 2IN 150 LB BRONZE- 200 WOG-FEMALE SCREWED | Oil and Gas Parts Equipment |
| 700kit2659 | KIT- ELEC. GAS PUMP SERIES 700B MOD. 701R– PN: 700kit2659 | Oil and Gas Parts Equipment |
| 3150-14M55H | TIMING BELT | Oil and Gas Parts Equipment |
| 4F-B6LJ-SS | VALVE- BALL- 1/4IN 1500 PSI- FEMALE NPT- 2-WAY- STAINLESS STEEL | Industrial Parts & Misc |
| 648408102 | BEARING- INBOARD- FOR 250 CENTRIFUGALPUMP PN: 661009010A | Oil and Gas Parts Equipment |
| MGM-3630051 | CHAMBER- BRAKE REAR AXEL F | Industrial Parts & Misc |
| N/ATUFF-N-NUFF | Pad- Plastic Rockshield 0.375 | Industrial Parts & Misc |
| W060150-316 | SEAT- VALVE GUIDE L-3-5 ITEM-105- | Oil and Gas Parts Equipment |
| 50-EI60E-04-0/200F | THERMOMETER- 0-200 DEGREE F- | Industrial Parts & Misc |
| 50-EI60E-09-50/400F | THERMOMETER- 50-400 DEGREE F- | Industrial Parts & Misc |
| 8417 | GAUGE- PRESSURE FORMULATION- CAMPFOGGING UNIT | Oil and Gas Parts Equipment |
| 84105 | GAUGE- PRESSURE FUEL- CAMP FOGGINGUNIT | Oil and Gas Parts Equipment |
| 854495-1 | SWITCH CONTROL AUTO-LIFT-FOR BRAISINGPAN | Oil and Gas Parts Equipment |
| 2934-TK3 | KIT- TUNE-UP KIT- FOR 1IN IMPACT TOOL WRA-PUBLICATION FORM P6194P | Oil and Gas Parts Equipment |
| 1756-BA2 | BATTERY ASSEMBLY LOGIX5000 – SER A- FORPROCESSOR- ELECTRIC GENERATOR SETENGINE S/N 1617S/1618S/1619S | Industrial Parts & Misc |
| 92260024-1 | COUPLING- SHAFT- BORE 1-1/2IN- WOODS TYPE9S- FOR TANK FLARE RECOVERY SYSTEM | Oil and Gas Parts Equipment |
| 351393-3 | ELEMENT-240 VOLT-INNER FOR OVEN | Industrial Parts & Misc |
| 351360-1 | HEATING ELEMENT-208 VOLT D UNIT FORGRIDDES | Industrial Parts & Misc |
| GAS-103837-000 | SEAL- LIP OIL MAIN BEARING ITEM-157-CRANKSHAFT- | Oil and Gas Parts Equipment |
| MC55P | ALCAD NI-CD BATTERY CELLS TYPE MC55P-1.2V FOR 48 VDC BANK CAPACITY 55 AH RATE-EMPTY | Industrial Parts & Misc |
| 351393-1 | ELEMENT- 208 VOLT- INNER FOR OVEN | Industrial Parts & Misc |
| EIH-R250 | SWITCH- PRESSURE ADJUSTABLE 15-250 PSI-15A 125 VDC 15A 480 VAC | Oil and Gas Parts Equipment |
| GAS-104566-000 | PACKING- SET w/SEAL OIL ITEM-219 | Oil and Gas Parts Equipment |
| B200RFD34XJF | TRANSFORMER- CONTROL- 10/0.200 KVA-400/120V- 50 Hz PN: B200RFD34XJF | Oil and Gas Parts Equipment |
| 202TEE445 | LANTERN- RING SPACER ITEM-6- TRIPLEX PUMP | Industrial Parts & Misc |
| 826-1001 | THERMOSTAT- HIGH LIMIT F/ | Industrial Parts & Misc |
| 351393-4 | ELEMENT-240 VOLT-OUTER-FOR OVEN | Industrial Parts & Misc |
| 1PE447 | SEAL- OIL MAIN SHAFT ITEM-43- TRIPLEX PUMP | Oil and Gas Parts Equipment |
| 1689519C91 | FLANGE- REAR PROPELLER SHAFT F | Oil and Gas Parts Equipment |
| NJ310 | BEARING- BALL- IBI GROUP 52906 | Oil and Gas Parts Equipment |
| 648408201 | BEARING- OUTBOARD- FOR 250 CENTRIFUGALPUMP PN: 648408201S | Oil and Gas Parts Equipment |
| 8Z-B8LJ-BP | VALVE- BALL BRASS 1/2 IN TUBE END 2 WAY | Oil and Gas Parts Equipment |
| 90Q22 | VALVE- RELIEF OIL ITEM-26- TRIPLEX PUMP | Oil and Gas Parts Equipment |
| CODE: JFP-GF | GAUGE- PRESSURE 0-200PSI- 2-1/2IN DIAL FACE- 1/4IN NPT BACK CONNECTION GF-BRASS- PANEL MOUNT | Oil and Gas Parts Equipment |
| LG- BARBROOK30 | SHAFT- 1-1/4IN diameterx 21IN LG- BARBROOK30/36IN WALL EXH.FAN- MODEL FHI-30/FHI-36-U.S.S. JOB NO. 043-0003 (with 2″ keyways both ends ) | Oil and Gas Parts Equipment |
| 6410516157 | PLATE- WITH STUFFING BOX- FOR 5X6 250CENTRIFUGAL PUMP PN: 6410516157 | Oil and Gas Parts Equipment |
| 3WAFERBFYVLV | VALVE- BUTTERFLY 3IN WAFER TYPE 175 PSIG-CI BODY- AL/BRONZE DISC- SST STEM- BUNASEAT- KEYSTONE P/N HS1-064250PSI | Industrial Parts & Misc |
| M105TAIC26D300124 | Arrow MK knob set entrance function. knob to accept Small format IC core | Industrial Parts & Misc |
| 82E735131 | 1″ | Oil and Gas Parts Equipment |
| 840115 | CONTACTOR- 25 AMP-FOR BRAISING PAN | Oil and Gas Parts Equipment |
| 41455 | POP-UP box X70 white 9.1 | General Parts |
| 855036-1 | TRANSFORMER-240/480/120-150 VA-FORBRAISING PAN | Oil and Gas Parts Equipment |
| 23011446 | SLEEVE-CENTER SUPPORT- KIT 740 ALLISONTRANSMISSON GROUP 14. | Oil and Gas Parts Equipment |
| EIH-R500 | SWITCH- PRESSURE ADJUSTABLE 35-500 PSI-15A 125 VDC 15A 480 VAC | Oil and Gas Parts Equipment |
| L 55-10250 | Brake pads L 55-10250 | Oil and Gas Parts Equipment |
| 922600105-1 | SPIDER- SHAFT COUPLING- WOODS TYPE9NTANK FLARE RECOVERY SYSTEM | Industrial Parts & Misc |
| T3F20J155 | VALVE- BALL 2IN- 1500LB- RTJ- FULL PORT-STANDARD TRIM- SERVICE TO 200 DEGREE F-FLANGE TO FLANGE 14-1/2IN | Oil and Gas Parts Equipment |
| B-105-2 IN | VALVE- GATE- 2IN 150LB BRONZE FEMALESCREWED | Oil and Gas Parts Equipment |
| 351360-2 | HEATING ELEMENT-240 VOLT D UNITFORGRIDDES | Industrial Parts & Misc |
| PE226A | HEAD- ASSEMBLY OIL STOP W/STUDS & NUTS- TRIPLEX PUMP | Oil and Gas Parts Equipment |
| 344635-6 | THERMOSTAT-FOR GRIDDES | Industrial Parts & Misc |
| 6412105701 | IMPELLER- FOR 5X6 250 CENTRIFUGAL PUMP PN: 6412105701 | Oil and Gas Parts Equipment |
| 50-EI60E-040-50/300F | THERMOMETER- 50-300 DEGREE F- 4IN STEM- 5INFACE- 1/2IN NPT CONNECTION- EVERYANGLEEXTERNAL ADJUSTMENT | Industrial Parts & Misc |
| 700KTF2659 | REPAIR KIT 700V | Oil and Gas Parts Equipment |
| P301??? | Top Casting for 130 Filter | Industrial Parts & Misc |
| 5212-M | BEARING- IBI GROUP 14042- FOR ALLISONTRANSMISSION | Oil and Gas Parts Equipment |
| 411497-C5 | CONTACTOR-3 POLE-FOR OVEN | Oil and Gas Parts Equipment |
| ACR3044 | RECEPTACLE- 30AMP- FOR FRESH WATERPUMP | Industrial Parts & Misc |
| 4100214050 | SODIUM BISULFITE- 50Lbs PG | Oil and Gas Parts Equipment |
| SAK 2.5 | BLOCK- TERMINAL- 2.5MM 750V (minimum 100) | Industrial Parts & Misc |
| 12C60 | BEARING- ECCENTRIC SHAFT ITEM-5- TRIPLEX PUMP | Oil and Gas Parts Equipment |
| 813E | | Oil and Gas Parts Equipment |
| RRELAYX83C2 | RELAY- ASSEMBLY 3-15 PSIG- PRESSURECONTROL TRAIN SEPARATORS | Oil and Gas Parts Equipment |
| 512062-1 | SHAFT- JACK AND GEAR ASSEMBLY .FOR F4-S1-S6 | Oil and Gas Parts Equipment |
| W206930-000ITEM#502 | DIAPHRAGM- PULSA METERING PUMP | Oil and Gas Parts Equipment |
| 394891 | ARMATURE- MAGNETO- CAMP FOGGING UNIT | Industrial Parts & Misc |
| 195436 | RUNNING GEAR- PROHEAT 35 | Oil and Gas Parts Equipment |
| 8320A6 | VALVE- SOLENOID- COMPLETE- RGC CONTROLSKID- VALVE- SOLENOID | Oil and Gas Parts Equipment |
| 45-1279SSL-04L-XNH | GAUGE- PRESSURE 0-400PSI 4-1/2IN DIALFACE- 1/2 NPT BOTTOM CONNECTION- LIQUIDFILLED BACK BLOWOUT- 316 SST ELEMENTAND SOCKET | Oil and Gas Parts Equipment |
| 1002071005 | BEARING- CUP AND CONE- HI-PRESS. PUMP-MODEL MRO72B/O5B-S/N 7607/7557- REVERSEOSMOSIS UNIT | Oil and Gas Parts Equipment |
| 1/2R te 310C5 B136-S | VALVE- BALL- 1/2IN 2000 PSI WOG- FEMALENPT- WRENCH OPERATED- STAINLESS STELL | Oil and Gas Parts Equipment |
| 1U226224492 | ADAPTER- SEAT RING 2IN ED VALVE-INSTRUMENTATION- RESTRICTED TRIM | Oil and Gas Parts Equipment |
| 21-2200-TT | VALVE- BALL 1-1/2IN NPT COMPLETE-SEPARATOR/DESALTER | Oil and Gas Parts Equipment |
| SS-45S8 | VALVE- BALL- 1/2IN- 2500LB AT 100F- TUBING X 1/2IN FNPT- 304 S/STEEL TYPE SS-45S8 | Oil and Gas Parts Equipment |
| 807CLMK | METER LITER | Industrial Parts & Misc |
| TIFA TOADVISE | STARTER- MOTOR ENGINE- CAMP FOGGINGUNIT | Oil and Gas Parts Equipment |
| 341500THDGATE | VELAN 3/4″ CLASS 1500 THRD GATE VALVE- FIG.# S3054B?02TS- A105 BODYTRIM 5- 3170PSI @ 400F | Industrial Parts & Misc |
| 22B3645X022 | BEAM- SUB-ASSEMBLY- HIGH VIBRATIONSERVICE- TYPE 3582 VALVEPOSITIONERAL-RAJA J/T VALVE | Industrial Parts & Misc |
| 800T-XAP | SWITCH- BLOCK- SEALED | Oil and Gas Parts Equipment |
| 200202 | TEMPERATURE SENSOR- TYPE | Oil and Gas Parts Equipment |
| W096686-000ITEM#505 | KNOB- PULSA METERING PUMP | Oil and Gas Parts Equipment |
| 855035-1 | TRANSFORMER-240/480-120-50VA-FORBRAISING PAN | Oil and Gas Parts Equipment |
| 351393-2 | ELEMENT-208 VOLT-OUTER-FOR OVEN | Industrial Parts & Misc |
| 099257-005D | COIL- SOLENOID VALVE 24VDC-FOR ALSHURASEPARATOR ESD SYSTEM. | Industrial Parts & Misc |
| 055-0155-A | KIT- GEAR BOX SEAL QT30-140- PIPELINECONTROL VALVES- HYDRAULIC/ELECTRICOPERATED- DWG NO.020-0132B | Oil and Gas Parts Equipment |
| 6519-1 | BEARING- THRUST ALL IRON- PD SERIESMETER F4-A1-S1-S6- FORM P0546-00 ITEM-1057 | Oil and Gas Parts Equipment |
| 854517-1 | SWITCH LIMIT PAN-FOR BRAISING PAN | Oil and Gas Parts Equipment |
| 43932 | REMOTE CONTACTOR CONTROL | Industrial Parts & Misc |
| 8400 | THERMOCOUPLE- CAMP FOGGING UNIT | Industrial Parts & Misc |
| 12B3642X012 | LINEAR CAM 'A' ION NITRIDED PROFILE- HIGH VIBRATION SERVICE- TYPE 3582 VALVE POSITIONER- AL RAJA J/T VALVES PV1302/ PV2302 | Industrial Parts & Misc |
| 8069495 | HUB | Industrial Parts & Misc |
| GAS-103702-000 | BUSHING- WRIST PIN STD ITEM-2105- CON-ROD | Oil and Gas Parts Equipment |
| 8409 | PYROMETER- CAMP FOGGING UNIT | Industrial Parts & Misc |
| 9012GAW26 | SWITCH- PRESSURE CLASS 9012 TYPEGAW-26- SERIES C- RANGE 5-250 PSIG-CONTROL CIRCUIT AC A600 | Oil and Gas Parts Equipment |
| KTV-50-CS-T | VALVE SET- CARBON STEEL- | Oil and Gas Parts Equipment |
| 2R-B200-CS-42-CS-F-W | VALVE- BALL 2IN 150LB ANSI API 6D RFFE- CSBODY- REDUCED PORT- WRENCH OPERATED-SERVICE TO 180 DEG. F. FLANGE TO FLANGE7IN | Industrial Parts & Misc |
| VK411506-2 | THERMOSTAT- FOR OVEN RANGE GRIDDLETOP- 240/380V 3PH 50HZ | Oil and Gas Parts Equipment |
| GX48VZ. | LAMP- GERMICAL- 45IN LONG- FORULTRAVIOLET WATER PURIFIER | Oil and Gas Parts Equipment |
| 821875-1 | RELAY 50 AMP-FOR OVEN | Oil and Gas Parts Equipment |
| 19326 | TERMINAL- FEED THROUGH SAK6N (minimum 100) | Oil and Gas Parts Equipment |
| 194950 | INSULATION BLANKET FOR 8 IN PIPE | Industrial Parts & Misc |
| 854545-1 | RELAY HEAT-24 VAC-FOR BRAISING PAN | Oil and Gas Parts Equipment |
| 25PE14 | STUFFING BOX- ITEM-2- TRIPLEX PUMP- | Oil and Gas Parts Equipment |
| 3033380 | Control Throttle instrument | Industrial Parts & Misc |
| 70854-92 | GEAR PLATE- LITER GEARED- PD SERIESF4-A1-S1-S6 | Oil and Gas Parts Equipment |
| 300TEE839 | ROD- EXTENSION CROSSHEAD ITEM-105- TRIPLEX PUMP | Oil and Gas Parts Equipment |
| 204669 | Insulation- Preheat- Woven Silica (1/2″ x 6″ x 120″) | Industrial Parts & Misc |
| 1794-TB3G | BASETERMINAL BASE FOR ANALOG I/O- PLCCONTROL SYSTEM HARDWARE- | Industrial Parts & Misc |
| EXTECHTK430-IR | DIGITAL MULTIMETERS EXTECH TK430-IR KIT | Oil and Gas Parts Equipment |
| 1201PG-1C-4.5B-0-25P | Gauge- differential pressure 0.25PSID 4.5 | Oil and Gas Parts Equipment |
| SGL2L1350 | STEEL BATTERY STAND 1 TIER-1 STEPENOUGH FOR 42 CELLS MC55P- NORMALCONNECTION- | Industrial Parts & Misc |
| 200-7693/200-7722 | STATION- SOLDERING- 240 VAC- OPREATION 24VACDO NOT SUBSTITUTE | Industrial Parts & Misc |
| 691201-15 | Sensor- Gas supply pressure- 1/8 | Oil and Gas Parts Equipment |
| 640966-404 | GEAR PLATE- RATIO 8.4:1 (BARRELS) | Oil and Gas Parts Equipment |
| 304355 | KIT- REPAIR- FOR SOLENOID VALVE 8210G101-1050 VACFOR REVERSE OSMOSIS UNIT | Oil and Gas Parts Equipment |
| 151051MB8 | VALVE- GATE 3/4IN 1500LB 3705PSI SCREWEDCS- 316 SST TRIM- BOLTED BONNET OS&Y-SOLID WEDGE- | Oil and Gas Parts Equipment |
| TEE77908 | PACKING- STYLE 1067 PACKING W/ITEMS 4 THRU 7- TRIPLEX PUMP | Oil and Gas Parts Equipment |
| 82E7351311 | Safety relief valve size: 1 | Oil and Gas Parts Equipment |
| 8403 | VALVE- SELONOID FUEL- CAMP FOGGING UNIT | Oil and Gas Parts Equipment |
| T100-08F-48 | HOUSING- FILTER HANKISON MODEL 3103-3-C5+INSTRUMENT AIR COMP- AFTER FILTERTAG F-702- PRESS 300 PSI IN/OUT 1IN NPT | Oil and Gas Parts Equipment |
| 12BA64 | BEARING- ECCENTRIC SHAFT ITEM-105- TRIPLEX PUMP | Oil and Gas Parts Equipment |
| VS-2EX | SWITCH- VIBRATION 5AMP 480 VAC- 2 SPDTSNAP ACTING SWITCHES- EXPLOSION ANDWEATHER PROOF TO NEMA 7 | Oil and Gas Parts Equipment |
| 41A239176P487 | Red- Air Dry Water Base | Industrial Parts & Misc |
| 8005 ST-108 | MODULE-SSR OUTPUT100-240VAC | Industrial Parts & Misc |
| P3214M55 | SPROCKET- CRYOGENIC MOTOR-SYNCHRONOUS DRIVE SYSTEM- TOOTH BELT-FOR COMPRESSOR AFTER COOLERS | Oil and Gas Parts Equipment |
| 854646-1 | T.COUPLE/TEMP.PROBE-E-TYPE-FOR BRAISINGPAN | Industrial Parts & Misc |
| T-1-60834 | TRANSFORMER- AUTO TYPE T-60834- 200-240VOLT IN- 1055 VOLT OUT- 1000 VA 50/60 HZ- | Oil and Gas Parts Equipment |
| 151051 | VALVE- GATE- 1IN 1500LB 3705PSI SCREWED-BODY CARBON STEEL- OS&Y- SOLID WEDGE-BOLTED BONNET | Oil and Gas Parts Equipment |
| 353613-2 | TEMPERATURE CONTROLLER-D-MODEL-FOR OVEN | Industrial Parts & Misc |
| TS-1551 | MOTOR- STARTER- 12VOLT- SERIES 37MTTYPE 300- ROTATION CW DETROIT DIESEL | Oil and Gas Parts Equipment |
| 194952 | INSULATION BLANKET FOR 12 IN PIPE | Industrial Parts & Misc |
| 9323944 | Ring-Outer | Industrial Parts & Misc |
| 351360-3 | HEATING ELEMENT-480 VOLT D UNITFORGRIDDES | Industrial Parts & Misc |
| 300TEE005 | CROSSHEAD- STANDARD SIZE ITEM-1- TRIPLEX PUMP | Industrial Parts & Misc |
| 1502-1059105 | VALVE- BALL 2IN 2000 PSI ANSI 600LB CWPSCREWED FNPT ENDS- CS BODY- FULLOPENING- WRENCH OPERATED | Oil and Gas Parts Equipment |
| FIG-2F-F13-RF | VALVE- BALL 2IN ANSI 150LB API 6D-RFFE- FLGTO FLG 7IN- FULL OPENING WRENCHOPERATED- FLANGED ENDS CARBON STEELFLOATING TYPE | Oil and Gas Parts Equipment |
| MC165P | ALCAD NI-CD BATTERY CELLS TYPEMC165P-1.2 V WITH CAPACITY 165 AH RATE-EMPTY- COMPLETE WITH ELECTROLYTE INSOLID FORM- | Industrial Parts & Misc |
| EL10220 | STRIP- TERMINAL- 8 POINT-FOR ACCU TRAK-SERIES 1000-2000 AND AT6-33-SDV-10501/A/L-2228-13105-2202- AND 2231A/BSHUTDOWN VALVES | Industrial Parts & Misc |
| 854511-1 | ELEMENT-208/240 VOLT-FOR BRAISING PAN | Industrial Parts & Misc |
| 02-602-00 | Cutter- Straight- 7″ x 3/16″ x 1-3/4″ M2HSS- Travel Cutter MOD-E | Industrial Parts & Misc |
| 132P48CC6 | Switch- Pressure complete unit P/N 132P48CC6 Neodyne | Oil and Gas Parts Equipment |
| 398978-4 | MAJOR REPAIR KIT- NON-DEVORCED- FOR AIRMOTOR SER.323440-4 | Oil and Gas Parts Equipment |
| 5121052-1 | PLATE- ROTOR GEAR FOR F4-S1- S6 | Oil and Gas Parts Equipment |
| 32153660 | PLATE- UNLOADER FIG-1 REF WHSE 1-13- INSTUTILITY AIR COMP MOD 30T- SERIALNO.30T572773 | Oil and Gas Parts Equipment |
| 3D-DH2361TBB | Neovo SC-19″ LCD Monitor | Oil and Gas Parts Equipment |
| 6224 | BEARING- BALL- IBI GROUP 15333 | Oil and Gas Parts Equipment |
| 194954 | INSULATION BLANKET FOR 16 IN PIPE | Industrial Parts & Misc |
| 3LE81 | BATTERY CHARGER- 12 VOLT- 60/40/2 AMPCHARGER RATE | Industrial Parts & Misc |
| LCE220P | ALCAD NI-CD BATTERY CELLS TYPELCE220P-1.2 V WITH CAPACITY 165 AH RATE-EMPTY- COMPLETE WITH ELECTROLYTE INSOLID FORM | Industrial Parts & Misc |
| 8472990 | Hub | Industrial Parts & Misc |
| 27A9643X012 | STEM-BRONZE 133 SIZE 30- C5+PLANT-ACTUATOR SIZE 40 1052- TOP MOUNTEDHANDCHECK ASSEMBLY FV-406A | Industrial Parts & Misc |
| 23230063 | FILTER- FUEL ASSEMBLY PRIMARY F/ INGERSOL RAND COMPRESSOR XP375 WIR/2009/C ENGINE TYPE | Oil and Gas Parts Equipment |
| CN1001TC | CONTROLLER- TEMPERATURE -58/1999 DEGREE F-DIGITAL- 115 VOLT 7 WATT WITH SWITCH | Industrial Parts & Misc |
| 200201 | Cable- Extension- 25′ Type K- Armored | Oil and Gas Parts Equipment |
| 4110 | DIGITAL ELECTRONIC POTENTIAL METER -MODEL DPM | Industrial Parts & Misc |
| 47XUF | VALVE- GATE- 4IN 150LB RFFE API 6D- CARBONSTEEL OS&Y- SOLID WEDGE- FLANGE TOFLANGE 9 IN | Industrial Parts & Misc |
| NTS-50061-31 | SEAT- NATIONAL F/ | Water Well Rig |
| 1CXV30F/F5 | VALVE- RELIEF SET PRESSURE 300PSIG-TYPE 1CXV-30- ORIFICE 9/16IN- INLETCONNECTION 1/2IN NPT- CAPACITY 27 GPM | Industrial Parts & Misc |
| 211474 | Insulation- Preheat- Woven Silica (1/2″ x 12″ x 120″) | Industrial Parts & Misc |
| MODEL81-20524-A2 | SWITCH- DUAL PROXIMITY GO SYSTEMSSERIES 300 FOR GAS PLANT II | Oil and Gas Parts Equipment |
| 32B1231X012 | TUBE ASSEMBLY- BOURDON 3-15 PSI2500/2500T- TYPE 2500 CONTROLLER | Oil and Gas Parts Equipment |
| 195376 | Insulation- Preheat- Woven Silica (1/2″ x 6″ x 240″) | Industrial Parts & Misc |
| RF-5275-FUT | VALVE- GLOBE 4IN 150LB- FLANGE TO FLANGE105-1/2IN- FOR SEPARATOR/DESELATOR | Oil and Gas Parts Equipment |
| 6226C3 | BEARING | Oil and Gas Parts Equipment |
| 2301050 | DIAPHRAGM- PULSATION DAMPER PZ TYPE K | Industrial Parts & Misc |
| 125B31CX1-673 | OIL RINGFOR RAYDAN OFF LOADING PUMPSIZE 4 x 8 | Oil and Gas Parts Equipment |
| H22J18BABCA | COMPRESSOR- 220 VOLT 50 HZ 1 PH LRA 47-THERMALLY PROTECTED- 4 LEGSFOR TYPHONSPLIT AIR CONDITIONER | Oil and Gas Parts Equipment |
| 3804438) | Cylinder Liner | Oil and Gas Parts Equipment |
| GAS-103707-000 | WIPER BOX- CRANKCASE STUFFING BOX- CASTIRON | Industrial Parts & Misc |
| MIDGET 277 | Levelometer- 0-3600 US Gallons calibrated for diesel | Oil and Gas Parts Equipment |
| 045-0014 | STRAINER- SERVO TYPE D- FORHYDRAULIC-ELECTRIC OPERATED CONTROLVALVE | Oil and Gas Parts Equipment |
| 8006824-002 | 006824-002- SENSOR- FOR REXNORD 820 COMBUSTIBLE | Oil and Gas Parts Equipment |
| 8320A10 | VALVE- SOLENOID 3-WAY 0-30PSI 1/4IN PORT- 1/4IN NPT 120V 60HZ- VALVE- SOLENOID- REBUILD KIT NO 302108 | Oil and Gas Parts Equipment |
| STYLE 3000 | STRAINER- Y TYPE 2IN 3000PSI- BODYMATERIAL A105-#40 MESH- SCREEN MATERIAL316SS- SERIES:2271 | Industrial Parts & Misc |
| 864-810-022 | IMPELLER & DRIVE SHAFT ASSEMBLY FIG-105ITEM-12 | Oil and Gas Parts Equipment |
| TSW66703 | VALVE- GATE- 1IN 2500LB 6170 PSI SCRDxSW-BODY: CARBON STEEL-OS&Y- SOLIDWEDGE-WELDED BONNET | Oil and Gas Parts Equipment |
| 66703 | VALVE- GATE- 1IN 2500LB WB SCREWED- OS&Y-ASTM A105- 6250 PSI | Oil and Gas Parts Equipment |
| 1-504-03-017 | GLASS- REF GAUGE NO. 7– FOR MODEL 72RL-SEPARATORS/ORIFICE FITTING / LEVEL GAUGES | Industrial Parts & Misc |
| 864-810-S22 | IMPELLER & SHAFT ASY-DRIVEN FIG-105ITEM-13 | Oil and Gas Parts Equipment |
| H22J29BABCA | COMPRESSOR-30000BTU 220/240-50HZ-1PHLRA73- MODEL H25B28QABCA- CONDENSINGUNIT AIR HANDLING UNIT MODEL CHB-30 | Oil and Gas Parts Equipment |
| MORK-10B | REPAIR KIT- SOFT GOODS F/TYPE3916P-1-XRJ5- MAIN VALVE TYPE 3916P-1-XRJ5-DWG NO 3CP6790 S/N TJ31570- HMN SET2310PSI SIZE 4IN x 6IN | Oil and Gas Parts Equipment |
| 8316G14 | SOLENOID ASSEMBLY COMPLETE-3 WAY- 3/8 IN NPT CONNECTION- NORMALLY CLOSED- 48 VOLT DC COIL. | Oil and Gas Parts Equipment |
| 194999 | WIRE- THERMOCOUPLE TYPE K- 500 FT ROLL | Oil and Gas Parts Equipment |
| 164100 | DIAPHRAGM FOR ACTUATORS REPAIRKIT-DEHYDRATOR SWITCH VALVES- CRYO GASPLANT PRODUCT NO. 1A -7571-108 | Oil and Gas Parts Equipment |
| 302TEE038 | PLUNGER- COLMONOY ITEM-10- TRIPLEX PUMP | Oil and Gas Parts Equipment |
| 3FB1050-CS-42-CS-WR | VALVE- BALL 3IN 150LB FULL PORT- FLG TO FLG8 IN- SEAL CS4R- BALL STEM CS/B16 34 | Industrial Parts & Misc |
| 048-0080-A | KIT- SEAL GBV VALVE STEM- CONTROL VALVESPIPELINE- HYDRAULIC/ELECTRIC OPERATED-B5 600LB | Oil and Gas Parts Equipment |
| UU325 | VALVE- UNLOADER SST- FOR DIESEL DRIVENSTEAM CLEANER MFG:HTS | Oil and Gas Parts Equipment |
| SCD 183400000374 | Clutch | Oil and Gas Parts Equipment |
| 358516-2 | MOTOR-FOR OVEN | Oil and Gas Parts Equipment |
| 8005EPS-50 | MODULE- POWER SUPPLY MODEL EPS-50SY-MAX | Industrial Parts & Misc |
| KHP3625031M | BREAKER- CIRCUIT-250AMP- 3POLE-F.FRAME-THERMAL MAGNETIC | Oil and Gas Parts Equipment |
| H22J33BABCA | COMPRESSOR- 220/240V 50HZ LRA75- FOR A/C2 TON 24000 B.T.U.- WESTINGHOUSE | Oil and Gas Parts Equipment |
| Stainlesssteel- 30×3 | 1m x 100′ #30 mesh type 316 stainless (marine grade) | Industrial Parts & Misc |
| ST30XXUS | THERMOMETER- NON-CONTACT- INFRARED | Industrial Parts & Misc |
| VGG-4322-316-HT-XXD0 | VALVE – FOUR WAY 1/4 IN 24VDC- TWOSOLENOID OPERATED VALVE- DE-HYDRATORSSLID – GAS PLANT-(P/N.VGG-4322-316-HT-XXD024) | Oil and Gas Parts Equipment |
| 857398-1 | TEMPERATURE CONTROL BOARD-FORBRAISING PAN | Industrial Parts & Misc |
| SPA TPRG2PRG U DIN | RTD- INPUT TRIP AMPLIFIER INDICATING- PUMPTEMP SHUT DOWN DEVICE | Industrial Parts & Misc |
| SGL3L3150 | STEEL BATTERY STAND 3 TIER-3 STEPSENOUGH FOR 95 CELL MC240P- NORMALCONNECTION- | Industrial Parts & Misc |
| 194958 | INSULATION BLANKET FOR 24 IN PIPE | Industrial Parts & Misc |
| 854671-1 | SPEED CONTROLLER-FOR BRAISING PAN | Industrial Parts & Misc |
| 630-9 | REGULATOR- BIG JOE 1/4IN PORT 27-50 PSI-PRESS REG TYPE 630- SPRING LOADED 1INSCRD CONN- RANGE 27-50 PSI 1/4IN PORT | Industrial Parts & Misc |
| 194968 | CABLE- TC EXTENSION 6 PAIR TYPE K 50 FT | Oil and Gas Parts Equipment |
| 7779-10539KC3221 | VALVE- CHECK SWING TYPE- 4IN 150LB RFFEAPI 6D- BOLTED COVER RENEWABLE SEAT-C.STEEL SERVICE TO 250 DEGREE F- FLANGE TOFLANGE 105-1/2IN | Oil and Gas Parts Equipment |
| 23126C | BEARING- ASSEMBLY- IBI GROUP 55071 | Oil and Gas Parts Equipment |
| 665-9-1/2SS28 | VALVE- HYDRAULIC-RV-METAL-10#068977 | Oil and Gas Parts Equipment |
| 334A | Millamp Loop Calibrator 4-To-20 M/Amps 9 VDCAlkaline Battery | Industrial Parts & Misc |
| 05-11200 | GENERATOR-FOR BURNER COMPONENTS &EHASR GUN ASSEMBLY STEAM CLEANINGEQUIPMENT | Oil and Gas Parts Equipment |
| 32132953 | KIT- VALVE/GASKETFOR INSTRUMENT AIRCOMPRESSOR | Oil and Gas Parts Equipment |
| BHTH0134 | radiator | Industrial Parts & Misc |
| MB020 | GENERATOR- 1055VAC 2500 WATT- | Oil and Gas Parts Equipment |
| 1V6579X0092 | RING- SEAL- C5+ PLANT- VALVE- CONTROL-667-ET-546 1 IN 300 LB RF | Industrial Parts & Misc |
| PE417 | CONNECTING- ROD ASSEMBLY ITEM-1- TRIPLEX PUMP | Oil and Gas Parts Equipment |
| 21050 | VALVE- PRESSURE RELIEF- 5000LB- FOR MUDPUMP | Industrial Parts & Misc |
| GAS-103827-000 | BEARING- END MAIN- CRANKSHAFT ITEM-123 | Oil and Gas Parts Equipment |
| R8V2240-5 | V-BELT- WEDGE BAND- CHIPPER DRIVE- FORREPAIR OF P-2801 C RAYDAN WATERINJECTION PUMP | Oil and Gas Parts Equipment |
| XCE-061204-N4 | Adalet Exciter | Oil and Gas Parts Equipment |
| HMCP070M2 | BREAKER- CIRCUIT- 70 AMP- 3 POLE- 600 VAC-250 VDC- STYLE 6601C86G09- SERIES C- | Oil and Gas Parts Equipment |
| 2U232433272 | CAGE- CAGE- LINEAR- SEPARATOR/DESALTER-VALVE- LEVEL- 3IN 600# 667-ED SIZE 45 ACT | Industrial Parts & Misc |
| 19-103210 | SHAFT- ROUND- 1-11/16IN X 20FT LONG- 1045STEEL precision ground | Oil and Gas Parts Equipment |
| AT-35P | BATTERY- MS ENDUR II- 2VOLT- 2040AH S/NR0126178- | Industrial Parts & Misc |
| 191220000 | TERMINAL- FUSED- 250V 6.3A- SAKS 1(minimum 20) | Oil and Gas Parts Equipment |
| 1J8158000A2 | RING- SEAT 3/4IN ORIFICE 2 TYPE DMICROFORMFOR RGC BLOWDOWN VALVE | Industrial Parts & Misc |
| S485-2 | BAR- ROUND 5IN ALLOY- HOT ROLLED SAE4140- MAXIMUM LENGTH 5 FEET | Oil and Gas Parts Equipment |
| FIG#4F-F13-RF | VALVE- BALL 4IN ANSI 150LB F.PORT 6D RFFE-FLG TO FLG 9IN- FULL PORT BODY CARBONSTEEL- SERVICE TO 250 DEGREE F-WRENCHOPERATED | Oil and Gas Parts Equipment |
| XH0404 | Pump: NATIONAL OILWELL MISSION MAGNUM 4x3x13 PUMP | Oil and Gas Parts Equipment |
| 204620 | COVERS FOR ABOVE HEATING CABLE | Industrial Parts & Misc |
| 194959 | WELDER- THERMOCOUPLE ATTACHMENT UNIT | Industrial Parts & Misc |
| 673DE8011 | SWITCH- PRESSURE DIFFERENTIAL- | Oil and Gas Parts Equipment |
| 20B-HB | HOSE- PROPANE- 3IN X 20 FEET LONG- 350 PSIWP- COMPLETE WITH HAMMER BRASSCOUPLINGS AND WITH FOUR BOLTSCALMPFOR LPG LOADING | Oil and Gas Parts Equipment |
| S485-1 | BAR- ROUND 6IN ALLOY- HOT ROLLED SAE4140- LENGTH 5 FEET | Oil and Gas Parts Equipment |
| 005479-002 | CONTROLLER- GAS- PREMIUM SIZE 4U- MODELR8471A1004- S/N 10403- FOR FIRE AND GASSYSTEM | Oil and Gas Parts Equipment |
| 206 | CORROSION INHIBITOR- AQUAGUARD 206- 210 Liter/Drum | Oil and Gas Parts Equipment |
| 551214-001 | Transmitter- Assembly smith model 551214-0-1 | Industrial Parts & Misc |
| A0280746902 | UNIT Injectors | Industrial Parts & Misc |
| 7500 | PUMP- FORMULATION- CAMP FOGGING UNIT | Oil and Gas Parts Equipment |
| 7400 | PUMP- FUEL- CAMP FOGGING UNIT | Oil and Gas Parts Equipment |
| 37004843 | VALVE- COMPLETE- LP- 50 GA CONC RINGVALVE ASSEMBLY FOR INSTRUMENT AIRCOMPRESSOR | Oil and Gas Parts Equipment |
| 1P7241X0022 | SEAT RING- 2INx1-1/4IN CRBD- FITTINGS-31-LV-6624- SHUTDOWN/RELIEF/CONTROLVALVES | Oil and Gas Parts Equipment |
| 299401 | AR-214EP 60-250F 70FT TSTAT- THERMOSTATS-BULB AND CAPILLARY-AR-EP | Industrial Parts & Misc |
| 370D424-YRF-24 | VALVE- BALL 2IN 600LB API 6D- TRUNNIONFLANGED RAISED FACE FULL BORE- 1480 PSI-TRIM 24-YRF-24- CS BODY- | Industrial Parts & Misc |
| 4-1050-1832-514 | PUMP- OIL- FLOW 5-7 GPM- VIKING INTERNALGEAR PUMP- LIP SEAL 1IN PORT- CAST IRONBODYFOR FRESH WATER INJECTION PUMP | Oil and Gas Parts Equipment |
| SC-19 | 16CH H264 DVR HDMI 1TB | Oil and Gas Parts Equipment |
| 854653-1 | GEAR MOTOR-FOR BRAISING PAN | Oil and Gas Parts Equipment |
| G2157-1812G91 | VALVE- BALL- 6IN x 4IN- 150LB- API 6D- RFFE-REDUCED PORT- STANDARD BORE- BODYCARBON STEEL SERVICE TO 250 DEGREE F- FLGTO FLG 10-1/2IN | Oil and Gas Parts Equipment |
| 5086-H116 | PLATE- ALUMINIUM 48IN X 96IN- 1/4IN THICK-B209 NON HEAT TREATABLE- 165.9LB PERPLATE | Oil and Gas Parts Equipment |
| 3858FF-042 | INLET SWIVEL JOINT 4IN MODEL C-32-F- ONEEND 4IN RF ANSI CL 150- OTHER END 4INFLANGE FF ALUMIN- OD 6-5/8 PCD 5-5/8- 8×1/2INHOLES- 1/4IN | Oil and Gas Parts Equipment |
| A200M2-CAC | SWITCH- MAGNETIC- 480VOLT 3PH- SIZE 2 | Oil and Gas Parts Equipment |
| GAS-106015-000 | BEARING- SHELL ITEM-200 CON-ROD | Oil and Gas Parts Equipment |
| 4S | SOLDER- SILVER- RESIN CORE | Industrial Parts & Misc |
| 50700109 | SELECTRONIC TATTLETALE ANNUNCIATORWITHOUT TACHOMETER- INPUT:10-32-500mWOUTPUT :FETO.5A-350VDC MAX | Industrial Parts & Misc |
| 8445754 | Resistor Dynamic brake grid -66 ohms | Diesel Locomotive Parts |
| 1052501 | VALVE- 2 IN GATE- STANDARD- 5M CWP – W/2 INLINE PIPE THREADSMODEL 72 | Industrial Parts & Misc |
| 20-103264 | SHAFT- ROUND- 2-15/16IN X 20FT LONG- 4140STEEL- PRECISION HOT ROLLED GROUND | Oil and Gas Parts Equipment |
| 4F-F33NRF | VALVE- BALL 4IN 300LB API 6D- RFFE CS- FLGTO FLG 105-7/8IN- FULL OPENING- LEVEROPERATED- SUITABLE FOR HOT TAP | Industrial Parts & Misc |
| 536141-2 | GEAR TRAIN CLUSTER– PD SERIES METERF4-A1-S1-S6- . | Oil and Gas Parts Equipment |
| 370D424-TFF-24 | VALVE- BALL- 6IN x 4IN 300LB- API 6D- RFFE- CS-CWP 750- TEMP -20/350- BODY WCC- BALLA105/CR- OPENING WRENCH OPERATED- FLGTO FLG 15-105/16IN | Industrial Parts & Misc |
| HSF 24-50M | KEPCO POWER SUPPLY MODEL HSF 24-50M-OUTPUT 24V 50A- INPUT 230VAC- KPU ITRROOM TRICONEX SAFETY SYSTEM | Oil and Gas Parts Equipment |
| 20-103317 | SHAFT- ROUND- 6IN X 12FT LONG- 1045 STEEL TG&P precision ground | Oil and Gas Parts Equipment |
| 8189438 | HOUSING | Industrial Parts & Misc |
| 3933099 | Fuel Injection Pump | Oil and Gas Parts Equipment |
| 7100 | ENGINE- ASSEMBLY COMPLTE- CAMP FOGGINGUNIT | Industrial Parts & Misc |
| 02-035-00 | Motor- Air Ref Item-39- Travel Cutter- MOD-E | Oil and Gas Parts Equipment |
| 951142 | COOLER-HEAVY DUTY INDUCTION | Industrial Parts & Misc |
| 02-020-00 | Gear ASSEMBLY – Ref Item-23- Travel Cutter MOD-E | Oil and Gas Parts Equipment |
| 9907-014 | SPEED CONTROLLER- 2301A- GOVERNORELECTRONIFOR 3412 CATERPILLAR DIESELGENERATOR | Industrial Parts & Misc |
| MODELG771K200 | VALVE SERVO- 3000PSI SIG-7.20 TO 8.80mA-GAS TURBINE- MS5002 TAG-K3051 A/B- S/N2BCL-4061/306/B / | Oil and Gas Parts Equipment |
| 200PEE188 | PUMP ASSEMBLY LUBE OIL ITEM– TRIPLEX PUMP | Oil and Gas Parts Equipment |
| 02-024-00 | Motor- Air Ref Item-28- Travel Cutter- MOD-E | Oil and Gas Parts Equipment |
| Chempoint | REFERANCE FUEL- 80 OCTANE ASTM D2699AND 2700- 54 GAL DRUM- | Oil and Gas Parts Equipment |
| RRH-606 | CYLINDER- 60 TON HYDROLIC DOUBLEACCTING HOLLOW 6IN STROKE | Oil and Gas Parts Equipment |
| 1MAF63935 | MOTOR- ELECTRIC- FRAME 254T- 15 HP- 2930RPM- 380 VOLT- 21 AMP- 50 HZFOR EXPANDERFRAME 5 GAS TURBINE COMPRESSOR | Oil and Gas Parts Equipment |
| XT100SS-598-212105-3 | PUMP- DISTRIBUTION- WITH BALDOR- MOTOR-TYPE M36H17X100- FRAME 184JM- 3 HP- 2900RPM- 50 HZ- 190-380 VOLTS 9/4.5 AMPS- 3PHFOR REVERSE OSMOSIS UNITS- GAS PLANT | Oil and Gas Parts Equipment |
| 2366168120 | MOTOR- SUBMERSIBLE- 30HP 22KW 460/380V 3PH- 3450RPM 50/60HZ 47AMP- 4 BOLT MOUNT- | Oil and Gas Parts Equipment |
| HAN1696 | 149451 HANDY KIT- EPOXY VELODUR DURMETAL F/ COLDWELD REPAIRS KIT CONTAINS 5LBS | Oil and Gas Parts Equipment |
| 300049 | LIQUID COOLED HEATING CABLE 140 FT | Oil and Gas Parts Equipment |
| E3765-869G613 | 8″ 150# RP RF BALL VALEVE- Specs: LCC/CS3MILENP/DEV/HSN NACE II L7M SERFAE FS607 G/O | Oil and Gas Parts Equipment |
| 4195KB-548 | CONTROLLER- PRESSURE – 0-300/6-30 PB+RS-INPUT 0-300PSI OUTPUT 6-30 PSI | Industrial Parts & Misc |
| 300598 | LIQUID COOLED OUTPUT CABLE 75 FT | Oil and Gas Parts Equipment |
| 6DKESC6A2143 | COMPRESSOR- 380V 3PH 50HZ- LRA 1055- FORCRYO GAS PLANT C/ROOM AC UNIT | Oil and Gas Parts Equipment |
| 0140-08-01 | CYLINDER HEAD- GROUP NO.0140- | Oil and Gas Parts Equipment |
| C8516-085 | GOVERNER- SPEED CONTROL- MODEL TG13- | Industrial Parts & Misc |
| 17A-49-11100 | Hydraulic Pump | Oil and Gas Parts Equipment |
| XL150SS-598-212105-5 | PUMP- TRANSFER WITH BALDOR- MOTOR TYPEM36H17W385- FRAME 184JM- 5 HP- 2950 RPM-50 HZ- 190/380 VOLTS- 14.2/7.8 AMPS- 3 PHFORREVERSE OSMOSIS UNITS- GAS PLANT II / | Oil and Gas Parts Equipment |
| 753-105-29 | THERMOCOUPLE- PROBE- PRESSURETEMPERATURE- FOR POWER TURBINE- RGC | Industrial Parts & Misc |
| O6DX3286BC0600 | COMPRESSOR- 400/460 VOLT- 50/60 HZ 3 PHFOR CARRIER A/C CRYO GAS PLANT CONTROL ROOM | Oil and Gas Parts Equipment |
| 3600RFGATEAPI6D | VALVE- GATE 3IN 600LB- RFFE API 6D- OS&YFLG TO FLG 13-1/2IN- CARBON STEEL- SAFTY SEAL TRIM | Industrial Parts & Misc |
| 6300-9300-31-2236TTT | VALVE- BALL- 6IN 300LB- RF- FULL PORT-CARBON STEEL BODY- TFE SEAT/SEAL-CARBON STEEL TRIM- FLG TO FLG 15-1/2IN-NON FIRE TYPE FLOATING BALL | Oil and Gas Parts Equipment |
| 06EX 265-660 | COMPRESSOR- 50HZ- 400 VOLTS- 3 PH- LRA200- SYN RPM 1500- FOR CRYO GASPLANTBATTERY ROOM A/C UNIT | Oil and Gas Parts Equipment |
| 41500RTJFP37YRF37 | VALVE- BALL- 4IN 1500LB- MOP 3705 PSI- CS-RTJ- FULL OPENING- GEAR OPERATED- API 6D-STEM/BALL AS EMP- SEAT LAS/NYL6- SEALSHIFKM- FLANGE TO FLANGE 21-5/8IN | Industrial Parts & Misc |
| K433920 | VALVE- GATE- 3-1/8IN 5000 API- 6A- RTJ-GATE/STEM/SEAT 4130- BODY A487C14- TEMP-20 TO 250- SERVICE T21- | Oil and Gas Parts Equipment |
| MODEL680C-S-E | PUMP- DIAPHRAGM METERING WITHOUT MOTOR | Oil and Gas Parts Equipment |
| GAS-101054-000 | BEARING- CENTER MAIN- CRANKSHAFTITEM-125 | Oil and Gas Parts Equipment |
| 516727-1 | COMPENSATOR- TEMP MOD ATG DP METER-SN 28135 ASSY NO 516727-1- COMP W/42 INTUBE & CAPILLARY- FOR TEMPERATURE 80-180DEG F AND GARVITY 33-46FOR LIQUID CRUDEOIL METER S/N P644646533 / | Industrial Parts & Misc |
| YS4F500M8-4 | PUMP- COMPLETE 5HP 380V 50HZ 3PH 12.6A- 7-3/4IN IMPELLER C/W 20FT CORDSEWAGE LIFT STATIONS | Oil and Gas Parts Equipment |
| DWG 1223*HRF | VALVE- 6IN 300LB- FLANGE TO FLANGE15-7/8INSEPARATOR/DESALTER | Oil and Gas Parts Equipment |
| C00358A05 6187 | Wear Ring- Casing Stellite On Duplex- | Industrial Parts & Misc |
| J090001-10530440 | VALVE- CHOKE ADJUSTABLE 2-9/16 FLANGES-5M FXF- 1IN SEAT/STEM/INDICATOR | Oil and Gas Parts Equipment |
| 705-51-30290 | Hydraulic Pump | Oil and Gas Parts Equipment |
| XH0254 | MISSION MAGNUM 6X5x11 PUMP | Oil and Gas Parts Equipment |
| 300698 | RECORDER- DIGITAL 12 CHANNEL | Industrial Parts & Misc |
| 370D-4 37-YRF-37 WR | VALVE- BALL 8IN ANSI 900LB- RF- API 6D- FLGTO FLG 28-1/2IN- FULL OPENING GEAROPERATED- | Industrial Parts & Misc |
| 8575-157 | GOVERNER- SPEED CONTROL- MODEL PGPL REF WHSE 1- DWG:C800-13-2- AJAX COMPRESSOR PART# BM-105526-B | Industrial Parts & Misc |
| 5980A1 | IMPACT WRENCH 1-1/2IN DRIVE- REF WHSE.DWG NUMBER TPA895-1- 1-1/2 SQ. DRIVELEVER THROTTLE- IMPACT WRENCH MODEL 5980A1 | Oil and Gas Parts Equipment |
| 907432 | PROHEAT 35 W/TEMPERATURE CONTROL 400-460-V- CE- ROHS | Industrial Parts & Misc |
| 100G-39 (replaces 1 | GNB ABSOLYTE GP BATTERIES 1800AMPH- 48 VOLTS- 24 CELLS- RATED AT 1800 ah- BASED ON 8 HOURS TO 1.75 Vpc AT 25C | Industrial Parts & Misc |
| 100G-51 (replaces 1 | GNB ABSOLYTE GP BATTERIES 1800AMPH- 48 VOLTS- 24 CELLS- RATED AT 2400 ah- BASED ON 8 HOURS TO 1.75 Vpc AT 25C | Industrial Parts & Misc |
| C06454A11 9523P | Casing Duplex/Aves TA2205- | Industrial Parts & Misc |
| P302?? | Bottom Casting for 130 Filter | Industrial Parts & Misc |
| MB-81170 | SEAL- MECHANICAL ASSEMBLY- 1-1/2IN | Oil and Gas Parts Equipment |
| MISC | MISC Part | Oil and Gas Parts Equipment |
| CMC265PLUS | 3PHASE PROTECTION RELAY TEST SET | Oil and Gas Parts Equipment |
| aquaguard 651 | AQUAGUARD 651 | Oil and Gas Parts Equipment |
| aquaguard 506 | AQUAGUARD 506 | Oil and Gas Parts Equipment |
| 34888 CR | SEAL- OIL | Oil and Gas Parts Equipment |
| 110898 | SEAL-OIL (NATIONAL #410552) | Oil and Gas Parts Equipment |
| UCP212-36 | BEARING-PILLOW BLOCK- 2-1/4″ (KOYO) | Oil and Gas Parts Equipment |
| 210121-1X | BEARING- STEADY (1710) | Oil and Gas Parts Equipment |
| 18153 | BEARING-THRUST- HOOK | Oil and Gas Parts Equipment |
| 455012 | BOLT HEX. HEAD 1/2″ X 20″ X 1-1/4″ | Oil and Gas Parts Equipment |
| S140-11 | BOLT- HEX. 7/8″ X 3-1/2″ NC GRADE 8 | Oil and Gas Parts Equipment |
| 73609 | BUSHING-CASE | Oil and Gas Parts Equipment |
| 6755672 | GASKET | Oil and Gas Parts Equipment |
| L7510250 | BLOCK- BRAKE- HARD 1″ X 10″ X 12″ (2 PCS/SET) | Oil and Gas Parts Equipment |
| L5510250 | BLOCK- BRAKE- SOFT- 1″ X 10″ X 12″ (18 PCS/SET) | Oil and Gas Parts Equipment |
| 112350 RV 001 | | Oil and Gas Parts Equipment |
| 142644HN | CLUTCH ASSEMBLY- SIZE: 33VC650- SINGLE ELEMENT- "AIRFLEX" | Oil and Gas Parts Equipment |
| 1290181 | SPRING- WEDGE RETAINING | Oil and Gas Parts Equipment |
| 100982 | LOCKING ASSEMBLY .-HOOK- C/W BOLT- SPRING AND EYE NUT | Industrial Parts & Misc |
| 23014948 | ROD WIPER AND SEAL KIT | Oil and Gas Parts Equipment |
| 0619926F | GEAR- INPUT 47 TEETH | Oil and Gas Parts Equipment |
| PL8 | WINCH-COMPLETE- HYDRAULIC- "PULL MASTER" | Oil and Gas Parts Equipment |
| 1672408C1 | FLANGE- ASSEMBLY PROPELLER F/ | Oil and Gas Parts Equipment |
| 204919/005 | JOINT- 1″- SWIVEL | Oil and Gas Parts Equipment |
| 8052327-1 | SCREW-ADJUST | Diesel Locomotive Parts |
| 8085260 | BRIDGE ASM | Industrial Parts & Misc |
| 8085254 | ADJUSTER ASM | Industrial Parts & Misc |
| 124X1058-3 | Crosshead With Bearing – Roller & Pins | Industrial Parts & Misc |
| 124X1068-3 | Crosshead With Bearing – Roller & Pins | Industrial Parts & Misc |
| 132X1709 | Element | Industrial Parts & Misc |
| 8700A187 | YOKE- FLANGE (1810) | Oil and Gas Parts Equipment |
| A-11463 – | WEATHER FORD SUCTION VALVE- 79RX CNTR MOLT. 3/8- X 24 X 2 24 STL | Oil and Gas Parts Equipment |
| 79RX Part No. A-1187 | SUCTION VALVE- 79RX SUCTION VALVE GUARD ASSEMBLY | Oil and Gas Parts Equipment |
| No. A-12172- | DISCHARGE VALVE- 79RX VALVE WASHER- 3/8 Part | Oil and Gas Parts Equipment |
| 23041616 | PLATE-INTERNAL SPLINED | Oil and Gas Parts Equipment |
| 5357547 | Gasket | Diesel Locomotive Parts |
| 456652 | Pin | Diesel Locomotive Parts |
| 852XBAKPF 4XS | POWER TAKE OFF- CHELSEA 852 SERIES | Industrial Parts & Misc |
| 378811 | PLATE- BACK-UP | Oil and Gas Parts Equipment |
| 59-800-016 | WIRE-LOCK #16- GA X 12L | Oil and Gas Parts Equipment |
| 21-104-020 | PIN- LOCKING DOG | Oil and Gas Parts Equipment |
| 68-104-997 | COUPLING- FLEX- L-100- 3/4″ X 3/4″ X 3/16″ KEYWAY- W/ INSERT (SPIDER) | Oil and Gas Parts Equipment |
| 21-104-024 | SPRING | Oil and Gas Parts Equipment |
| 21-104-019 | LOCKING DOG | Industrial Parts & Misc |
| 21-106-010 | SPACER- PINION | Oil and Gas Parts Equipment |
| 21-104-021 | LEVER- LOCKING DOG | Oil and Gas Parts Equipment |
| 21-104-028 | HANDLE | Oil and Gas Parts Equipment |
| M-624509 | SEAL- OIL | Oil and Gas Parts Equipment |
| 06-037-017 | SHAFT | Oil and Gas Parts Equipment |
| 75-510-422 | | Oil and Gas Parts Equipment |
| 64-016-125 | FITTINGS- GREASE- 1/4″ STRAIGHT | Oil and Gas Parts Equipment |
| 64-016-226 | PIPE EXTENSION- GREASE FITTING | Oil and Gas Parts Equipment |
| 612984-4 | PACKING SET (5 RINGS/SET) | Oil and Gas Parts Equipment |
| 06-027-677 | BUSHING | Oil and Gas Parts Equipment |
| 45-803-797 | GASKET- JACKSHAFT RETAINER | Oil and Gas Parts Equipment |
| 96-064-020 | | Oil and Gas Parts Equipment |
| 06-025-187 | SHIM SET | Oil and Gas Parts Equipment |
| 06-038-121 | Pin Equalizer | Oil and Gas Parts Equipment |
| 06-041-151 | PIN- CLEVIS – MAIN BRAKE | Oil and Gas Parts Equipment |
| 06-114-321 | Pin | Oil and Gas Parts Equipment |
| 64-227-016 | | Oil and Gas Parts Equipment |
| 22-025-169 | RING- ADAPTER- TOP | Oil and Gas Parts Equipment |
| 22-034-014 | ADAPTER- RING- BOTTOM | Oil and Gas Parts Equipment |
| 607296 | BUMPER- RUBBER | Industrial Parts & Misc |
| 06-047-131 | WRENCH | Oil and Gas Parts Equipment |
| 06-037-025 | SPACER | Oil and Gas Parts Equipment |
| 22-019-102 | SPACER- LOWER OIL SEAL | Oil and Gas Parts Equipment |
| 627204 | RETAINER | Oil and Gas Parts Equipment |
| 22-019-098 | RING- THRUST- W/ DOWEL | Industrial Parts & Misc |
| 99-607-427 | RING- O- 4-3/4″ X 5-1/4″ X 1/4″ | Industrial Parts & Misc |
| 45-122-223 | KEY- 1-1/4″ X 7/8″ X 1-1/4″ | Industrial Parts & Misc |
| 06-040-067 | LEVER- BRAKE TOGGLE | Oil and Gas Parts Equipment |
| 2011706 | GUIDE ASSEMBLY -VALVE- | Oil and Gas Parts Equipment |
| 48813 | DRILL LINE CLAMP-1″–K600 RIG-KREMCO | Industrial Parts & Misc |
| 1911072 | O-RING SEAL | Oil and Gas Parts Equipment |
| 206132167A | SLEEVE- SHAFT | Oil and Gas Parts Equipment |
| 1278561CR110 | IMPELLER- 11″ 5 X 6R PUMP | Oil and Gas Parts Equipment |
| 11118WPC | | Oil and Gas Parts Equipment |
| 8028739 | Dowel | Industrial Parts & Misc |
| 8054047 | Spacer | Diesel Locomotive Parts |
| DLRO10HD | Meter (1) MEGGER DLRO10HD | Oil and Gas Parts Equipment |
| 2000 A TEST | 2000 A Primary injection test set (no leads) | Industrial Parts & Misc |
| 2000 A LEAD | 2000 A lead set (3 m) | Industrial Parts & Misc |
| MIT525 | 3) MEGGER MIT525 (new model – replaces MIT520) | Industrial Parts & Misc |
| 8281475 | Terminal Lug | Diesel Locomotive Parts |
| 8028480 | FLANGE | Diesel Locomotive Parts |
| 8208113 | Manifold – Left -Rebuilt | Diesel Locomotive Parts |
| 8208114 | Manifold – Right – Rebuilt | Diesel Locomotive Parts |
| 40000927 | KIT WATER PUMP | Diesel Locomotive Parts |
| 8170335 | Switch | Oil and Gas Parts Equipment |
| 8490137 | FVS switch | Oil and Gas Parts Equipment |
| 8196855 | SHAFT ASM CONTROL | Oil and Gas Parts Equipment |
| 8196856 | SHAFT ASM CONTROL | Oil and Gas Parts Equipment |
| 8081393 | BEARING UPPER | Oil and Gas Parts Equipment |
| 8418334 | BEARING | Oil and Gas Parts Equipment |
| 8071176 | BEARING UPPER | Diesel Locomotive Parts |
| 8245294 | BOLT | Diesel Locomotive Parts |
| 8213064 | NUT 1 1/4" -12 SLOTTED | Oil and Gas Parts Equipment |
| 8344765 | ELBOW EXHAUST | Diesel Locomotive Parts |
| 8430437 | ELBOW | Diesel Locomotive Parts |
| 8366039 | PIPE | Diesel Locomotive Parts |
| 8135971 | BUSHING | Industrial Parts & Misc |
| 8039671 | BUSHING | Diesel Locomotive Parts |
| 8039674 | BUSHING | Diesel Locomotive Parts |
| 8468489 | BUSHING .. PILOT VALE – LOAVE CONTROL | Diesel Locomotive Parts |
| 40026937 | GASKET | Diesel Locomotive Parts |
| 9320844 | KIT, GASKET | Diesel Locomotive Parts |
| 8113805 | PLUNGER .. PILOT VALVE LOAD CONTROL | Diesel Locomotive Parts |
| 8113773 | PLUNGER ASSEMBLY .. SHUD DOWN | Diesel Locomotive Parts |
| 8141908 | Disc | Diesel Locomotive Parts |
| 8366329 | MANIFOLD | Diesel Locomotive Parts |
| 8441949 | WATER MANIFOLD -L | Diesel Locomotive Parts |
| 8441950 | WATER MANIFOLD -R | Diesel Locomotive Parts |
| 8163892 | MANIFOLD FUEL | Diesel Locomotive Parts |
| 5229039 | BODY ASM | Industrial Parts & Misc |
| 5229045 | RACK ASM | Industrial Parts & Misc |
| 5229239 | KIT REPAIR INJECTOR | Diesel Locomotive Parts |
| 5229945 | KIT REPAIR INJECTOR | Diesel Locomotive Parts |
| 9330008 | SPACER | Diesel Locomotive Parts |
| 8347993 | TUBE ASM. | Diesel Locomotive Parts |
| 5228408 | GEAR RACK | Industrial Parts & Misc |
| 8250286 | GEAR ASSEMBLY . | Diesel Locomotive Parts |
| 8320057 | GEAR ASM. | Diesel Locomotive Parts |
| 8252365 | GEAR ASM. | Diesel Locomotive Parts |
| 8320058 | GEAR ASM. | Diesel Locomotive Parts |
| 8485963 | GEAR | Diesel Locomotive Parts |
| 8252364 | GEAR | Diesel Locomotive Parts |
| 9518047 | GEAR | Oil and Gas Parts Equipment |
| 8035625 | GEAR 80T | Industrial Parts & Misc |
| 8341918 | GEAR ASM. | Diesel Locomotive Parts |
| 8029529 | GEAR | Diesel Locomotive Parts |
| 8341917 | GEAR | Diesel Locomotive Parts |
| 8106721 | GEAR | Diesel Locomotive Parts |
| 8341916 | GEAR | Diesel Locomotive Parts |
| 8029547 | GEAR | Diesel Locomotive Parts |
| 8054088 | BRIDGE | Industrial Parts & Misc |
| 8070027 | LINK ASM | Diesel Locomotive Parts |
| 9522625 | LEVER ASM. | Oil and Gas Parts Equipment |
| 9091463 | Segment | Industrial Parts & Misc |
| 8234958 | JOINT CENTER BONDED RUBBER BUSHING | Oil and Gas Parts Equipment |
| 8350517 | COUNTER WEIGHT | Industrial Parts & Misc |
| 8320994 | BLOCK ASM. | Industrial Parts & Misc |
| 8320995 | BLOCK ASM. | Industrial Parts & Misc |
| 8366743 | FILTER ASM. | Diesel Locomotive Parts |
| 8498156 | PUMP | Diesel Locomotive Parts |
| 8320144 | STRAINER ASM | Industrial Parts & Misc |
| 8308586 | STRAINER ASM | Industrial Parts & Misc |
| 8106920 | Body | Industrial Parts & Misc |
| 8029459 | BODY FRONT | Industrial Parts & Misc |
| 8251622 | BODY CENTER | Industrial Parts & Misc |
| 9330010 | SHAFT | Oil and Gas Parts Equipment |
| 8029460 | BODY REAR | Industrial Parts & Misc |
| 8029458 | Body | Industrial Parts & Misc |
| 8251625 | BODY CENTER | Industrial Parts & Misc |
| 9533173 | BODY FRONT | Industrial Parts & Misc |
| 8479355 | FILTER ASM. | Diesel Locomotive Parts |
| 8048295 | ROTOR SET | Diesel Locomotive Parts |
| 9552014 | KIT CRAB | Oil and Gas Parts Equipment |
| 8175731 | OIL RETAINER | Oil and Gas Parts Equipment |
| 40026946 | TRIP ASM. | Industrial Parts & Misc |
| 8052246 | SHAFT PUMP | Diesel Locomotive Parts |
| 8211044 | Product description missing | Diesel Locomotive Parts |
| 9336895 | CABLE 550 | Diesel Locomotive Parts |
| 8384650 | SWITCH PUSH BOTTON | Diesel Locomotive Parts |
| 8150199 | Lever switch | Diesel Locomotive Parts |
| 8332339 | HEADLIGHT HOUSING | Diesel Locomotive Parts |
| 8295501 | AMMETER | Industrial Parts & Misc |
| 8413373 | CR-DB | Industrial Parts & Misc |
| 42985 | 25′ INTERCONNECT EXTN FOR REMOTE CONTACTOR CONTROL | Industrial Parts & Misc |
| 16-385-012 | EXCHANGER-HEAT | Industrial Parts & Misc |
| 7006B379 | Roller Bearings- recessed trench | Oil and Gas Parts Equipment |
| 7004B020 | Bearing- Flange | Oil and Gas Parts Equipment |
| 7006B008 | Bearing NU 2224 | Oil and Gas Parts Equipment |
| CS-7011 CLARK SEALS | SEAL-OIL | Oil and Gas Parts Equipment |
| 250562-RK | Wire- mechanic LK SPW2 2LB/ROLL | Oil and Gas Parts Equipment |
| 3750-4000-625B | TELESCOPIC RAM K600 RIG KREMCO SEAL KIT | Oil and Gas Parts Equipment |
| J01706 | flexible 50 meter Ref: T 998 07 10 with connection Female 3/8 Re??? ? | Industrial Parts & Misc |
| J01707 | flexible 150 meter Ref: 567 6B with connection Female 3/8 Ref: S ????? | Industrial Parts & Misc |
| 80179-LH | SEAL- OIL | Oil and Gas Parts Equipment |
| K465-134 | O-RING | Oil and Gas Parts Equipment |
| D631207 | ROTOR | Oil and Gas Parts Equipment |
| D631855-AR | POCKET SECTION- R.H. | Industrial Parts & Misc |
| D631855-AL | POCKET SECTION- L..H. | Industrial Parts & Misc |
| U631535 | RING- PROTECTOR | Oil and Gas Parts Equipment |
| 574122 | PIN ASSEMBLY .- CENTRE | Oil and Gas Parts Equipment |
| 42227002 | Sprocket- pitch 32? 1-1/4″ ? | Oil and Gas Parts Equipment |
| 42227003 | Sprocket- pitch 24? 1-1/4″ | Oil and Gas Parts Equipment |
| 60-MS-A05 | | Oil and Gas Parts Equipment |
| 75-SS-603A | ADAPTER- CLUTCH | Oil and Gas Parts Equipment |
| P63985 | Valve- F/K600 Air Control Draw works | Oil and Gas Parts Equipment |
| 10-305-203 | STUD – BOTH END THREADED 1-1/2″ X 5″ LG.- F/ PISTON ROD | Oil and Gas Parts Equipment |
| 82097 | RING- NUT- UPPER PACKING | Industrial Parts & Misc |
| 3943-14 | SEAL- GREASE (450298 NATIONAL) | Oil and Gas Parts Equipment |
| 103992001 | GASKET- CASING | Oil and Gas Parts Equipment |
| 601196504 | CUP- BEARING | Oil and Gas Parts Equipment |
| 6091238071T60 | PUMP-CENTRIFUGAL- "NOV-MISSION"- 1-7/8″ SHAFT SIZE- TYPE W- 2 X 3R HARD IRON- 10″ IMPELLER (4610-60-30)- SEAL TYPE: PKD- W/O ELEC. MOTOR | Oil and Gas Parts Equipment |
| 6091238071T90 | PUMP ASSEMBLIES- "MISSION" CENTRIFUGAL- 2 X 3R- TYPE W- 13″ IMPELLER AND STANDARD PACKING- LESS ELECTRIC MOTOR | Oil and Gas Parts Equipment |
| 25014-04M-B | PACKING SET- FOR MAGNUM 2-1/2″ SHAFT | Oil and Gas Parts Equipment |
| 661007003 | PACKING SET- 1-7/8″ (GRAPHITE/ACRYLIC) | Oil and Gas Parts Equipment |
| 25015-04M-BA | PACKING- MUD SERVICE | Oil and Gas Parts Equipment |
| 602212607 | IMPELLER 6″- F/ 1-1/8″ SHAFT SERIES PUMP- 1-1/2 X 2R- CAST IRON | Oil and Gas Parts Equipment |
| 47107030 | IMPELLER 11″ FOR 5 X 6R PUMP | Oil and Gas Parts Equipment |
| HP1700 | PULLER SET- HYDRAULIC VALVE SEAT- "HARRISBURG" C/W CARRIER BOX- LESS PULLER HEAD | Industrial Parts & Misc |
| L-75-10250 | BRAKE BLOCK-(20 PCS/SET)-FOR MODEL K-600 RIG MAINDRUM-SIZE 10″ X 1″ X 12″-KREMCO | Oil and Gas Parts Equipment |
| 7018B006 | Clutch ?? 218 | Oil and Gas Parts Equipment |
| 116199-9 | PARAMETERIZATION UNIT (PMU1) TDS-9S | Oil and Gas Parts Equipment |
| 20001/005 | RETAINER-OIL SEAL | Oil and Gas Parts Equipment |
| M08531826? 'PARKER S | VALVE- SPOOL (SCHRADER BELLOW) | Oil and Gas Parts Equipment |
| 27286 | SEAL- OIL- LOWER-INNER | Oil and Gas Parts Equipment |
| 27416 | SEAL-OIL- LOWER-OUTER | Oil and Gas Parts Equipment |
| 72324 | PACKING- BOTTOM RING | Oil and Gas Parts Equipment |
| 58644 | SPACER- FIRST REDUCTION PINION BEARING | Oil and Gas Parts Equipment |
| 56146 | GEAR (PINION)- SECOND REDUCTION | Oil and Gas Parts Equipment |
| 649357 | NUT- HOLDING | Oil and Gas Parts Equipment |
| 82093 | NUT- UPPER PACKING | Oil and Gas Parts Equipment |
| 649355-A | WASHPIPE | Oil and Gas Parts Equipment |
| 624568-A | WASHPIPE- W.D. | Oil and Gas Parts Equipment |
| 62819/005 | MOTOR ASSEMBLY- HYDRAULIC "SUNDSTRAND" MODEL #23-3802-AN-JFBJ | Oil and Gas Parts Equipment |
| 607296 (BUMPER INSER | BUMPER INSERT WITH BOLT STRAP | Industrial Parts & Misc |
| 82091 | BONNET | Industrial Parts & Misc |
| 22-034-017 | RING SET-PACKING (5 PCS/SET) | Industrial Parts & Misc |
| OPW 3858FFT-0402 | 4IN SWIVEL PIPE WITH VITON SEAL & 150LBS FLANGE | Oil and Gas Parts Equipment |
| OPW 3920F-0403 | 4IN STRAIGHT SWIVEL PIPE WITH 150 LBS FLANGE & STAINLESS STEEL TEFLON SEAL | Oil and Gas Parts Equipment |
| 500 | Oil Seal- foster power tong | Oil and Gas Parts Equipment |
| 3590511501 | PUMP COMPLETE-"MONARCH" MDL: ACE-100-LP- TYPE-TV- FUEL TRANSFER- W/ MOTOR- 1-HP.- 50-HZ.- 3-PH.- 220/380/460V.- FRAME 56J- RPM 3450. | Oil and Gas Parts Equipment |
| NO278 | FLINGER- "CODE 190848" | Industrial Parts & Misc |
| 64-182-015 | PUMP- GEAR- FOOT MOUNTED- #3- "BROWN & SHARP" | Oil and Gas Parts Equipment |
| HOTSY CORP | Nozzle- 5.5 15 0 1/4″ MNPT F/WB-2004-3 | Industrial Parts & Misc |
| 60155041 | VALVE COMPLETE-MISSION | Oil and Gas Parts Equipment |
| 20-100-008 | GASKET- LINER WEAR PLATE | Oil and Gas Parts Equipment |
| 20-100-012 | | Oil and Gas Parts Equipment |
| 87BFS | PISTON-TRIPLEX- FAIL SAFE- 6-1/2″ OD | Oil and Gas Parts Equipment |
| 4300535 "MCKISSICK" | SHEAVES- TAPERED BEARING- 30″ O.D.- GROOVED: 1-1/8″ WIRELINE- BORE SIZE: 7.8750″ | Oil and Gas Parts Equipment |
| 51616400 | Liner 6-1/2″ | Oil and Gas Parts Equipment |
| 1290-HW-1-Southwest | Rod Extention | Oil and Gas Parts Equipment |
| 10-305-10 | Wear Plate | Oil and Gas Parts Equipment |
| 01-0413 | JAW- 3-1/16″ – 4″ | Oil and Gas Parts Equipment |
| D03-0052 | Ring Gear Weldment | Oil and Gas Parts Equipment |
| 1-25434 | VALVE-HYDRAULIC CONTROL | Oil and Gas Parts Equipment |
| 06-038-186 | RING-COUPLING CENTERING | Oil and Gas Parts Equipment |
| 20746 | PIN- GROOVE- RING GEAR | Oil and Gas Parts Equipment |
| P62026-3 | Valve- Controlair Model: HE-2-X 0-125 Pressure range F/Draw works | Oil and Gas Parts Equipment |
| CS77 | CAN- 1 LITER- CRUDE SAMPLE CONE TOP- | Industrial Parts & Misc |
| 250018-508 | FUEL FILTER-MAIN- SULLAIR MOD-100 DPQ-PORTABLE AIR | Oil and Gas Parts Equipment |
| J007421-5522110 | Valve Demco, Gate 4″X 5″ Full Port X 5,000 WP | Oil and Gas Parts Equipment |
| J001031-5522110 | Valve Demco, Gate 2″ Full Port X 5,000 WP | Oil and Gas Parts Equipment |
| J022124-1215311 | Valve, Demco Butterfly 6inch, 200 PSI, Wafer, Gray Iron Body | Oil and Gas Parts Equipment |
| J022125-1215311 | Valve, Demco Butterfly 8inch, 200 PSI, Wafer, Gray Iron Body | Oil and Gas Parts Equipment |
| J022126-1215311 | Valve, Demco Butterfly 10inch, 200 PSI, Wafer, Gray Iron Body | Oil and Gas Parts Equipment |
| J022127-1215311 | Valve, Demco Butterfly 12inch, 200 PSI, Wafer, Gray Iron Body | Oil and Gas Parts Equipment |
| J022122-1215311 | Valve, Demco Butterfly 4inch, 200 PSI, Wafer, Gray Iron Body | Oil and Gas Parts Equipment |
| S175-1 | Reducer, Concentric 5″X4″, SCH80 Weld-on | Oil and Gas Parts Equipment |
| S175-2 | Tee 5″ SCH 160 Weld-on | Oil and Gas Parts Equipment |
| S175-3 | Elbow 2″ X90 deg, Galvanized | Oil and Gas Parts Equipment |
| S175-4 | 2″ Weld O-Let SCH 160 | Oil and Gas Parts Equipment |
| S175-5 | 2″ Weld O-Let Thread SCH 160 | Oil and Gas Parts Equipment |
| S175-6 | Union-Weco Wing 2″ Pipe X 15,000 PSI Thread Male LPT X Female LPT W/ Seal Ring | Oil and Gas Parts Equipment |
| S175-7 | Pipe- Seamless, Steel Grade B, OD 141.3MM, Wall Thinkness 15.88MM, ID 109MM sold Per FT | Oil and Gas Parts Equipment |
| S175-8 | Union-Weco Wing 5″ butt Weld X 7,500 PSI | Oil and Gas Parts Equipment |
| S135-1 | Valve, Ball 1/2″ Brass, 200PSI Female NPT | Oil and Gas Parts Equipment |
| S135-2 | Valve, Ball 3/4″ Brass, 200PSI Female NPT | Oil and Gas Parts Equipment |
| S135-3 | Valve, Ball 1″ Brass, 200PSI Female NPT | Oil and Gas Parts Equipment |
| S135-4 | Valve, Ball 2″ Brass, 200PSI Female NPT | Oil and Gas Parts Equipment |
| S135-5 | Valve, Ball 3″ Bronze, 500PSI Female NPT | Oil and Gas Parts Equipment |
| S135-6 | Valve, Ball 4″ Brass, 200PSI Female NPT | Oil and Gas Parts Equipment |
| S170-1 | Hose, Rubber 1″ OD X 300 PSI, Textile Reinforced for Fluid (Water/Petroleum) Sold per FT | Oil and Gas Parts Equipment |
| s110-1 | O-Ring seal 5″ X 7,500 PSW | Oil and Gas Parts Equipment |
| SXP40GL | Glass Globe & Ring Retainer ASSEMBLY . (Rig-a_lite) | Industrial Parts & Misc |
| AEA2413YXA | COMPRESSOR, 1/3HP LBP115/1 POE | Oil and Gas Parts Equipment |
| AJA7461YXD | COMPRESSOR 3/4HP MBP POE 230/1 | Oil and Gas Parts Equipment |
| AVA5535EXN | COMPRESSOR, 2 3/4HP, R22, A/C 230 | Oil and Gas Parts Equipment |
| AWG5530EXN | COMPRESSOR 2 1/2HP, A/C | Oil and Gas Parts Equipment |
| AWG5524EXN | COMPRESSOR 2HP, R22, A/C | Oil and Gas Parts Equipment |
| AJC5519EXD | COMPRESSOR 1 3/4HP, R22, A/C ,230 | Oil and Gas Parts Equipment |
| AWG5522EXN | COMPRESSOR 1 3/4HP, R22 | Oil and Gas Parts Equipment |
| RKA5518EXD | COMPRESSOR, ROTARY 1 1/2HP | Oil and Gas Parts Equipment |
| AWG5519EXN | COMPRESSOR 1 1/2HP A/C R22 | Oil and Gas Parts Equipment |
| DP1053MTK | BRACKET, MOUNTING F/ RL483 DERRICK FLUORESCENT RIG-LITE | Industrial Parts & Misc |
| PT601205677 | PLATE, WEAR F/ HALCO PUMP SERVICE RIG | Industrial Parts & Misc |
| PO2890-00 | SEAL, MECHANICAL ROTOR, FLOWSERVE | Oil and Gas Parts Equipment |
| 60SB842Z | YOKE & PIN 3/4″ x 2″ NF (KREMCO K600H) | Oil and Gas Parts Equipment |
| 75-HB-708 | SPROCKET, 20 TEETH 1 1/4″ PITCH (K600H KREMCO) | Oil and Gas Parts Equipment |
| 92301000 | BEARING, STEADY DRIVELINE (1810-K600H KREMCO) | Oil and Gas Parts Equipment |
| 8700A733 | RING, STOP (K600H KREMCO) | Industrial Parts & Misc |
| CR34256 | SEAL, OIL 3 7/16″ X 4 1/4″ X 3/8″ | Oil and Gas Parts Equipment |
| 9H-0F648JGNBCCIB | VALVE, 6″ NYLON SEATS, FLUORCARBON (NEW TK VALVE) | Oil and Gas Parts Equipment |
| 9H-0F642JGNBCCIP | VALVE, 6″, PEEK SEATS, FLUORCARBON (NEW TK VALVE) | Oil and Gas Parts Equipment |
| P-058906-00001 | REPAIR KIT, CONTROL VALVE (K600H) | Oil and Gas Parts Equipment |
| S480-1 | DRIVELINE ASSEMBLY , SHORT COUPLED, 21″ C-F, SERIES 1880 | Oil and Gas Parts Equipment |
| S480-2 | DRIVESHAFT ASSEMBLY WITH STEADY BEARING, 45″ LG F-C, SERIES:1810 | Oil and Gas Parts Equipment |
| 7802327 | Coupling – faik T10 | Oil and Gas Parts Equipment |
| 10-300-066 | GASKET – DIAPHRAGM SUPPORT (CENTER) | Oil and Gas Parts Equipment |
| 06-000-909 | GAUGE – OIL PRESSURE | Oil and Gas Parts Equipment |
| 95-999-050 | PUMP – MISSION 1X1-1/2 C CENTRIFUGAL | Oil and Gas Parts Equipment |
| 20-100-015 | WIPPER | Industrial Parts & Misc |
| 1292011 | Cage – main bearing | Industrial Parts & Misc |
| 1-8701016-180 | CHAIN – 1-1/2 RC-120-5 180P – API 7F | Oil and Gas Parts Equipment |
| X13-1194 | Coupling | Oil and Gas Parts Equipment |
| 1292227 | Gasket – intermed. rod oil wiper | Oil and Gas Parts Equipment |
| 7806002 | OIL PRESSURE GAUGE (Equal to 08-017-360) | Oil and Gas Parts Equipment |
| 7812650 | MOTOR – ELECTRIC 3HP 1735 RPM | Oil and Gas Parts Equipment |
| 7815076 | Pump – Oil | Industrial Parts & Misc |
| 1292182 | Wiper – intermediate rod oil | Industrial Parts & Misc |
| 7815147 | Pump – lxl-1/2 centrifugal | Industrial Parts & Misc |
| 134 PITCHES | CHAIN – ASA #40-l/2P SINGLE – API 7F | Oil and Gas Parts Equipment |
| 1291182 | WIPER – INTERMEDIATE ROD OIL | Industrial Parts & Misc |
| ZB-23500 | BEARING – CONNECTING ROD ROLLER | Oil and Gas Parts Equipment |
| ZT-11812 | BEARING – MAIN ROLLER | Oil and Gas Parts Equipment |
| ZB-7081 | BEARING – PINION | Oil and Gas Parts Equipment |
| 1293182 | WIPER – INTERMEDIATE ROD OIL | Industrial Parts & Misc |
| ZB25500 | BEARING – CONNECTING ROD ROLLER | Oil and Gas Parts Equipment |
| ZT13127 | BEARING – MAIN | Oil and Gas Parts Equipment |
| ZB7873 | BEARING – PINION | Oil and Gas Parts Equipment |
| 65-010-550 | CONE – BEARING | Oil and Gas Parts Equipment |
| 65-013-235 | CUP – BEARING | Oil and Gas Parts Equipment |
| 21-110-029 | GASKET – (0.016 THICK) | Oil and Gas Parts Equipment |
| 21-082-305 | GEAR – HIGH SPEED | Oil and Gas Parts Equipment |
| 68-630-575 | SEAL – OIL | Oil and Gas Parts Equipment |
| 21-082-257 | SLEEVE – WEAR. | Oil and Gas Parts Equipment |
| ZB-4252 | BEARINGTIMKEN ZB 4252. A ROLLER CONE | Oil and Gas Parts Equipment |
| ZT 5000 | BEARING TIMK ZT 5000 A ROLLER CONE | Oil and Gas Parts Equipment |
| ZT 4002 | BEARING TIMKEN ZT 4002. A ROLLER CONE | Oil and Gas Parts Equipment |
| 7804045 | EXCLUDER | Industrial Parts & Misc |
| 648075 | BALL – RACE BEARING MIDDLE | Oil and Gas Parts Equipment |
| 7801613 | BALL – 2-3/4″CHROME STEEL BEARING | Oil and Gas Parts Equipment |
| 648073 | Race Ball Bearing Upper | Oil and Gas Parts Equipment |
| 99-607-485 | I 0-RING – (18X8-1/2X1/4) | Oil and Gas Parts Equipment |
| 21-109-016 | RING – SEAL HOLD DOWN | Oil and Gas Parts Equipment |
| 21-109-023 | SHIM – SET | Oil and Gas Parts Equipment |
| 21-109-066 | SHIM – SET | Oil and Gas Parts Equipment |
| 21-109-071 | SHIM – SET | Oil and Gas Parts Equipment |
| 648078-1 | SHIM – 0.036″ | Oil and Gas Parts Equipment |
| 648078 | SHIM – 0.048″ | Oil and Gas Parts Equipment |
| 646986 | SHAFT PINION – | Industrial Parts & Misc |
| ZB-5120 | BEARING | Oil and Gas Parts Equipment |
| 648077 | RACE BALL BEARING LOWER. | Oil and Gas Parts Equipment |
| YS-6004 | SEAL OIL | Oil and Gas Parts Equipment |
| 21-109-001 | RACE UPPER 3″ BALL | Industrial Parts & Misc |
| 21-109-003 | RACE LOWER 3″ BALL | Industrial Parts & Misc |
| 21-109-013 | SLEEVE WEAR | Oil and Gas Parts Equipment |
| 21-109-014 | SPACER WEAR SLEEVE | Oil and Gas Parts Equipment |
| 21-109-018 | GASKET | Oil and Gas Parts Equipment |
| 21-109-080 | RACE UPPER 2″ BALL | Industrial Parts & Misc |
| 21-109-081 | RACE LOWER 2″" BALL | Industrial Parts & Misc |
| 21-111-045 | BALL 2″ | Industrial Parts & Misc |
| 55-0655 | Brake Block (18 Pieces per set) Asbestos | Oil and Gas Parts Equipment |
| 68-097-470 | Taper Lock Bushing | Oil and Gas Parts Equipment |
| 99-607-210 | O-Ring | Oil and Gas Parts Equipment |
| 75-511-607 | Nut 3/8″ | Oil and Gas Parts Equipment |
| 06-038-196 | Packing | Oil and Gas Parts Equipment |
| 06-027-725 | Packing | Oil and Gas Parts Equipment |
| 96-062-006 | Plungers Brake Blocks | Oil and Gas Parts Equipment |
| 75-660-139 | Retainer Ring | Oil and Gas Parts Equipment |
| 06-114-514 | Stuffing Box Spindle | Oil and Gas Parts Equipment |
| 06-000-391 | Quick Release Valve | Oil and Gas Parts Equipment |
| 68-055-856 | Chain Input Drive API 7F | Oil and Gas Parts Equipment |
| 06-001-694 | 38-VC-1200 | Oil and Gas Parts Equipment |
| 06-001-695 | 32 VC-1000 Clutch | Oil and Gas Parts Equipment |
| 06-038-260 | Roller Side | Oil and Gas Parts Equipment |
| 06-000-799 | Choke Valve | Oil and Gas Parts Equipment |
| 65-670-410 | Ball Bearing | Oil and Gas Parts Equipment |
| 55-0950 | Brake Block 1 x 1-1/4″ x 12 (22/Set) Asbestos | Oil and Gas Parts Equipment |
| 06-014-444 | Eye Bolt | Oil and Gas Parts Equipment |
| 06-114-001 | Eye Bolt | Oil and Gas Parts Equipment |
| 06-114-333 | Clevis Main Brake Anchor | Industrial Parts & Misc |
| 06-038-152 | Spline Clutch | Oil and Gas Parts Equipment |
| 75-107-008 | Cotter Pin 5/16″ x 2-1/4″ -1/4 Lg | Oil and Gas Parts Equipment |
| 75-108-008 | Cotter | Oil and Gas Parts Equipment |
| 06-038-314 | Hub Hand Brake Lever | Oil and Gas Parts Equipment |
| 99-480-081 | Nipple | Oil and Gas Parts Equipment |
| 06-014-445 | Nut | Oil and Gas Parts Equipment |
| 06-014-836 | Lock Nut | Oil and Gas Parts Equipment |
| 86-428-217 | Nipple | Oil and Gas Parts Equipment |
| 06-114-060 | Roller | Oil and Gas Parts Equipment |
| 75-633-187 | Screw 3/8″ x 1-1/2″ Long (For Brake Block) | Oil and Gas Parts Equipment |
| 06-039-077 | Sprocket 28 T 1/2″ P Single | Oil and Gas Parts Equipment |
| 06-330-492 | Adapter | Oil and Gas Parts Equipment |
| 06-000-697 | Relay Valve | Oil and Gas Parts Equipment |
| 06-000-811 | Relay Valve | Oil and Gas Parts Equipment |
| 06-001-681 | 24 CB 500 Clutch | Oil and Gas Parts Equipment |
| 06-000-662 | Relay Valve | Oil and Gas Parts Equipment |
| 06-047-132 | Band API 7K | Industrial Parts & Misc |
| 65-670-310 | Bearing | Oil and Gas Parts Equipment |
| 55-1105 | Brake Block 10 x 1-1/4″ x 12″ (26 Pieces) Asbestos | Oil and Gas Parts Equipment |
| H38-AA1 | Stuffing Box | Oil and Gas Parts Equipment |
| 06-038-394 | Bracket | Oil and Gas Parts Equipment |
| 86-061-001 | Bushing, Reduing 1/4 X 18std | Oil and Gas Parts Equipment |
| 06-038-458 | Gauge | Oil and Gas Parts Equipment |
| 06-047-125 | Nut Dead End Adj | Oil and Gas Parts Equipment |
| 06-114-329 | Pin | Oil and Gas Parts Equipment |
| 06-114-029 | Roller | Oil and Gas Parts Equipment |
| 06-038-503 | Tube Air | Oil and Gas Parts Equipment |
| 06-000-940 | Valve Regulator | Oil and Gas Parts Equipment |
| 06-000-019 | Valve Control | Oil and Gas Parts Equipment |
| 06-038-461 | Valve Control | Oil and Gas Parts Equipment |
| 119-043-ASA | Chain 1/2″ Single 40-1-115 P Oil Pump 40 Single 116P sold by the Foot | Oil and Gas Parts Equipment |
| 185-973-ASA | Chain 1-1/2″ Sextuple 120-6-100 Pitches Sold by the Foot | Oil and Gas Parts Equipment |
| 06-000-689 | Hand Throttle Valve | Oil and Gas Parts Equipment |
| 06-001-883 | 42 VC-1200 Clutch | Oil and Gas Parts Equipment |
| 46545 | Eye Bolt | Oil and Gas Parts Equipment |
| 5703041 | Chanin RC-50-1 5/8″ P 110 P (Price Per Foot) | Oil and Gas Parts Equipment |
| 7806059 | Gauge Pressure 0-100 PSI | Oil and Gas Parts Equipment |
| 627926 | Brake Block 20 per set Asbestos (0940) | Oil and Gas Parts Equipment |
| 614925 | Sprocket 5/8P 38 tooth | Oil and Gas Parts Equipment |
| 7500248-0004 | Valve Control H-3 (P51125-4) | Oil and Gas Parts Equipment |
| 7500128 | Valve Quick Release (P52935-2) | Oil and Gas Parts Equipment |
| 622845 | Diaphragm | Industrial Parts & Misc |
| 618870-C | Diaphragm | Industrial Parts & Misc |
| 612361-A | Bearing Retainer ASSEMBLY Roller | Industrial Parts & Misc |
| S100-1 | Chain Roller Triple 120 1-1/2″ x 68 Pitches Price Per Foot | Oil and Gas Parts Equipment |
| A6606 | Diaphragm for Twin Disc PO 330 | Industrial Parts & Misc |
| A6597 | Diaphragm 24″ Twin Disc | Industrial Parts & Misc |
| XA4255 | Valve Quick Release 1/2″ NPT | Oil and Gas Parts Equipment |
| RC100-4X90 | Chain Roller Quad 1-1/4″ (40 FT) Price Per Foot | Oil and Gas Parts Equipment |
| RC100-6 x 102 | Chain Roller Sextuple 1-1/4″ Sextuple (30 FT) Price Per Foot | Oil and Gas Parts Equipment |
| RC100-6 x 110 | Chain Roller Sextuple 1-1/4″ Sextuple (30 FT) Price Per Foot | Oil and Gas Parts Equipment |
| RC120-6 X 108 | Roller Chain Sextuple 1-1/2″ (60 FT) Price per Foot | Oil and Gas Parts Equipment |
| RC140-4 X 110 | Roller Chain Quad 1-3/4″ (40 FT) Price Per Foot | Oil and Gas Parts Equipment |
| RC 140-6 x 120 | Rolelr Chain 1-3/4″ Sextuple (90 Ft) Price Per Foot | Oil and Gas Parts Equipment |
| 500152-A | Assembly Brake Band | Oil and Gas Parts Equipment |
| RC50-1 | Roller Chain 5/8″ Pitch Single 104 Pitches (20 FT) Price Per Foot | Oil and Gas Parts Equipment |
| 557-000B395 | Rebuilding Kit | Oil and Gas Parts Equipment |
| 557-000C395 | Deublin Repair Kit | Oil and Gas Parts Equipment |
| MTT 139-177 | MIRCOMETER, 100-2100MM | Oil and Gas Parts Equipment |
| 145107BG | SEAL, ROTOR C2, EATON AIRFLEX (K600H KREMCO) | Oil and Gas Parts Equipment |
| P37X378BAJC25-7 | PUMP, HYD ASSEMBLY (K600H KREMCO) | Oil and Gas Parts Equipment |
| 852XBAKP-F4XS | PTO, ASSEMBLY , POWER TAKE OFF (KREMCO) | Industrial Parts & Misc |
| 1672E2C3 | Switch, Pressure sensing valve 1/4″ RG#6 | Oil and Gas Parts Equipment |
| 1672E1F4 | Switch, Pressure sensing valve 1/4″ RG#8 | Oil and Gas Parts Equipment |
| MURPHY-LS200NSS | SWITCH, FLOAT OPERATED LEVEL (PNEUMATIC) 2″ NPT | Oil and Gas Parts Equipment |
| CVS67CFRPM-225 | REGULATOR, AIRSET 0-60PSI 1/4″NPT | Oil and Gas Parts Equipment |
| PFA-T6-062 | TUBE, 3/8″OD X .062 WALL (SWAGELOK) | Oil and Gas Parts Equipment |
| TBM40060-B6 | THERMOETER, 4″I X 6″ STEM 1/2″ CENTER BACK MOUNT (WINTERS) | Oil and Gas Parts Equipment |
| TBM50060-B6 | THERMOETER, 5″I X 6″ STEM 1/2″ CENTER BACK MOUNT (WINTERS) | Oil and Gas Parts Equipment |
| A914-DX | FILTER, AIR HOUSING 150 PSI | Oil and Gas Parts Equipment |
| 251-000-55HL | API GRAVITY THERMOHYDROMETER, ASTM 55HL | Industrial Parts & Misc |
| 250-000-08F | THERMOMETER, ASTM 8F HIGH DISTILLATION | Industrial Parts & Misc |
| 34840-50ML-R | HYDRANAL, COULOMAT CG | Industrial Parts & Misc |
| M22121-1215311 | VALVE, 3″BF DEMCO Equal | Oil and Gas Parts Equipment |
| 02-GE-TUF35 | SWAB, CUPS TUF 3 1/2″ WITH STEEL CORE 2.9″ OD | Oil and Gas Parts Equipment |
| 03-OS-2 | OIL SAVERS RUBBER 3/8″-5/8″ | Industrial Parts & Misc |
| S250-1 | | Industrial Parts & Misc |
| S250-2 | 3 1/2″ IF Pressed Steel thread protectors ( NC-38) | Industrial Parts & Misc |
| S250-3 | 4″ IF Pressed Steel thread protectors ( NC-46 ) | Oil and Gas Parts Equipment |
| HM903247 | BEARING, TRAPERED ROLLER CONE | Industrial Parts & Misc |
| HM903216 | BEARING, TRAPERED ROLLER CUP | Industrial Parts & Misc |
| PT#03-SLF | YELLOW SANDLINE FLAGS | Industrial Parts & Misc |
| R431002613 | VALVE, ASSEMBLY THROTTLE CONTROL AIR | Oil and Gas Parts Equipment |
| R431002640 | VALVE, CONTROL AIR H-2-X | Oil and Gas Parts Equipment |
| R431002827 | VALVE, CONTROL AIR HD-2-LX | Oil and Gas Parts Equipment |
| R434002037 | VALVE, CONTROL AIR, 200 PSI H-4 | Oil and Gas Parts Equipment |
| R431002912 | VALVE. CONTROL AIR HE-2FX | Oil and Gas Parts Equipment |
| R431008211 | VALVE, PILOT INTERLOCK D 1/2 | Oil and Gas Parts Equipment |
| R431003039 | VALVE, QUICK RELEASE 3/8″ | Oil and Gas Parts Equipment |
| R431003348 | VALVE, SHUTTLE (DWKS 660) | Oil and Gas Parts Equipment |
| R431004155 | REPAIR KIT, WABCO VALVE TYPE "S" | Oil and Gas Parts Equipment |
| R431005799 | VALVE SEAT, ROTARY | Oil and Gas Parts Equipment |
| R431003554 | VALVE, CHECK 1/4″ HIGH PRESSURE | Oil and Gas Parts Equipment |
| R431003558 | VALVE, CHECK 3/4″ HIGH PRESSURE | Oil and Gas Parts Equipment |
| R431002968 | VALVE, PILOT AIR 1/2″ | Oil and Gas Parts Equipment |
| R431004994 | VALVE, PILOT AIR 1/4″ 2HA-1 | Oil and Gas Parts Equipment |
| 431003743 | REPAIR KIT, PILOT VALVE 2HA | Oil and Gas Parts Equipment |
| ASM150-14 | CONTROLLER, ENGINE CAT 3508 | Industrial Parts & Misc |
| 7008B049 | RETAINER, O-RING | Industrial Parts & Misc |
| BID.1ATA.1L | 1 LITRE FUEL SAMPLE CANS WITH EXPOXY INNER | Industrial Parts & Misc |
| 20B-HB-LP350 | HOSE, PROPANE 3″ X 20 FT 350PSI W/ NPT FITTINGS | Oil and Gas Parts Equipment |
| BEN-225635N | GAUGE, AIR 1/8N PRESSURE | Industrial Parts & Misc |
| BEN-286616RX | COMPRESSOR AIR, TF-501 | Oil and Gas Parts Equipment |
| BEN-OR284358X | GOVERNOR D-2 HIGH TEMP | Industrial Parts & Misc |
| BEN-284335N | VALVE, CONTROL TV-2 | Industrial Parts & Misc |
| NT3030STD-78 | BRAKE, CHAMBER 10 IN PUSH ROD TYPE 30 | Industrial Parts & Misc |
| ACIAF1212F-R-S316 | COUPLING, WITH FLANGE 3/4″ 150RF | Oil and Gas Parts Equipment |
| SO2BH8T-S316 | VALVE, BALL 3/4″ LOCKING LEVER HANDLE | Oil and Gas Parts Equipment |
| CTR16168-S316 | REDUCING UNION TEE 1″- 1/2″ | Oil and Gas Parts Equipment |
| CTA12-S316 | UNION TEE, 3/4″ | Oil and Gas Parts Equipment |
| CUA8-S316 | UNION 1/2″ | Oil and Gas Parts Equipment |
| CLA8-S316 | UNION ELBOW, 1/2″ | Oil and Gas Parts Equipment |
| HSPB8N-S316 | PIPE, PLUG 1/2″ NPT | Oil and Gas Parts Equipment |
| DBD8MF8-8NG-1P-S316 | VALVE, DOUBLE BLOCK & BLEED 1/2″ NPT | Oil and Gas Parts Equipment |
| CAF88N-S316 | ADAPTER, FEMALE 1/2″ NPT | Oil and Gas Parts Equipment |
| CFC88N-S316 | FEMALE, CONNECTOR 1/2″-1/2″ NPT | Oil and Gas Parts Equipment |
| GRVTF8NPP-S316 | VALVE, A 1/2″ NPT | Oil and Gas Parts Equipment |
| CSWC812-S316 | CONNECTOR, MALE PIPE WELD 1/2″-3/4″ | Oil and Gas Parts Equipment |
| CUA16-S316 | UNION, 1″ | Oil and Gas Parts Equipment |
| ACIAF816KRTJ-R-S316 | COUPLING WITH FLANGE 1500 RJ 1″-1.2″ | Oil and Gas Parts Equipment |
| ACIAF812KRTJ-R-S316 | COUPLING, WITH FLANGE 1500 RJ 3/4″-1/2″ | Oil and Gas Parts Equipment |
| ACIAF1612KRTJ-R-S316 | COUPLING, WITH FLANGE 1500RJ 3/4″-1″ | Oil and Gas Parts Equipment |
| DBR12JE-8NPKV-1PS316 | VALVE, DOUBLE BLOCK & BLEED 3/4′ 1500RJ | Oil and Gas Parts Equipment |
| ACUA-8-OP0039-S316 | UNION, STRAIGHT 1/2″ WITH SPECIAL ORIFICE | Oil and Gas Parts Equipment |
| ACIAF128F-R-S316 | COUPLING, WITH FLANGE 150RJ 1/2″-3/4″ | Oil and Gas Parts Equipment |
| ACIAF88F-R-S316 | COUPLING WITH FLANGE 150RJ 1/2″-1/2″ | Oil and Gas Parts Equipment |
| CPA12-S316 | PLUG, 3/4″ | Oil and Gas Parts Equipment |
| CPA16-S316 | PLUG, 1″ | Oil and Gas Parts Equipment |
| GSI-1-P094 | SENSOR, CELL CS OXYGEN (CITICEL) | Industrial Parts & Misc |
| S750-1 | AIR DUCT, NEOPRENE COATED POYLEST. | Oil and Gas Parts Equipment |
| W15-4 | Fluid Instrument Gallon RED | Oil and Gas Parts Equipment |
| 1380 | V-BELT, TRUFLEX- EXHAUST | Industrial Parts & Misc |
| 757380 | COUPLING, HUB BORE .875 KEYWAY 3/16″ x 3/32″ | Industrial Parts & Misc |
| 758272 | COUPLING, COVER/GRID ASSEMBLY | Industrial Parts & Misc |
| 14-061UC | O-RING, PACKING (P200 PUMP) | Industrial Parts & Misc |
| 8RL-162 | Transformer for Perkins engine 624KVA | Oil and Gas Parts Equipment |
| BF1210 | FILTER, FUEL (DIESEL) | Oil and Gas Parts Equipment |
| 1279086 | ACCUMULATOR, 3000 PSI MAX, FOR PUMP | Industrial Parts & Misc |
| K23050 | ANALYZER, SALTS IN CRUDE 115/230V | Oil and Gas Parts Equipment |
| 332-002-017 | BREAKER BOROSILICATE 100ML | Industrial Parts & Misc |
| K23000-CASE | CASE, SALT IN CRUDE | Industrial Parts & Misc |
| K23050-1 | ELECTRODE CAP ASSEMBLY | Industrial Parts & Misc |
| K23050-2 | SERIAL CABLE ASSEMBLY | Industrial Parts & Misc |
| K23050-3 | TEMP. PROBE & WIRE ASSEMBLY | Industrial Parts & Misc |
| K23050-4 | DUAL POWER ADAPTER 115V/230V | Industrial Parts & Misc |
| K23050-5 | GROUND ELECTRODE | Industrial Parts & Misc |
| K23050-6 | CALIBRATION JACKS | Industrial Parts & Misc |
| K23050-7 | BENCHTOP STAND W/ EXTERNAL BATTERY | Industrial Parts & Misc |
| K23050-8 | BENCHTOP STAND ONLY | Industrial Parts & Misc |
| K88615 | SERIAL TO USB ADAPTER | Industrial Parts & Misc |
| K23050-9* | SOLUTION, ASTM D3230 MIXED SALTS 100ML | Industrial Parts & Misc |
| K23050-10* | SOLUTIONS, ASTM D3230 MIXED SALTS 500ML | Industrial Parts & Misc |
| 02APAC01 | GASKET, BRIDGE GATE 8″ | Oil and Gas Parts Equipment |
| 20549 | BAR, SINKER 1 3/4″ X 120-3/4″ LGT | Water Well Rig |
| 43516 | HOSE, ASSEMBLY 25′ LONG W/ 1/4″ QUICK CON 300PSI | Oil and Gas Parts Equipment |
| 68883-4066661 | PUMP, HYD WITHOUT HOSE/COUPLER | Oil and Gas Parts Equipment |
| 89602-001 | PIPE, WIPER RUBBER 3 1/2″ X 9″ OD | Oil and Gas Parts Equipment |
| AN431559 | EXTINGUISHER, 15LB CO2 | Industrial Parts & Misc |
| IAT-3055841 | FILTER, 130E ELEMENT COLOR CHANGED 100 SERIES | Oil and Gas Parts Equipment |
| FC6709X | WIRE ROPE-SANDLINE STEEL 9/16″ X 12,000 FT.(3645.6 MTS. LG.), MBL 11.8 TONS; 6X7 FIBRE CORE | Oil and Gas Parts Equipment |
| KIT467 | KIT, GASKET WITH SHIM | Oil and Gas Parts Equipment |
| A10-3889-L272 | GEAR, SET ASSEMBLY REAR DRIVE AXLE AND PINION ASSEMBLY | Oil and Gas Parts Equipment |
| A9-3889-L272 | GEAR, SET DRIVE GEAR PINION, SRDD AXLE | Oil and Gas Parts Equipment |
| 4220 | KIT, BEARING COMPLETE | Oil and Gas Parts Equipment |
| 3202-W-6783 | SHAFT, AXLE LHS 2.12IN X46.12IN X 2.35-46 IN 8 HOLE | Oil and Gas Parts Equipment |
| KIT4190 | KIT, BEARING AND SEAL | Oil and Gas Parts Equipment |
| 3891-T-748 | GEAR, HELICAL PINION SRDD | Oil and Gas Parts Equipment |
| 16-X-79 | KEY, SQUARE SRDDRIG-100 | Oil and Gas Parts Equipment |
| BR-016 | O-RING, BUNA-N | Oil and Gas Parts Equipment |
| CLD400-316-TFE | DIAPHRAGM 4″ PUMP & CTLR | Industrial Parts & Misc |
| INU550381 | BRAKE, WOVEN 7″X3/4″X10″ | Oil and Gas Parts Equipment |
| INU750381 | BRAKE, MOLDED 7″X3/4″X 10″ | Oil and Gas Parts Equipment |
| FBB0312125018 | BOLT, BRASS BRAKE | Oil and Gas Parts Equipment |
| KLN031218 | NUT, KEP | Oil and Gas Parts Equipment |
| CON1042071 | PLUG, NAW 4 1/64″ X 1/2|" | Oil and Gas Parts Equipment |
| MBCCO59300201 | KIT, COOPER | Oil and Gas Parts Equipment |
| UT804 | MULTIMETER DIGITAL 230VAC 50 HZ SUPPLY | Oil and Gas Parts Equipment |
| AS2398-20-2H | BRAKE, BLOCK SET 1″X10″X12″ | Oil and Gas Parts Equipment |
| AS2394-20-2H | BRAKE, BLOCK SET (COOPER) 1″X10″X12″ | Oil and Gas Parts Equipment |
| 64-289-320 | ADAPTER 1/2 UNION MALE | Oil and Gas Parts Equipment |
| 64-289-480 | ADAPTER, MALE UNION 1/4 " X 90DIM | Oil and Gas Parts Equipment |
| 86-061-006 | BUSHING, STD 1/2 X 3/8 | Oil and Gas Parts Equipment |
| 86-061-003 | BUSHING, 3/4 x 1/4 | Oil and Gas Parts Equipment |
| 86-061-005 | BUSHING, 1/2 X 1/4 | Oil and Gas Parts Equipment |
| 86-336-104 | ELBOW, BM STD 1/2 | Oil and Gas Parts Equipment |
| 86-543-104 | TEE, 1/2 BM STD | Oil and Gas Parts Equipment |
| 64-227-052 | ELBOW COUPLE MALE | Oil and Gas Parts Equipment |
| 86-336-103 | ELBOW, 3/8 | Oil and Gas Parts Equipment |
| 86-336-102 | ELBOW, 1/4 X 90 DEG | Oil and Gas Parts Equipment |
| 86-543-102 | TEE, 1/4 | Oil and Gas Parts Equipment |
| 64-289-312 | ADAPTER, UNION MALE 1/4 ST | Oil and Gas Parts Equipment |
| 64-227-008 | CONNECTOR, 3/8 X 1/4 | Oil and Gas Parts Equipment |
| 64-227-002 | CONNECTOR, COUPLE | Oil and Gas Parts Equipment |
| 64-227-062 | ELBOW, 3/8 X 3/8 | Oil and Gas Parts Equipment |
| 64-227-050 | COMPRESSION MALE | Oil and Gas Parts Equipment |
| 64-289-310 | ADAPTER, UNION MALE | Oil and Gas Parts Equipment |
| 64-289-478 | ADAPTER, UNION MALE | Oil and Gas Parts Equipment |
| 9A-100003522 | FLOW METER ASSEMBLY – FM,3/4x1IN MNPT,STD | Oil and Gas Parts Equipment |
| 9A-100002077 | PICKUP, FLOW METER, FOR USE W/7/8 IN & LARGER | Oil and Gas Parts Equipment |
| 9A-100005142 | CIRCUIT ASSEMBLY -LOW POWER PRE-AMP CIRCUIT ASSEMBLY | Industrial Parts & Misc |
| 12B7100X132 | GASKET SET,HP;2,CL2500;N07750/GRAPHITE | Oil and Gas Parts Equipment |
| 01151-0034-0002 | KIT, O-RING; FLANGE, BUNA-N | Oil and Gas Parts Equipment |
| R126-PTX162 | KIT, REPAIR, CONTROL VALVES, 126-PT, TAG | Oil and Gas Parts Equipment |
| 39B2047X012 | SEAT RING;1/2PORT;S17400 DBL 1150 | Industrial Parts & Misc |
| R4190X00S12 | KIT,REPAIR;4190 AUTO/MAN RETROFIT/SST;SST TUBING | Oil and Gas Parts Equipment |
| B5641-8470 | REGULATOR, PRESSURE REDUCING 1/4IN NPT BRASS | Industrial Parts & Misc |
| 9690217 | GAUGE, PRESSURE 0-30PSI 1-1/2IN FACE, 1/8 NPT | Oil and Gas Parts Equipment |
| 3B4-BS1K-A | REPAIR KIT, DIFFERENTIAL PRESS VALVE | Oil and Gas Parts Equipment |
| BDP-S-1-BL-S-6 | PEN, BLUE, FOR DP RECORDER | Industrial Parts & Misc |
| BDP-U-2-RD-S-6 | PEN, RED, FOR DP RECORDER | Industrial Parts & Misc |
| 11B8577X012 | GAUGE, PRESS, 2, TRANS./CONTRLS. | Oil and Gas Parts Equipment |
| 2DI150A-120 | TRANSISTOR, VARIABLE SPEED CTRL 2000/4000NE | Industrial Parts & Misc |
| V40461054 | VALVE, SOLENOID | Oil and Gas Parts Equipment |
| K21424 | SAYBOLT VISCOMETER BATH, SV4000, 220-240V, 50/60Hz | Oil and Gas Parts Equipment |
| K21494 | SENSOR, AUTOMATIC SAYBOLT VISCOSITY TIMING | Oil and Gas Parts Equipment |
| K21410-SFW | SAYBOLT VISCOSITY COMMUNICATION SOFTWARE | Industrial Parts & Misc |
| 332-003-014 | FLASK, 60ML FOR SV4000 | Industrial Parts & Misc |
| AB1756BA2 | BATTERY, ASSEMBLY LOGIX5000 | Industrial Parts & Misc |
| AB800TXD2 | BLOCK, CONTACT | Industrial Parts & Misc |
| AB1794TB3G | 3 WIRE GRNDED TERM BASE 31VDC | Industrial Parts & Misc |
| AB800TXAP | SWITCH BLOCK | Industrial Parts & Misc |
| 209478E | TUBE, OIL SUPPLY LB | Oil and Gas Parts Equipment |
| 209478D | TUBE, OIL SUPPLY RB | Oil and Gas Parts Equipment |
| 199108A | TUBE, UNION | Oil and Gas Parts Equipment |
| 157332A | GASKET | Oil and Gas Parts Equipment |
| 211629L | TUBE, OIL DRAIN | Oil and Gas Parts Equipment |
| 211629M | TUBE, OIL DRAIN | Oil and Gas Parts Equipment |
| 194769K | CONNECTOR, FLEX | Oil and Gas Parts Equipment |
| 199111D | ELBOW, FLEX | Industrial Parts & Misc |
| 118566X | NIPPLE, PIPE 3/8″ X 1″ | Oil and Gas Parts Equipment |
| 199143A | GASKET, OIL DRAIN | Oil and Gas Parts Equipment |
| 199143 | GASKET, OIL DRAIN | Oil and Gas Parts Equipment |
| 199108B | TUBE, UNION | Oil and Gas Parts Equipment |
| 199109B | TEE MALE BRANCH | Industrial Parts & Misc |
| 211636L | TUBE, WASTE GATE WATER SUPPLY | Oil and Gas Parts Equipment |
| 211636H | TUBE, WASTE GATE WATER RETURN | Oil and Gas Parts Equipment |
| 211636K | TUBE, WASTE GATE RETURN | Oil and Gas Parts Equipment |
| 211636J | TUBE, WASTE GATE SUPPLY | Oil and Gas Parts Equipment |
| 211508H | TUBE, WASTE GATE PRESSURE LB | Oil and Gas Parts Equipment |
| 211508G | TUBE, WASTE GATE PRESSURE RB | Oil and Gas Parts Equipment |
| 199111B | ELBOW, FLEX | Industrial Parts & Misc |
| 78208B | TEE, PIPE 3/8″ | Oil and Gas Parts Equipment |
| XTCE018C10WD | CONTACTOR, 48 VDC | Oil and Gas Parts Equipment |
| DC-10D | FILTER, BAG DESICCANT | Industrial Parts & Misc |
| 2215 EKTN9 | Bearing, TAPER 2215, OD 130mm | Oil and Gas Parts Equipment |
| DH515 | SEAL, RUBBER CRESCENT MOON | Oil and Gas Parts Equipment |
| S480-3 | GARNET, ABRASIVE | Industrial Parts & Misc |
| 007168-001 | Infrared Point Gas Detector | Oil and Gas Parts Equipment |
| 007290-001 | Flame Detector Accessories (SS mount) | Oil and Gas Parts Equipment |
| 006824-001 | SENSOR, Combustible Gas | Oil and Gas Parts Equipment |
| 011744-050 | Open Path Gas Detector | Oil and Gas Parts Equipment |
| X5200A4N13W1 | UV/IR Flame Detector ASSEMBLY . | Oil and Gas Parts Equipment |
| PBUL4C6C0D | Manual Push Button Call Point | Industrial Parts & Misc |
| S480-4 | Test Smoke for Smoke Detectors | Oil and Gas Parts Equipment |
| 06DX3286BC0600 | COMPRESSOR, 400/460V, 3 PH 50/60HZ | Industrial Parts & Misc |
| 06DKESC6A21 | Compressor 380V 3 ph 50hz 115lra | Industrial Parts & Misc |
| 06EX265660 | Compressor, 50HZ, 400V, 3PH, 200LRA 1500RPM | Industrial Parts & Misc |
| MVS205R | Sensor, Remote 0-1000DEG, 0-800PSI | Industrial Parts & Misc |
| 2051CD3A22A1AB4M5 | TRANSMITTER, DIFFERENTIAL PRESSURE CAL 0-750in H20,OUTPUT 4-20 MAX,45VDC MAX | Industrial Parts & Misc |
| 7MF44331GA221NC6-Z | TRANSMITTER, DIFFERENTIAL PRESSURE | Industrial Parts & Misc |
| T-486N | CARTRIDGE REPLACEMENT, PULSATION | Oil and Gas Parts Equipment |
| TTR330-47 | 3 Phase Transformer Turns Ratio Test Set with Power DB OnBoard | Oil and Gas Parts Equipment |
| 37093-KIT | 3-Shielded test lead set, X/H windings, 30ft | Industrial Parts & Misc |
| 37095-KIT | 1- Shielded test lead set, X/H windings, 30ft | Industrial Parts & Misc |
| 37094-KIT | 3-Shielded test lead set, X/H windings, 50ft | Industrial Parts & Misc |
| 30915-532 | 3-Shielded test lead, H windings, 30ft | Industrial Parts & Misc |
| 30915-534 | 3-Shielded test lead, X windings, 30ft | Industrial Parts & Misc |
| 30915-533 | 3-Shielded test lead, H windings, 50ft | Industrial Parts & Misc |
| 30915-535 | 3-Shielded test lead, X windings, 50ft | Industrial Parts & Misc |
| 30915-536 | 1-Shielded test lead, H windings, 30ft | Industrial Parts & Misc |
| 30915-537 | 1- Shielded test lead, X windings, 30ft | Industrial Parts & Misc |
| 37087-KIT | 3-Adapter set to allow use of Megger 550503 lead sets | Industrial Parts & Misc |
| 550555 | Calibration Device (for TTR verification) | Industrial Parts & Misc |
| Y550055 | Calibration Standard for TTR3XX | Oil and Gas Parts Equipment |
| 1630-CA | Transit Case for Instrument and Leads | Industrial Parts & Misc |
| 35755-3 | Serial portable thermal paper printer | Industrial Parts & Misc |
| 36493-1 | USB portable thermal paper PRINTER | Industrial Parts & Misc |
| 36809-1 | Case of thermal paper, 8.5×11 | Industrial Parts & Misc |
| 37009 | Transit case for instrument, leads and accessories | Industrial Parts & Misc |
| MC7144 | Bushing Adaptors | Industrial Parts & Misc |
| 658802 | Bearing, Cone (Timken) | Oil and Gas Parts Equipment |
| 658815 | Bearing, Cup (Timken) | Oil and Gas Parts Equipment |
| PT24709012 | SCOPING RAM ASSEMBLY . Max Open : 94′-6″ ; Max Closed : 52′-5-1/2″ | Industrial Parts & Misc |
| S250-4 | PIN, PRESSED STEEL THREAD PIN PROTECTOR 3 1/2″ IF | Oil and Gas Parts Equipment |
| S250-5 | PRESSED STEEL THREAD PIN PROTECTOR 3 1/2″ IF BOX | Oil and Gas Parts Equipment |
| S250-6 | PRESSED STEEL THREAD PIN PROTECTOR 4 1/2″-IF PIN | Oil and Gas Parts Equipment |
| S250-7 | PRESSED STEEL THREAD PIN PROTECTOR 4 1/2″-IF BOX | Oil and Gas Parts Equipment |
| S250-8 | PRESSED STEEL THREAD PIN PROTECTOR NC 35 PIN | Oil and Gas Parts Equipment |
| S250-9 | PRESSED STEEL THREAD PIN PROTECTOR NC 35 BOX | Oil and Gas Parts Equipment |
| S250-10 | PRESSED STEEL THREAD PIN PROTECTOR 6 5/8″ REG PIN | Oil and Gas Parts Equipment |
| S250-11 | PRESSED STEEL THREAD PIN PROTECTOR 6 5/8″ REG BOX | Oil and Gas Parts Equipment |
| S250-12 | PRESSED STEEL THREAD PIN PROTECTOR 7 5/8″ REG PIN | Oil and Gas Parts Equipment |
| S250-13 | PRESSED STEEL THREAD PIN PROTECTOR 7 5/8″ REG BOX | Oil and Gas Parts Equipment |
| MOR135 | BLADE WITH PIN #2 | Industrial Parts & Misc |
| B138CS343S2 | VALVE BALL 1/2 IN THREADED 3000 PSI FULL PORT CARBON STEEL NACE TRIM SOUR GAS SERVICE LOW TEMP | Oil and Gas Parts Equipment |
| F08-0114C-02TY | VALVE, SWING CHECK 2IN 150LB RFFE, STEM , CR SEAT STELL FACE, DISC | Oil and Gas Parts Equipment |
| 3700-1X2-9S4 | GOULDS PUMP MODEL:3700 SIZE: 1X2-9GPM:50 HEAD FT: 56 | Oil and Gas Parts Equipment |
| 83015100 | Tube, 3/8 IN X 0.049IN SST SEAMLESS 20′ | Industrial Parts & Misc |
| 83015240 | Tube, 1/2IN X 0.083 316 SST SEAMLESS 20′ | Industrial Parts & Misc |
| 93S-M6113103210-00 | Valve, Safe Relief 4″ 600 X 6″ 150 RF, CS BODY, SNAP PILOT "M" | Oil and Gas Parts Equipment |
| VTC254-15 | TURBO CHARGER | Oil and Gas Parts Equipment |
| 1J87270633D | UPPER FELT WIPER, VALVE CONTROL 4″ ASME | Oil and Gas Parts Equipment |
| 1F12543701D | UPPER FELT WIPER, VALVE CONTROL 1 1/2″ | Oil and Gas Parts Equipment |
| 1J87260633D | UPPER FELT WIPER, VALVE CONTROL 1 1/2 | Oil and Gas Parts Equipment |
| 1V65930509D | SEAL RING 1 1/2″ | Industrial Parts & Misc |
| 1V65920529D | BACK UP RING 1 1/2″ | Industrial Parts & Misc |
| 1V6598X0022 | BACK UP RING 4″ | Industrial Parts & Misc |
| 1V65990509D | SEAL RING 4″ | Industrial Parts & Misc |
| RGASKETX36D | GASKET SET 4″ GLOBE | Oil and Gas Parts Equipment |
| RPACKX0001D | PACKING REPAIR KIT 1 1/2″ | Industrial Parts & Misc |
| RPACKX0002D | PACKING REPAIR KIT 4″ | Industrial Parts & Misc |
| 2191577-06-03 | VALVE, BALL, TRUNNION, 4 IN (100 MM) X 3 IN (80MM) | Industrial Parts & Misc |
| 0078N21N00A025T26E6 | SENSOR, RTD -100 TO 400 C W/ 2.5 THERMOWELL 4 WIRE | Oil and Gas Parts Equipment |
| 6208 ZZ C3 | Bearing, ball single row with 2 shields | Oil and Gas Parts Equipment |
| 6309 C3 | Bearing, Ball single row SKF | Oil and Gas Parts Equipment |
| 6007 2RS C3 | Bearing, Ball single row with 2 seals SKF | Oil and Gas Parts Equipment |
| 6210 C3 | Bearing, Ball single row SKF | Oil and Gas Parts Equipment |
| 6212 C3 | Bearing, Ball single row SKF | Oil and Gas Parts Equipment |
| 6310 C3 | Bearing, Ball single row SKF | Oil and Gas Parts Equipment |
| 6312 C3 | Bearing, Ball single row SKF | Oil and Gas Parts Equipment |
| 6313 C3 | Bearing, Ball Single Row SKF | Oil and Gas Parts Equipment |
| 6314 C3 | Bearing, Ball Single Row SKF | Oil and Gas Parts Equipment |
| 6315 C3 | Bearing, Ball Single Row SKF | Oil and Gas Parts Equipment |
| 6316 C3 | Bearing, Ball Single Row SKF | Oil and Gas Parts Equipment |
| 6317 C3 | Bearing, Ball Single Row SKF | Oil and Gas Parts Equipment |
| 6204 ZZ C3 | Bearing, Ball single row with 2 shields SKF | Oil and Gas Parts Equipment |
| 6205 ZZ C3 | Ball Bearing single row with 2 shields SKF | Oil and Gas Parts Equipment |
| 6206 ZZ C3 | Ball Bearing single row with 2 shields SKF | Oil and Gas Parts Equipment |
| 6212 ZZ C3 | Ball Bearing single row with 2 shields SKF | Oil and Gas Parts Equipment |
| 6314 ZZ | Ball Bearings SKF | Oil and Gas Parts Equipment |
| 6207-J C3 | Bearing, NDE, Electrical Motor SKF | Oil and Gas Parts Equipment |
| 6312 ZZ C3 | Ball Bearing, single row with 2 shields SKF | Oil and Gas Parts Equipment |
| 6004 ZZ C3 | Ball Bearing, single row with 2 shields SKF | Oil and Gas Parts Equipment |
| 6202 ZZ C3 | Ball Bearing, single row with 2 shields SKF | Oil and Gas Parts Equipment |
| 6308 ZZ C3 | Ball Bearing, single row with 2 shields SKF | Oil and Gas Parts Equipment |
| 6307 ZZ C3 | Ball Bearing single row with 2 shields SKF | Oil and Gas Parts Equipment |
| 6207 C3 | Ball Bearing, single row SKF | Oil and Gas Parts Equipment |
| 6205 C3 | Ball Bearing, single row SKF | Oil and Gas Parts Equipment |
| 7320 BECEM | Angular contact ball bearings, single row SKF | Oil and Gas Parts Equipment |
| 6218 C3 | Ball Bearing, single row SKF | Oil and Gas Parts Equipment |
| 6306 ZZ C3 | Ball Bearing single row with 2 shields SKF | Oil and Gas Parts Equipment |
| 6305 ZZ C3 | Ball Bearing single row with 2 shields SKF | Oil and Gas Parts Equipment |
| 7306 BE | Angular contact ball bearings, single row SKF | Oil and Gas Parts Equipment |
| 7309 BE | Angular contact ball bearings, single row SKF | Oil and Gas Parts Equipment |
| 6309 ZZ C3 | Ball Bearing, single row with 2 shields SKF | Oil and Gas Parts Equipment |
| 6306 ZZ | Bearing, DE/NDE SKF | Oil and Gas Parts Equipment |
| 6309-J C3 | Bearing, DE, Electrical Motor SKF | Oil and Gas Parts Equipment |
| 7315 BEGAM | Thrust Bearing SKF | Oil and Gas Parts Equipment |
| KM15 | Bearing Locknut SKF | Oil and Gas Parts Equipment |
| MB15 | Bearing Lockwasher SKF | Oil and Gas Parts Equipment |
| 6206 C3 | Ball Bearing, single row SKF | Oil and Gas Parts Equipment |
| 721540 | Seal, Mechanical | Oil and Gas Parts Equipment |
| 721350 | Stuffing Box, w/ mech seal | Oil and Gas Parts Equipment |
| OE7008 | Electricial Stove | Industrial Parts & Misc |
| 115400 | Flow switch MCDONNELL No.FS6 E, size 3/4″ | Oil and Gas Parts Equipment |
| 22600163-5 | TURBO CHARGER (locomotive) | Diesel Locomotive Parts |
| 817600 | Bladder ASSEMBLY , 300PSI 10 Gallon | Industrial Parts & Misc |
| 1160-1100 | Gauge, Air regulator 1/4″ 0-30PSI | Oil and Gas Parts Equipment |
| 3000-2102 | Connecting Rod ASSEMBLY | Oil and Gas Parts Equipment |
| 3000-2136 | Connecting Rod Bearing | Oil and Gas Parts Equipment |
| 3001-3102 | Crankshaft | Diesel Locomotive Parts |
| 3000-3101 | Stuffing Box (Koomey) | Oil and Gas Parts Equipment |
| 3000-2108 | Stud, Deflector Crosshead | Oil and Gas Parts Equipment |
| 3001-3105 | Fluid Cylinder | Industrial Parts & Misc |
| 4060-2100 | Gauge, Receiver 0-6000 psi | Oil and Gas Parts Equipment |
| 4060-3100 | Gauge, Receiver 0-10,000 PSI | Oil and Gas Parts Equipment |
| 2100-1100 | Transmitter 0-6000 PSI | Industrial Parts & Misc |
| 3000-2117 | Seal, Crankshaft | Oil and Gas Parts Equipment |
| 3001-3104 | Gasket, Crankcase Cover | Oil and Gas Parts Equipment |
| 3000-2128 | Gasket, Discharge Valve | Oil and Gas Parts Equipment |
| 2100-0100 | Transmitter, 0-3000 PSI | Industrial Parts & Misc |
| 2000-1199 | Repair Kit | Oil and Gas Parts Equipment |
| 3011-0199 | Reapir Kit, Complete (Air Motor/Fluid End) | Oil and Gas Parts Equipment |
| 817100 | Bladder ASSEMBLY 11 Gallon | Industrial Parts & Misc |
| 437780 | Impeller, Ace-100 | Industrial Parts & Misc |
| 292192 | Pump, CAT model 650 3/4″, 1/2 out (electric) | Oil and Gas Parts Equipment |
| TMP-100-11 | INDICATOR, TEMPERATURE -50 TO 1500 DEG. F | Oil and Gas Parts Equipment |
| 0781-5105 | ARRESTOR FLASHBACK FOR MOUNTING BETWEEN CYLINDER & BLOW PIPE FOR ACETYLENE | Industrial Parts & Misc |
| 0656-0006 | REGULATOR ACETYLENE MAX PRESS 400 PSIG DELIVERY PRESS 2-15 PSI | Industrial Parts & Misc |
| 3644-0402 | Swivel 4″ | Oil and Gas Parts Equipment |
| 169-F-3087 | Drop Tube 4″ X 42″ Long Alum | Oil and Gas Parts Equipment |
| C-32 | Lever ASSEMBLY (Clamp & Lever) size 4″ | Oil and Gas Parts Equipment |
| 85827 | Gasket, Spiral Wound 3″ 150-304SS | Oil and Gas Parts Equipment |
| 116270 | Valve, Ball 1″ THR 2000PSI Reg Port | Oil and Gas Parts Equipment |
| ZNIPI10 | 1/8″ TK 36 x 36″ FIBERFLEX | Oil and Gas Parts Equipment |
| 1201PG-1C3.5B030PSID | Gauge, Differential pressure 0-30 PSID Max working pressure 3000PSI 200 DEG | Oil and Gas Parts Equipment |
| K187323 | O-RING, 3.60IN ID x .210 VITON DURO 90FOR TREE CAP, 3-1/8IN, 5000PSI | Industrial Parts & Misc |
| K433118 | VALVE, GATE 2-1/16IN 5M RTJ T21, 5K FXF MOD M T21 HWO 16TH ED POW-R-SEAL PSL-1-AA-WELLHEAD SERVICE | Industrial Parts & Misc |
| 15-3100-01-25 | Center Block ASSEMBLY | Industrial Parts & Misc |
| 15-1010-58 | Diaphragm Wilflex | Industrial Parts & Misc |
| 15-1010-51 | Diaphragm Neoprene | Industrial Parts & Misc |
| BHP-551G | Bearing grip puller, set, Enerpac | Oil and Gas Parts Equipment |
| VAV97AK | SEAL KIT FOR A 9 X 7 ACTUATOR | Oil and Gas Parts Equipment |
| VAV652AK | SEAL KIT FOR A 6 1/2 x 2 ACTUATOR | Oil and Gas Parts Equipment |
| VA21694 | BRONZE BUSHING UPPER and LOWER HEAD 9×7 actuator | Oil and Gas Parts Equipment |
| VA27040 | BRONZE BUSHING UPPER & LOWER HEAD 6.5×2 actuator | Oil and Gas Parts Equipment |
| S302-B/4 | Water Pump 350HP 50HZ 380V 3PH 2POLE1, SEMI-AXIAL SUBMERSIBLE ELECTRIC PUMP | Oil and Gas Parts Equipment |
| 215T-FS3-NC | VALVE, GLOBE 1/2IN 2000 PSI CWP, SCREWED END | Industrial Parts & Misc |
| 28T-FS2-NC 3/4″ | VALVE, GLOBE 3/4IN 150LB 1975 PSI SCREWED BOLT BONNET | Industrial Parts & Misc |
| 215T-FS2-NC | VALVE, GLOBE 3/4IN 2000LB SCREWED BOLTED BONNET | Industrial Parts & Misc |
| 226S-FS3-WB-Y-NC | VALVE, GLOBE 1IN 800 RATING, 1975 PSI, 100 DEGREE F, A105, CWP, SCREWED ENDS, CS, BOLTED BONNET | Industrial Parts & Misc |
| 21F-CB2 | VALVE, GLOBE, 2IN CL150LB ANSI B16.34 RFFE,LG TO FLG 8IN, RENEWABLE SEAT, | Industrial Parts & Misc |
| 26F-CB3 2″ | VALVE, GLOBE 2IN 600LB, 850 DEGREE F DSI, FLG TO FLG 11-1/2IN | Industrial Parts & Misc |
| 23F-CB3 | VALVE, GLOBE 4IN 300LB OS&Y RISING STEM, FLG TO FLG 13-15/16IN, | Industrial Parts & Misc |
| 28T-FS2-NC 1″ | VALVE, GLOBE 1IN 800 RATING, 1975 PSI, 100 | Industrial Parts & Misc |
| 26F-CB3 4″ | VALVE, GLOBE 4IN 600LB RF FLANGED END,NSI, BODY WCB, STEM/DISC 13CR, SEAT HF, FLG TO FLG 16-1/2IN | Industrial Parts & Misc |
| 781CS | flange, Y-Strainer 4″ 150CL RF 304SS | Oil and Gas Parts Equipment |
| MAS-F-150-CS-F-SS-N | VALVE, BALL 4″ ANSI 150# FLANGE RL FULL PORT | Oil and Gas Parts Equipment |
| 5480 | THREDOLET 3/4″ x 1″ SA105N | Oil and Gas Parts Equipment |
| 3775 | CONCENTRIC REDUCER BW SCH40 8″ X 6″ | Oil and Gas Parts Equipment |
| 3774 | CONCENTRIC REDUCER BW STD 8″ x 4″ ASTM A234WPB | Oil and Gas Parts Equipment |
| 3957 | ELBOW, NPT 90 DEGREE, 1″ 2000# SA105N | Industrial Parts & Misc |
| S480-5 | DISC, RUPTURE 4″ PRE-BULGED W/INCONEL & TEFLON LINING FD-4 OPBT INCONEL | Oil and Gas Parts Equipment |
| 91400081 | Nozzle for 16V280ZJA Engine | Industrial Parts & Misc |
| 20000 | Rotor Complete (VTC254-15) | Diesel Locomotive Parts |
| 21002 | Hex-Headed Collar Screw | Diesel Locomotive Parts |
| 21003 | Disc Spring | Industrial Parts & Misc |
| 21004 | Piston Ring | Industrial Parts & Misc |
| 25003 | Piston Ring | Industrial Parts & Misc |
| 32001 | Thrust Bearing LA51 | Diesel Locomotive Parts |
| 32002 | Cover With Gasket Ring | Diesel Locomotive Parts |
| 32003 | Gasket UVB Protected | Industrial Parts & Misc |
| 32100 | Bearing Complete, CE LA51 | Diesel Locomotive Parts |
| 34001 | Cover Plate | Diesel Locomotive Parts |
| 34002 | Cover With Gasket Ring (Set) | Diesel Locomotive Parts |
| 34003 | Gasket UVB Protected | Industrial Parts & Misc |
| 34100 | Bearing Complete TE | Diesel Locomotive Parts |
| 42000 | Bearing Casing, Complete | Diesel Locomotive Parts |
| 42002 | Cap | Diesel Locomotive Parts |
| 42019 | Socket Screw (pkg of 4) | Industrial Parts & Misc |
| 42020 | Locking Washer (pkg of 4) | Industrial Parts & Misc |
| 42023 | Hex-Headed Screw (Pkg of 3) | Industrial Parts & Misc |
| 42024 | Locking Disc (pkg of 3) | Industrial Parts & Misc |
| 42025 | Gasket UVB Protected | Industrial Parts & Misc |
| 51000 | Gas Inlet Casing, Complete AA11 | Diesel Locomotive Parts |
| 51002 | Hex- Headed Screw (pkg of 12) | Industrial Parts & Misc |
| 51003 | Locking Plate (pkg of 12) | Diesel Locomotive Parts |
| 51004 | Locking Plate (pkg of 8) | Industrial Parts & Misc |
| 51005 | Hex-Headed Screw (pkg of 8) | Industrial Parts & Misc |
| 51006 | Locking Plate (pkg of 8) | Industrial Parts & Misc |
| 56001 | Nozzle Ring | Diesel Locomotive Parts |
| 57000 | Cover Ring | Diesel Locomotive Parts |
| 62801 | Gasket (pkg of 2) | Industrial Parts & Misc |
| 62802 | Gasket (pkg of 2) | Industrial Parts & Misc |
| 68000 | Foot, CE+TE | Diesel Locomotive Parts |
| 74000 | Air Outlet Casing, Complete | Diesel Locomotive Parts |
| 79001 | Diffusor, Machined | Diesel Locomotive Parts |
| 82000 | Air Suction Branch, Complete | Diesel Locomotive Parts |
| EXP174007035 | BM25 Gas Detector Transportable Multi-Gas Monitor- LEL CO H2S | Industrial Parts & Misc |
| EXP174007045 | BULLARD FIREDOME PX HELMET, YELLOW, 6″ FACESHEILD, EAR/NECK PROTECTOR | Industrial Parts & Misc |
| JCK16490 | TRAFFIC CONES-28 ORANGE 10LBS DW SERIES | Industrial Parts & Misc |
| 7250120 | JUSTRITE ACCUFLOW FLAMMABLE CONTAINER 5 GALLON | Industrial Parts & Misc |
| EXP174007070 | Bottle Rosco Fluid for Tempest Shadow Smoke Machine | Industrial Parts & Misc |
| EKTT464 | Universal Spanner Wrench | Industrial Parts & Misc |
| HD-300-22007MM | Bibbed Fire Hood UNIV, 20IN L White HRC1 | Industrial Parts & Misc |
| CL5083TN-UN | Double Tier Locker Tan 36X12 | Industrial Parts & Misc |
| CDRBT31DD4BRE | RED Danger Tape ( danger do not enter) | Industrial Parts & Misc |
| A25TG-OS-250-30-1/2 | Gauge, Temperature 130-250 DEGREE F Oil sealed F/ Terminal main generator | Oil and Gas Parts Equipment |
| GG1250 | Triger, Pawl for echometer liquid level instrument | Industrial Parts & Misc |
| SPB4250 | V-Belt, Gates Drive | Oil and Gas Parts Equipment |
| SSW070255T5SZ | solf starter motor w/ keyboard | Oil and Gas Parts Equipment |
| 14600-5 | Body, Lock Nut Foot Press | Industrial Parts & Misc |
| 14600-6 | Guilde, Lock Nut Foot Press | Industrial Parts & Misc |
| 14600-4 | Stem, Guide F/FX Foot Press | Industrial Parts & Misc |
| 14600-2 | Disc, Holding ASSEMBLY Foot Press | Industrial Parts & Misc |
| 14600-3L | Valve, Stem Foot Press | Oil and Gas Parts Equipment |
| 14600-1L | Body, BL50 Foot Press | Industrial Parts & Misc |
| D766 | Motor, 1/4 HP 230 | Oil and Gas Parts Equipment |
| KIT200 | Motor Mounting Kit | Industrial Parts & Misc |
| 13636 | Capacitor | Industrial Parts & Misc |
| LCT51084 | Loctite Graphite-50 Anti-Seize Lubricant | Industrial Parts & Misc |
| SP17-40 | Pump, Submersible with, motor 30 HP 380/415V 50/60HZ 3 phase 6″ | Oil and Gas Parts Equipment |
| D350250 | Vapour Injector | Industrial Parts & Misc |
| D350514 | Particle Pyrolyzer | Industrial Parts & Misc |
| 250302 | Needle Probe | Industrial Parts & Misc |
| 943210 | Vapour Inlet Nozzle | Industrial Parts & Misc |
| H117-191-M201-M446 | Switch, 10-100PSI ,11AMP, 125V-250VAC | Oil and Gas Parts Equipment |
| WWG4KF78 | Balometer Low Flow | Oil and Gas Parts Equipment |
| GGF4PDF6 | Digital Manifold gauge set with vaccume and Data logging | Oil and Gas Parts Equipment |
| EXT45118 | Mini Thermo-Anemometer | Oil and Gas Parts Equipment |
| 1050-39A | Backing Pin (old #01-0104) | Industrial Parts & Misc |
| 1050-D4-29 | Brake Band lined | Industrial Parts & Misc |
| 1116-71 | Shifting Shaft (old# 01-0107) | Oil and Gas Parts Equipment |
| 06-2869-001 | Pilot Hard Repair Kit | Oil and Gas Parts Equipment |
| 06-3365-215 | Main Valve Hard Repair Kit | Oil and Gas Parts Equipment |
| 02-6155-005 | Pilot Hard Repair Kit | Oil and Gas Parts Equipment |
| 04-4805-032 | Main Soft Repair Kit | Oil and Gas Parts Equipment |
| AG81PS1A8A8A-4 | Safety Relief Valve 4″ 145 PSI | Oil and Gas Parts Equipment |
| AG81PS1A8A8A-8 | Safety Relief Valve 8″ 145PSI | Oil and Gas Parts Equipment |
| 52804135 | Unipolar Cable | Oil and Gas Parts Equipment |
| 52850140 | Earthing Flexible Cable | Oil and Gas Parts Equipment |
| 52820670 | Joint in Shrink Wrap Mat | Industrial Parts & Misc |
| 83001720 | Frequency Inverter ACS850 | Industrial Parts & Misc |
| 02-0015 | Cam Follower | Oil and Gas Parts Equipment |
| 44818 | Nut Jam NF 5/8 | Industrial Parts & Misc |
| 02-0012 | Grease Fitting 3/16 Drive | Oil and Gas Parts Equipment |
| 1050-JDK-140 | 5 1/2″ Jaw Die Kit | Industrial Parts & Misc |
| 1050-JDK-150 | 7″ Jaw Die Kit | Industrial Parts & Misc |
| 1050-JDK-155 | 7.625″ Jaw Die Kit (3.875″ Flat Die) | Industrial Parts & Misc |
| 12-1004 | 3.875″ Flat Die | Oil and Gas Parts Equipment |
| 1050-JR-2125 | Jaw Roller 2.125″ | Industrial Parts & Misc |
| 1050-JP | Jaw Pin | Industrial Parts & Misc |
| S170-2 | Hyd Hose ASSEMBLY 2″ x 75'FT 100R13 5000PSI Coupled 2″ Male x Female 1502 Hammer Union | Oil and Gas Parts Equipment |
| 200560 | BJ HT-55 Manual Tong Less Jaw | Industrial Parts & Misc |
| 200083-1 | BJ 3 1/2″- 5″ Lug Jaw HT-55 | Industrial Parts & Misc |
| 200085-1 | BJ 6 5/8″-9″ Lug Jaw HT-55 | Industrial Parts & Misc |
| 6R-D4600RF-37-YRF-37 | Valve BALL, 6IN X 4IN CLASS 600 | Oil and Gas Parts Equipment |
| 6GL3RA8000 | VALVE, GLOBE, 3IN, CLASS 600 | Oil and Gas Parts Equipment |
| 03-SS173496 | Rope Socket 9/16″ Line 1 3/4″ OD 3/4″ SR | Oil and Gas Parts Equipment |
| 03-SLF | SandLine Flags- Yellow (pkg 10) | Oil and Gas Parts Equipment |
| 02-GE-TUF25 | Swab Cup 2 7/8″ Tuf Steel W/ 2.33″ OD | Oil and Gas Parts Equipment |
| 02-GE-TUF20 | Swab Cup 2 3/8″ TUF Steel W/ 1.92'OD | Oil and Gas Parts Equipment |
| 150847 | Sealing Element for 7 1/16″ x5000wp Shaffer bolted cover spherical BOPs | Industrial Parts & Misc |
| 50-13-1 | Clutch ASSEMBLY for Power Tong Foster type Model (58-R93) | Industrial Parts & Misc |
| 50-9-1 | High Clutch Gear | Oil and Gas Parts Equipment |
| 58-10 | High Drive Gear | Oil and Gas Parts Equipment |
| 50-32-1 | Bearing | Oil and Gas Parts Equipment |
| 58-25 | Bearing | Oil and Gas Parts Equipment |
| 92-183 | Bearing | Oil and Gas Parts Equipment |
| 93-32 | Bearing | Oil and Gas Parts Equipment |
| 93-183 | Bearing | Oil and Gas Parts Equipment |
| 93-26 | Roller Chain | Oil and Gas Parts Equipment |
| 50-45-1 | Bearing Spacer | Oil and Gas Parts Equipment |
| 11-900 | Spirolox Ring | Oil and Gas Parts Equipment |
| 50-20 | Ring Gear & Pinion | Oil and Gas Parts Equipment |
| 11-1132 | Cottor Pin | Oil and Gas Parts Equipment |
| 58-47-1 | Oil Seal | Oil and Gas Parts Equipment |
| 50-28-3 | Shifting Fork | Oil and Gas Parts Equipment |
| 50-193 | Shifting Yoke | Oil and Gas Parts Equipment |
| 58-303 | Jaw 2 3/8″ – 3 1/2″ | Industrial Parts & Misc |
| 50-22-8 | Jaw 2-3/8 – 3-1/2 | Industrial Parts & Misc |
| 50-22-12 | Jaw 4-5″ | Industrial Parts & Misc |
| 58-304-1 | Insert | Oil and Gas Parts Equipment |
| 11-683 | Insert Screw | Oil and Gas Parts Equipment |
| 50-48-1 | Insert | Oil and Gas Parts Equipment |
| 50-49-2 | Insert Screw | Oil and Gas Parts Equipment |
| P56240 | CAPACITOR, 15.0 MFD, 370 VAC, 50/60 HZ | Industrial Parts & Misc |
| P34189 | THERMOMETER, POCKET, – 40 DEGREE TO 120 DEGREE F , 5 IN STEM | Industrial Parts & Misc |
| CPD-35LBPAIL | ZN 50 Pipe Dope | Industrial Parts & Misc |
| WRP- 9/16 IN IMPORT | Sand line Cable 9/16″ x 12000 | Oil and Gas Parts Equipment |
| WRP-1IN DRILLLINE | Drill Line 1 | Oil and Gas Parts Equipment |
| WRP-0065 | Cable Cutter for 1″ Drill line & Sand Line | Oil and Gas Parts Equipment |
| 02-601-00 | CUTTER, STRAIGHT 6IN X 3/16 X 1-1/4 M2HSS | Oil and Gas Parts Equipment |
| 118878D | 12″ Gasket 150Lbs 1.6THK Ceramic fiber | Oil and Gas Parts Equipment |
| 118878E | 8″ Gasket 150LB 1.6THK Ceramic fiber | Oil and Gas Parts Equipment |
| D11-482 | GASKET, STATOR, ROPER 71428 GHL PROGRESSIVE | Oil and Gas Parts Equipment |
| G90-14 | SEAL, CONNECTING ROD | Oil and Gas Parts Equipment |
| D98-38 | DRIVE SHAFT | Oil and Gas Parts Equipment |
| D111-1 | Thrust Plate (Front) | Oil and Gas Parts Equipment |
| D111-2 | Thrust Plate (Rear) | Oil and Gas Parts Equipment |
| G14-127 | O-Ring, ROTOR | Oil and Gas Parts Equipment |
| D109-1 | Hub Gear | Oil and Gas Parts Equipment |
| D110-1 | Ring Gear | Oil and Gas Parts Equipment |
| 33050 | Kit, Repair Thread 5/16″ | Oil and Gas Parts Equipment |
| 35108 | Kit, Repair F/Thread 1.5 | Oil and Gas Parts Equipment |
| 35128 | Kit, Repair F/Thread 1.75 | Oil and Gas Parts Equipment |
| 35168 | Kit, Repair F/ Thread 2 | Oil and Gas Parts Equipment |
| N07-99001 | VALVE, ASSEMBLY, DISCHARGE, ITEM 11FOR, TRIPLEX PLUNGER PUMP,GENERAL PUMP | Oil and Gas Parts Equipment |
| N07-40045 | SEAL, OIL, ITEM 41FOR TRIPLEX PLUNGER, PUMP,GENERAL PUMP INCORPORATEDON, STEAM CLEARNER | Oil and Gas Parts Equipment |
| N07-34013 | RINGS, INTERMEDFOR TRIPLEX PLUNGER, PUMP,GENERAL PUMP INCORPORATEDON, STEAM CLEARNER | Industrial Parts & Misc |
| N07-40052 | RINGS, (LONG LIFE)FOR TRIPLEX PLUNGER, PUMP,GENERAL PUMP INCORPORATEDON, STEAM CLEARNER | Industrial Parts & Misc |
| N07-40012 | PACKINGSFOR TRIPLEX PLUNGER, PUSTEAM CLEARNER | Oil and Gas Parts Equipment |
| GBL85053 | Shock Absorber Western Star | Industrial Parts & Misc |
| TDA/R305255A | Torque Arm Rod WS | Oil and Gas Parts Equipment |
| ABP/N15-BLJ160 | Alternator, 33SI 12V 135AMP | Industrial Parts & Misc |
| ABP/N83-308011 | Valve, Expansion | Oil and Gas Parts Equipment |
| SP/209701-80 | Clutch, WS | Oil and Gas Parts Equipment |
| WWS/17001-3444 | Seperator, ASSEMBLY water fuel | Oil and Gas Parts Equipment |
| MOD/1S0166430000 | Radiator, 1300 HF | Water Well Rig |
| WWS/67126-3429 | Cable, Assembly Hood Stop | Oil and Gas Parts Equipment |
| TDA/R303283A | ARM, Torque | Oil and Gas Parts Equipment |
| WWS/C2856811450 | Damper, Steering | Oil and Gas Parts Equipment |
| HR5-10 | Hose, # 10 | Oil and Gas Parts Equipment |
| FS5005 | Chamber, Air 24 Steer Axel Break | Industrial Parts & Misc |
| REY/15178-01 | Torque Rod Arm Steer Axle | Industrial Parts & Misc |
| S735-1 | Transformer, 3P, 100KVA, 480:380:220:110 | Oil and Gas Parts Equipment |
| 108127 | Block 6″ snatch w/ hook 5/8″- 3/4″ WL 8 ton | Oil and Gas Parts Equipment |
| 109126 | Block 6″ snatch w/ Shackle 5/8″-3/4″ WL 8 ton | Oil and Gas Parts Equipment |
| 1096562 | Latch Kit 5-7 ton to be combined with part # 108127 | Oil and Gas Parts Equipment |
| 760463 | Block 8″ 5/8 wire anchor Schackle 4 ton | Industrial Parts & Misc |
| 22612012 | BEARING,TURBINE END | Industrial Parts & Misc |
| 2261237 | Ring | Oil and Gas Parts Equipment |
| 2261527 | Bushing, Floating Turbine End | Industrial Parts & Misc |
| 22612312 | Retainer | Oil and Gas Parts Equipment |
| 8329451 | BEARING, THRUST | Oil and Gas Parts Equipment |
| 8391681 | CLUTCH ASSEMBLY . | Diesel Locomotive Parts |
| 8366281 | Support ASSEMBLY | Diesel Locomotive Parts |
| 8310542 | BEARING | Oil and Gas Parts Equipment |
| 8366274 | Support Clutch | Industrial Parts & Misc |
| 8358576 | Retainer | Oil and Gas Parts Equipment |
| 8358582 | Spacer | Oil and Gas Parts Equipment |
| 41510163-1 | Gasket, Turbine Oil Seal | Diesel Locomotive Parts |
| 2151313-1 | Washer, Lock | Diesel Locomotive Parts |
| 21526726 | O-Ring | Oil and Gas Parts Equipment |
| 22600520-1 | Rotor ASSEMBLY , MDL520 | Industrial Parts & Misc |
| 2261139 | Washer | Diesel Locomotive Parts |
| 2261175-1 | Gasket | Diesel Locomotive Parts |
| 2261209 | BEARING | Industrial Parts & Misc |
| 2261211-1 | Oil Seal Turbine | Oil and Gas Parts Equipment |
| 22612121 | Oil Seal | Oil and Gas Parts Equipment |
| 2261477 | Plate | Oil and Gas Parts Equipment |
| 4261091 | Floating Bushing Model350 | Diesel Locomotive Parts |
| 9321581 | SEAL | Oil and Gas Parts Equipment |
| 8429310 | SEAL | Oil and Gas Parts Equipment |
| 9503855 | BEARING | Diesel Locomotive Parts |
| 8329488 | THRUST WASHER | Diesel Locomotive Parts |
| 8358565 | GASKET | Diesel Locomotive Parts |
| 9570591 | GASKET | Diesel Locomotive Parts |
| 8261090 | WASHER THRUST E645C | Diesel Locomotive Parts |
| 9570592 | GASKET | Diesel Locomotive Parts |
| 8238966 | COIL EXCITING FIELD | Industrial Parts & Misc |
| 8238967 | COIL EXCITING FIELD | Industrial Parts & Misc |
| 8238968 | COIL EXCITING FIELD | Industrial Parts & Misc |
| 8238969 | MAIN FIELD COIL D29 TM – CROSS G4 | Industrial Parts & Misc |
| 8341961 | GEAR 16T | Diesel Locomotive Parts |
| 40025029 | CARBON BRUSH D-29 | Diesel Locomotive Parts |
| 9546861 | TURBOCHARGER ASM | Industrial Parts & Misc |
| 8347939 | WASHER, ANTI THRUST | Diesel Locomotive Parts |
| 9579526 | SEAL | Oil and Gas Parts Equipment |
| 8339664 | SUPPORT ASSEMBLY | Industrial Parts & Misc |
| 8261234 | KEY, DUCT | Industrial Parts & Misc |
| 9411840 | Ring | Industrial Parts & Misc |
| 9411841 | Ring | Industrial Parts & Misc |
| 8261098 | SPACER | Diesel Locomotive Parts |
| 8391273 | Carrier Drive Gear | Diesel Locomotive Parts |
| 8358571 | Spacer | Diesel Locomotive Parts |
| 8358573 | Ring | Industrial Parts & Misc |
| 9413337 | Ring | Industrial Parts & Misc |
| 8828400P1 | Brushes for Exciter | Diesel Locomotive Parts |
| EF8320G200 | Solenoid, 120VAC | Oil and Gas Parts Equipment |
| 411503-4 | SWITCH, INFINITE, FOR RANGE OVEN, 220/380V, 50HZ, 3PH | Oil and Gas Parts Equipment |
| 411506-14 | THERMOSTAT, WITH SWITCH AND KNOB, FOR RANGE OVEN | Industrial Parts & Misc |
| 411496-E4 | LIGHT, INDICATOR, FOR RANGE OVEN (RED | Industrial Parts & Misc |
| 415119-G2 | THERMOSTAT,, OVEN RANGE GRIDDLE TOP | Industrial Parts & Misc |
| L020078PEA | | Industrial Parts & Misc |
| L04078PEA | COUPLING 2 1/2″, VICTAULIC STYLE 78 | Industrial Parts & Misc |
| F020010P00 | | Industrial Parts & Misc |
| E401 | Mud Diaphragm Rubber Cup | Industrial Parts & Misc |
| W15-4-2 | Fluid Instrument Gallon RED | Oil and Gas Parts Equipment |
| 99BV15440004 | Gasket 8″ Bridge Valve | Industrial Parts & Misc |
| G45012X | Clip 3/4″ Wire Rope Galv | Industrial Parts & Misc |
| ANG014358 | Wrench W54 1.5-3 Nickel Plated | Industrial Parts & Misc |
| MMM6100 | Respirator Basic ASSEMBLY 6000 SML | Industrial Parts & Misc |
| IDS17073123 | PCB MAIN, FOR MULTIGAS MONITOR, CO, O2, H2S, LEL | Industrial Parts & Misc |
| KR-1025-NA | Block,Brake Set F/K600 MAIN DRUMSHAFT DRAWWORKS | Industrial Parts & Misc |
| 22612120 | Seal, Oil Turbine End | Diesel Locomotive Parts |
| 9566954 | CABLE | Diesel Locomotive Parts |
| 9566956 | Lead ASSEMBLY Cable "F" | Diesel Locomotive Parts |
| 9566957 | CABLE FF | Diesel Locomotive Parts |
| 9566960 | CABLE ASSEMBLY BRUSH HOLDER CROSS AND 'A'H | Diesel Locomotive Parts |
| 6746670G1 | COIL | Industrial Parts & Misc |
| 8855153G11 | COIL,EXCITING FIELD WITH POLE PIECE.( CLOS | Industrial Parts & Misc |
| 41C633243G3 | ARMATURE WITH COMMUTATOR AND SHAFT | Diesel Locomotive Parts |
| 328495 | Probe & Switch, 2 wire dishwasher | Industrial Parts & Misc |
| 271621 | Probe & Switch, Assembly 4 wire | Industrial Parts & Misc |
| 50142150703 | Kit, Overhaul C22 F/Sampler Custody Transfer Meter | Oil and Gas Parts Equipment |
| 006-00146 | EP160 Programmer Module | Oil and Gas Parts Equipment |
| 195246-1 | ED400 Remote Display Housing (ED500) | Oil and Gas Parts Equipment |
| 006-00150 | EUV1 Amplifier Module | Oil and Gas Parts Equipment |
| 4M-B6LJ-SSP | VALVE, BALL 1/4IN MALE NPT TWO WAY | Oil and Gas Parts Equipment |
| 6MSC6N-316 | ONNECTOR, 3/8IN MNPT X 3/8IN TUBE S/STEEL | Oil and Gas Parts Equipment |
| 9516928 | Piston Ring | Diesel Locomotive Parts |
| 9323296 | PISTON RING SET | Diesel Locomotive Parts |
| AN436509 | 10LB Extinguisher | Industrial Parts & Misc |
| 930-B/PB 304SS | 304 STAINLESS FILTER BASKETS | Industrial Parts & Misc |
| STYLE 9146 | KIT, SERVICE, FOR 2-1/2IN SWING OUT | Oil and Gas Parts Equipment |
| CO3001 | VALVE, FLOWMETER/ADAPTOR TRANSPORTABLE GAS DETECTOR | Industrial Parts & Misc |
| SO11375 | SENSOR 0-100% LEL, FOR TRANSPORTABLE | Oil and Gas Parts Equipment |
| 922103-150 | MARINE CAST IRON GATE VALVE, FLANGED FACE TO FACE 290MM, FLANGE DIAM.280MM, PITCH 240MM, HOLES 8, SIZE OF HOLES 23MM, ISSA CAT | Oil and Gas Parts Equipment |
| 25300201 | MOTOR, EVAPORATOR FAN, 208/230 VOLT,50/60 HZ, 1 PH, 1300/1500 RPM, 1/20HP, 0.5 AMP, | Industrial Parts & Misc |
| D1103 | MOTOR, FAN, 1/20 HP, 1500/1300 RPM, 208-230 VOLT, 50/60 HZ, 1.4 AMP, FOR CRYSTAL ICE MACHINE | Industrial Parts & Misc |
| 1819T3.25 | LAMP, MINITURE 28 VOLTS, FOR USE W/SOLAR | Oil and Gas Parts Equipment |
| GALV-NIP- 3/4X 1 3/8 | NIPPLE, 3/4IN X 1 1/38 IN LG STD TBE A105 | Oil and Gas Parts Equipment |
| FLT301005-01 | Filter, Mooney Regulator 10M | Oil and Gas Parts Equipment |
| 2153120 | Lockwasher High Collar | Diesel Locomotive Parts |
| 22611311-1 | Bearing Retainer Washer | Industrial Parts & Misc |
| 2261238 | Retainer | Diesel Locomotive Parts |
| 4261111 | Shim | Diesel Locomotive Parts |
| WC1FRB52R | COVERALL, NOMEX IIIA 4.5OZ ROYAL BLUE 52R W/ CSA Reflective Strips | Oil and Gas Parts Equipment |
| WC1FRB36R | COVERALL, NOMEX IIIA 4.5OZ ROYAL BLUE 36R W/ CSA reflective Strips | Oil and Gas Parts Equipment |
| HPS3906136 | SHAFT, FOR THRUST CHAMBER MODEL 88 ENGINE DRIVEN, 1 PIECE DESIGN INCONEL | Oil and Gas Parts Equipment |
| HPS3900067 | THRUST BEARING( FAZG 7313 BECBM PUA) F/THRUST CHAMBER MODEL 88 BOTH ENGINE & MOTOR DRIVEN | Oil and Gas Parts Equipment |
| HPS3900070 | RADIAL BEARING, PUMP SIDE (FAG 6308 2SR) F/THRUST CHAMBER MODEL 88 BOTH ENGINE & MOTOR DRIVEN | Oil and Gas Parts Equipment |
| HPS3900069 | RADIAL BEARING, PUMP SIDE (FAG 6211 2SR) F/THRUST CHAMBER MODEL 88 BOTH ENGINE & MOTOR DRIVEN | Oil and Gas Parts Equipment |
| HPS3900477 | WAVE SPRING, DRIVER SIDE FAG, F/THRUST CHAMBER MODEL 88 BOTH ENGINE & MOTOR | Oil and Gas Parts Equipment |
| HPS3900478 | WAVE SPRING, PUMP SIDE FAG, F/THRUST CHAMBER MODEL 88 BOTH | Oil and Gas Parts Equipment |
| V70-358 | O' RING, VITON 70 DUR, F/THRUST CHAMBER MODEL 88 BOTH ENGINE & MOTOR DRIVEN | Oil and Gas Parts Equipment |
| V70-361 | O' RING, VITON 70 DUR, F/THRUST CHAMBER MODEL 88 BOTH ENGINE & MOTOR DRIVENq | Oil and Gas Parts Equipment |
| V70-362 | O' RING, VITON 70 DUR, F/THRUST CHAMBER MODEL 88 BOTH ENGINE & MOTOR DRIVEN | Oil and Gas Parts Equipment |
| V70-232 | O' RING, VITON 70 DUR, F/THRUST CHAMBER MODEL 88 BOTH ENGINE & MOTOR DRIVEN | Oil and Gas Parts Equipment |
| V70-374 | O' RING, VITON 70 DUR, F/THRUST CHAMBER MODEL 88 BOTH ENGINE & MOTOR DRIVEN | Oil and Gas Parts Equipment |
| HPS3901700 | SHAFT, FOR THRUST CHAMBER MODEL 88 ENGINE DRIVEN, 1 PIECE DESIGN INCONEL | Oil and Gas Parts Equipment |
| V70-229 | O' RING, VITON 70 DUR, F/THRUST CHAMBER MOTOT DRIVEN | Oil and Gas Parts Equipment |
| BU-232 | O' RING, VITON 70 DUR, F/THRUST CHAMBER MOTOR DRIVEN | Oil and Gas Parts Equipment |
| BU-248 | O' RING-BUNA F/THRUST CHAMBER MODEL 88, MOTOR DRIVEN | Oil and Gas Parts Equipment |
| BU-374 | O' RING-BUNA F/THRUST CHAMBER MODEL 88, MOTOR DRIVEN | Oil and Gas Parts Equipment |
| 2-374 | O' RING-BUNA F/THRUST CHAMBER MODEL 88, MOTOR DRIVEN | Oil and Gas Parts Equipment |
| 21526719-1 | O-Ring | Oil and Gas Parts Equipment |
| 21526726-2 | O-Ring | Oil and Gas Parts Equipment |
| 2261527-1 | Floating Bushing | Diesel Locomotive Parts |
| 1117214-100 | Kit, Instl, Hydraulic Motor (old part # 913222C2) | Oil and Gas Parts Equipment |
| WCFROR36 | COVERALL, NOMEX IIIA 5OZ ORANGE 36R LONG SLEEVE W/ 1″ SLIVER REFLECTIVE STRIP | Oil and Gas Parts Equipment |
| WC2FRR36 | COVERALL, NOMEX IIIA 5OZ RED 36R LONG SLEEVE W/ 1″ SLIVER REFLECTIVE STRIP | Oil and Gas Parts Equipment |
| 90253VE | Power, Supply Keypad F/TP2 Oxygen Analyzer | Industrial Parts & Misc |
| 90219VE | Display, F/ TP2 Oxygen Analyzer | Industrial Parts & Misc |
| 80436SE | Card, Auto Calibration F/TP2 Oxygen Analyzer | Industrial Parts & Misc |
| 7277X | Valve, Suction Assembly F/Quincy 325 Air Compressor | Oil and Gas Parts Equipment |
| 6316 | Seal, Oil F/ Quincy 325 Air Compressor | Oil and Gas Parts Equipment |
| 6442HPX | Rod, Connection Assembly F/ Quincy 325 Air Compressor | Oil and Gas Parts Equipment |
| 7271X04 | Valve, Discharge Assembly F/ Quincy 325 Air Compressor | Oil and Gas Parts Equipment |
| 7483X | Unloader, Assembly F/ Quincy 325 Air Compressor | Industrial Parts & Misc |
| GG2360 | Hose, Filler Carbon Dioxide 3ft. | Oil and Gas Parts Equipment |
| U008402130 | Switch- Traction Motor Mount | Diesel Locomotive Parts |
| 8195499 | Hose Asy- Rotor Seal to Airline | Oil and Gas Parts Equipment |
| DOW4-150GM | WG COMPOUND , SILCONE DC- 4 5.3 OZ TUBE | Industrial Parts & Misc |
| 9A-B5-001934 | VALVE, MANIFOLD, 5-WAY 6000PSI 200DEG F,1/4IN NPT, 316 SST, BLOCK | Oil and Gas Parts Equipment |
| 06-3365-012 | KIT, REPAIR SOFT GOODS, URETHANE, 1-1/2IN | Oil and Gas Parts Equipment |
| 28H109 | OIL, SYNTHETIC AEON 9000 SP | Industrial Parts & Misc |
| 2191556-06-03 | VALVE, BALL, TRUNNION, 2 IN (50 MM) X 2 IN (50 MM), FLANGED RING JOINT | Industrial Parts & Misc |
| 4303T61 | Steel Fuel Can for Gasoline 5 Gal | Industrial Parts & Misc |
| 71140059 | COUPLING, INSTANT LOCK, 4IN 100 PSI, D COUPLER, THREADED FNPT, ALUMINUM | Oil and Gas Parts Equipment |
| 71100097 | HOSE, 4 IN ID X 4-37/64 IN OD, 150 PSI, OIL SUCTION AND DISCHARGE | Oil and Gas Parts Equipment |
| 155-P29-1Y | NUT, ZINC PLATED 1/2IN X 13 GR2 | Oil and Gas Parts Equipment |
| 9457K15 | PACKING, 3/8IN LUBRICATED GRAPHITE YARN | Industrial Parts & Misc |
| 867-007 | ROD, THREADED, METRIC M6 X 1, 1 METER LONG | Oil and Gas Parts Equipment |
| 8-1/2IN Nylon | Rope, Nylon 1/2IN | Industrial Parts & Misc |
| 31120015 | SHACKLE, HEAVY DUTY SCREW PIN 1/2IN | Industrial Parts & Misc |
| 2686K13 | Replacement Spary Head- Hose | Industrial Parts & Misc |
| CTR-10-50 | TUBING, COPPER, 5/8IN, 0.035IN WALL THICKNESS, 50FT | Oil and Gas Parts Equipment |
| 5275 | BAR, HEXAGON 1IN ACROSS FLATS 36IN LONG, FREE CUTTING BRASS | Oil and Gas Parts Equipment |
| 81100 | BAR, HEXAGON 1-1/2IN ACROSS FLATS 36IN LONG, FREE CUTTING BRASS | Oil and Gas Parts Equipment |
| 20950 | BAR, HEXAGON 2IN ACROSS FLATS 36IN LONG, FREE CUTTING BRASS | Oil and Gas Parts Equipment |
| W-1 | | Oil and Gas Parts Equipment |
| W-12 | WEDGE, FLANGE TAPER 3/8IN, 3-1/2IN LONG 2IN WIDE | Oil and Gas Parts Equipment |
| W-2 | WEDGE, FLANGE TAPER 1/2IN, 4IN LONG 3/4IN WIDE | Oil and Gas Parts Equipment |
| 4577K56 | CLAMP, EMERGENCY PIPE REPAIR 2IN NOMINAL, 4-1/4IN LONG, 600PSI | Oil and Gas Parts Equipment |
| 1280-G | 1 1/4 IN STRAP CUTTER | Industrial Parts & Misc |
| 8626A12 | TAPER GAUGE, RANGE 0.005IN TO 0.250IN, THICKNESS 1/4IN LENGH 12-5/8IN | Oil and Gas Parts Equipment |
| 704112 | MILL, END, HIGH SPEED 1IN | Industrial Parts & Misc |
| 704104 | MILL, END, HIGH SPEED 13/16IN | Industrial Parts & Misc |
| 5-305-150 | MILL, END, HIGH SPEED 7/8IN | Industrial Parts & Misc |
| 930550 | MILL, END, ROUGHING 1/2IN COBALT | Industrial Parts & Misc |
| 930560 | MILL, END, ROUGHING 5/8IN COBALT | Industrial Parts & Misc |
| 930570 | MILL, END, ROUGHING 3/4IN COBALT | Industrial Parts & Misc |
| 704174 | MILL, END 1/8IN, HIGH SPEED | Industrial Parts & Misc |
| 704178 | MILL, END 1/4IN, HIGH SPEED | Industrial Parts & Misc |
| 704180 | MILL, END 5/16IN, HIGH SPEED | Industrial Parts & Misc |
| 704190 | MILL, END 3/4IN, HIGH SPEED | Industrial Parts & Misc |
| L58W/830 | Lamp, Fluorescent 58W 240V G13 Base Osram L=1514mm | Industrial Parts & Misc |
| 7005L | GLOVES, DEX NITRILE 9.5 | Industrial Parts & Misc |
| GDN5PF9 | GLOVES, NITRILE P-F BLUE LGE | Industrial Parts & Misc |
| GRN9U9 | HEAVY DUTY SAFETY GLOVES, SIZE 9 1/2 (RUBER GLOVE) | Industrial Parts & Misc |
| 9A-RECORDER-DP-OD | RECORDER DP500 WG 2-1/8DPU SP2000LB 200DF, 2500 LB DPU RATING, RATING 2500 PSI 3PEN CART TEMP, 0-200F,10FT CAP 24Hr ROT 9DAY WIND | Industrial Parts & Misc |
| 2168034-10-31 | VALVE, BALL, 1/2IN 3000 PSI TE WKM 310C5 | Industrial Parts & Misc |
| MBFL-0050-IA | CONDENSING UNIT MOD. MBFL-0050-IAA, S/N | Industrial Parts & Misc |
| 2168044-10-31 | VALVE, BALL, 3/4IN 3000 PSI CWP SCREWED , CARBONE STEEL, 2000 WOG OR WRENCH OPERATED, SEATS MATLS: | Industrial Parts & Misc |
| TY6283 | OIL, HYGARD 20 LITER CONTAINER | Oil and Gas Parts Equipment |
| M155437 | TIRE, 25″ X 13″ – 9 NHS FOR JOHN DEERE GATOR 4X2 | Industrial Parts & Misc |
| M155434 | TIRE, 22.5″ X 10″ – 8 NHS FOR JOHN DEERE GATOR 4X2 | Industrial Parts & Misc |
| 8366272 | ROLLERS | Diesel Locomotive Parts |
| 8315689 | CUP, SPRING | Industrial Parts & Misc |
| 8158783 | Spring | Industrial Parts & Misc |
| 8417129 | Transistor | Industrial Parts & Misc |
| 8461332 | CONTACTOR | Industrial Parts & Misc |
| 9575385 | CONTACTOR | Diesel Locomotive Parts |
| 8261086 | Bearing | Oil and Gas Parts Equipment |
| 9540816 | BEARING | Diesel Locomotive Parts |
| 8261282 | Gasket- Cover Mounting | Diesel Locomotive Parts |
| 8290124 | BRUSH HOLDER D29/D31 | Diesel Locomotive Parts |
| 40039258 | PISTON CARRIER EB | Diesel Locomotive Parts |
| DOW557-11OZ | Silicone Dry Film Lubricant | Industrial Parts & Misc |
| JTL16041 | Lubricant Dry Film Moly Mist Spray | Industrial Parts & Misc |
| LCT51007 | Anti-Seize CP Base B/TP 1 LB Bottle | Industrial Parts & Misc |
| LCT51605 | Lubricant Anti-Seize HD 9OZ Bottle | Industrial Parts & Misc |
| 5321770 | Coil | Industrial Parts & Misc |
| 8435656 | Coil Magnet | Industrial Parts & Misc |
| 8378759 | Transistor | Industrial Parts & Misc |
| 8421133 | Transistor | Industrial Parts & Misc |
| 8421174 | Transistor | Industrial Parts & Misc |
| 8421195 | TRANSISTOR | Industrial Parts & Misc |
| 8459077 | Transformer | Oil and Gas Parts Equipment |
| 8465014 | Transistor | Industrial Parts & Misc |
| 5228892 | Gear Injector | Diesel Locomotive Parts |
| 8358932 | Switch, Pressure | Diesel Locomotive Parts |
| 17FH20B2 | VOLTAGE REGULATOR C/W BX & BN | Industrial Parts & Misc |
| M920V0000DN200PN10 | Flow Meter Equipped with data logger, Length 350mm | Industrial Parts & Misc |
| 8414678 | FUSE 800 AMPS 100 VOLTS | Diesel Locomotive Parts |
| 8078488 | Brush-Carbon, includes lead & Hood FP | Diesel Locomotive Parts |
| 8172720 | Brush Carbon Load Regulator | Diesel Locomotive Parts |
| 8271326 | Brush- Carbon | Diesel Locomotive Parts |
| 8307806 | CARBON BRUSH | Diesel Locomotive Parts |
| 6727520P3 | BRUSH | Diesel Locomotive Parts |
| 8820190 | Carbon Brush with Pigtail & terminal | Diesel Locomotive Parts |
| 998X90 | Carbon Brush with Spring and Terminal | Diesel Locomotive Parts |
| S270-1 | PUMP, HYDRAULIC SUNDSTARAND 90L100 F | Oil and Gas Parts Equipment |
| 9-80770PF | CYALUME PERSONNEL MARKER LIGHTS w/Whistle | Industrial Parts & Misc |
| 9-27060 | DUAL CYALUME PERSONNEL MARKER LIGHTS | Industrial Parts & Misc |
| S480-6 | HYDROSTATIC RELEASE UNIT FOR LIFE RAFTS | Industrial Parts & Misc |
| 57320000 | Apache Pigpro Detector Non-Ext Flag Manual reset Voton 2″ ansi 300 | Industrial Parts & Misc |
| 50401300 | Flag | Industrial Parts & Misc |
| 801033399 | Brush | Diesel Locomotive Parts |
| S170-3 | HOSE- PROPANE, 1-1/4IN X 20 FEET LONG, 350 | Oil and Gas Parts Equipment |
| 184351 | VALVE SAFTEY 3 1/2″ EUE BXP FULL OPENING 5000 PSI ID 2.93″ OD 6.5″ Length 25.50″ | Oil and Gas Parts Equipment |
| E24006 | Diesel Reboiler completed systems | Oil and Gas Parts Equipment |
| J1176-16 | Gasket EXCHANGER E24005 5EA/SET | Industrial Parts & Misc |
| J1177-16 | Gasket EXCHANGER E24006 5EA/SET | Industrial Parts & Misc |
| ICM104 | DELAY ON MAKE TIMER 24 VAC 20AMP 16MIN | Oil and Gas Parts Equipment |
| 273572 | Hang-off chain for tandem hose with load test certificate Hose grade 80, alloy chain, no stud link, size 3/4″, load limit 29.300 lbs, 100 feet long X drum | Oil and Gas Parts Equipment |
| H1-326 | Clyinder LP | Oil and Gas Parts Equipment |
| H1-327 | Cylinder HP | Oil and Gas Parts Equipment |
| AH5-408-2 | Crankshaft | Oil and Gas Parts Equipment |
| H125-280 | Seal, Check Valve Pin | Oil and Gas Parts Equipment |
| 1089-0362-08 | P/B Atlas Copco | Oil and Gas Parts Equipment |
| 1089-05775-51 | TRANSDUCER,PRESSURE GA30HATP | Oil and Gas Parts Equipment |
| F80-6FS5 | Flat Flange for welding | Oil and Gas Parts Equipment |
| F80-40FS5 | SLIP – ON FLAT FLANGE FOR WELDING DIN 2576 DN80 PN40 | Oil and Gas Parts Equipment |
| F100-40FS5 | SLIP – ON FLAT FLANGE FOR WELDING DIN 2576 DN100 PN40 | Oil and Gas Parts Equipment |
| F80-16FS5 | SLIP – ON FLAT FLANGE FOR WELDING DIN 2576 DN80 PN16 | Oil and Gas Parts Equipment |
| F150-16FS5 | SLIP – ON FLAT FLANGE FOR WELDING DIN 2576 DN150 PN16 | Oil and Gas Parts Equipment |
| F200-16FS5 | SLIP- ON FLAT FLANGE FOR WELDING DIN 2576 DN200 PN16 | Oil and Gas Parts Equipment |
| FL100-40FWIN5 | WELDING NECK FLANGES DIN 2635 DN100 PN40 | Oil and Gas Parts Equipment |
| FL150-16FWIN5 | WELDING NECK FLANGES DIN 2633 DN150 PN16 | Oil and Gas Parts Equipment |
| YT365475CTS | Radiator, Core & Tank unit model 356E25 core copon coated | Oil and Gas Parts Equipment |
| 2100-MRK-KIT | KIT,REPAIR F/HI-KALIBRE 3 1/2″ EUE SAFTY VALVE | Oil and Gas Parts Equipment |
| 87400 | Hydrogenase Test Kit for Sessile (10 pk) | Industrial Parts & Misc |
| 9SRL-3500 | RUBBER, PIPE WIPER, 9 X 3-1/2IN | Oil and Gas Parts Equipment |
| GWC62608X | ROPE, WIRE, MULTI PURPOSE, 1/2IN IWRC 6X28 IWRC GALV RPL | Oil and Gas Parts Equipment |
| G41408X | THIMBLE, WIRE ROPE 1/2IN STANDARD GALV | Oil and Gas Parts Equipment |
| 87111210 | Bushings | Oil and Gas Parts Equipment |
| 51040029 | Buna Insert L070 | Oil and Gas Parts Equipment |
| HH406R | Pump, H406 | Oil and Gas Parts Equipment |
| S480-7 | RECORDER, COMPLETE HOUSING 6000LB SWP,FORGED STEEL 2-1/8IN, BELLOWS 316SS, DP RANGE 0-18PSI 500IN WC, PRESSURE RANGE 0-6000LB, TEMPERATURE RANGE 0-300DEG F | Oil and Gas Parts Equipment |
| 75-019 | Filter Kit | Oil and Gas Parts Equipment |
| 84A204576P3 | Air Filter | Oil and Gas Parts Equipment |
| 84A203981P8 | Hose Flex Metal | Oil and Gas Parts Equipment |
| 115X2448 | O-Ring Oil Turbo Drain | Oil and Gas Parts Equipment |
| 126X1787-1 | Gasket, graphite muffler heat shield | Oil and Gas Parts Equipment |
| 190X1193 | Turbo, kit replacement | Oil and Gas Parts Equipment |
| 325X1026 | Water, pump w/ drive gear | Oil and Gas Parts Equipment |
| 228X1004-2 | Clamps, exhaust | Oil and Gas Parts Equipment |
| 225-X1005 | Gasket, graphite muffler heat shield support | Oil and Gas Parts Equipment |
| 332X1141 | Fuel Line high pressure | Oil and Gas Parts Equipment |
| 326X1088 | Turbo Charger ASM | Diesel Locomotive Parts |
| 328X1019-2 | Hose Flex Metal | Oil and Gas Parts Equipment |
| 339X1006 | Lube oil pump ASM | Oil and Gas Parts Equipment |
| 339X1038 | Pump, V12 Engine (Prelube) | Oil and Gas Parts Equipment |
| 340X1013-1 | Fuel Hose, w/ fittings | Oil and Gas Parts Equipment |
| 340X1016-3 | Hose fuel, W/ fittings supply/return | Oil and Gas Parts Equipment |
| 340X1035-1 | Hose Fuel, w/ fittings | Oil and Gas Parts Equipment |
| 340X1040-1 | Hose Fuel, w/ fittings | Oil and Gas Parts Equipment |
| 340X1053 | Hose Fuel, w/ fittings | Oil and Gas Parts Equipment |
| 340X1054 | Hose Fuel, w/ fittings | Oil and Gas Parts Equipment |
| 340X1055 | Hose Fuel, w/ fittings | Oil and Gas Parts Equipment |
| 340X1056 | Hose Fuel, w/ fittings | Oil and Gas Parts Equipment |
| 340X1057 | Hose Fuel, w/ fittings | Oil and Gas Parts Equipment |
| 340X1058 | Hose Fuel, w/ fittings | Oil and Gas Parts Equipment |
| 340X1059 | Hose Fuel, w/ fittings | Oil and Gas Parts Equipment |
| 340X1060 | Hose Fuel, w/ fittings | Oil and Gas Parts Equipment |
| 340X1061 | Hose fuel w/ fittings | Oil and Gas Parts Equipment |
| 41A202118P1 | DUCT AIR FLEXIBLE | Industrial Parts & Misc |
| 41A210603P9 | Clamps for turbo bool | Oil and Gas Parts Equipment |
| 41A218525P1 | Cap | Industrial Parts & Misc |
| 41A240897P2 | Cutout Cock 3/4 in ball spring loaded handle | Industrial Parts & Misc |
| 41A264939P3 | Valve, 3 way 3/3 x 3/4 w/ locking handle | Industrial Parts & Misc |
| 41B517789G2 | Cap ASM | Industrial Parts & Misc |
| 41B545993P8 | Water Level sight Glass | Industrial Parts & Misc |
| 41B548215ACP12 | Lube oil pipe clamps | Oil and Gas Parts Equipment |
| 41B549931ABP1 | Gauge fuel (glass) | Oil and Gas Parts Equipment |
| 5GDY91A5 | Blower Motor ASM | Industrial Parts & Misc |
| 84A203981P11 | Main Lube Oil Hose | Oil and Gas Parts Equipment |
| 125X1114-1 | Water pump seal | Oil and Gas Parts Equipment |
| 125X1086-2 | Water pump seal | Oil and Gas Parts Equipment |
| 84A212752P1 | Fuel Filter Valve | Oil and Gas Parts Equipment |
| 84A212752P15 | Fuel cut off Valve | Oil and Gas Parts Equipment |
| 84A215237P1 | Fuel pump transfer Electric | Industrial Parts & Misc |
| 497A806P60 | Adhesive RTV Silmate 10.3 oz tube | Industrial Parts & Misc |
| 323X1003-1 | Injector Diesel engine fuel | Industrial Parts & Misc |
| 332X1021 | Fuel pump high pressure | Oil and Gas Parts Equipment |
| N14P45112 | Screw, hex cap steel 177.8mm x 31.75mm | Oil and Gas Parts Equipment |
| N733P29036 | Screw steel 12 point | Oil and Gas Parts Equipment |
| 41A219499ABP245 | OIL RING | Oil and Gas Parts Equipment |
| 41A219499P338 | OIL RING | Oil and Gas Parts Equipment |
| 41A219499P335 | OIL RING | Oil and Gas Parts Equipment |
| 332X1018 | Strianer with seal | Industrial Parts & Misc |
| 41B545993G4 | Water Gauge | Oil and Gas Parts Equipment |
| L14EP29230 | Bolt, hex head | Oil and Gas Parts Equipment |
| L14AP25250 | Bolt, Hex Head | Oil and Gas Parts Equipment |
| L14AP25160 | Bolt | Oil and Gas Parts Equipment |
| L14AP25100B | Bolt | Oil and Gas Parts Equipment |
| L14AP25200 | Bolt | Oil and Gas Parts Equipment |
| 84C604459ACP1 | Victoulic Coupling W/ Gasket | Oil and Gas Parts Equipment |
| PSM12/20 | PECAN SHELL MEDIA GRADE 12/20 | Industrial Parts & Misc |
| 19110HCF2CCMS31FTFTL | VALVE, RELIEF, 3/4IN SET PRESS 2500PSIG, STYLE 1991C-1 SPRING OPERATED, Spring | Oil and Gas Parts Equipment |
| A3010 | SWITCH | Oil and Gas Parts Equipment |
| 3L4-BS1K-A | | Oil and Gas Parts Equipment |
| 102ADAG912SIC2ATTPKC | SWITCH, DIFFERENTIAL PRESSURE, ADJUSTABLE RANGE 5-25 PSI, 5000 PSI PROOF FOR GP2 DEHYDRATORS SEQUENCE | Oil and Gas Parts Equipment |
| MOD-FFSD | SWITCH, SHUTDOWN FLAME FAILURE MODEL FFSD, 3-WAY 2-POS ON-OFF NON BLEED, 10FT CAPILLARY 1/4IN NPT CONN, ADJ RANGE ON PILOT -40 TO 250DEG | Oil and Gas Parts Equipment |
| E26X00280CH | VALVE, SOLENOID VITON SEAT 115VDC 9.5W, 400PSI ORIFICE 1/32, AJ-5701, CRYO. GAS PLANT – CHROM. ANALYZER SYS. | Oil and Gas Parts Equipment |
| R262 | REGULATOR, PRESS 0-125PSI 1/8INx1/4IN NPT, INSTRUMENTATION, AJ-5701 MODEL R162-S11, CRYO. GAS PLANT – CHROM. ANALYZER SYS. | Industrial Parts & Misc |
| K432264 | VALVE, PILOT RELIEF C/W MANUAL LOCK DEVICE, MODEL 3100AWELLHEAD SERVICES | Industrial Parts & Misc |
| J090020 | BEARING, STEM TC-895, FOR ADJUSTABLE | Oil and Gas Parts Equipment |
| J090025 | HANDWHEEL TC-596 CHOKE V/V, ADJUSTABLE | Industrial Parts & Misc |
| J090066-162 | RING, PACKING RETAINER TC-959 GROOVE TY | Oil and Gas Parts Equipment |
| K201470 | KIT, REPAIR, FOR 3-1/8IN/4-1/16IN 5000LB | Oil and Gas Parts Equipment |
| 3E-85617YB | CABLE, FLAGING NYLON SWAB LINE WITH | Industrial Parts & Misc |
| 2148452-31-02 | VALVE, GATE 2-9/16IN 5M RTJ T21, 5K FXF MOD M T21 HWO 16TH ED, POW-R-SEAL PSL-1-AA-U, WELLHEAD SERVICE FLG TO FLG 16-11/16IN | Industrial Parts & Misc |
| K032848 | HANDWHEEL, 2-1/16 T-21+T-25, VALVE, GATE, 2-1/16 POW-R-SEAL, MODEL M, POW-R-SEAL, 5M T21+5, WELL-HEAD SERVICE | Industrial Parts & Misc |
| 2274564-01-05 | SEAT ASSEMBLY , PSL 0-1 2-9/16 T-21, VALVE GATE 2-9/16 POW-R-SEAL, MODEL-M POW-R-SEAL 5M T-21, WELL-HEAD SERVICE | Industrial Parts & Misc |
| K424665 | SEAT ASSEMBLY , PSL 0-1 2-1/16 T21, VALVE GATE 2-1/16 POW-R-SEAL, MODEL-M POW-R-SEAL 5M T21, WELL-HEAD SERVICE | Industrial Parts & Misc |
| 14C1-4029 | VALVE, BALL, 6IN x 4IN 300LB, API 6D, RFFE, CS,CWP 750, TEMP -20/350, BODY WCC, BALL A105/CR, OPENING WRENCH OPERATED, FLG TO FLG 15-11/16IN | Oil and Gas Parts Equipment |
| LHGG255000 | GUN, GREASE, SEALANT, 7/8IN Hydraulic | Industrial Parts & Misc |
| S165-1 | ROPE, WIRE, DRILL LINE, 1IN SWAGED, 6 X 19 | Oil and Gas Parts Equipment |
| S165-2 | LINE, SWAB, 9/16IN, 6 x 7 RPS, REGULAR LAY | Oil and Gas Parts Equipment |
| 307-RJB1-V | KIT, O-RING, FOR GLYCOL PUMP, OLD P/N 55031006040 | Oil and Gas Parts Equipment |
| 411506-04 | SWITCH, INFINITE, FOR RANGE OVEN, 220/380V | Industrial Parts & Misc |
| 412251-1 | KNOB, SWITCH, VULCAN HART RANGE MOD | Industrial Parts & Misc |
| TR22664 | V-Belt | Oil and Gas Parts Equipment |
| 2042763-10-02 | 6″ 1500RTJ Ball Valve WKM 370D4 Flanged, trunnion low temp CS Body, 1 mil enp ball | Oil and Gas Parts Equipment |
| 1A-8571-364 | KIT, ACTUATOR PART, FOR CPU WHSE HP AND INLET SEPARATOR ESD GAS OUTLET ACTUATOR | Oil and Gas Parts Equipment |
| 2812995 | Locomotive HVAC UNIT A/C and Gasket | Diesel Locomotive Parts |
| KTKR5 | FUSE, 5AMP 600VAC, SHAWMUT, FOR | Oil and Gas Parts Equipment |
| KTKR8 | FUSE, 8 AMP GOULD, WO4723-01 WE LV MCC | Oil and Gas Parts Equipment |
| BC6031S | HOLDER, FUSE 30 AMP, 1P-CC, WO 4723-01 WE | Oil and Gas Parts Equipment |
| 800HL-AP2 | PUSH BUTTON, RELAY PANELS FOR SUMP | Oil and Gas Parts Equipment |
| HMCP050K2C | BREAKER CURCUIT 50 AMP 3 POLE | Industrial Parts & Misc |
| HMCP015E0C | BREAKER;CURCUIT 15 AMP 3 POLE | Industrial Parts & Misc |
| 50672 | CONTACT SCREW , FOR NO FLOW SWITCH ON | Oil and Gas Parts Equipment |
| 92885 | CONTACT PLUG ASSEMBLY , FOR NO FLOW | Oil and Gas Parts Equipment |
| 34600 | O-RING ,FOR NO FLOW SWITCH ON THE | Oil and Gas Parts Equipment |
| TT-J-22S-500 | INSULATED T/C Wire | Oil and Gas Parts Equipment |
| H4656 | Head Light, sealed beam | Oil and Gas Parts Equipment |
| WIQ71000 | KIT,SEAL F/ROTORK ACTUATOR SERIAL NO. HD107801/01 SIZE IQ12 BASE/COUPLING | Oil and Gas Parts Equipment |
| 8A27 | BATTERY, 12V TYPE | Industrial Parts & Misc |
| VTC254-15-10100 | Turbo Charger | Oil and Gas Parts Equipment |
| RC04048A 1012C | Stuffing Box Sub-Assembly Taper Bore Iron Ductile No Weld 60-40-18 for Example of reference: Water Removal Spill Basin S1 Pump Model: 3796 MTX 4X4-10 Drawing Np: YE-001-31-017-EDW-00001 | Oil and Gas Parts Equipment |
| A9SWA450 | Armored cable 4Cx50 Sqmm, copper, XLPE, Voltage grade 600/1000v | Diesel Locomotive Parts |
| A9AWA1240 | Armored cable 1Cx240Sqmm, copper, XLPE, Voltage grade 600/1000V | Diesel Locomotive Parts |
| A9AWA1400LSZH | Armored cable 1Cx400Sqmm, copper, XLPE, Voltage grade 600/1000V | Diesel Locomotive Parts |
| FT240-12 | Cable Lug (Tinned Cu):Cu lug suitable for 1Cx240sqmm cable | Diesel Locomotive Parts |
| FT400-12 | Cable Lug (Tinned Cu):Cu lug suitable for 1Cx400sqmm cable | Diesel Locomotive Parts |
| A3Z6491B240GY | Earthing cable 1Cx240Sqmm | Diesel Locomotive Parts |
| RID31745 | JAW, HOOK, 48IN PIPE WRENCH | Industrial Parts & Misc |
| SCSI-7917 | RADIATOR ENGINE COMPLETE WITH SHROUD | Oil and Gas Parts Equipment |
| 33541 | Fuel Filter | Oil and Gas Parts Equipment |
| 42782 | Air Filter | Oil and Gas Parts Equipment |
| 51970MP | Oil Filter | Oil and Gas Parts Equipment |
| 14C1-3861 | VALVE, BALL 4IN 150LB REDUCED PORT, TYPE | Oil and Gas Parts Equipment |
| 14C2-0900 | VALVE, SWING CHECK 2IN 150LB RF API-6D, | Oil and Gas Parts Equipment |
| 9412014 | Bolt, 9/16IN UNF- 1 1/2IN Long | Oil and Gas Parts Equipment |
| 5145238 | GASKET, EXHAUST FLANGE | Oil and Gas Parts Equipment |
| 5144875 | GASKET, FLYWHEEL HOUSING | Oil and Gas Parts Equipment |
| 3014T491 | | Oil and Gas Parts Equipment |
| 3014T52 | | Oil and Gas Parts Equipment |
| 3014T531 | | Oil and Gas Parts Equipment |
| 1″-701 | VALVE, CHECK 1IN 2000 PSI CWP, SCREWED | Oil and Gas Parts Equipment |
| 22-041 | VALVE, BALL 1/2IN 2000 PSI, BODY ASTM | Industrial Parts & Misc |
| 1A-A0059 | PLASTIC PKG, 1LB GP-22 VALVE 6IN X 4IN, FIG | Industrial Parts & Misc |
| 1A-ZE5301 | FITTING, PACKING, C5+ PLANT, VALVE, BALL | Industrial Parts & Misc |
| HH15032094 | Filter, Oil Kubota | Oil and Gas Parts Equipment |
| 9A-DPU-199-0084 | BELLOWS, SWP RANGE 0-300W,G/6000 PSI | Industrial Parts & Misc |
| 9A-0199-0027-C | GASKET, PRESS.HOUSING 2500-4500 PSI, FOR | Oil and Gas Parts Equipment |
| IDS VTS-K1432100101 | Gas Monitor With Battery Charger, Industrial | Industrial Parts & Misc |
| 15103807 | CUP, ASSEMBLY 4-1/2IN PISTON, FOR JWS-400 | Industrial Parts & Misc |
| 2148453-31-02 | VALVE | Industrial Parts & Misc |
| 04508-132 | O-RING, BUNA MATL SPEC NBR0031, KF BALL VALVE 4IN X3IN 1500LB | Oil and Gas Parts Equipment |
| 2917-001 | BALL, 4IN X 3IN 1500LB RTJ RP BALL VALVE, SPEC API-6D RATING 3600MOP WCB, BODY STEM CS BALL CS SEAT HT4, P/N 2879-1152291TR S/N 372475-11/98 | Industrial Parts & Misc |
| 4490-02820 | BEARING, TRUNNION 4IN X 3IN 1500LB B/VALVE, SPEC API-6D RATING 3600MOP WCB, BODY STEM CS BALL CS SEAT HT4, P/N 2879-1152291TR S/N 372475-11/98 | Oil and Gas Parts Equipment |
| 05916-011 | SEAT ASSEMBLY, VALVE CS/NYL SER.T, KF B/VALVE 4IN X 3IN 1500LB | Oil and Gas Parts Equipment |
| 03900-003 | SEAL, SEAT 3IN SER.T, KF BALL VALVE 4IN X 3IN 1500LB, , ALSO F/ KF BALL VALVE 4IN X 3IN 600LB RF | Oil and Gas Parts Equipment |
| TRM5 | FUSE: CURRENT LIMITING, TRIONIC, TRM 5 IR 10 KA, 250 V FUSE: CURRENT LIMITING, TRI-ONIC, TRM 5 IR 10 KA, 250 VOLTS | Oil and Gas Parts Equipment |
| TRM10 | FUSE: CURRENT LIMITING, TRIONIC, TRM 10 IR 10 KA, 250 FUSE: CURRENT LIMITING, TRI-ONIC, TRM 10 IR 10 KA, 250 VOLTS | Oil and Gas Parts Equipment |
| TRM15 | FUSE: CURRENT LIMITING, TRIONIC, TRM 15 IR 10 KA, 250 FUSE: CURRENT LIMITING, TRI-ONIC, TRM 15 IR 10 KA, 250 VOLTS | Oil and Gas Parts Equipment |
| A480T5E | FUSE: 4800V, 5E AMP, FERRAZ SHAWMUT A480T5E FERRAZ SHAUMUT A480T5E FUSE 4800 VOLTS, 5E AMPER | Oil and Gas Parts Equipment |
| A480T2E | FUSE A480T2E;2EAMPS;4.8KV | Oil and Gas Parts Equipment |
| TRM2 | FUSE TRM2; 250V; IR:10KA; 2A | Oil and Gas Parts Equipment |
| A480T1E | FUSE: POTENSIAL TRANFORMER | Oil and Gas Parts Equipment |
| CMC44N-S316 | CONNECTOR: MALE, 316SS, 1/4 IN ODT X 1/4 IN MNPT, TAPERED THREAD, FOR INSTRUMENT TO CONNECT TUBE TO FEMALE NPT THREAD. | Oil and Gas Parts Equipment |
| CMC68N-S316 | CONNECTOR: MALE, 316SS, 3/8 IN ODT X 1/2 IN MNPT TAPERED THREAD, FOR INSTRUMENT TO CONNECT TUBE TO FEMALE NPT THREAD. | Oil and Gas Parts Equipment |
| CMC86N-S316 | CONNECTOR: MALE, 316SS, 1/2 IN ODT X 3/8 IN MNPT, TAPERED THREAD, FOR INSTRUMENT TO CONNECT TUBE TO FEMALE NPT THREAD. | Oil and Gas Parts Equipment |
| CBTF64N-S316 | TEE: BRANCH, MALE, 316SS, 3/8 IN ODT X 1/4 IN NPT, TAPERED THREAD, TO CONNECT TUBE TO FEMALE NPT THREAD ODT NPT | Oil and Gas Parts Equipment |
| CFS8-S316 | FERULLE: 316SS, 1/2 IN ODT, | Oil and Gas Parts Equipment |
| NV3F4N-S316 | VALVE: NEEDLE, 1/4 IN FNPT INLET AND OUTLET, 3000 PSI, SCREWED BONNET, 0.200 IN ORIFICE, 316SS BODY AND STEM 450 DEG. F. | Oil and Gas Parts Equipment |
| J090001-1130440 | VALVE, CHOKE ADJUSTABLE 2-9/16 FLANGES,5M FXF, 1IN SEAT/STEM | Oil and Gas Parts Equipment |
| RTLO14610B-CORE | TRANSMISSION, F/WAESTERN STAR TRUCK C-205 MODEL- RTLO | Industrial Parts & Misc |
| SVH1MF8N-S316 | VALVE: NEEDLE, HN SERIES, 1/2 IN MNPT X 1/2 IN FNPT, SWAGELOK SS-6HNRM8-F8-G | Oil and Gas Parts Equipment |
| BF1278 | ELEMENT, WATER FUEL F/ INGERSOL RAND COMPRESSOR MODEL XP375WIR | Oil and Gas Parts Equipment |
| NX0500FW | EXCHANGER, HEAT 316SS TUBE 304SS COILS | Oil and Gas Parts Equipment |
| 502-51-750 | 18A SN SEAT, TOP GASKET, 4″ 125/900 C4439 MATERIAL | Industrial Parts & Misc |
| 02APAC00 | 6″ Bridge Gate Gasket (C9084) | Oil and Gas Parts Equipment |
| 3750-5500-625B | SEAL POLY PACK | Oil and Gas Parts Equipment |
| 14C1-4032 | VALVE BALL | Oil and Gas Parts Equipment |
| BSR10-060-OSUUX/LS | Complete Dual Plate Check Valve | Oil and Gas Parts Equipment |
| CLEMCO 1042 | Blast Machine, Classic CLEMCO Model 1042: 1 cu ft | Industrial Parts & Misc |
| 1042 ACC PACKAGE | Bullard Helmet | Industrial Parts & Misc |
| SANDBLAST HOSE | 3/4 SANDBLAST HOSE | Oil and Gas Parts Equipment |
| DPI610PC | Portable Pressure Calibrators | Industrial Parts & Misc |
| IDSMX6K123101 | Gas Monitor With Battery Charger Model MX6 | Industrial Parts & Misc |
| 09C1-XXXX | VALVE GATE WITH PNEUMATIC ACTUATOR, 3-1/8IN, 5000 PSI, SAF-T-SEAL, MODEL M, API 6A | Oil and Gas Parts Equipment |
| 45171736-2 | 4F-2MB-13IN Anchor Hose ASSEMBLY | Industrial Parts & Misc |
| 1794-IB-10X-OB6 | 10 CHANNEL DIGITAL INPUT & 6 CHANNEL DIGITAL OUTPUT | Oil and Gas Parts Equipment |
| CBC10076481 | Carbon Brushes for French traction Motor | Oil and Gas Parts Equipment |
| CBC10687989 | Carbon Brushes for Japanese traction Motor | Oil and Gas Parts Equipment |
| 52060D012G4 | Bi-Metal Thermometer 5″Adjustable Angle (Resettable) Case: Stainless Steel Bezel/Ring: Stainless Steel | Industrial Parts & Misc |
| 31-90900 | Thermowell part# 31-90900 1/2″ x 1/2″ x 6″ 316SS STEPPED TWELL, 4.5″ U 0.260 BORE | Industrial Parts & Misc |
| LD3510-8 | SIZE 10″ | Oil and Gas Parts Equipment |
| 14C1-3726 | VALVE, BALL 1-1/2IN 3000 PSI CWP SCREWED FNPT ENDS, CARBON STEEL, 2000 WOG OR BETTER, WRENCH OPERATED | Oil and Gas Parts Equipment |
| CTT101-01 | TONG TORQUE INDICATION SYSTEM CONSISTING OF: GAUGE: HANDLE MOUNTING TYPE | Industrial Parts & Misc |
| 14C1-3783 | VALVE | Oil and Gas Parts Equipment |
| 14C1-3765 | VALVE, BALL 2IN 3000 PSI CWP SCREWED FNPT ENDS, CARBON STEEL, 2000 WOG OR BETTER, WRENCH OPERATED | Oil and Gas Parts Equipment |
| 14C1-3801 | VALVE, BALL 2IN 2250 PSI CWP COMPLETE SCRD, CENTRIFUGE, BSGEB 370, SN 6854, MODEL# 3100 | Oil and Gas Parts Equipment |
| 1A-7571-108 | REPAIR KIT, ACTUATOR PARTS FIG 1533H6LRG, 6IN X 4IN VALVE, C/W 164100 SERIAL NO.1096296 | Oil and Gas Parts Equipment |
| K088579 | GUIDE, GATE, SEAT SKIRT FOR GATE VALE 3-1/8IN 5M T-21, POWER-R-SEALWELLHEAD SERVICE | Industrial Parts & Misc |
| K432417 | GATE, REVERSE 3-1/8IN 5M WKM, ADAPT 3-1/8IN 5M POW-R-SEAL, GATE VALEVE TO WKM 1305 ACTUATOR, VALVE GATE 3-1/8 | Industrial Parts & Misc |
| K432423 | | Industrial Parts & Misc |
| S54320-F4-A2 | Optical addressable smoke detector | Industrial Parts & Misc |
| 500-095607 | Siemens DB-11C Detector Base | Industrial Parts & Misc |
| S54371-F1-A1 | Ionization Smoke Detector | Industrial Parts & Misc |
| PN045559 | Automatic Coupler Unilink type U LAF 1858 | Oil and Gas Parts Equipment |
| PN045866 | Complete Automatic type Sov-e LAF 1787 | Oil and Gas Parts Equipment |
| 1SVR040011R2500 | | Industrial Parts & Misc |
| K427256 | STEM, NON RISING PSL0-1, 2-1/16IN T-21 GATE VALVE, 2-1/16IN POW-R-SEAL | Industrial Parts & Misc |
| K462467 | | Industrial Parts & Misc |
| K035275 | | Industrial Parts & Misc |
| K424826 | | Industrial Parts & Misc |
| K418325 | PACKING, SET, FOR 2-1/16IN/2-9/16IN T-21 GATE VALVE AND 2-1/16IN/2-9/16IN T-21 5M POW-R-SEAL | Industrial Parts & Misc |
| 2086572-01 | | Industrial Parts & Misc |
| K092352 | | Industrial Parts & Misc |
| 2274563-01-01 | SEAT, ASSEMBLY , FOR 3-1/8IN T-21 GATE VALVE AND 3-1/8IN POW-R-SEAL 5M T-21 | Industrial Parts & Misc |
| K427261 | | Industrial Parts & Misc |
| K427284 | | Industrial Parts & Misc |
| K093955 | | Industrial Parts & Misc |
| K429117 | | Industrial Parts & Misc |
| VTC254-20000 | Rotor Complete (1pc, G type) | Oil and Gas Parts Equipment |
| VTC254-34100 | Bearing Complete TE | Diesel Locomotive Parts |
| VTC254-32100LA51 | Bearing Complete CE LA51 | Diesel Locomotive Parts |
| VTC254-32001LA51 | Thrust Bearing LA51 | Diesel Locomotive Parts |
| VTC254-56001 | Nozzle Ring | Oil and Gas Parts Equipment |
| VTC254-21002 | Hex Headed Collar Screw | Oil and Gas Parts Equipment |
| 2127953-03 | SEAL KIT CC30 PLUG AND CAGE TRIM. SLCA, 3 IN 2500#RTJ CONTROL CHOKE, TAG: PV-1033, | Oil and Gas Parts Equipment |
| 2052992-02CC30 | Inner cage TC 100% | Industrial Parts & Misc |
| 2052994-01CC30 | Outer cage 17-4PH SS | Industrial Parts & Misc |
| 2128330-01CC30 | Lower Stem Assembly | Industrial Parts & Misc |
| 2137342-11-02 | TRIM KIT CC30 PLUG, STEM P/C TRIM, INNER AND OUTER CAGE, 3IN 2500# RTJ CONTROL CHOKE, TAG: PV-1033, | Oil and Gas Parts Equipment |
| VTC254-97000LA51 | Repair Kit LA51 | Diesel Locomotive Parts |
| K093953 | PKG Set "V" PGK "S" Style 0.875 ID | Oil and Gas Parts Equipment |
| K076526 | Cone, Roller BRG One-Row STR Bore | Industrial Parts & Misc |
| K093954 | PKG Set "V" PKG "S" style 1.000 ID | Industrial Parts & Misc |
| K424667 | PSL 1-2*ST #5 3 2/5M&4/15C MM PRS | Industrial Parts & Misc |
| VTC254-90023 | Hydraulic Pump (Complete with VTC254-90024) | Oil and Gas Parts Equipment |
| VTC254-90020 | Assembly/Disassembly Device (complete with hookspanner VTC254-90080) | Oil and Gas Parts Equipment |
| VTC254-90040 | Extractor | Oil and Gas Parts Equipment |
| VTC254-90070 | Support | Oil and Gas Parts Equipment |
| 213-02-219 | 8E- SRG 4″ S/40 TEFLON SEAL (PRE 1991 BUILT) | Oil and Gas Parts Equipment |
| 213-02-220 | 8E- SRG 4″ S/80 TEFLON SEAL (AFTER 1991 BUILT) | Oil and Gas Parts Equipment |
| 213-02-715 | 8TSC – SRG 4″ TEFLON SEAL 14.3 | Industrial Parts & Misc |
| VTC254-32100LA62 | Bearing Complete CE LA62 | Diesel Locomotive Parts |
| VTC254-97000 LA62 | Repair Kit LA62 | Oil and Gas Parts Equipment |
| ZWS10-24/JA | POWER SUPPLY # 24V DC | Oil and Gas Parts Equipment |
| 3E-9447 | JU STRIPPER RUBBER, 2-7/8″ TUBING- GUIBERSON (2-3/4″ I.D.)6″L x 6″W x 11″H, 7 | Industrial Parts & Misc |
| B474 | FILTER OIL | Oil and Gas Parts Equipment |
| PA1783 | FILTER AIR | Oil and Gas Parts Equipment |
| PA2649 | FILTER AIR | Oil and Gas Parts Equipment |
| M-3-AL | CUPS, SWAB 3-1/2IN, M TYPE, HEAVY LOAD | Oil and Gas Parts Equipment |
| 5199735 | Kit, Fuel Pump High Output L.H./Genuine | Oil and Gas Parts Equipment |
| PC-5199735 | Kit, Fuel Pump High Output L.H.OEM | Oil and Gas Parts Equipment |
| 5122398 | Tube, Water By-Pass (16.64″) | Oil and Gas Parts Equipment |
| 80-5 | ROLLER CHAIN/SOLD PER FT | Oil and Gas Parts Equipment |
| TB-116 | BOLT, FOR SLIPS LIFTING ARM | Oil and Gas Parts Equipment |
| TB-117 | NUT, SELF LOCKING, FOR SLIPS LIFTING ARM | Oil and Gas Parts Equipment |
| CL203 | Extech CL203 ExTab Reagent tablets (10pk – 100 tests) | Industrial Parts & Misc |
| 643367501 | CVR STUFF BX 22223-01-AY MISSION | Oil and Gas Parts Equipment |
| 646490557 | SHFT 20612-02-33 MAG MISSION | Oil and Gas Parts Equipment |
| 661009010A | BRG ASSEMBLY INBRD SET MISSION | Oil and Gas Parts Equipment |
| 648408201S | BRG OUTBRD 2 EA IN SET MISSION | Oil and Gas Parts Equipment |
| 648408359 | SL BRG OUTBRD MAG 5 X 6 PMP 20619-02 MISSION | Oil and Gas Parts Equipment |
| 648402055 | LK NUT BRG OB MAG 6123 MISSION | Oil and Gas Parts Equipment |
| 38949 | Flow Sight Indicator with Paddle Wheel | Industrial Parts & Misc |
| 21030-CC128 | PORTABLE/PERMANANT 3 OZ. TUBE, ULTRASONIC COUPLANTS, SYNTHETIC BASED(-40 TO +375 F) | Industrial Parts & Misc |
| 09-028423 | NUT & STEM. 1IN PRESSURE WARNING DEVICE, 36″ DIA. PECO CLOSURE | Oil and Gas Parts Equipment |
| MI 45 Reconditioned | Water Drilling Rig | Oil and Gas Parts Equipment |
| MI 45 Tooling | Drilling Rig Tooling | Oil and Gas Parts Equipment |
| J090015 | SEAT-1 BORE-CARBIDE-2 5M CHK, CK1003ACC10 | Oil and Gas Parts Equipment |
| J090021 | PACKING BOX INSERT,TC897, CW897CRC3 | Oil and Gas Parts Equipment |
| J090024 | INDICATOR-1 SEAT, TC531, CX531C10 | Oil and Gas Parts Equipment |
| J090033 | STEM PACKING 2 5/10M UB CHOKE, TEMP RATING -50 TO 250 DEGREE F, COTTON/NYLON/TFE IMPREGNATED | Oil and Gas Parts Equipment |
| J090061 | STEM-SS/CARB-2 5/10M CHOKE CJ894CC3 | Oil and Gas Parts Equipment |
| Fig. 6X4_1533H8L_RTJ | Orbit Rising Stem Ball Valve per below data sheet. | Oil and Gas Parts Equipment |
| MTNS-690 | CHUCK, AIR DUAL HEAD | Industrial Parts & Misc |
| B-516SC | CABLE, LINE PIPE SAFETY, – 5/16″ x 24″ DOUBLE HOOK EACH END, 24″L x 2″W x 2″H | Oil and Gas Parts Equipment |
| 3E-34084 | MANDREL, COMPLETE 2-7/8″, – OEM GUIBERSON TYPE 'KJ', 27″L x 2.5″W x 2.5″H | Industrial Parts & Misc |
| 3E-46176 | OILSAVER, BRASS w/CLIP H/D (SET),- OEM GUIBERSON (3/8″ thru 5/8″),3″L x 3″W x 3″H | Industrial Parts & Misc |
| 100179 | GAUGE, TRANSMISSION TEMPERATURE F/K600 SERVICE RIG CARRIER | Industrial Parts & Misc |
| 82113 | GAUGE, ENGINE OIL PRESSURE F/K600 SERVICE RIG CARRIER | Industrial Parts & Misc |
| 82326-48 | GAUGE, COOLANT TEMPERATURE, STEWART WARNER | Industrial Parts & Misc |
| V.03.21 | ANODE ZINC TREATER Z321 3″ X 22″ | Oil and Gas Parts Equipment |
| 167ML50 | COMPOUND,THREAD, 10LB PL | Oil and Gas Parts Equipment |
| CS09BCFN | FILTER, 5 MICRON STRINGWOUND, DOUBLE OPEN ENDED, 9-7/8″ L, CUNO | Industrial Parts & Misc |
| GX05-9-7/8 | FILTER, MICRON MELTBLOWN POLYPROPYLENE, DOUBLE ENDED,9-7/8″ L, GE | Oil and Gas Parts Equipment |
| T82e/Alk | MARINE LANTERN ALKALINE POWERED | Industrial Parts & Misc |
| T82e/Sol | MARINE LANTERN SOLAR POWERED | Industrial Parts & Misc |
| PPSN7KSX06C8NHFS200# | ASHCROFT P-SERIES PRESSURE SWITCH | Oil and Gas Parts Equipment |
| 451279SS4L800# | ASHCROFT 1279 SERIES PRESSURE GAUGE | Oil and Gas Parts Equipment |
| PPSN7KSX06C8NHFS600# | ASHCROFT P-SERIES PRESSURE SWITH | Oil and Gas Parts Equipment |
| PPSN7KSX06C8NHFS1000 | ASHCROFT P-SERIES PRESSURE SWITCH | Oil and Gas Parts Equipment |
| PPSN7KS07XC8NHFS1000 | ASHCROFT P-SERIES PRESSURE SWITCH | Oil and Gas Parts Equipment |
| 50E160E060XSG250F | ASHCROFT EI SERIES BIMETAL THERMOMETER | Oil and Gas Parts Equipment |
| 451279SSL4L10000# | ASHCROFT 1279 SERIES PRESSURE GAUGE | Oil and Gas Parts Equipment |
| S48015 | EXPANSION JOINT, RUBBER REINF. | Industrial Parts & Misc |
| S2902 | COUPLING, 3-1/2IN J-55 EUE 8RD | Oil and Gas Parts Equipment |
| STYLE206 | GARLOCK, ELASTOMERIC EXPANSION JOINTS, 12″IDX7.500″FF,TC/CHL EPDM TUBLE/CHL COVER,EZ FLO ARCH, W/RET. RINGS | Industrial Parts & Misc |
| 5VX1700 | V-BELT, IDBI GROUP 74264 | Oil and Gas Parts Equipment |
| 230060 | GAUGE, CHARGE PRESSURE , PULSATION DAMPER PZ TYPE K, OTECO | Oil and Gas Parts Equipment |
| A151-822NI | PUMP, CHEMICAL LMI | Oil and Gas Parts Equipment |
| A25TABS-B1-160-12 | TEMPREATURE SWICHGAUGE, FRANK W MURPHY | Oil and Gas Parts Equipment |
| A25TABS-B1-250-20 | TEMPREATURE SWICHGAUGE, FRANK W MURPHY | Oil and Gas Parts Equipment |
| TTDJ-DC | FAULT ANNUNCIATOR, FRANK W MURPHY | Oil and Gas Parts Equipment |
| NST-150-G | GINSTANTANEOUS RUBBER WASHER FOR FIREHOSE, 2.5″ TO FIT STAND PIPE BASE, FORFIREFIGHTING SYSTEM IN CPU-II | Oil and Gas Parts Equipment |
| ER25X15 | EXPANSION RINGS 2 7/16″ X 1 1/2″, RED HEAD | Industrial Parts & Misc |
| ER15X1 | EXPANSION RINGS 1 1/2″ X 1″ RACK FORESTRY, RED HEAD | Industrial Parts & Misc |
| 10154 | BRASS INTERLOCKING STENCILS, LETTERS & NUMBERS, 92 PIECE SET | Industrial Parts & Misc |
| 4-1/2″ EUE 8RD PIN | PROTECTOR, THREAD PLASTIC | Industrial Parts & Misc |
| 4-1/2″ EUE 8RD BOX | PROTECTOR, THREAD PLASTIC | Industrial Parts & Misc |
| P3-210-01-0-0 RTU | SCADAPACK RTU PANEL | Industrial Parts & Misc |
| 14084 | (SW250) GASKET 2.5″ NHNST/NPSH | Oil and Gas Parts Equipment |
| 14035 | (SW150) GASKET 1.5″ NHNST/NPSH | Oil and Gas Parts Equipment |
| 10R6100YL | 100′ x 1″ RUBBER COVERED FIRE HOSE ALUM, NH/NST M x F | Oil and Gas Parts Equipment |
| 8141062 | CABLE,TRACTION MOTOR | Diesel Locomotive Parts |
| 8141063 | CABLE,TRACTION MOTOR | Diesel Locomotive Parts |
| 8141064 | CABLE,TRACTION MOTOR | Diesel Locomotive Parts |
| VTC254.10900LA62 | REPLACEMENT CARTRIDGE FOR ABB TURBO CHARGER | Oil and Gas Parts Equipment |
| STP560P-KIT-PR | BATTERY CHARGER, SOLAR 560W | Industrial Parts & Misc |
| CCE24A10R19H17BE | SUPERTROL RECTIFIER/BATTERY CHARGER,SATURABLE REACATOR TYPE CCE (WALL MOUNTED) | Industrial Parts & Misc |
| S120 | 3/8″ CHORME STEEL BALL F/BEARING, KIT F/2″ STYLE 50 6000 # SAGE SWIVEL JOINT, 52/SET | Industrial Parts & Misc |
| 2821 | CYLINDER, STEERING F/K600 SERVICE RIG CARRIER | Industrial Parts & Misc |
| 2B-312.12 | WIPER, RUBBER TUBING 3 1/2″ ID x 12″ OD, DIMS: 12″L x 12″W x 1.5″H | Industrial Parts & Misc |
| 3200612 | UNION, HAMMER 4IN 1000 CWP, FEMALE NPT, FMC | Industrial Parts & Misc |
| P533564 | UNION, HAMMER 2 IN NPT 6000 LB SCREWED ENDS, ASTEM CARBON STEEL, GS SEAL ROUND JOINT, FMC | Industrial Parts & Misc |
| 3202416 | UNION, HAMMER, 3IN 6000LB SCREWED ENDS, ASTEM A105 CS GS SEAL, ROUND JOINT, FMC | Industrial Parts & Misc |
| 425075 | WRENCH, HAMMER 3/4IN 6 POINT STANDARD LENGTH, OTECO | Oil and Gas Parts Equipment |
| 425150 | WRENCH, HAMMER 1-1/2IN 6 POINT STANDARD LENGTH | Oil and Gas Parts Equipment |
| 5268633 | SEAL, OIL, CRANKSHAFT, FOR QUINTUPLEX PLUNGER PUMP, FMC | Oil and Gas Parts Equipment |
| BACB-196LP | COOL BOX FOR AMBIENT AIR PUMP, AIR PRESSURE MAX 20 PSI | Industrial Parts & Misc |
| 3E-21833 | JAR, TUBING JAR, 2-3/8-3-1/2, 1-3/4 O.D. 30″ STROKE,44.5″L x 1.75″W, GUIBERSON | Industrial Parts & Misc |
| 3E-20599 | ROPE SOCKET SWIVEL, 3/4″ SR BOX, 6″L x 1.75″W, GUIBERSON | Industrial Parts & Misc |
| 3E-33913 | MANDREL, 2-7/8″ LOWER NO-GO, GUIBERSON | Industrial Parts & Misc |
| 2250084-534 | SWITCH ENGINE HI- TEMPERATURE 255 DEGREE NC | Oil and Gas Parts Equipment |
| 2250193-122 | SWITCH TEMP N.C. 250 SSF, SINGLE POLE | Oil and Gas Parts Equipment |
| 02250137-006 | SUB ASSEMBLY, CONTROL CYLINDER | Oil and Gas Parts Equipment |
| 02250130-668 | SWITCH ENGINE OIL PRESSURE N.C. | Oil and Gas Parts Equipment |
| 02250141-092 | RELAY 12 VOLT 40 AMP 1NO/1NC | Oil and Gas Parts Equipment |
| 02250144-353 | RELAY 12 VOLT 50 AMP 1NO/ 1NC | Oil and Gas Parts Equipment |
| 02250144-357 | FUSE MAXI BLADE 50 AMP | Oil and Gas Parts Equipment |
| 250023-996 | FUSE BLADE TYPE ATC 30 AMP | Oil and Gas Parts Equipment |
| 02250044-361 | GAUGE PRESSURE AIR 0- 300 2 IN | Oil and Gas Parts Equipment |
| 02250044-366 | GAUGE VOLT – METER 12 VOLT 2 IN | Oil and Gas Parts Equipment |
| 02250050-517 | HOUR- METER 12- 24VDC 10000HR 2IN | Oil and Gas Parts Equipment |
| 02250126-682 | CONTROLLER 185/ 375 SHUTDOWN MODULE SSAM | Oil and Gas Parts Equipment |
| 02250129-189 | LENSE CLIPLIT LED | Oil and Gas Parts Equipment |
| 02250129-190 | PANEL INST PLASTIC SSAM | Oil and Gas Parts Equipment |
| 02250130-635 | HARNESS VOLTMETER | Oil and Gas Parts Equipment |
| 02250136-999 | VALVE BALL 2 – WAY 1/4 IN NPT | Oil and Gas Parts Equipment |
| 02250137-265 | COVER ACCESS SSAM MOLDED ABS | Oil and Gas Parts Equipment |
| 02250143-865 | HARNESS WIRING CAT TIER II | Oil and Gas Parts Equipment |
| 40038 | SWITCH MONENTARY N.O. | Oil and Gas Parts Equipment |
| 89320907 | MOTOR, FAN DRYER, AIR COOL SYSTEM, INGERSOLL RAND | Oil and Gas Parts Equipment |
| AP0050MP | COMPOUND, THREAD MODIFIED, HI-PRESSURE,PIPE DOPE, 50 LBS PER PAIL, FORUSE API BUL 5A2, FOR CASING, TUBING AND LINE PIPE | Oil and Gas Parts Equipment |
| 89-7401-123 | SWITCH MECHANISM KIT USED WITH MAGNETROL SWITHCH SERIES B74 | Oil and Gas Parts Equipment |
| ACP3044BC | ESN, PLUG, 30AMP, APPLETON | Oil and Gas Parts Equipment |
| ACP1044CD | ESN, PLUG, 100AMP, APPLETON | Oil and Gas Parts Equipment |
| J093281-1140220 | NUMREQ-DSV-TCRAVER, 3 5M UT ADJ CHK 3-1/8 5M FLG IN/OUT 2 REG TRIM W/PVC INDICATOR W/PVC | Oil and Gas Parts Equipment |
| 1050-WJK-350 | 3 1/2" WRAPAROUND JAW KIT – 2 7/8" – 3 1/2", FARR | Industrial Parts & Misc |
| 1050-WJK-550 | 5-1/2" WRAPAROUND JAW KIT, FARR | Industrial Parts & Misc |
| 1050-WJK-7625 | 7-5/8" WRAPAROUND JAW KIT, FARR | Industrial Parts & Misc |
| 44898 | 2.875" WRAPAROUND INSERT-FINE | Oil and Gas Parts Equipment |
| 44901 | 3-1/2" BACKUP JAW DIE KIT FOR 8-5/8" BACKUP | Oil and Gas Parts Equipment |
| 44902 | 4" WRAPAROUND SMOOTHBACK DIE | Industrial Parts & Misc |
| 44904 | 4-1/2" WRAPAROUND BACKUP DIE | Industrial Parts & Misc |
| 44906 | 5" WRAPAROUND DIE | Industrial Parts & Misc |
| 44907 | 5-1/2" WRAPAROUND DIE | Industrial Parts & Misc |
| 44908 | 6.375" WRAPAROUND INSERT | Industrial Parts & Misc |
| 44909 | 6.675" WRAPAROUND INSERT | Industrial Parts & Misc |
| 44910 | 7.00 X 7.00" WRAPAROUND INSERT | Industrial Parts & Misc |
| 44912 | 7.625" WRAPAROUND INSERT-FINE | Industrial Parts & Misc |
| 29-50 | JAW BUTTON SHORT, FARR | Industrial Parts & Misc |
| 34608 | JAW BUTTON 7/8" & CW SCREW | Industrial Parts & Misc |
| VTC254-15.82000 | AIR SUCTION BRANCH | Oil and Gas Parts Equipment |
| 104937-AS1133 | ADJUSTER, SLACK | Industrial Parts & Misc |
| S2398-20-24 | BLOCK, BRAKE SET F/K600 MAIN DRUMSHAFT DRAWWORKS CONSISTING OF: 2EA BLOCKS HARD 1″X10″X12″ 18EA BLOCKS SOFT 1″X10″X12″ 1 SET BOLTS NUTS & PLUGS | Industrial Parts & Misc |
| 24063 | POWER CONTACTOR-DC SOLENOIDS, COLE HERSEE | Oil and Gas Parts Equipment |
| SCRS-RAMSVKIT | RAM SAVER REPAIR KIT | Industrial Parts & Misc |
| SCRS-HYOPER | HYDRAULIC OPERATOR HEAD | Oil and Gas Parts Equipment |
| 9328183 | E3 FORK POWER ASSEMBLY | Diesel Locomotive Parts |
| 9328185 | E3 BLADE POWER ASSMBLY | Diesel Locomotive Parts |
| 8354118 | BEARING UPPER | Diesel Locomotive Parts |
| 8136114 | BEARING- LOWER | Diesel Locomotive Parts |
| 8260114 | WASHER | Diesel Locomotive Parts |
| 8361565 S | SHELL BEARING INSERT SILVER | Diesel Locomotive Parts |
| M12V30T | BATTERY BANK OF 2, VALVE REGULATED,SEALD,LEAD ACID, FLAME RETARDANT PLASTIC, 24 VDC, 30 AH/8 HRS | Industrial Parts & Misc |
| 1210-1 | SNAP HOOK, ROPE, 1″ EYE | Industrial Parts & Misc |
| FSTT-13466-F | CARBON BRUSH CE7, Morgan | Diesel Locomotive Parts |
| M4D 113 1N00 B102 | MOTOR, HYDRAULIC , DENISON | Oil and Gas Parts Equipment |
| 564945 | OIL PUMP PLUNGER | Diesel Locomotive Parts |
| 41B510557P13 | PRESSURE SWITCH | Diesel Locomotive Parts |
| 41B510557P14 | PRESSURE SWITCH | Diesel Locomotive Parts |
| 114X1103-1 | BEARING | Diesel Locomotive Parts |
| 114X1150 | BEARING | Oil and Gas Parts Equipment |
| 114X1111-4 | BEARING | Oil and Gas Parts Equipment |
| 119X1112 | CRANKSHAFT | Diesel Locomotive Parts |
| 121X1137-3 | WATER JACKET | Diesel Locomotive Parts |
| 123X1098 | NOZZLE | Diesel Locomotive Parts |
| 142X1052 | PIN,PISTON | Oil and Gas Parts Equipment |
| 117X1041-1 | SPACER | Oil and Gas Parts Equipment |
| 117X1045-2 | BEARING | Oil and Gas Parts Equipment |
| 41C636743P1 | GEAR | Oil and Gas Parts Equipment |
| 1517120 | HO-TEFLON SEAL HO 4″ | Industrial Parts & Misc |
| 1517117 | HO-TEFLON SEAL HO 6″ | Industrial Parts & Misc |
| 349288 | REPAIR KIT , PRESCO PILOT, MODEL B-HL-P | Industrial Parts & Misc |
| 363218 | KIT, REPAIR F/PILOT TRIP ASS. P50, GE BARBER | Industrial Parts & Misc |
| GR66864 | WRENCH, STRIKING 2″ | Industrial Parts & Misc |
| 76575-4 | SWITCH, STOPLIGHT76375, HOBBS | Oil and Gas Parts Equipment |
| ES431R | ROD, TIE END RIGHT HAND, ROCKWELL | Industrial Parts & Misc |
| ES2090L | ROD, TIE END LEFT HAND, ROCKWELL | Industrial Parts & Misc |
| 18N40-191 | SPLINE PLUG, ROCKWELL | Industrial Parts & Misc |
| 250142 | GLASS, SIGHT KIT, LINCOLN | Industrial Parts & Misc |
| 213-02-540 | 8E-SRG 4″ S/40 NITRILE SEAL | Industrial Parts & Misc |
| 17CM57A9 | CONTACTOR | Diesel Locomotive Parts |
| 324-2 | MEDIUM INTENSITY EDGE MARKER, COMPLETE W/4 ANCHOR PINS BASE | Industrial Parts & Misc |
| 1115567 | SWITCH ASSEMBLY, SOLENOID – 32 VOLTS | Diesel Locomotive Parts |
| S71-3C6-6EF | COUPLER, SNAP TITE | Oil and Gas Parts Equipment |
| S71-3N6-6EF | NIPPLE, SNAP TITE | Oil and Gas Parts Equipment |
| FS53316 | KIT, REPAIR, FLEX A SEAL | Oil and Gas Parts Equipment |
| FS15911-RO1-2B | SEAL SLEEVE, FLEX A SEAL | Oil and Gas Parts Equipment |
| 3R80-06 | 3/8″ SYNFLEX SAE 100R8, 250 FT), EATON | Oil and Gas Parts Equipment |
| SWPE050-100FT-CL | 1/2″ SPIRAL WRAP (100FT), CABLE ORG. | Industrial Parts & Misc |
| STS-100 | STAINLESS BIRD SPIKES, (100FT) | Industrial Parts & Misc |
| FS15908-28 | ROTARY HEAD ASSEMBLY, DWG NO: FS53316, FLEX A SEAL | Industrial Parts & Misc |
| MR1000-30 | RING, MATING, DWG NO: FS53316, FLEX A SEAL | Industrial Parts & Misc |
| FS568-VT-13 2 | PACKING, O-RING ROTARY HEAD, DWG NO: FS53316, FLEX A SEAL | Oil and Gas Parts Equipment |
| FS568-VT-22 9 | PACKING, O-RING MATING RING , DWG NO: FS53316, FLEX A SEAL | Oil and Gas Parts Equipment |
| GG8000-30 | GASKET, GLAND, DWG NO: FS53316, FLEX A SEAL | Oil and Gas Parts Equipment |
| C11545/10 | RING, PRESSURE, COMP AIR | Industrial Parts & Misc |
| 62-001 | GENERAL PURPOSE COUPLANT , UTX | Oil and Gas Parts Equipment |
| 20/20SIS-F | FALAME DETECTOR, SPECTREX, SIL 2- (NOT CSA APPROVED) | Industrial Parts & Misc |
| 20/20-003 | SWIVEL MOUNT- ACCESSORY, SPECTREX | Industrial Parts & Misc |
| 40/40I-112SF | FALAME DETECTOR-TRIPLE IR3 STAINLESS STEEL, SPECTREX CSA APPROVED | Industrial Parts & Misc |
| 40/40-001 | SWIVEL TILT MOUNT-ACCESSORY, SPECTREX | Industrial Parts & Misc |
| 3011884 | SEAL, CUMMINS | Oil and Gas Parts Equipment |
| 205269 | CIRCLE CLIP, CUMMINS | Industrial Parts & Misc |
| 108602 | SCREW, HEAD, CUMMINS | Diesel Locomotive Parts |
| 4922219 | GASKET,COVER, CUMMINS | Diesel Locomotive Parts |
| 205094 | SPRING, SEAT VALVE, CUMMINS | Oil and Gas Parts Equipment |
| 205093 | EXHAUST PORT, CUMMINS | Oil and Gas Parts Equipment |
| 3026296 | INTAKE VALVE, CUMMINS | Industrial Parts & Misc |
| VMD754I3 | RIG DECK ENGINE | Oil and Gas Parts Equipment |
| 0C004CO0005 | SOUND PROOF COVERING | Water Well Rig |
| PACO0604 | MOBILE CONTROL PANEL | Oil and Gas Parts Equipment |
| SUPAC0607 | MAST SUPPORT UPRIGHT | Oil and Gas Parts Equipment |
| 0M006AN0015 | MAST FOR 3 m DRILL PIPE | Oil and Gas Parts Equipment |
| PULLDOWN0501 | PULL-DOWN SYSTEM | Oil and Gas Parts Equipment |
| RGP15 | HANDLING WINCH | Oil and Gas Parts Equipment |
| MS360011 | HYDRAULIC CLAMP CENTRALIZERS | Oil and Gas Parts Equipment |
| CIN005E | CRAWLER UNDERCARRIAGE | Oil and Gas Parts Equipment |
| RAC26PRO | RADIO REMOTE CONTROL FOR CRAWLER | Oil and Gas Parts Equipment |
| TAW200 | SWIVEL HEAD TAW200 | Oil and Gas Parts Equipment |
| 0M00245 | WATER/FOAM PUMP | Oil and Gas Parts Equipment |
| 6ASTUB03 | AIR/MUD PIPEWORK | Oil and Gas Parts Equipment |
| ILLUMSTD | LIGHTING SYSTEM | Oil and Gas Parts Equipment |
| CSBT3704 | TOOL BOX | Oil and Gas Parts Equipment |
| VERSTD3 | STANDARD PAINTING | Oil and Gas Parts Equipment |
| INFTEC1 | TECHNICAL INFORMATION | Oil and Gas Parts Equipment |
| MTD2011 | RIG DECK ENGINE | Oil and Gas Parts Equipment |
| 0M006PC0015 | HYDRAULIC CONTROL PANEL ON ARM | Oil and Gas Parts Equipment |
| MCEST118 | CASING EXTRACTOR | Oil and Gas Parts Equipment |
| SOV300A38 | RUBBER PADS | Oil and Gas Parts Equipment |
| 0M006PR0002 | MAST EXTENSION | Oil and Gas Parts Equipment |
| DBAZPS80 | WATER/MUD PUMP | Oil and Gas Parts Equipment |
| AZPOCA02 | CENTRIFUGAL PUMP | Oil and Gas Parts Equipment |
| 0M005BR0001 | UNDER HEAD PIPE CHARGER ARM | Oil and Gas Parts Equipment |
| 0M045SO0001 | COMPLETE HYDRAULIC CIRCUIT | Oil and Gas Parts Equipment |
| MTC10 | RIG DECK ENGINE | Oil and Gas Parts Equipment |
| ACAM45008 | FOUR EXIT PUMP DRIVE | Oil and Gas Parts Equipment |
| 0M045AN0003 | HOSES CHAIN SUPPORT | Oil and Gas Parts Equipment |
| 0M045AN0010 | MAST | Oil and Gas Parts Equipment |
| PULLDOWN45 | PULL-DOWN SYSTEM | Oil and Gas Parts Equipment |
| SCAN28 | LADDER FOR MAST | Oil and Gas Parts Equipment |
| TFCOM619 | TOP OF MAST (CROWN BLOCK): | Oil and Gas Parts Equipment |
| SL45A01 | ROTARY HEAD POWER CARRIAGE: | Oil and Gas Parts Equipment |
| TAW300 | SWIVEL HEAD TAW300 | Oil and Gas Parts Equipment |
| SLCOM658 | SUPPORT FOR ROTARY HEAD TILTING | Oil and Gas Parts Equipment |
| PACO2803 | CONTROL PANEL | Oil and Gas Parts Equipment |
| RGTMV10000 | MAIN WINCH | Oil and Gas Parts Equipment |
| RGBW1950 | HANDLING WINCH | Oil and Gas Parts Equipment |
| 0M00226 | WATER/FOAM PUMP | Oil and Gas Parts Equipment |
| 0M028TE0005 | WALKWAYS AROUND THE CLAMP AREA | Oil and Gas Parts Equipment |
| 0C045TE0147 | PLATES AND BASE SUPPORTS FOR STABILIZERS | Oil and Gas Parts Equipment |
| 28ASCOM020 | AIR/MUD PIPEWORK | Oil and Gas Parts Equipment |
| MOAUMI28 | ASSEMBLY ON TRUCK | Oil and Gas Parts Equipment |
| CSAT3702 | TOOL BOX | Oil and Gas Parts Equipment |
| VERSTD1 | STANDARD PAINTING | Oil and Gas Parts Equipment |
| MTC13 | COMPRESSOR DECK ENGINE | Oil and Gas Parts Equipment |
| AZCO12V | AIR COMPRESSOR | Oil and Gas Parts Equipment |
| PACO28E | ELECTRICAL CONTROL PANEL | Oil and Gas Parts Equipment |
| TG3G385 | TRAVELLING BLOCK | Oil and Gas Parts Equipment |
| LUBF317 | AIR LINE LUBRICATOR | Oil and Gas Parts Equipment |
| AZGSTB240 | GENERATOR-WELDER SET | Oil and Gas Parts Equipment |
| C6BR127000 | AUTOMATIC HYDRAULIC ARMED DRILL PIPE CHANGER | Oil and Gas Parts Equipment |
| MTCATC18ACERT | RIG DECK ENGINE | Oil and Gas Parts Equipment |
| SECOM428 | COMPLETE HYDRAULIC CIRCUIT | Oil and Gas Parts Equipment |
| APANT448 | MAST | Oil and Gas Parts Equipment |
| PULLDOWN281 | PULL-DOWN SYSTEM | Oil and Gas Parts Equipment |
| SL28A11 | ROTARY HEAD POWER CARRIAGE | Oil and Gas Parts Equipment |
| SLCOM452 | SUPPORT FOR ROTARY HEAD TILTING | Oil and Gas Parts Equipment |
| JBCOM129 | TELESCOPIC JIB BOOM | Oil and Gas Parts Equipment |
| RGBW5 | MAIN WINCH | Oil and Gas Parts Equipment |
| AZCO10 | AIR COMPRESSOR | Oil and Gas Parts Equipment |
| NC | CENTRIFUGAL MUD PUMP MISSION 4x3x13 MAGNUM | Oil and Gas Parts Equipment |
| TUB08 | AIR/MUD PIPEWORK | Oil and Gas Parts Equipment |
| MOAUMI28B | ASSEMBLY ON TRUCK | Oil and Gas Parts Equipment |
| INFTEC2 | TECHNICAL INFORMATION | Oil and Gas Parts Equipment |
| PULLDOWN282 | PULL-DOWN SYSTEM | Oil and Gas Parts Equipment |
| PULLDOWN283 | PULL UP SYSTEM FOR SPEED INCREASING | Oil and Gas Parts Equipment |
| C6127000 | AUTOMATIC DRILL PIPE CHANGER | Oil and Gas Parts Equipment |
| C6HQ34003 | AUTOMATIC HYDRAULIC ARMED DRILL PIPE CHANGER | Oil and Gas Parts Equipment |
| BOZ28 | TRAVELLING BLOCK | Oil and Gas Parts Equipment |
| 852XBAKPB4XS | POWER TAKEOFF SHAFT, CHELSEA | Oil and Gas Parts Equipment |
| AOCH-30-1-2P | HYD COOLING RADIATOR | Industrial Parts & Misc |
| VMR754IE4 | RIG DECK ENGINE | Oil and Gas Parts Equipment |
| CIN00AEST | STEEL CRAWLER UNDERCARRIAGE | Oil and Gas Parts Equipment |
| RAC26PRORIG | CRAWLER AND DRILLING RIG RADIO REMOTE CONTROL | Oil and Gas Parts Equipment |
| 0M04MSA0001 | MAST SUPPORT UPRIGHT | Oil and Gas Parts Equipment |
| 0MMM4AN0003 | MAST for 1.5m DRILL PIPES | Oil and Gas Parts Equipment |
| TFM201COM | CROWN BLOCK WITH SERVICE WINCH | Oil and Gas Parts Equipment |
| STM4C20 | SUPPORT FOR ROTARY HEAD TILTING TM | Oil and Gas Parts Equipment |
| 0M04LTU0002 | MUD PIPES VALVE OPENER CYLINDER | Oil and Gas Parts Equipment |
| VERSTD2 | STANDARD PAINT | Oil and Gas Parts Equipment |
| 0MMM4ES0002 | EXTENSION KIT OF THE MAST | Oil and Gas Parts Equipment |
| 0MMM4ES0003 | EXTENSION KIT OF THE MAST | Oil and Gas Parts Equipment |
| 0M04MPR0001 | MAST EXTENSION | Oil and Gas Parts Equipment |
| GAPR0401 | OPERATOR'S PROTECTIVE GUARD | Oil and Gas Parts Equipment |
| LUBF20M1 | AIR LUBRICATOR | Oil and Gas Parts Equipment |
| SOV101A | RUBBER PADS | Oil and Gas Parts Equipment |
| 103S-R-4.5-1.75 | THERMO WELLS | Industrial Parts & Misc |
| A2D-U6SS-6R4TU-20 | THERMOCOUPLE T=0IN 3/4IN NPT/316SS (TC)T, THER. COUPLE W/THER. W, TAG:27-TE/TW-6905,7102, A2S-US6-6-R-4-T-U-20-103S-R-10.5 | Industrial Parts & Misc |
| 102ADAG912N6C2A-TTPK | DIFFERENTIAL PRESSURE SWITCH ADJ RANGE 5 – 25 PSID 3000PSI OVER RANGE 5000PSI PROOF | Oil and Gas Parts Equipment |
| EQ1500 | ECHOMETER MODEL M ANALOG AMPLIFIER/RECORDER WITH COMPACT GAS GUN EXPLOSION/IMPLOSION WELLHEAD ATTACHMENT | Industrial Parts & Misc |
| MS2500 | ECHOMETER MODEL M SPECIAL OVERSEAS PACKAGE | Oil and Gas Parts Equipment |
| FSR67DRX00012 | KITS, PARTS FOR REGULATOR TYPE 67DR, FISHER | Oil and Gas Parts Equipment |
| 85-0008-SK | SEAL KIT F/FARR HYD LIFT CYL. | Oil and Gas Parts Equipment |
| 2ABCSTRX1000 | WIRE, GROUND 1/C 2/0 AWG 19 STRAND COPPER BARE SOFT DRAWN, 600V | Oil and Gas Parts Equipment |
| G-A8GUN-C | ACTIV-8 SEALANT INJECTION PUMP – COMPLETE | Oil and Gas Parts Equipment |
| S-TL-HGC | TOTAL-LUBE # 911 – CASE – HYDRAULIC GUN CARTRIDGES | Oil and Gas Parts Equipment |
| API Bulletin 5A2 | THREAD COMPOUND | Oil and Gas Parts Equipment |
| C00801B011000 | HOUSING, STEADY BRG 3171 S GRPSTK IN MM CAST IRON, GOULD PUMPS | Oil and Gas Parts Equipment |
| D00247B57 2205 | PUMP SHAFT S GP RDSN W/O USB CARBON STEEL, GOULD PUMPS | Oil and Gas Parts Equipment |
| 902150 | P 6″ BOLTED TYPE LIGHT LIP , FIKE | Oil and Gas Parts Equipment |
| 439732 | P 4″ BOLTED TYPE LIGHT LIP | Oil and Gas Parts Equipment |
| AW103RV- CD4M | IMPELLER, RELIEF VALVE, DURIRON | Oil and Gas Parts Equipment |
| 120316-BASE | SEAL, MECHANICAL 1 1/2″ , DURAMETALLIC | Oil and Gas Parts Equipment |
| 120316-GS | SEAL, MECHANICAL 1 1/2″ , DURAMETALLIC | Oil and Gas Parts Equipment |
| QSC7-11-00-006A-I | CYLINDER LINER DF8BI | Oil and Gas Parts Equipment |
| QSC7A-24-00-000 | PISTON ASM, DF8BI | Oil and Gas Parts Equipment |
| QSC25-31-00-000 | CYLINDER HEAD ASM, DF8BI | Oil and Gas Parts Equipment |
| QSC7-24-00-002-I | PISTION RING (3RD), DF8BI | Industrial Parts & Misc |
| QSC7-24-00-001A-I | PISTION RING (1ST & 2ND), DF8BI | Industrial Parts & Misc |
| QSC7-24-03-000-I | PISTON RING, OIL RING, DF8BI | Industrial Parts & Misc |
| VMD753IE3 | RIG DECK ENGINE | Oil and Gas Parts Equipment |
| 0M002SA0004 | MAST SUPPORT UPRIGHT: | Oil and Gas Parts Equipment |
| 0M003AN0004 | MAST: | Oil and Gas Parts Equipment |
| PULLDOWN03 | PULL-DOWN SYSTEM: | Oil and Gas Parts Equipment |
| 0M003TF0001 | CROWN BLOCK WITH SERVICE WINCH: | Oil and Gas Parts Equipment |
| TAW150 | SWIVEL HEAD MDL TAW150: | Oil and Gas Parts Equipment |
| ILLUMSTDTES | LIGHTING SYSTEM: | Oil and Gas Parts Equipment |
| ANEST10COM | EXTENSION KIT OF THE MAST for 2 m DRILL PIPES: | Oil and Gas Parts Equipment |
| DBAZPS6014 | WATER/MUD PUMP: | Oil and Gas Parts Equipment |
| NCRO | MAST SUPPORT WITH 30? ROTATION DEVICE: | Oil and Gas Parts Equipment |
| 905100 | SEAL KIT, 905D1 & 60LJ600 LEVELING JACK | Oil and Gas Parts Equipment |
| 5281X AUTOMANN | U-JOINT, | Oil and Gas Parts Equipment |
| F-1548-1 | TIE ROD END, SHULER | Oil and Gas Parts Equipment |
| F-1548-2 | TIE ROD END, SHULER | Oil and Gas Parts Equipment |
| 6885571 | GOVERNOR, ASSEMBLY , ALLISON | Industrial Parts & Misc |
| 4261D05A072 | VALVE, INTAKE AIR SHUT-OFF, 5.5″, AMOT | Oil and Gas Parts Equipment |
| 302-TVL-510 | BEARING LOWER, TORRINGTON | Oil and Gas Parts Equipment |
| 95525 | BEARING ASSEMBLY 9-147, TIMKEN | Oil and Gas Parts Equipment |
| 2-461 | O-RING, BUNA O-PACK | Oil and Gas Parts Equipment |
| 56160-CR | SEAL OIL | Oil and Gas Parts Equipment |
| 310-TVL-625AA411 | MAIN BEARING, TORRINGTON | Oil and Gas Parts Equipment |
| A-5226-WS | OUTER PINION BEARING, TORRINGTON | Oil and Gas Parts Equipment |
| 9322058 | CARBON BRUSH D77, DE-7 | Diesel Locomotive Parts |
| HEL-52241 | CABLE, Heluthern 145 16-2c | Oil and Gas Parts Equipment |
| HEL-23178 | CABLE, SiHF-C-Si 16-2C | Oil and Gas Parts Equipment |
| T767T1003XPMXBXXNH | TEMPERATURE SWITCH, ASHCRFT | Oil and Gas Parts Equipment |
| 3002786 | ATOMIZING AIR COMPRESSOR, PTSC A-110B | Oil and Gas Parts Equipment |
| 3961332 | COUPLING HUB | Oil and Gas Parts Equipment |
| 3135072 | QUILL SHAFT | Oil and Gas Parts Equipment |
| MGT16ST/BFT16C026 | CABLE | Oil and Gas Parts Equipment |
| MARFRD02T | HYDRAULIC HAMMER FRD type F1 | Oil and Gas Parts Equipment |
| TMHD1006 | HYDRAULIC DRIFTER EURODRILL type HD 1006 | Oil and Gas Parts Equipment |
| LV162SS | SWITCH | Oil and Gas Parts Equipment |
| LV101 | SWITCH, SIDE-MOUNTED LEVEL-HIGH -LOW-INTERMEDIATE,, STAINLESS STEEL | Oil and Gas Parts Equipment |
| MM4 Shank | SHANK ADAPTOR | Oil and Gas Parts Equipment |
| MM4 Damping | DAMPING SYSTEM | Oil and Gas Parts Equipment |
| MM4 Semi | SEMI-ELECTRIC SHIFTING | Oil and Gas Parts Equipment |
| 40040028 | GASKET | Diesel Locomotive Parts |
| 8138537 | CONNECTOR | Diesel Locomotive Parts |
| 8267599 | RING PISTON L.P. | Industrial Parts & Misc |
| 8267929 | GAUGE | Diesel Locomotive Parts |
| 8464961 | RECTIFIER SILICON 35 AMP to 48 | Diesel Locomotive Parts |
| 8038979 | PIN | Diesel Locomotive Parts |
| 8421998 | CONNECTING ROD GRP | Diesel Locomotive Parts |
| 8310077 | VALVE, PRESS RELIEF | Diesel Locomotive Parts |
| 2261143-1 | NUT NOZZLE | Oil and Gas Parts Equipment |
| 4151111-1 | SHIM | Diesel Locomotive Parts |
| 4971237 | ARMATURE- C974-A3 NEW (1/4HP) | Industrial Parts & Misc |
| 8311242 | SWITCH – MICRO CONTACT, 1 N.O. – 1 N.C. | Diesel Locomotive Parts |
| 8243661 | WIRE, LEAD, 1/8″, #5 ROLL | Diesel Locomotive Parts |
| 22612123 | TURBINE END OIL SEAL | Industrial Parts & Misc |
| 8439559 | FUSE | Diesel Locomotive Parts |
| 41A250659P3 | FUSE | Industrial Parts & Misc |
| 41C630518G5 | ARMATURE WITH COMMUTATOR AND SHAFT | Diesel Locomotive Parts |
| 1C633243G1 | ARMATURE ASSEMBLY GE761 | Diesel Locomotive Parts |
| 9509180 | RING SEAT | Diesel Locomotive Parts |
| 9328283 | POWER PACK ASY. FORK | Diesel Locomotive Parts |
| 645E3B | LOCOMOTIVE 645 RECONDITIONED | Diesel Locomotive Parts |
| 8196957 | SWITCHER SEAT/TRI-POD MOUNT | Diesel Locomotive Parts |
| 40012790 | PINION SEAL,MOQ72 | Diesel Locomotive Parts |
| 40012412 | PEDESTAL LINER | Diesel Locomotive Parts |
| 558411 | VALVE BRACKET | Diesel Locomotive Parts |
| 8387330 | GAUGE | Diesel Locomotive Parts |
| 8128523 | BEARING | Diesel Locomotive Parts |
| 8415485 | STARTER CONTACTOR | Diesel Locomotive Parts |
| 40045026 | SWITCH | Diesel Locomotive Parts |
| 8218906 | BRACKET,HEADLIGHT | Diesel Locomotive Parts |
| 8332339-2 | HEADLIGHT HOUSING | Diesel Locomotive Parts |
| 8268280 | COPLING | Diesel Locomotive Parts |
| 8126649 | GASKET | Diesel Locomotive Parts |
| 8194269 | SCREEN | Diesel Locomotive Parts |
| 3129131 | SINGLE CORE, 6″, MECHANICAL BOND | Diesel Locomotive Parts |
| 2806700 | LOCOMOTIVE HVAC | Diesel Locomotive Parts |
| 8294080 | BATTERY FIELD CONTACTOR | Diesel Locomotive Parts |
| 8252488 | DRAFT GEAR AND YOKE ASSEMBLY | Diesel Locomotive Parts |
| 8109579 | GEAR 62T | Diesel Locomotive Parts |
| 8172591 | WHEEL SLIP RELAY | Diesel Locomotive Parts |
| 8464117 | SWITCH, MAGNETIC | Diesel Locomotive Parts |
| 8254055 | CONTACTOR, SHUNT FIELD | Diesel Locomotive Parts |
| 8251276 | VALVE, J-1 RELAY | Diesel Locomotive Parts |
| 8279975 | | Diesel Locomotive Parts |
| 8461331-2 | POWER CONTACTOR | Diesel Locomotive Parts |
| 9557789 | BEARING- SUSPENSION AXLE – STANDARD | Diesel Locomotive Parts |
| 8351980 | 4-TERMINAL STATIC VOLTAGE REGULATOR | Diesel Locomotive Parts |
| 8454412 | RELAY- WHEEL SLIP- WSR | Diesel Locomotive Parts |
| 8424293 | SWITCH | Diesel Locomotive Parts |
| 8357416 | RELAY | Diesel Locomotive Parts |
| 7492453 | GAURD, WATER, AXLE WHEEL | Diesel Locomotive Parts |
| 9096751 | PINION 15 TOOTH | Diesel Locomotive Parts |
| 8464204 | | Diesel Locomotive Parts |
| 8280185 | SWITCH, KNIFE | Diesel Locomotive Parts |
| 8451213 | VALVE AUTO DRAIN | Diesel Locomotive Parts |
| 9540306 | GEAR CASE, LOWER, WITH CAP & FILLER HOLE | Diesel Locomotive Parts |
| 9540598 | GEAR CASE,UPPER, WITH CAP & HOLE | Diesel Locomotive Parts |
| 40004105 | PISTON | Diesel Locomotive Parts |
| 8357415 | RELAY | Diesel Locomotive Parts |
| 8158951 | RECTIFIER, 5 PLATE – 4 X 6″ SQUARE | Diesel Locomotive Parts |
| 8195968 | BLOCK ASSEMBLY, GAUGE – UPPER | Diesel Locomotive Parts |
| 8330316 | VALVE, CHECK- 1/8 INCH diameterORIFICE | Diesel Locomotive Parts |
| 8339642 | ROD ASSEMBLY-BALL JOINT-VANE ACTUATING | Diesel Locomotive Parts |
| 8412325 | VALVE- BALL CUTOUT – 1PT | Diesel Locomotive Parts |
| 8138538 | CONNECTOR- BOLTED TYPE HALF | Diesel Locomotive Parts |
| 8311501 | CAPACITOR – 200 MFD, 300 VDC – CA | Diesel Locomotive Parts |
| 8318372 | VALVE- CARTRIDGE TYPE 596 | Diesel Locomotive Parts |
| 8237523 | RHEOSTA | Diesel Locomotive Parts |
| 8423393 | BALL, VALVE COCK- 3/4FPT | Diesel Locomotive Parts |
| 8398604 | RESISTOR, 2000/2000 OHMS – 300 WATTS | Diesel Locomotive Parts |
| 8373344 | REGULATOR PRESSURE VALVE | Diesel Locomotive Parts |
| 8351607 | VALVE ASY, BALL COCK – CAB HEATER DRAIN | Diesel Locomotive Parts |
| 8172209 | SWITCH- TOGGLE, FUSE SET | Diesel Locomotive Parts |
| 9088065 | ARM – WIPER | Diesel Locomotive Parts |
| 8233437 | WASHER | Diesel Locomotive Parts |
| 8452907 | VALVE, BALL COCK – VENT CUTOUT – 3/8 FP | Diesel Locomotive Parts |
| 8260224 | RESISTOR, 4 OHMS, 50 WATTS | Diesel Locomotive Parts |
| 8060582 | FUSE | Diesel Locomotive Parts |
| 8251349 | HANDLE STRAIGHT INDEPENDENT BRAKE VALVE | Diesel Locomotive Parts |
| 8353921 | BOARD ASSEMBLY , TERMINAL – 20 POINT | Diesel Locomotive Parts |
| 8310818 | GASKET-PARTING LINE, 1LB BALL | Diesel Locomotive Parts |
| 8421017 | RECTIFIER | Diesel Locomotive Parts |
| 8391699 | RESISTOR- 240 OHMS -25 W – RE54,55,56,57 | Diesel Locomotive Parts |
| 8413777 | FERRULE.. Brake head – 1.372 I.D. x 3.10 | Diesel Locomotive Parts |
| 8239506 | RESISTOR, 10 OHM – 25 WATT | Diesel Locomotive Parts |
| 9333024 | OIL FILLER CAP ASSEMBLY – D77 | Diesel Locomotive Parts |
| 8126036 | STRAP SEFETY | Diesel Locomotive Parts |
| 8239505 | RESISTOR, 100 OHM – 25 WATT | Diesel Locomotive Parts |
| 8004570 | FUSE KNIFE BLADE CONTACT – 250V, 80AMP | Diesel Locomotive Parts |
| 8173558 | FLANGE – SWIVEL, 3/4 | Diesel Locomotive Parts |
| 8101930 | KEY- BRAKE SHOE | Diesel Locomotive Parts |
| 8407810 | WIPER BLADE 20 INCH | Diesel Locomotive Parts |
| 8326952 | SEGMENT, GREASE FILLER CAP | Diesel Locomotive Parts |
| 9323317 | RING OIL SEAL 8 INCH AXLE | Diesel Locomotive Parts |
| 8351298 | BLADE, 12.0″- WIPER | Diesel Locomotive Parts |
| 8408735 | SPRING, ELEMENT RETAINING – SS | Diesel Locomotive Parts |
| 8004548 | FUSE, 30 A 250 V | Diesel Locomotive Parts |
| 9085799 | DRIVER, ARM | Diesel Locomotive Parts |
| 8348620 | PLUG, PIPE – OIL DRAIN – 1/2 COUNTERSUNK | Diesel Locomotive Parts |
| 8097592 | GASKET, FLANGE NO.1, 1A & 2 MAIN | Diesel Locomotive Parts |
| 8424294 | SWITCH-TEMP, TB | Diesel Locomotive Parts |
| 8316471 | COVER ASY. 5-7/8×6-7/8IN | Diesel Locomotive Parts |
| 8360045 | RELAY – 4 N.O. – 2 N.C. CONTACTS-5 AMP | Diesel Locomotive Parts |
| 40045029 | SWITCH-PRESSURE | Diesel Locomotive Parts |
| 8416096 | RECTIFIER | Diesel Locomotive Parts |
| 8273096 | RESISTOR – 250 OHMS – 25 WATTS | Diesel Locomotive Parts |
| 8227212 | RESISTOR-SPD REC/IND-275 OHM-25W | Diesel Locomotive Parts |
| 8472022 | WIRE AND CABLE – 500 Ft. | Diesel Locomotive Parts |
| 8344104 | SHELL- STRAINER | Diesel Locomotive Parts |
| 9094884 | CABLE 1CX8AWG | Diesel Locomotive Parts |
| 9094886 | CABLE IVE 3AWG STRANDS 125/24 | Diesel Locomotive Parts |
| 40045648 | MOUNT VERTICAL HORIZONTAL | Diesel Locomotive Parts |
| 8218907 | HEADLIGHT DUAL | Diesel Locomotive Parts |
| 8269046 | FUSE KNIFE BLADE CONTACT -250V, 250A | Diesel Locomotive Parts |
| FPGT95-242412 | AIR FILTER BOX, GAS TURBINE, W/HEADER | Oil and Gas Parts Equipment |
| YTO4-2424 | PREFILTER MEDIA PAD,GAS TURBINE | Oil and Gas Parts Equipment |
| HD9E5843841 | ASTRA HEAVY DUTY MODEL HD9 84.38 | Oil and Gas Parts Equipment |
| MTCATC18FIN | RIG DECK ENGINE | Oil and Gas Parts Equipment |
| COFIN01 | SOUND PROOF COVERING | Oil and Gas Parts Equipment |
| NTI TFT 300 | BOILERS 60 GAL SS INDIRECT WATER HEATER | Oil and Gas Parts Equipment |
| 9556060C | CYLINDER HEAD ASSY. DIAMOND 9 | Diesel Locomotive Parts |
| 40078951 | ROCKING PIN EB | Diesel Locomotive Parts |
| 9523619 | PISTON E3B | Diesel Locomotive Parts |
| 40060841 | FORK ROD | Diesel Locomotive Parts |
| 40108498 | BLADE ROD | Diesel Locomotive Parts |
| 8442226 | CARRIER BEARING | Diesel Locomotive Parts |
| 40033365 | RING SET | Diesel Locomotive Parts |
| 40099569 | HEAD GASKET, HEAD TO LINER | Diesel Locomotive Parts |
| 9575840 | POWER PACK FORK E3B | Diesel Locomotive Parts |
| 9575841 | POWER PACK BLADE, E3B | Diesel Locomotive Parts |
| 22600535 | ROTOR SS | Diesel Locomotive Parts |
| 22308 | REPLACEMENT ACTUATOR ONLY FOR 1-1/2 | Oil and Gas Parts Equipment |
| 22305 | REPLACEMENT ACTUATOR ONLY FOR 1 | Oil and Gas Parts Equipment |
| 22306 | REPLACEMENT ACTUATOR ONLY FOR 1 | Oil and Gas Parts Equipment |
| 6224ZZ | BALL BEARING, NTN | Oil and Gas Parts Equipment |
| 6224CM | BALL BEARING, NTN | Oil and Gas Parts Equipment |
| 2010P | Well Sounder 2010 PRO | Industrial Parts & Misc |
| 2100 | Flow Meter Kit w/ PRO | Industrial Parts & Misc |
| 2105 | Flow Meter Kit w/o PRO | Industrial Parts & Misc |
| 8427318 | RELIEF VALVE 5PSI | Diesel Locomotive Parts |
| 8343468 | MOTOR WINDSHIELD WIPER | Diesel Locomotive Parts |
| 8343469 | MOTOR WINDSHIELD WIPER | Diesel Locomotive Parts |
| 8195548 | POWER PLANT CONTROL JUMPER-9ft | Diesel Locomotive Parts |
| 5118 | TEN-EDGE HEAVY DUTY WIPER BLADE12 | Diesel Locomotive Parts |
| 5112 | TEN-EDGE HEAVY DUTY WIPER BLADE18 | Diesel Locomotive Parts |
| 8291349 | GASKET | Diesel Locomotive Parts |
| 5229250 | INJECTOR, FUEL | Diesel Locomotive Parts |
| 9547357 | CRANKSHAFT | Diesel Locomotive Parts |
| 8028302 | BOLT 1/2-20 X 1 1/2 NOT DRIL | Diesel Locomotive Parts |
| 9515338 | GEAR SPRING DRIVE | Diesel Locomotive Parts |
| 179819 | BOLT 5/16-18 X 1-1/8″ HEX HD | Diesel Locomotive Parts |
| 181311 | BOLT STEEL L:15.875MM, W:6.35M | Diesel Locomotive Parts |
| 181432 | BOLT 1/2-20 X 1 5/8″ HEX HD | Diesel Locomotive Parts |
| 8269263 | STRAINER ASSEMBLY | Diesel Locomotive Parts |
| 181436 | BOLT HEX 1/2-20 X 2 1/4 | Diesel Locomotive Parts |
| 8226964 | BOLT 3/8-16 X 1 1/8 HEX HD GR5 | Diesel Locomotive Parts |
| 8269664 | WATER PUMP RIGH SIDE | Diesel Locomotive Parts |
| 9336390 | PUMP ASSEMBLY | Diesel Locomotive Parts |
| 454911 | BOLT 3/8-24 X 3/4 HEX GR5 | Diesel Locomotive Parts |
| 9509486 | WASHER | Diesel Locomotive Parts |
| 181435 | BOLT 1/2-20 X 2″ HEX HD | Diesel Locomotive Parts |
| 8460738 | DRIVE ASSEMBLY | Diesel Locomotive Parts |
| 8041930 | GEAR | Diesel Locomotive Parts |
| 8287827 | BOLT 1/2-20 X 2, GR8, | Diesel Locomotive Parts |
| 8351182 | CHAMBER | Diesel Locomotive Parts |
| 5358830 | CHAMBER ASY | Diesel Locomotive Parts |
| 8358834 | GASKET, TURBO NOZZLE | Diesel Locomotive Parts |
| 8408985-1 | JOINT ASSEMBLY | Diesel Locomotive Parts |
| 3410461 | CHAMBER ASY | Diesel Locomotive Parts |
| 8482700 | SCREEN | Diesel Locomotive Parts |
| 8284598 | CORE AFTERCOOLER | Diesel Locomotive Parts |
| 100803 | SCREW FLAT HEAD 6-32 X 1/2 SLO | Diesel Locomotive Parts |
| 8261240 | SEAL | Diesel Locomotive Parts |
| 8289807 | CARRIER | Diesel Locomotive Parts |
| 8474956 | DIFFUSER | Diesel Locomotive Parts |
| 8490482 | CORE | Diesel Locomotive Parts |
| 9315655 | RADIATOR | Diesel Locomotive Parts |
| 8177379 | GASKET | Diesel Locomotive Parts |
| 8272143 | O-RING diameter1/2 X ID 5-3/4 OIL | Diesel Locomotive Parts |
| 8272139 | GASKET | Diesel Locomotive Parts |
| 8330035 | GASKET | Diesel Locomotive Parts |
| 9520999 | HEAD | Diesel Locomotive Parts |
| 40051621 | INDICATOR | Diesel Locomotive Parts |
| 8486278 | GEAR 58T | Diesel Locomotive Parts |
| 639-111-01-01 | AXLE SHAFT | Diesel Locomotive Parts |
| 699181 | HEX HEAD SCREW | Diesel Locomotive Parts |
| 699189 | SCREW PLUG | Diesel Locomotive Parts |
| 916287 | LOCKING WASHER | Diesel Locomotive Parts |
| 946565 | TAPERED ROLLER BEARING UNITY | Diesel Locomotive Parts |
| 950882 | BEARING HOUSING | Diesel Locomotive Parts |
| 993439 | O-RING | Diesel Locomotive Parts |
| 3EGK405507 | COVER FOR PLUSE GEN. ASY | Diesel Locomotive Parts |
| 3EGK405508 | COVER PARTED ASY | Diesel Locomotive Parts |
| 3EGK405512 | LABYRINTH WASHER | Diesel Locomotive Parts |
| 3EGK405513 | SHAFT END DISC | Diesel Locomotive Parts |
| 271612 | BOLT 3/4-10 X 2 1/4″ HEX HD | Diesel Locomotive Parts |
| 91-01-3700N | STARTER | Oil and Gas Parts Equipment |
| HT750DR | ALLISON TRANSMISSION WET | Oil and Gas Parts Equipment |
| 10564694 | ARMATURE SHAFTS NEW | Diesel Locomotive Parts |
| 41B537416G5 | GROUND CABLE | Diesel Locomotive Parts |
| 1083510-161X | CLUTCH ASSEMBLY -SPICER, SPICER SIZE 15-1/2 X 2 PLATE W/THROW OUT BEARING | Oil and Gas Parts Equipment |
| 7040B168 | VALVE W/ACTUATOR,2″ FIG AR1 175 PSI | Oil and Gas Parts Equipment |
| 6832487-2 | RING, LIP TIPEN Allison Transmission CLT-5861-5) | Industrial Parts & Misc |
| 99WS4960 | STD WHEEL, FRONT AXLE | Oil and Gas Parts Equipment |
| 1-LRTL-120-50-3-5-MF | MODULE | Industrial Parts & Misc |
| 2000-E-2-136/136.5-L | CONTROL, UNIT | Industrial Parts & Misc |
| 108391-74 | CLUTCH ASSEMBLY -SPICER,SPICER SIZE 15-1/2 X 2 PLATE W/THROW OUT BEARING | Oil and Gas Parts Equipment |
| 6832487 | RING, LIP TIPEN Allison Transmission CLT-5861-5) | Industrial Parts & Misc |
| 29542706 | GAUGE,OIL TEMP 24V | Oil and Gas Parts Equipment |
| 103323 | WASHER , STEEL, HELICAL SPRING, 1/2″ | Diesel Locomotive Parts |
| 8177371 | GASKET HEADER | Diesel Locomotive Parts |
| 9570980 | GASKET-RADIATOR CORE & HEADER | Diesel Locomotive Parts |
| 9570965 | GASKET | Diesel Locomotive Parts |
| 8443724 | RADIATOR HEADER | Diesel Locomotive Parts |
| 8443723 | RADIATOR HEADER | Diesel Locomotive Parts |
| 179889 | BOLT | Diesel Locomotive Parts |
| 102637 | NUT STEEL, HEX, 1/2-13, GRADE 5 | Diesel Locomotive Parts |
| 8432428 | SCREEN | Diesel Locomotive Parts |
| 8341983 | STRAINER A | Diesel Locomotive Parts |
| 8344105 | COVER | Diesel Locomotive Parts |
| 8173563 | FLANGE | Diesel Locomotive Parts |
| 8306502 | GASKET | Diesel Locomotive Parts |
| 8320705 | VALVE | Diesel Locomotive Parts |
| 8476711 | COUPLING 1/2″ | Diesel Locomotive Parts |
| 8470605 | 0.75″X4.5″ FLEX COUPLING | Diesel Locomotive Parts |
| 8470340 | 1.0″X2.875″ FLEX COUPLING | Diesel Locomotive Parts |
| 8479676 | 2.0″X7.5″ FLEX COUPLING | Diesel Locomotive Parts |
| 8472617 | 2.5″X6.5″ FLEX COUPLING | Diesel Locomotive Parts |
| 8471160 | COUPLING | Diesel Locomotive Parts |
| 8468179 | COUPLING | Diesel Locomotive Parts |
| 8470341 | COUPLING | Diesel Locomotive Parts |
| 8231594 | GAUGE | Diesel Locomotive Parts |
| 8277771 | LUBRICATOR WICK ASSEMBLY GASKET (D47/87) | Diesel Locomotive Parts |
| 8315619 | WICK LUBRICATOR IN HOLDER GASKET (D47-87) | Diesel Locomotive Parts |
| TL3-KIT | ULTRAFILTRATION SYSTEM | Water Well Rig |
| TL3-KITNF | SYSTEM NO FAUCET | Water Well Rig |
| TL3-FILTERKIT | ANNUAL REPLACEMENT KIT | Water Well Rig |
| 8356717 | FILTER ASSEMBLY | Diesel Locomotive Parts |
| 8359422 | COVER, FUEL FILTER | Diesel Locomotive Parts |
| 143981 | PLUG PIPE SQ HD 1/2 | Diesel Locomotive Parts |
| 8231713 | INSERT | Diesel Locomotive Parts |
| 8360166 | STUD | Diesel Locomotive Parts |
| 8471161 | COUPLING | Diesel Locomotive Parts |
| 8400143 | CONTACTOR | Diesel Locomotive Parts |
| 8482180 | CONTACTOR, STARTING AUXILIARY | Diesel Locomotive Parts |
| 8453175 | SWITCH ASSEMBLY – MOTOR MODULE – RV1 TO RV6 | Diesel Locomotive Parts |
| 8330350 | CONTACT | Diesel Locomotive Parts |
| 41B510557P5 | SWITCH | Diesel Locomotive Parts |
| 41A317303ACP30 | PRESSURE SENSOR | Diesel Locomotive Parts |
| 17FL384C1 | TRACTION MOTOR CONTROL PANEL (TMC) | Diesel Locomotive Parts |
| 41C663693G1 | CPF PANEL ASSEMBLY | Diesel Locomotive Parts |
| 17FM203C3 | RECTIFIER DIODE PANEL | Diesel Locomotive Parts |
| 84A221111FSP13 | FDC1 | Diesel Locomotive Parts |
| 84A218414P3 | RADIATOR, RIGHT BANK | Diesel Locomotive Parts |
| 84A218414P4 | RADIATOR, LEFT BANK | Diesel Locomotive Parts |
| 41E901373G2 | AIR CLEANER, PLASTIC | Diesel Locomotive Parts |
| 328X1040 | INTERCOOLER , RIGHT-SIDE | Diesel Locomotive Parts |
| 328X1045 | COALERSCER OUTLET HOSE | Diesel Locomotive Parts |
| 349X1000 | REGULATING RELIEF VALVE | Diesel Locomotive Parts |
| 140X3110 | CARTRIDGE, FUEL REGULATING | Diesel Locomotive Parts |
| 41B548215ACP9 | VICTAULIC COUPLING WITH GASKET, 2.5 IN PIPE | Diesel Locomotive Parts |
| 41B548215ACP4 | VICTAULIC COUPLING WITH GASKET, 6 IN PIPE | Diesel Locomotive Parts |
| 41B548215ACP7 | VICTAULIC COUPLING WITH GASKET, 3 IN PIPE | Diesel Locomotive Parts |
| 41B548215ACP2 | VICTULIC COUPLING WITH GASKET, 4.00 IN PIPE | Diesel Locomotive Parts |
| 41B548215APP1 | VICTAULIC COUPLING WITH, 3.00 TO 2.50 IN | Diesel Locomotive Parts |
| 41B548215APP2 | VICTAULIC COUPLING WITH GASKET, 4.00 TO 3.00 IN | Diesel Locomotive Parts |
| 3X9805 | INLET VALVE | Diesel Locomotive Parts |
| 84A216126P2 | AIRE COMPRESSOR | Diesel Locomotive Parts |
| 41A212869P19 | MAGNET VALVE | Diesel Locomotive Parts |
| 41A212076P4 | CHECK VALVE, 2 IN WITH 5/16 IN BYPASS ORIFICE | Diesel Locomotive Parts |
| 41A212076P1 | VALVE, CHECK, 2.00 IN FLAT | Diesel Locomotive Parts |
| 8034708 | CRANKSHAFT 645 | Diesel Locomotive Parts |
| 8452186 | BEARING UPPER MAIN STD | Diesel Locomotive Parts |
| 8452210 | BEARING REPAIR KIT | Diesel Locomotive Parts |
| 8317396 | SCREEN, STRAINER – PLEATED MESH | Diesel Locomotive Parts |
| 41A296328BYP4 | SPEED SENSOR, CRANKSHAFT | Diesel Locomotive Parts |
| 41B54215ACP10 | VICTAULIC COUPLING WITH GASKET, 2 IN PIPE | Diesel Locomotive Parts |
| 8308587 | SCREEN | Diesel Locomotive Parts |
| 74007 | WASHER | Diesel Locomotive Parts |
| 51013 | GASKET | Diesel Locomotive Parts |
| 42004 | GASKET | Diesel Locomotive Parts |
| 32105 | WASHER | Diesel Locomotive Parts |
| 32104 | BOLT | Diesel Locomotive Parts |
| 61007 | BOLT | Diesel Locomotive Parts |
| 74006 | BOLT | Diesel Locomotive Parts |
| 74002 | BOLT | Diesel Locomotive Parts |
| 42021 | BOLT | Diesel Locomotive Parts |
| 42003 | BOLT | Diesel Locomotive Parts |
| 74003 | WASHER | Diesel Locomotive Parts |
| 820820107 | CYLINDER, STEERING | Oil and Gas Parts Equipment |
| 820820108 | VALVE, STEERING | Oil and Gas Parts Equipment |
| 816000103 | VALVE, CONTROL | Oil and Gas Parts Equipment |
| 820600229 | VALVE BANK | Oil and Gas Parts Equipment |
| 960000600 | CROWN SAVER KIT | Oil and Gas Parts Equipment |
| 820100983 | BEARING | Oil and Gas Parts Equipment |
| 8206002712 | PUMP | Oil and Gas Parts Equipment |
| 41C633243G1 | ARMATURE ASSEMBLY GE761 | Diesel Locomotive Parts |
| 7476020 | JOURNAL BOX | Diesel Locomotive Parts |
| 7476021 | CAGE | Diesel Locomotive Parts |
| 7491806 | PLUG | Diesel Locomotive Parts |
| 8106894 | CYLINDER BREAKE | Diesel Locomotive Parts |
| 8282967 | SLACK ADJUSTER | Diesel Locomotive Parts |
| 40054833 | SPRING | Diesel Locomotive Parts |
| 8104189 | HOLDER | Diesel Locomotive Parts |
| 8243534 | BAR PEDESTAL TIE | Diesel Locomotive Parts |
| 9330489 | HALF RING | Diesel Locomotive Parts |
| 8252419 | VALVE F1 SELECTOR | Diesel Locomotive Parts |
| 8258371 | VALVE, H5 | Diesel Locomotive Parts |
| 8257524 | VALVE, MU-2A | Diesel Locomotive Parts |
| 8326220 | VALVE, NO 8 VENT | Diesel Locomotive Parts |
| 8251271 | VALVE AUTOMATIC 26C BRAKE | Diesel Locomotive Parts |
| 558402 | VALVE PORTION-SERVICE | Diesel Locomotive Parts |
| 558414 | VALVE-QUICL RELEASE ( 26L ) | Diesel Locomotive Parts |
| 8243095 | VALVE-J1 SAFETY 150 PSI | Diesel Locomotive Parts |
| 8351610 | VALVE COCK 1/2 FULL 2-11/16 | Diesel Locomotive Parts |
| 8430183 | VALVE 1-1/4, FULL x 6-7/8″ | Diesel Locomotive Parts |
| 8491401 | VALVE SOLENOID | Diesel Locomotive Parts |
| 8232106 | GAUGE | Diesel Locomotive Parts |
| 8099907 | TEMPERATURE GAUGE | Diesel Locomotive Parts |
| 8387331 | GAUGE | Diesel Locomotive Parts |
| 8256368 | PIN | Diesel Locomotive Parts |
| 8092111 | VALVE CHECK | Diesel Locomotive Parts |
| 40017849 | WIPER MOTOR | Diesel Locomotive Parts |
| 40018364 | ARC ARM | Diesel Locomotive Parts |
| 40020422 | PANTO ARM | Diesel Locomotive Parts |
| 9088070 | KIT WIPER | Diesel Locomotive Parts |
| 8269587 | VALVE SAND TRAP | Diesel Locomotive Parts |
| 559305 | BRACKET | Diesel Locomotive Parts |
| 527705 | BRACKET , H5 | Diesel Locomotive Parts |
| 559322 | BRACKET , F1 | Diesel Locomotive Parts |
| 544040 | RESERVOIR | Diesel Locomotive Parts |
| 557676 | RESERVOIR | Diesel Locomotive Parts |
| 557085 | RESERVOIR | Diesel Locomotive Parts |
| 8380058 | AMMETER 0-1500A | Diesel Locomotive Parts |
| 8134235 | CAPACITOR 150 MFD 300VDC | Diesel Locomotive Parts |
| 8391138 | RESISTOR 250/250 OHMS 50 W | Diesel Locomotive Parts |
| 8382209 | RESISTOR | Diesel Locomotive Parts |
| 8276599 | RELAY, TIME DELAY | Diesel Locomotive Parts |
| 8389653 | RESISTOR | Diesel Locomotive Parts |
| 8127050 | FUSE | Diesel Locomotive Parts |
| 8280178 | SWITCH-KNIFE | Diesel Locomotive Parts |
| 8395468 | TERMINAL BOARD ASM- FASTON, 8PT | Diesel Locomotive Parts |
| 8240528 | RECEPTACLE | Diesel Locomotive Parts |
| 8488703 | MECHANISM ASSEMBLY | Diesel Locomotive Parts |
| 8411512 | RELAY | Diesel Locomotive Parts |
| 9315747 | RESISTOR | Diesel Locomotive Parts |
| 40040502 | SWITCH | Diesel Locomotive Parts |
| 8391139 | RESISTOR | Diesel Locomotive Parts |
| 8362859 | PANEL | Diesel Locomotive Parts |
| 9094888 | CABLE IXE 2AWG STRANDS 325/24 | Diesel Locomotive Parts |
| 8433440 | CABLE AWG 2/0 325/24 EPP 100FT 1KV DL | Diesel Locomotive Parts |
| 8475587 | CABLE AWG16 19/29 EXANE RED 600V, 500 | Diesel Locomotive Parts |
| 8475586 | CABLE AWG18 19/0.0092 EXANE 600V | Diesel Locomotive Parts |
| 3129515 | OIL COOLER CORE | Diesel Locomotive Parts |
| 8232099 | GAUGE | Diesel Locomotive Parts |
| 8237900 | BEARING, UPPER CAMSHAFT, ASSEMBLY . DRIVE | Diesel Locomotive Parts |
| 8253825 | BEARING, SHELL UPPER CAMSHAFT, DRIVE END | Diesel Locomotive Parts |
| 8080170 | CYLINDER ASY | Diesel Locomotive Parts |
| 8219708 | AIR HORN | Diesel Locomotive Parts |
| 8252440 | BUSHING DRIVE | Diesel Locomotive Parts |
| DS-9C | Heavy Duty Industrial Sewing Machine | Oil and Gas Parts Equipment |
| B20001 | Needle : DR-H30#26 | Oil and Gas Parts Equipment |
| 11/64S40074 | SCREW FOR 104123 | Oil and Gas Parts Equipment |
| 11/64S40505 | SCREW FOR 104072 | Oil and Gas Parts Equipment |
| 302021 | NEEDLE BAR CONNECTING LINK | Oil and Gas Parts Equipment |
| 104072 | FEED DOG,REAR | Oil and Gas Parts Equipment |
| 304131 | FEED DOG, FRONT (DS-9C) | Oil and Gas Parts Equipment |
| 104123 | THROAT PLATE (CM) | Oil and Gas Parts Equipment |
| 102135A | PRESSER FOOT ASSEMBLY , LT (CM) | Oil and Gas Parts Equipment |
| 102162 | PRESSER FOOT, RIGHT | Oil and Gas Parts Equipment |
| 102171 | PRESSER SPRING REG, SCREW | Oil and Gas Parts Equipment |
| 15/64S28019 | SCREW | Oil and Gas Parts Equipment |
| 102101 | PRESSER BAR SPRING | Oil and Gas Parts Equipment |
| 302121 | COLLAR | Oil and Gas Parts Equipment |
| 305181 | SPRING | Oil and Gas Parts Equipment |
| 3S4x10 | SCREW FOR 255262 | Oil and Gas Parts Equipment |
| 302222 | PRESSER BAD LIFER | Oil and Gas Parts Equipment |
| 1S5X10 | SCREW | Oil and Gas Parts Equipment |
| 302231 | PRESSER BAR LIFTER | Oil and Gas Parts Equipment |
| 11/64S40099 | SCREW | Oil and Gas Parts Equipment |
| 32171 | NEELE BAR CONNECTION | Diesel Locomotive Parts |
| 11/64S40002 | SCREW FOR 032171 | Diesel Locomotive Parts |
| 62151 | NEEDLE CLAMP NUT | Diesel Locomotive Parts |
| 302091A | NEEDLE BAR ASSEMBLY | Diesel Locomotive Parts |
| 32141 | NEEDLE BAR CONNECTING LINK PIN | Diesel Locomotive Parts |
| 11/64S40073 | SCREW | Diesel Locomotive Parts |
| 3W5S | SPRING WASHER SUS | Diesel Locomotive Parts |
| 11/64N40102 | NUT | Oil and Gas Parts Equipment |
| 11/64S40084 | SCREW FOR 102135A, 102162 | Oil and Gas Parts Equipment |
| 5/16N24301 | NUT FOR PRESSER BAD LIFTER | Oil and Gas Parts Equipment |
| 102091 | PRESSER SPRING, LARGE | Oil and Gas Parts Equipment |
| 102062 | PRESSER BAR LIFTING BRACKET | Oil and Gas Parts Equipment |
| 62181 | PRESS BAR | Oil and Gas Parts Equipment |
| 72121 | PRESSER BAR SPRING ADJUSTER | Oil and Gas Parts Equipment |
| 282121 | PRESS BAR LIFT HINGE STUD | Oil and Gas Parts Equipment |
| 7/32w05201 | SPRING WASHER FOR 282241 | Oil and Gas Parts Equipment |
| 9/64S40011 | SCREW FOR 282241 | Oil and Gas Parts Equipment |
| 8055322 | BUSHING ROCKER ARM | Diesel Locomotive Parts |
| 8117902 | SWITCH PNEUMATIC CONTROL | Diesel Locomotive Parts |
| 8206596 | SWITCH | Diesel Locomotive Parts |
| 8296923 | SWITCH | Diesel Locomotive Parts |
| 8296756 | SWITCH | Diesel Locomotive Parts |
| 8004701 | SWITCH | Diesel Locomotive Parts |
| 8265676 | SWITCH | Diesel Locomotive Parts |
| 8197308 | SHUNT | Diesel Locomotive Parts |
| 9319341 | HOSE | Diesel Locomotive Parts |
| 5551980 | HOLDER ASM | Diesel Locomotive Parts |
| 8112684 | BLOCK | Diesel Locomotive Parts |
| 8113755 | SWITCHSP-ST10A250V,20A,125 V W/HARDWARE | Diesel Locomotive Parts |
| 8113757 | PLUG | Diesel Locomotive Parts |
| 8118495 | SHUNT | Diesel Locomotive Parts |
| 8124419 | HOLDER ASM | Diesel Locomotive Parts |
| 8152069 | GEAR DRIVE, GOVERNOR | Diesel Locomotive Parts |
| 8152070 | GEAR IDLER | Diesel Locomotive Parts |
| 8296750 | SWITCH | Diesel Locomotive Parts |
| 8209971 | BRUSH ASSEMBLY-MOVABLE CONTACT | Diesel Locomotive Parts |
| 8250906 | TERMINAL SLIPON NO. 14 | Diesel Locomotive Parts |
| 8253763 | RECEPTACLE | Diesel Locomotive Parts |
| 8270009 | CLIP | Diesel Locomotive Parts |
| 8282852 | SWITCH | Diesel Locomotive Parts |
| 8296754 | SWITCH | Diesel Locomotive Parts |
| 8296758 | SWITCH | Diesel Locomotive Parts |
| 8306236 | SPRING OBSOLETE | Diesel Locomotive Parts |
| 8367800 | CARRIER | Diesel Locomotive Parts |
| 8271287 | TERMINAL | Diesel Locomotive Parts |
| 8082766 | GEAR | Diesel Locomotive Parts |
| 9319342 | HOSE | Diesel Locomotive Parts |
| 8029462 | GEAR DRIVE | Diesel Locomotive Parts |
| 8029513 | GEAR ASSEMBLY | Diesel Locomotive Parts |
| 8261147 | COIL MAGNET | Diesel Locomotive Parts |
| 8290832 | SWITCH | Diesel Locomotive Parts |
| 8306126 | ARMATURE | Diesel Locomotive Parts |
| 8035714 | HOSE RUBBER | Diesel Locomotive Parts |
| 15915338 | CONTACTOR SWITCH | Diesel Locomotive Parts |
| 41B551952G1 | SHUNT | Diesel Locomotive Parts |
| 41B581134P1 | TRANSISTOR UNILATERAL SWITH | Diesel Locomotive Parts |
| 41C632784P1 | GEAR 92T | Diesel Locomotive Parts |
| 8860749G1 | SHUNT, FINGER | Diesel Locomotive Parts |
| 8860802G1 | ARMATURE WITH FINGER BLOCK & SPRINGS | Diesel Locomotive Parts |
| 8867977P2 | TIP, MOVABLE CONTACT WITHOUT SILVER | Diesel Locomotive Parts |
| 9960283G1 | SHUNT | Diesel Locomotive Parts |
| 8205673 | STARTING CONTACTOR | Diesel Locomotive Parts |
| 8136453 | CONTACT | Diesel Locomotive Parts |
| 8136458 | COIL | Diesel Locomotive Parts |
| 8278698 | COIL MAGNET RESISTANCE 145 OHMS | Diesel Locomotive Parts |
| 8269681 | CONTACT | Diesel Locomotive Parts |
| 8476047 | CONTACTOR | Diesel Locomotive Parts |
| 8190640 | COIL 590 OHMS | Diesel Locomotive Parts |
| 8184399 | CONTACT ASSEMBLY | Diesel Locomotive Parts |
| 21513120 | LOCKWASHER HIGH COLLAR | Diesel Locomotive Parts |
| 2151351-1 | CAPSCREW | Diesel Locomotive Parts |
| 2155932 | COMPOUND, | Diesel Locomotive Parts |
| 1V6125X0012 | SPRING TYPE-477, FISHER | Oil and Gas Parts Equipment |
| 8414907 | TURBOCHARGER CHANGEOUT | Diesel Locomotive Parts |
| 8492384 | SWITCH MICRO KIT, CUTOUT | Diesel Locomotive Parts |
| 8424290 | TEMPERATURE SWITCH | Diesel Locomotive Parts |
| S751 | 110m PRIMARY SEAL | Oil and Gas Parts Equipment |
| S751-1 | GALV. PRIMARY SEAL WAX SCRAPER | Oil and Gas Parts Equipment |
| 8340000 | SOAK BACK FILTER 3″x7″x20″ | Diesel Locomotive Parts |
| 40035123 | FILTER | Diesel Locomotive Parts |
| 8343161 | SEAL | Diesel Locomotive Parts |
| 40053463 | FILTER-FUE | Diesel Locomotive Parts |
| 40061836 | O RING | Diesel Locomotive Parts |
| 40058957 | O RING | Diesel Locomotive Parts |
| 8347199 | CARTRIDGE FILTER AIR COMP AK-3 | Diesel Locomotive Parts |
| 10532238 | GASKET | Diesel Locomotive Parts |
| 40080627 | FILTER | Diesel Locomotive Parts |
| 9571663 | GASKET | Diesel Locomotive Parts |
| 8085182 | SEAL | Diesel Locomotive Parts |
| 8478924 | SEAL | Diesel Locomotive Parts |
| 40024940 | GASKET | Diesel Locomotive Parts |
| 40039277 | GASKET | Diesel Locomotive Parts |
| 40039279 | GASKET | Diesel Locomotive Parts |
| 40040951 | GASKET | Diesel Locomotive Parts |
| 9540663 | FILTER-PAD | Diesel Locomotive Parts |
| 2X9267 | GASKET | Diesel Locomotive Parts |
| 84A204576P1 | AIR FILTER FIBERGLASS BAG | Diesel Locomotive Parts |
| 84A207699P2 | ELEMENT FILTER AIR | Diesel Locomotive Parts |
| 2X2784 | FILTER OIL LUBRICATION | Diesel Locomotive Parts |
| 2X9411 | FILTER | Diesel Locomotive Parts |
| 132X1902 | FILTER | Diesel Locomotive Parts |
| S752 | 110m SECONDARY SEAL | Oil and Gas Parts Equipment |
| 3X9722 | MANIFOLD | Diesel Locomotive Parts |
| 3X9723 | MANIFOLD | Diesel Locomotive Parts |
| 3X11759 | INLET VALVE | Diesel Locomotive Parts |
| 3X9748 | PRESSURE VALVE | Diesel Locomotive Parts |
| 132X1819-1 | Filter, 2 Piece,Fuel,10 Inch, W/ scallops SUP T | Diesel Locomotive Parts |
| 145315 | PENTAIR SAND DOLLAR SD35 15″ SAND FILTER C/W VALVE | Industrial Parts & Misc |
| 145321 | PENTAIR SAND DOLLAR SD40 19″ SAND FILTER C/W VALVE | Industrial Parts & Misc |
| 145322 | PENTAIR 22″ SD60 SAND DOLLAR FILTER, W/ VALVE | Industrial Parts & Misc |
| 145367 | PENTAIR 24″ SD70 SAND DOLLAR FILTER, TOP MOUNT | Industrial Parts & Misc |
| 145386 | PENTAIR SAND DOLLAR SD80 26″ TOP MOUNT SAND FILTER W/ 2″ HYBRID | Industrial Parts & Misc |
| 262506 | PENTAIR/STARITE FILTER VALVE, 1.5″ HIFLO TM 6POS, TAGELUS, SAND | Industrial Parts & Misc |
| 263085 | PENTIAR 2″ HYBRID VALVE FOR TA60D, SD80, CRISTAL FLO II 26″ FILTERS | Industrial Parts & Misc |
| 41A281728P1 | DIODE | Industrial Parts & Misc |
| 055012-10-00 | SKYTOP 38×8 LINING KIT | Oil and Gas Parts Equipment |
| AP20CS | MAST for 20 ft DRILL PIPES | Oil and Gas Parts Equipment |
| PULLDOWN18 | PULL-DOWN SYSTEM | Oil and Gas Parts Equipment |
| 0M020AN0010 | HOSES CHAIN SUPPORT | Oil and Gas Parts Equipment |
| TF15A01 | TOP OF MAST (CROWN BLOCK) | Oil and Gas Parts Equipment |
| SL20A01 | ROTARY HEAD POWER CARRIAGE | Oil and Gas Parts Equipment |
| 0M020ST0001 | SUPPORT FOR ROTARY HEAD TILTING | Oil and Gas Parts Equipment |
| 0M020PC0012 | CONTROL PANEL FIXED | Oil and Gas Parts Equipment |
| RGP430 | MAIN WINCH | Oil and Gas Parts Equipment |
| DBAZP2 | DUPLEX MUD PUMP | Oil and Gas Parts Equipment |
| TUCOM203 | AIR/MUD PIPEWORK | Oil and Gas Parts Equipment |
| MOAUMI20 | ASSEMBLY | Oil and Gas Parts Equipment |
| 8028972 | GEAR ASSEMBLY | Diesel Locomotive Parts |
| 8029037 | GEAR | Diesel Locomotive Parts |
| 8106724 | GEAR ASSEMBLY – REAR | Diesel Locomotive Parts |
| 8152073 | PISTON | Diesel Locomotive Parts |
| 8379914 | BEARING | Diesel Locomotive Parts |
| 8416930 | GEAR RING | Diesel Locomotive Parts |
| 8319657 | RECEPTACLE | Diesel Locomotive Parts |
| 8466230 | SWITCH | Diesel Locomotive Parts |
| 8339386 | COIL MAGNET RESISTANCE 125 Ohms 74 V. | Diesel Locomotive Parts |
| 8260287 | RECEPTACLE | Diesel Locomotive Parts |
| 8374003 | TRANSFORMER | Diesel Locomotive Parts |
| 8330135 | SWITCH – SLIDE | Diesel Locomotive Parts |
| 8330131 | SWITCH SLIDE-LIGHTS- ENGINE ROOM | Diesel Locomotive Parts |
| 40004683 | MAIN ALTERNATOR -AR10-D14 | Diesel Locomotive Parts |
| 23060MBW33 | BEARING, MTK | Oil and Gas Parts Equipment |
| 29244EM | BEARING, MTK | Oil and Gas Parts Equipment |
| 30236 | BEARING, NKE | Oil and Gas Parts Equipment |
| 24136EW33 | BEARING, NKE | Oil and Gas Parts Equipment |
| 23060CC/W33 | BEARING, LOTTON | Oil and Gas Parts Equipment |
| 23256CC/W33 | BEARING, LOTTON | Oil and Gas Parts Equipment |
| 29244E | BEARING, LOTTON | Oil and Gas Parts Equipment |
| 30236J2 | BEARING, LOTTON | Oil and Gas Parts Equipment |
| 22334CC/W33 | BEARING, LOTTON | Oil and Gas Parts Equipment |
| 24136CC/W33 | BEARING, LOTTON | Oil and Gas Parts Equipment |
| 9570751 | GASKET | Diesel Locomotive Parts |
| 8367100 | WASHER TRUST | Diesel Locomotive Parts |
| 40034626 | GASKET | Diesel Locomotive Parts |
| 8057487 | GASKET | Diesel Locomotive Parts |
| 8330335 | GASKET | Diesel Locomotive Parts |
| 8269618 | GASKET | Diesel Locomotive Parts |
| 8058257 | GASKET | Diesel Locomotive Parts |
| 8330993 | GASKET | Diesel Locomotive Parts |
| 8382843 | GASKET | Diesel Locomotive Parts |
| 8347757 | GASKET | Diesel Locomotive Parts |
| 8341293 | GASKET | Diesel Locomotive Parts |
| 22610466-3 | Nozzle Ring | Diesel Locomotive Parts |
| 41C630226G1 | CABLE- B/H & COM COIL | Diesel Locomotive Parts |
| 7493646 | WEAR PLATE, DRIVING FACE LINER | Diesel Locomotive Parts |
| 7493667 | WEAR PLATE | Diesel Locomotive Parts |
| 7493726 | WEAR PLATE | Diesel Locomotive Parts |
| 7490632 | REAR COVER | Diesel Locomotive Parts |
| 271558 | GASKET | Diesel Locomotive Parts |
| 7491077 | COVER | Diesel Locomotive Parts |
| 7494211 | RESILIENT THRUST UNIT 5-1/2X10 J/B | Diesel Locomotive Parts |
| 8300183 | PINION NUT | Diesel Locomotive Parts |
| 8300182 | WASHER | Diesel Locomotive Parts |
| 8407506 | DUST GUARD | Diesel Locomotive Parts |
| 7498210 | SHIM | Diesel Locomotive Parts |
| 7451293 | OUTER RACE 5-1/2X10 J/B | Diesel Locomotive Parts |
| 7451945 | ROLLER 5-1/2X10 J/B | Diesel Locomotive Parts |
| 7451944 | CAGE 5-1/2X10 J/B | Diesel Locomotive Parts |
| 7451291 | CENTER RING 5-1/2X10 J/B | Diesel Locomotive Parts |
| 8104188 | PLATE | Diesel Locomotive Parts |
| 6734507G3 | LEAD | Diesel Locomotive Parts |
| KITNIPPLES | KIT OF WASHER & FITTINGS OF THE HYDRAULIC CIRCUIT | Water Well Rig |
| CACS15010 | FILTER | Water Well Rig |
| CAMR6304 | FILTER CARTRIDGE | Water Well Rig |
| RFVEHPA42 | FAN FOR HYDRAULIC OIL COOLER HPA 42/52 | Water Well Rig |
| VBP25880 | SAFETY BLOCKING VALVE 1/2 | Water Well Rig |
| VVBCD38 | SAFETY BLOCKING VALVE 3/8 | Water Well Rig |
| VSOD5882 | RIGHT BLOCKING VALVE FOR STABILIZERS | Water Well Rig |
| VSOS5883 | LEFT BLOCKING VALVE FOR STABILIZERS | Water Well Rig |
| VLDBH10 | PULL-UP/DOWN REGULATION VALVE | Water Well Rig |
| MF600608 | PRESSURE GAUGE 0-600 BAR | Water Well Rig |
| MF4006089 | PRESSURE GAUGE 0-400 BAR | Water Well Rig |
| MF606083 | PRESSURE GAUGE 0-60 BAR | Water Well Rig |
| MNPV01 | MANIPOL.DANFOSS | Water Well Rig |
| MNP06 | MANIPOL.DANFOSS | Water Well Rig |
| MNPV02B | MANIPOL.PVRE | Water Well Rig |
| MNPV03M | MANIPULATOR | Water Well Rig |
| MNELA22 | MANIPULATOR | Water Well Rig |
| MNELA24 | MANIPULATOR | Water Well Rig |
| POTSCHEL28 | POTENTIOMETER | Water Well Rig |
| SCVPUMC | ELECTRONIC CARD | Water Well Rig |
| REG06 | ELECTRONIC CARD | Water Well Rig |
| KRV90PPC | ROLLER BEARING PINS | Water Well Rig |
| INPUDI18 | BREASER | Water Well Rig |
| DG4004468 | REINFORCED NEOPRENE FLANGE | Water Well Rig |
| MP118110 | SPRING | Water Well Rig |
| BRW300 | GUIDE RING FOR SPRING+ STOP RING FOR GASKETS (CODES BRW3001 -BRW3002 – BRW3003) | Water Well Rig |
| CV76125 | MUD SEAL " V" | Water Well Rig |
| CUS32020 | BEARING | Water Well Rig |
| CTW300 | CENTRAL BODY | Water Well Rig |
| MM130100 | HOLDING RING | Water Well Rig |
| PTMR3470 | WEAR DIES | Water Well Rig |
| G8097 | CYLINDER GASKET KIT | Water Well Rig |
| PTMR3471 | WEAR DIES | Water Well Rig |
| 99BB181112H | BRAKE BLOCK | Oil and Gas Parts Equipment |
| 8465021 | SWITCH PRESSURE | Diesel Locomotive Parts |
| 9320758 | CIRCUIT BREAKER | Diesel Locomotive Parts |
| 9335530 | LAMP RECEPTACLE | Diesel Locomotive Parts |
| 8190621 | LAMP | Diesel Locomotive Parts |
| 8213093 | SWITCH ROTATRY SNAP | Diesel Locomotive Parts |
| 8230431 | SWITCH | Diesel Locomotive Parts |
| 8295963 | SWITCH | Diesel Locomotive Parts |
| 8117872 | SWITCH | Diesel Locomotive Parts |
| 8340775 | SWITCH | Diesel Locomotive Parts |
| 8448173 | THERMOSTAT | Diesel Locomotive Parts |
| 8425056 | PLUG | Diesel Locomotive Parts |
| 40048720 | PUMP ASM, FUEL AC | Diesel Locomotive Parts |
| 9329391 | VALVE ASY | Diesel Locomotive Parts |
| 10478829 | STARTER MOTOR WITHOUT MOUNTING | Diesel Locomotive Parts |
| 8419910 | CAMSHAFT ASSEMBLY ENGINE LEFT BANK | Diesel Locomotive Parts |
| 8419911 | CAMSHAFT ASSEMBLY ENGINE RIGHT BANK | Diesel Locomotive Parts |
| 8117605 | LUBE OIL LINES | Diesel Locomotive Parts |
| 8322064 | TURBOCHARGER LUBE OIL FILTER | Diesel Locomotive Parts |
| 8352551 | PIPE ASSEMBLY DISCHARGE LEFT BANK | Diesel Locomotive Parts |
| 8352553 | PIPE ASSEMBLY INLET LEFT BANK | Diesel Locomotive Parts |
| 8352552 | PIPE ASSEMBLY DISCHARGE RIGHT BANK | Diesel Locomotive Parts |
| 8352554 | PIPE ASSEMBLY INLET RIGHT BANK | Diesel Locomotive Parts |
| 8163891 | FUEL OIL PIPING RIGHT BANK | Diesel Locomotive Parts |
| 9320130 | DETECTOR ASSEMBLY | Diesel Locomotive Parts |
| 9580730 | ENGINE GASKET KITS ASSEMBLY | Diesel Locomotive Parts |
| 16-645E3B CORE | NON-FAILED REBUILDABLE CORE ENGINE COMPLETE | Diesel Locomotive Parts |
| 16-645E3B RTO | RTO COMPLETE ENGINE | Diesel Locomotive Parts |
| CNTR5654 | ROLLER BEARING | Water Well Rig |
| RDMR3498 | REDUCTION | Water Well Rig |
| RL91440 | AIR RIDE BAG FIRESTONE | Oil and Gas Parts Equipment |
| 10204R | Red Round, 1 Bulb, Marker Clearance Light, PC, PL-10, 24V | Oil and Gas Parts Equipment |
| 11772 | PENTAIR 1HP WHISPERFLO PUMP | Oil and Gas Parts Equipment |
| 11773 | PENTAIR1.5HP WHISPERFLO PUMP | Oil and Gas Parts Equipment |
| 11774 | PENTAIR 2HP WHISPERFLO PUMP | Oil and Gas Parts Equipment |
| 11583 | PENTAIR 230V 3HP STD WHISPERFLO PUMP | Oil and Gas Parts Equipment |
| 1103-FB-275-A2-10 | 2.75 FB-2 EQUALIZING CHECK VALVE W/ 1.75 F/N AND WJ COLLET | Oil and Gas Parts Equipment |
| HE697THM160 | SERIES 90-70 THERMOCOUPLE INPUT MODULE 16 CH. | Oil and Gas Parts Equipment |
| P37X378BARU20-7 | PUMP, HYDRAULIC, PARKER | Oil and Gas Parts Equipment |
| 644217-01-00-01 | TOP SEAL, CAMRAM (TM) 11″ 3-5-10M "U" BOP | Oil and Gas Parts Equipment |
| MVR400/U | GE LED165/M400/740 – 165W LED – 400W HID Equal | Oil and Gas Parts Equipment |
| 6JD84 | Eye Wash Cartridge, For Use With MFR. NO. 1000 | Oil and Gas Parts Equipment |
| 5C01H70A | SPROCKET LINE SHAFT 24T 140-6 | Oil and Gas Parts Equipment |
| 5C01H71A | SPROCKET LINE SHAFT 66T 120-6 | Oil and Gas Parts Equipment |
| 5C01H72A | SPROCKET LINE SHAFT 45T 120-6 | Oil and Gas Parts Equipment |
| 5C01H73A | SPROCKET LINE SHAFT 34T 140-6 | Oil and Gas Parts Equipment |
| 5C01H07A | SPROCKET DRUM SHAFT 62T 160-8 | Oil and Gas Parts Equipment |
| 5C01I09A | SPROCKET INPUT SHAFT 28T 120-3 | Oil and Gas Parts Equipment |
| 5C01H15A | SPROCKET INPUT SHAFT 24T 120-6 | Oil and Gas Parts Equipment |
| 5C01H16A | SPROCKET INPUT SHAFT 28T 120-6 | Oil and Gas Parts Equipment |
| 5C01H81A | SPROCKET JACK SHAFT 28T 140-6 | Oil and Gas Parts Equipment |
| 5C01H83A | SPROCKET JACK SHAFT 60T 140-6 | Oil and Gas Parts Equipment |
| FNL32-000513-0000 | CONCENTRATE EYESALINE 180OZ | Oil and Gas Parts Equipment |
| 5GE761A19 | TRACTION MOTOR | Diesel Locomotive Parts |
| MONNEX BCE | DRY CHEMICAL POWDER FOR FIES CLASS B,C,E | Oil and Gas Parts Equipment |
| ER2286 | BEL Lithium Thionyl Chloride 3.6V | Oil and Gas Parts Equipment |
| TL-2450/P | BATTERY, NON-RECHARGEABLE, COIN/BUTTON, LITHIUM, 3.6VDC, 550MAH, THRU-HOLE TADIRAN | Oil and Gas Parts Equipment |
| 127A204P22 | Gasket, 5.282″ Bushing, Transformer, GE | Oil and Gas Parts Equipment |
| 8455665 | MAIN BEARING REAR LOWER | Diesel Locomotive Parts |
| 8069019 | GEAR, CAMSHAFT DRIVE | Diesel Locomotive Parts |
| 8483944 | PINION 58T | Diesel Locomotive Parts |
| 8069014 | GEAR 79T | Diesel Locomotive Parts |
| 9548905 | RETAINER BEARING | Diesel Locomotive Parts |
| 8409745 | CON ROD BOLT KIT | Diesel Locomotive Parts |
| W01B796BB | BUSHING 1344AMP | Oil and Gas Parts Equipment |
| OR-HSN239-KA183 | CAP SEAL | Oil and Gas Parts Equipment |
| CLP-2H7-302-S | CLAPPER | Oil and Gas Parts Equipment |
| OR-HSN331-KA183 | CALPPER SEAL | Oil and Gas Parts Equipment |
| SBBT.CROWN | PACKING – STUFFING BOX – 1 0 CROWN | Oil and Gas Parts Equipment |
| 9536664 | CLIP | Diesel Locomotive Parts |
| 441633 | BC DRY CHEMICAL SUPPRESSING AGENT | Oil and Gas Parts Equipment |
| 41C635232G3 | GEAR 38 T | Diesel Locomotive Parts |
| 41C632784P2 | GEAR 92 T | Diesel Locomotive Parts |
| 998X67 | CARBON BRUSH | Diesel Locomotive Parts |
| 8117627 | THICK PLAIN WASHER 21/32 I.D. X 2-5/8 O.D. X 5/16 INCH | Diesel Locomotive Parts |
| 8465805 | SPECIAL HEX HEAD BOLT 5/16-24 X1-1/16 | Diesel Locomotive Parts |
| 8084760 | BASE ENGINE TURNING JACK | Diesel Locomotive Parts |
| 8336210 | SPECIAL HEARDENED THICK WASHER 1-17/32 I.D. X 2-7/16 O.D. X 9/32 INCH | Diesel Locomotive Parts |
| 8346389 | CLEAT ALTERNATOR CABLE | Diesel Locomotive Parts |
| 124829 | HEX NUT 3/8 – 16 GR5, ZINC | Diesel Locomotive Parts |
| 8422294 | RING AIR INTAKE – INNER – WELDS TO HOUSING | Diesel Locomotive Parts |
| 8018847 | PLAIN WASHER 1-1/32 I.D | Diesel Locomotive Parts |
| 8428603 | CLEAT HALF – CABLE – 2-3/4 X 3/4 X 1/2 – PLASTIC | Diesel Locomotive Parts |
| 8038596 | BUSHING INSULATING – 1 F.P.T. | Diesel Locomotive Parts |
| 8088358 | NUT | Diesel Locomotive Parts |
| 8301761 | PLUG 3 POLE – MALE | Diesel Locomotive Parts |
| 9515453 | PLATE | Diesel Locomotive Parts |
| 9433487 | HEX HEAD BOLT 3/8-16 X 1 | Diesel Locomotive Parts |
| 8347756 | GASKET ELBOW TO CRANKCASE | Diesel Locomotive Parts |
| 8412061 | COOLER ASSEMBLY LUBE OIL | Diesel Locomotive Parts |
| 8366785 | GASKET ELBOWS TO COOLER AND STRAINER | Diesel Locomotive Parts |
| 8098593 | TUBING.. 1/4 O.D. X .028 WALL COPPER BRAZED STEEL | Diesel Locomotive Parts |
| 8165817 | WASHER . SPRING – 1-1/2 | Diesel Locomotive Parts |
| 8336209 | BOLT.. OFFSET HEAD – 1-1/2 – 12 X 4-1/16 – COUPLING DISC | Diesel Locomotive Parts |
| 8273218 | FITTING MOQ10 | Diesel Locomotive Parts |
| 8254773 | BOLT CLAMPING RING TO UPPER AIR DUCT GUIDE BRACKET AND UNDERFRAME -3/8-] 6 X 2 HEX. HEAD | Diesel Locomotive Parts |
| 8157821 | BOLT ASSEMBLY .. TERMINAL CNNECTOR – 5/16-18X 1-7/8 GR5 ZINC | Diesel Locomotive Parts |
| 9507213 | BLADE. TIP SHAKE DIM- 061 | Diesel Locomotive Parts |
| 9518646 | BLADE S13 .31 TO .050 | Diesel Locomotive Parts |
| 8359370 | TOB LOCK 25 DEGREE 645 | Diesel Locomotive Parts |
| 9558540 | RETAINER | Diesel Locomotive Parts |
| 8329531 | SHAFT-SUNGEAR | Diesel Locomotive Parts |
| 8479962 | IMPELLER | Diesel Locomotive Parts |
| 8261284 | IMPELLER SPACER,SD 645 | Diesel Locomotive Parts |
| 9546770 | NUT-1 1/8-12 SPECIAL | Diesel Locomotive Parts |
| 8358553 | NUT – Lock – 1-1/8-12 HEX | Diesel Locomotive Parts |
| 8358562 | SEAL IMPELLER MODEL 645 | Diesel Locomotive Parts |
| 40061562 | BEARING COMP.JOURNAL SPHERICAL | Diesel Locomotive Parts |
| 9540818 | TRUST BEARING | Diesel Locomotive Parts |
| 8358564 | SEAL COMPRESSOR BEARING 645 | Diesel Locomotive Parts |
| 8416706 | SHROUD RING 567/645 | Diesel Locomotive Parts |
| 8369127 | BOLT ASSEMBLY | Diesel Locomotive Parts |
| 40051266 | DIFFUSER ASY | Diesel Locomotive Parts |
| 40045525 | SEAL RING | Diesel Locomotive Parts |
| 8405517 | NOZZLE RING 645 30.23 SQ IN | Diesel Locomotive Parts |
| 9547101 | NOZZLE RING | Diesel Locomotive Parts |
| 8366280 | PIN DRIVE | Diesel Locomotive Parts |
| 40045696 | CAMPLATE CLUTCH | Diesel Locomotive Parts |
| 40045959 | PIN RETAINER CUP | Diesel Locomotive Parts |
| 8337614 | SHAFT TURBO | Diesel Locomotive Parts |
| 8307494 | GEAR SET- PLANTARY | Diesel Locomotive Parts |
| 8421487 | PLANET BEARING | Diesel Locomotive Parts |
| 8306950 | SHAFT | Diesel Locomotive Parts |
| 40015822 | BEARING CARRIER SHAFT | Diesel Locomotive Parts |
| 9416636 | ROLLER BRG CARRIER GEAR SUPPORT | Diesel Locomotive Parts |
| 9338193 | ROTOR ASSEMBLY . | Diesel Locomotive Parts |
| 8358549 | WHEEL ASSEMBLY, MDL 645 | Diesel Locomotive Parts |
| 9556209 | PINION 17T | Diesel Locomotive Parts |
| 118807 | TEE.. 3/8T x 3/8T x 3/8T | Diesel Locomotive Parts |
| 8410745 | HOUSING.. AIR FILTER- ENGINE | Diesel Locomotive Parts |
| 95525-90147 | TAPER ROLLER BEARING | Oil and Gas Parts Equipment |
| 302-TVL-510ASD | UN GROUND THRUST BEARING | Oil and Gas Parts Equipment |
| 56160 | OIL SEAL | Oil and Gas Parts Equipment |
| 310-TVL-625ASD | UN GROUND THRUST BEARING | Oil and Gas Parts Equipment |
| MA5226TV | OUTER PINION BEARING | Oil and Gas Parts Equipment |
| 40034666 | BRUSH CARBON AR20 | Diesel Locomotive Parts |
| 40132923 | SPRING COMPANION ALT. SLIP RING BRUSH | Diesel Locomotive Parts |
| 40122623 | BRUSH CARBON- D14/D18 | Diesel Locomotive Parts |
| 40160184 | NEW – TRACTION MOTOR- D43 | Diesel Locomotive Parts |
| 40104066 | COOLING FAN, RADIATOR 48″ | Diesel Locomotive Parts |
| 10659917 | PUMP – FUEL | Diesel Locomotive Parts |
| 40094071 | PUMP ASSEMBLY- SOAKBACK | Diesel Locomotive Parts |
| 10478828 | STARTER 32V CW 50MT | Diesel Locomotive Parts |
| 1906989 | CARBON BRUSH | Diesel Locomotive Parts |
| 40067164 | BRUSH – CARBON, 2WAFER DE 7000 | Diesel Locomotive Parts |
| 40010561 | CONTACTOR | Diesel Locomotive Parts |
| 9325207 | CONTACTOR – ST | Diesel Locomotive Parts |
| 40124228 | CONTACTOR, AC 3 POLE | Diesel Locomotive Parts |
| 40126167 | CONTACTOR, AC 3 POLE | Diesel Locomotive Parts |
| 40124229 | CONTACTOR | Diesel Locomotive Parts |
| 9579788 | CONTACTOR – POWER – SGC | Diesel Locomotive Parts |
| 40050359 | GROUND RELAY | Diesel Locomotive Parts |
| 41B581248P12 | TRANSISTOR | Diesel Locomotive Parts |
| 41A271102G1 | CARD | Diesel Locomotive Parts |
| DC6S6/75V | BULB | Diesel Locomotive Parts |
| 41B537105G1 | SPEED SENSOR | Diesel Locomotive Parts |
| 22600522-6 | ROTOR ASSEMBLY | Diesel Locomotive Parts |
| 2151697-1 | NUT 1/2-13 | Diesel Locomotive Parts |
| 22820126 | BELLOW CONNECTORS | Diesel Locomotive Parts |
| 2261611-1 | SHROUD RING | Diesel Locomotive Parts |
| 22610218 | SHIM | Diesel Locomotive Parts |
| 21513510-1 | Capscrew 1/2-13×11/4 | Diesel Locomotive Parts |
| 21513513-1 | Capscrew 1/2-13×11/2 | Diesel Locomotive Parts |
| 8864950P169 | BEARING BALL – C.E | Diesel Locomotive Parts |
| 06-038-817 | BRAKE, SET OF 22 BLOCKS WITH HARDWARE | Oil and Gas Parts Equipment |
| 8176657 | HOUSING ASSEMBLY-GOVERNOR DRIVE | Diesel Locomotive Parts |
| 8176657 R | HOUSING ASSEMBLY-GOVERNOR DRIVE | Diesel Locomotive Parts |
| TC650-4.500 | FCI INSERTS F/4-1/2″ TBG | Oil and Gas Parts Equipment |
| DSTC800 | 8IN KC NIPPLE PLATED STEEL | Oil and Gas Parts Equipment |
| 87040045 | PUMP SUPERFLO PNTR 1.50HP 230-50HZ P-SFL-151 | Oil and Gas Parts Equipment |
| 87040055 | PUMP SUPER PNTR 2HP 220V-P-SFL-201 | Oil and Gas Parts Equipment |
| 22611310 | RING | Diesel Locomotive Parts |
| 9570590 | GASKET | Diesel Locomotive Parts |
| 95144257 | ROD | Diesel Locomotive Parts |
| 7056B272 | DIAPHRAGM PROTECTOR | Oil and Gas Parts Equipment |
| E40 | Mud Diaphragm Rubber Cup | Oil and Gas Parts Equipment |
| W15 | FLUID, INSTRUMENT QUART "RED", C/W MSDS | Oil and Gas Parts Equipment |
| 10128185-001 | PANEL MOUNT IDICATOR, 6″ 0-6000PSI | Oil and Gas Parts Equipment |
| 777703 | ENGINE WATER TREATMENT25 LTR(9108) | Oil and Gas Parts Equipment |
| 8700A055 | VALVE, TONG RELIEF | Oil and Gas Parts Equipment |
| 7056B279 | VALE , SUPER SPOOL | Oil and Gas Parts Equipment |
| 7030B082 | SUCTION STRAINER | Oil and Gas Parts Equipment |
| 17304X2-010 | DISC | Oil and Gas Parts Equipment |
| 16563X12-010 | DISC HOLDER | Oil and Gas Parts Equipment |
| 1899900-16 | ALPACON MULTICIP II, LUBE OIL SEPARATOR 5L | Oil and Gas Parts Equipment |
| RBS24K3 | BALL VALVE 3″ | Oil and Gas Parts Equipment |
| BD920101 | DESSICANT, 3/16″ BEAD, 15LBS | Oil and Gas Parts Equipment |
| 8700A396 | DRIVESHAFT, SHORT COUPLED | Oil and Gas Parts Equipment |
| G662-300 | KELLY HOSE, 3″ REINFORCED, 2400PSI | Oil and Gas Parts Equipment |
| G662-300MM30 | KELLY HOSE, 3″, REINFORCED, 2400psi, 30FT | Oil and Gas Parts Equipment |
| 7000B005 | CYLINDER, 5 X 60 HYDRAULIC | Oil and Gas Parts Equipment |
| 8700A392 | SEAL KIT, VALVE SECTION | Oil and Gas Parts Equipment |
| 7056B221 | DUAL SCALE PRESSURE GAUGE | Oil and Gas Parts Equipment |
| S502-74MM60 | KELLY HOSE 3″, REINFORCED, MNPT5000psi | Oil and Gas Parts Equipment |
| 2685767-175079 | SCREW, IMP LOCK F/PEERLESS C815A END SUCTION PUMP | Oil and Gas Parts Equipment |
| 5229335 | INJECTOR | Diesel Locomotive Parts |
| 8482822 | CRANKSHAFT | Diesel Locomotive Parts |
| 8028006 | COLLAR-THRUST | Diesel Locomotive Parts |
| 8485722 | GEAR ASSEMBLY . | Diesel Locomotive Parts |
| 8481374 | STUBSHAFT-ACCESSORY DRIVE COUPLING | Diesel Locomotive Parts |
| 082060-01-54 | PACKING, SKYTOP | Oil and Gas Parts Equipment |
| 082060-01-58 | PACKING SEAL, SKYTOP | Oil and Gas Parts Equipment |
| 082060-01-57 | PACKING SEAL, SKYTOP | Oil and Gas Parts Equipment |
| 057001-01-01 | SLINGER OIL, SKYTOP | Oil and Gas Parts Equipment |
| 918450+76 | X786.25 COM SH PISTON RING, SKYTOP | Oil and Gas Parts Equipment |
| 082060-01-83 | SEAL WIPER, SKYTOP | Oil and Gas Parts Equipment |
| 082060-01-82 | SEAL WIPER, SKYTOP | Oil and Gas Parts Equipment |
| 082060-01-81 | WIPER RING, SKYTOP | Oil and Gas Parts Equipment |
| 379099-CHE | DRIVE KEY | Oil and Gas Parts Equipment |
| 22-P-25-2-CHE | BEARING CAP GASKET | Oil and Gas Parts Equipment |
| 28-P-119-CHE | OIL SEAL | Oil and Gas Parts Equipment |
| 28-P-63-CHE | OBS_OIL SEAL, 'O' RING | Oil and Gas Parts Equipment |
| 28-P-64-CHE | OIL SEAL, 'O' RING | Oil and Gas Parts Equipment |
| 31-P-55-CHE | THRUST WASHER | Oil and Gas Parts Equipment |
| 21-P-383-CHE | PUMP FLANGE | Oil and Gas Parts Equipment |
| 644218-16-00-01 | PACKER, SKEWED | Oil and Gas Parts Equipment |
| 644218-01-00-01 | PACKER, BLIND, | Oil and Gas Parts Equipment |
| 40116291 | ARMATURE ASSEMBLY- D43 TM | Diesel Locomotive Parts |
| 9312490 | SLINGER OUTER- PINION END | Diesel Locomotive Parts |
| 40081633 | SEAL- OUTER PINION END 10-3/4″ O.D | Diesel Locomotive Parts |
| 9324326 | BEARING COVER- PINION END | Diesel Locomotive Parts |
| 8137718 | WASHER, LOCK 1/2 | Diesel Locomotive Parts |
| 8240731 | SEAL – BEARING COVER C.E D29 | Diesel Locomotive Parts |
| 9541869 | BEARING COVER – COMMUTATOR END | Diesel Locomotive Parts |
| 179885 | BOLT HEX HEAD 1/2-13-20 X 2 | Diesel Locomotive Parts |
| 40078105 | RETAINER- BEARING, COMMUTATOR END | Diesel Locomotive Parts |
| 9440141 | BEARING ASSEMBLY C.E – D29/D29CC | Diesel Locomotive Parts |
| 40080001 | BEARING ASSEMBLY- P.E | Diesel Locomotive Parts |
| 95572332 | PINION GEAR- 17TEETH | Diesel Locomotive Parts |
| 9325982 | BRUSH HOLDER -D43 TM | Diesel Locomotive Parts |
| 8338116 | SPRING CELL ASSEMBLY-CONSTANT PRESSURE | Diesel Locomotive Parts |
| 8417727 | BOOT- BH INSULATOR STUD – RUBBER | Diesel Locomotive Parts |
| 8417728 | BRUSH HOLDER STUD HI RISE – D77 | Diesel Locomotive Parts |
| 8140503 | MAIN FIELD INTERPOLE COIL LEADS | Diesel Locomotive Parts |
| 8249819 | GREASE SHELL CYPRINA RA/C3 | Diesel Locomotive Parts |
| 8204167 | SEATING STONE | Diesel Locomotive Parts |
| 9557233 | PINION GEAR- 18T | Diesel Locomotive Parts |
| Z03-2128875X500 | SEAL, BONNET NITRILE F/ TORUS 11″ 3M ANNULAR BOP | Oil and Gas Parts Equipment |
| 22530054A | SPLIT BRONZE GUIDE | Oil and Gas Parts Equipment |
| 1625B101 | CARRIER, SEAL | Oil and Gas Parts Equipment |
| 1625-222 | SNAP RING, VALVE CAP | Oil and Gas Parts Equipment |
| 145240 | TAGELUS TOP MOUNT FILTER | Oil and Gas Parts Equipment |
| 140243 | TRITON II SIDE MOUNT FILTER | Oil and Gas Parts Equipment |
| 261055 | SAND FILTER VALVE | Oil and Gas Parts Equipment |
| R171096 | RAINBOW AUTOMATIC CHLORINE FEEDER TYPE I-LINE | Oil and Gas Parts Equipment |
| R171026 | RAINBOW AUTOMATIC CHLORINE FEEDER TYPE OFF-LINE | Oil and Gas Parts Equipment |
| 84120100 | S15,CIRC,WEIR, 1-1/2 IN THREADED | Oil and Gas Parts Equipment |
| 84120200 | S15, CIRC. WEIR, 2 IN., THREADED | Oil and Gas Parts Equipment |
| 500108 | 8″ STARGUARD COVER W/LONG RING (SINGLE), WHITE | Oil and Gas Parts Equipment |
| 500120 | 8″ STARGUARD DRAIN W/DUAL 2″ BOTTOM PORTS ABS SUMP & COVER (2PACK), WHITE | Oil and Gas Parts Equipment |
| 180006 | FNS PLUS FILTER (DE) MODEL FNSP24 | Oil and Gas Parts Equipment |
| 180007 | FNS PLUS FILTER (DE) MODEL FNSP36 | Oil and Gas Parts Equipment |
| 180008 | FNS PLUS FILTER (DE) MODEL FNSP48 | Oil and Gas Parts Equipment |
| 180009 | FNS PLUS FILTER (DE) FNSP60 | Oil and Gas Parts Equipment |
| 272541 | O-RING VALVE BODY | Oil and Gas Parts Equipment |
| 152165 | ASSEMBLY, PLASTIC CLAMP 2 PIECE | Oil and Gas Parts Equipment |
| 150084 | LATERAL, SD35, SD40,BLACK | Oil and Gas Parts Equipment |
| 150085 | LATERAL XLONG, SD60,SD70,SD80, BLACK | Oil and Gas Parts Equipment |
| 154712Z | DRAIN CAP | Oil and Gas Parts Equipment |
| 154715 | GASKET | Oil and Gas Parts Equipment |
| 154711 | DRAIN | Oil and Gas Parts Equipment |
| MYSTIC WHITE II | | Oil and Gas Parts Equipment |
| 120316 | SEAL, MECHANICAL 1.5″ (1 1/2″) DURAMETALLIC | Oil and Gas Parts Equipment |
| 34010493 | REPAIR KIT, -PRESCO PILOT, MODEL 2L-H+L- TI-P87-A+N | Oil and Gas Parts Equipment |
| 36010727 | REPAIR KIT , LATCHING TRIP VALVE ,3-LINE PILOT | Oil and Gas Parts Equipment |
| 8269842 | PIN-PISTON | Diesel Locomotive Parts |
| 8059699 | SNAP RING | Diesel Locomotive Parts |
| 5229259 | FUEL INJECTOR REPAIR KIT | Diesel Locomotive Parts |
| 5229779 | INJECTOR KIT | Diesel Locomotive Parts |
| 8060089 | LOCKNUT 3/4-16 HEX GR8 | Diesel Locomotive Parts |
| 40039257 | RETAINER- CARRIER | Diesel Locomotive Parts |
| 40039256 | BOLT | Diesel Locomotive Parts |
| 469X1-010 | NUT, JAM F/ FARRIS PSV 26HC12L 120 | Oil and Gas Parts Equipment |
| 2120128100 | PISTON ASSM. | Oil and Gas Parts Equipment |
| 8440928 | SWITCH | Diesel Locomotive Parts |
| 8359762 | CLEVIS | Diesel Locomotive Parts |
| 9526180 | PIN | Diesel Locomotive Parts |
| 23523293 | CLIP | Diesel Locomotive Parts |
| PC-8929213 | SEAL, FAN SPINDLE | Diesel Locomotive Parts |
| 23518270 | PULLEY , CRANKSHAFT | Diesel Locomotive Parts |
| PC-8929820 | BEARING, ROLLER, AIR COMPRESSOR | Diesel Locomotive Parts |
| 23522272 | ROCKER COVER | Diesel Locomotive Parts |
| 23505883 | COVER, OIL PUMP | Diesel Locomotive Parts |
| PC-23526142 | CON-ROD BEARING STD | Diesel Locomotive Parts |
| PC-8929670 | MAIN BEARING SET.STD | Diesel Locomotive Parts |
| 23514839 | DIPSTICK | Diesel Locomotive Parts |
| PC-23533147 | FUEL INJECTOR SEAL RING | Diesel Locomotive Parts |
| PC-23511991 | GASKET ROCKER COVER | Diesel Locomotive Parts |
| PC-23522279 | GASKET OIL PAN MOLDED | Diesel Locomotive Parts |
| PC-8929299 | GASKET ACCESSORY DRIVE COVER | Diesel Locomotive Parts |
| 23505992 | GASKET OIL INLET ELBOW | Diesel Locomotive Parts |
| PC-23519651 | SEAL, CRANKSHAFT REAR,S60 | Diesel Locomotive Parts |
| PC-23531250 | CLYLINDER LINER KIT,W/SEAL RINGS | Diesel Locomotive Parts |
| PC-23526141 | CON-ROD BEARING STD | Diesel Locomotive Parts |
| PC-23532720 | OVERHAUL GASKET SET , S60 COMPLETE | Diesel Locomotive Parts |
| PC-23529962 | REAPIR KIT, WATER PUMP, S60 | Diesel Locomotive Parts |
| PC-23518092 | SENSOR, TEMPERATURE | Diesel Locomotive Parts |
| PC-23522415 | OIL COOLER, 10 PLATE S60 | Diesel Locomotive Parts |
| PC-23531252 | RING SET.14L S60 | Diesel Locomotive Parts |
| PC-23529629 | VALVE, INTAKE | Diesel Locomotive Parts |
| PC-23529596 | VALVE , EXHAUST | Diesel Locomotive Parts |
| PC-8929878 | THERMOSTAT, 190 DEG | Diesel Locomotive Parts |
| 1117807 | ALTERNATOR | Diesel Locomotive Parts |
| 23522122 | AIR COMPRESSOR TF550 | Diesel Locomotive Parts |
| RR23537686 | FUEL PUMP, VITON | Diesel Locomotive Parts |
| C23537686 | CORE.F/PMO (VITON) | Diesel Locomotive Parts |
| PC-23525463 | TURBOCHARGER | Diesel Locomotive Parts |
| PC-23528606 | CAM TREE | Diesel Locomotive Parts |
| PC-23524771 | INJECTOR FINGER | Diesel Locomotive Parts |
| PC-23526051 | CONNECTOR ASSEMBLY | Diesel Locomotive Parts |
| 8068791 | SPRING | Diesel Locomotive Parts |
| 148401 | BEARING | Diesel Locomotive Parts |
| 8470154 | STUBSHAFT IDLER GEAR | Diesel Locomotive Parts |
| 8070749 | STUBSHAFT | Diesel Locomotive Parts |
| 8407341 | BEARING-IDLER GEAR | Diesel Locomotive Parts |
| 8261101 | BEARING-IDLER GEAR | Diesel Locomotive Parts |
| 8069155 | BUSHING | Diesel Locomotive Parts |
| 8084468 | STUBSHAFT | Diesel Locomotive Parts |
| 8350518 | TRIP ASSEMBLY OVER SPEED | Diesel Locomotive Parts |
| 8467306 | GASKET | Diesel Locomotive Parts |
| 9547683 | SEAL KIT | Diesel Locomotive Parts |
| 8297957 | VALVE, RELIEF 60 PSI | Diesel Locomotive Parts |
| 9316234R | EXHAUST CHAMBER | Diesel Locomotive Parts |
| 9338626 | NUT 1/2 – 20 HEX | Diesel Locomotive Parts |
| 9318052 | HEX BOLT 5/8-18 x 3-1/4 INCLUDES WASH | Diesel Locomotive Parts |
| 9337724 | GASKET | Diesel Locomotive Parts |
| 8309212 | GASKET | Diesel Locomotive Parts |
| 8309213 | GASKET | Diesel Locomotive Parts |
| 8309214 | GASKET | Diesel Locomotive Parts |
| 8352305 | CORE AFTERCOOLER | Diesel Locomotive Parts |
| 8366577 | VALVE | Diesel Locomotive Parts |
| 8366533 | CHECK VALVE | Diesel Locomotive Parts |
| 8483088 | SEAL ACCESSORY DRI | Diesel Locomotive Parts |
| 8392118 | SEAL KIT | Diesel Locomotive Parts |
| 908085 | BEARING | Diesel Locomotive Parts |
| 8306357 | GASKET KIT | Diesel Locomotive Parts |
| 8496989 | KIT, LUBE OIL STRAINER | Diesel Locomotive Parts |
| 8496990 | KIT GASKET | Diesel Locomotive Parts |
| 9087946 | KIT, CYL HEAD COVER & FRAME | Diesel Locomotive Parts |
| 9580715 | GASKET | Diesel Locomotive Parts |
| 8340485 | BUSHING | Diesel Locomotive Parts |
| 8433263 | SLEEVE WATER MANIFOLD | Diesel Locomotive Parts |
| 8402557 | BRACKET TRIP | Diesel Locomotive Parts |
| 8492275R | CRANKSHAFT.. ENGINE – STUBBLES | Diesel Locomotive Parts |
| 8482954 | STUBSHAFT.. TAPERED -27- 3/8 I | Diesel Locomotive Parts |
| 9333212 | COUPLING ASSEMBLY .. ACCESSORY | Diesel Locomotive Parts |
| 82-221-115-01 | 11″ 5M SHERICAL PACKING ELEMENT NR F/NOV-T3 7082/CAM T90 | Oil and Gas Parts Equipment |
| 8435460 | AFTERCOOLER CORE | Diesel Locomotive Parts |
| PDC-M323 | 12 1/4″ PDC BIT MATRIX BODY, API REG 6 5/8″ | Oil and Gas Parts Equipment |
| 82-221-115-02 | 11″ 5M SHERICAL PACKING ELEMENT NBR F/NOV-T3 7082/CAM T90 | Oil and Gas Parts Equipment |
| 40021330 | CYLINDER HEAD COMPLETE W/VALVES | Diesel Locomotive Parts |
| FH28-35 KIT | SEAL KIT FOR SK S STYLR FH28-35 ANNULAR BOP | Oil and Gas Parts Equipment |
| 8431 0631 16 | ATLAS COPCO RIGHT ANGLE NUTRUNNER MODEL LTV29-2 R12-10 6.0-12.0 NM 850 RPM, 3/8″ SQ. DR. SHUT-OFF | Industrial Parts & Misc |
| 8431 0631 29 | ATLAS COPCO RIGHT ANGLE NTRUNNER MODEL LTV29-2 R24-10 12.0-24.0 NM, 640 RPM, 3/8″ SQ .DR. SHUT-OFF | Industrial Parts & Misc |
| 39001002 | CONTROL, ASSEMBLY C/W MANUAL PUMP BLOCK PRESSURE REDUCING VALVE AND LATCHING TRIP VALVE | Oil and Gas Parts Equipment |
| 8235852 | HEAD LIGHT ASSEMBLY SS BY 40045648 | Diesel Locomotive Parts |
| 8156001 | LAMP | Diesel Locomotive Parts |
| 8371884 | VALVE | Diesel Locomotive Parts |
| 8330133 | SWITCH – SLIDE BUTTON | Diesel Locomotive Parts |
| 8455355 | SWITCH – SLIDE BUTTON | Diesel Locomotive Parts |
| 8430783 | BELL ALARM | Diesel Locomotive Parts |
| 8296748 | SWITCH, ROLLER | Diesel Locomotive Parts |
| 8296752 | SWITCH – ROLLER | Diesel Locomotive Parts |
| 8298178 | SWITCH – ROLLER | Diesel Locomotive Parts |
| 8425136 | RESISTOR | Diesel Locomotive Parts |
| 8354311 | RHEOSTAT | Diesel Locomotive Parts |
| 8458698 | BREAKER | Diesel Locomotive Parts |
| 8458699 | BREAKER | Diesel Locomotive Parts |
| 8458739 | BREAKER | Diesel Locomotive Parts |
| 8458724 | BREAKER 30A | Diesel Locomotive Parts |
| 8458738 | BREAKER 40A | Diesel Locomotive Parts |
| 8458742 | BREAKER 3 POLES 30 AMPS | Diesel Locomotive Parts |
| 8404148 | SWITCH – SLIDE BUTTON | Diesel Locomotive Parts |
| 8330988 | ROTARY SWITCH | Diesel Locomotive Parts |
| 8243533 | SWITCH ROTARY | Diesel Locomotive Parts |
| 8414231 | BRAKER | Diesel Locomotive Parts |
| 8385325 | RECTIFIER | Diesel Locomotive Parts |
| 8277744 | TERMINAL BOARD | Diesel Locomotive Parts |
| 8292938 | BOARDS | Diesel Locomotive Parts |
| 8354091 | TERMINAL BOARD | Diesel Locomotive Parts |
| 8464113 | SWITCH ASSEMBLY ,MAGNETIC | Diesel Locomotive Parts |
| 8253273 | INTERLOCK ASSEMBLY , 2 NO-2 NC ss by 95394 | Diesel Locomotive Parts |
| 8341965 | INTERLOCK ASSEMBLY , 3NO-1NC SS BY 9539500 | Diesel Locomotive Parts |
| 8339367 | COVER, TOP=RED GLASTIC | Diesel Locomotive Parts |
| 8339342 | COCOIL MAGNET-RESISTANCE 19.8 OHMS | Diesel Locomotive Parts |
| 8004587 | RESISTOR- BATTERY CHARGING | Diesel Locomotive Parts |
| 8481511 | RESISTOR 0.16 OHMS 400 WATTS | Diesel Locomotive Parts |
| 8262194 | BAR ASSEMBLY ., MOVABLE CONTACT-30 AMPS | Diesel Locomotive Parts |
| 8261142 | BAR ASSEMBLY ., UPPER CONTACT-30 AMPS | Diesel Locomotive Parts |
| 8276568 | SWITCH ASSEMBLY ,INCL. TERM.FASTON TAB C | Diesel Locomotive Parts |
| 8209968 | CARRIER ASSEMBLY MOVABLE CONTAC | Diesel Locomotive Parts |
| 8209964 | POST STATIONARY CONTACT VOIR 9536540 | Diesel Locomotive Parts |
| 8209960 | COVER ASSEMBLY RELAY INCLUDES WINDOW | Diesel Locomotive Parts |
| 8332661 | CONTACTOR, BFA, GF | Diesel Locomotive Parts |
| 8330937 | CONTACTOR, BFA, GF | Diesel Locomotive Parts |
| 8413522 | DIODE ASSEMBLY .SILICON -CATHODE (+) | Diesel Locomotive Parts |
| 8413523 | RECTIFIER, SUPRESSION-0.150S-4 CE | Diesel Locomotive Parts |
| 8332380 | RESISTOR 35 OHMS 50 WATTS 5% | Diesel Locomotive Parts |
| 8276673 | RESISTOR 2.4 OHMS (2) 550 WATTS | Diesel Locomotive Parts |
| 8396289 | RESISTOR 350 & 50 OHMS 160 WATTS | Diesel Locomotive Parts |
| 8429166 | RESISTOR 3.75 OHMS (X2) 400 WATTS | Diesel Locomotive Parts |
| 8452954 | CAPACITOR 5 MFD 440 V | Diesel Locomotive Parts |
| 145320 | PENTAIR SAND DOLLAR SD40 15″ SAND FILTER C/W VALVE | Industrial Parts & Misc |
| 8356005 | RHEOSTAT – OHMITE STYLE | Diesel Locomotive Parts |
| 8314549 | CONTACTOR A.C | Diesel Locomotive Parts |
| 8429832 | SWITCH SNAP-AUX.INTLK. 1NO-1NC AB:CD | Diesel Locomotive Parts |
| 8429833 | SWITCH SNAP-AUX.INTLK. 1NO-1NC EF:GH | Diesel Locomotive Parts |
| 8462468 | INSULATOR | Diesel Locomotive Parts |
| 8462469 | INSULATION | Diesel Locomotive Parts |
| 8462812 | BAR ASSEMBLY | Diesel Locomotive Parts |
| 8450815 | BUS BAR | Diesel Locomotive Parts |
| 8450816 | BUS BAR | Diesel Locomotive Parts |
| 8356900 | VALVE SOLENOID | Diesel Locomotive Parts |
| 8363168 | RELAY | Diesel Locomotive Parts |
| 8276617 | RECTIFIER | Diesel Locomotive Parts |
| 9090455 | RESISTOR 2X 6 OHMS 400 WATTS 5% | Diesel Locomotive Parts |
| 5315319 | PLUG | Diesel Locomotive Parts |
| 8335911 | CAPACITOR 1.0 MFD 600 V | Diesel Locomotive Parts |
| 8004546 | FUSE 80A 250 V. ONE TIME | Diesel Locomotive Parts |
| 8004545 | FUSE 100 AMPS 250 VOLTS ONE TIME | Diesel Locomotive Parts |
| 8393732 | RESISTOR 35 OHMS 175 WATTS 10% | Diesel Locomotive Parts |
| 8466025 | CAPACITOR ELECTROLYTIC 310 MFD 150 V | Diesel Locomotive Parts |
| 8377230 | PANEL | Diesel Locomotive Parts |
| 8341282 | CAPACITOR | Diesel Locomotive Parts |
| 8287379 | RHEOSTAT | Diesel Locomotive Parts |
| 8331127 | RHEOSTAT | Diesel Locomotive Parts |
| 8421231 | RELAY | Diesel Locomotive Parts |
| 8347433 | RELAY | Diesel Locomotive Parts |
| 8361776 | RELAY | Diesel Locomotive Parts |
| 8383145 | GEN. FIELD RELAY | Diesel Locomotive Parts |
| 8357417 | GENERAL PURPOSE RELAY | Diesel Locomotive Parts |
| 8225149 | | Diesel Locomotive Parts |
| 8392491 | RELAY TIME DELAY | Diesel Locomotive Parts |
| 8481557 | PANEL ASSEMBLY | Diesel Locomotive Parts |
| 8377273 | PANEL ASSEMBLY, RATE CONTROL | Diesel Locomotive Parts |
| 8363059 | RESISTOR 50 OHMS 25 WATTS | Diesel Locomotive Parts |
| 8447677 | RESISTOR 500 OHMS 25 WATTS | Diesel Locomotive Parts |
| 8403349 | RECTIFIER | Diesel Locomotive Parts |
| 8451653 | RECTIFIRE | Diesel Locomotive Parts |
| 8430150 | RESISTOR 50 OHMS 160 WATTS | Diesel Locomotive Parts |
| 8430788 | RESISTOR | Diesel Locomotive Parts |
| 8416106 | RESISTOR ". RE16 " 2000/1500/1 | Diesel Locomotive Parts |
| 8394395 | CAPACITOR | Diesel Locomotive Parts |
| 9094889 | CABLE EXANE 4/0 550/24 600 V | Diesel Locomotive Parts |
| 7451292 | RACE | Diesel Locomotive Parts |
| 7122060 | POWER BRIDGE RECTIFIER SKB 30/12 A1 | Oil and Gas Parts Equipment |
| 8439004104 | CWR-120 | Industrial Parts & Misc |
| 8439004300 | SWR-30 | Industrial Parts & Misc |
| 8439004103 | CWR-85 | Industrial Parts & Misc |
| 8439004102 | CWR-50 | Industrial Parts & Misc |
| 8439004105 | CWR-200 | Industrial Parts & Misc |
| 8439004101 | CWR-25 | Industrial Parts & Misc |
| 8439004301 | SWR-60 | Industrial Parts & Misc |
| 8439004106 | CWR-300 | Industrial Parts & Misc |
| 8431037460 | EP8PTS55HR10-RE | Industrial Parts & Misc |
| 8431037490 | EP12PTS150HR13-RE | Industrial Parts & Misc |
| 8431037440 | EP7PTS35HR10-RE | Industrial Parts & Misc |
| 8431060144 | LTV28R28-42 | Industrial Parts & Misc |
| 8431027934 | LTV19R15-6 | Industrial Parts & Misc |
| 8431063137 | LTV29-2R30-10 | Industrial Parts & Misc |
| 8431026904 | LUM22HR12 | Industrial Parts & Misc |
| 8431026901 | LUM22HR6 | Industrial Parts & Misc |
| 8431127515 | BCVBL15-06 | Industrial Parts & Misc |
| 8431127507 | BCVBL-07L-06 | Industrial Parts & Misc |
| 8431127530 | BCVBL-30-10 | Industrial Parts & Misc |
| 8431127607 | BCVBL-07-I06-QC | Industrial Parts & Misc |
| 8431127360 | BCPBL-6L-I06 | Industrial Parts & Misc |
| 20PS002MB425R325R | SWITCH, HIGH PRESSURE 25RMH425325 , ALLTEMP | Industrial Parts & Misc |
| ZR48K3-TFD235 | COMPRESSOR , 460V 3 PHASE 50/60HZ LRA 50 V 13.75 M3/HR RPM 3500 GAS TYPE R22 | Oil and Gas Parts Equipment |
| ZR61K3-TFD | COMPRESSOR, 460V 3PH 60HZ F/5 TON VSD AIR CONDITIONERS | Oil and Gas Parts Equipment |
| P19647-1X | 15DR BRAKE ASSEMBLY, CCW | Oil and Gas Parts Equipment |
| CA1000 | WOVEN BRAKE PADS (20 PCS) C/W HARDWARE F/CARDWELLKB200C | Oil and Gas Parts Equipment |
| 1019613 | SHACKLE G2130 1-3/8IN 13-1/2 TON | Oil and Gas Parts Equipment |
| 8031947 | DOWEL | Diesel Locomotive Parts |
| 8259128 | BOLT 1/2-20 x 2 3/4 HEX HD GR8 | Diesel Locomotive Parts |
| 8487883 | NUT LOCK 1/2-20 HEX NYLON INSERT | Diesel Locomotive Parts |
| 9547667 | BOLT 1/4-20 1/2 – SPECIAL LOCKING | Diesel Locomotive Parts |
| ZR61K3ETFD965 | COPE 61K R22/407 SCROLL A/C COMP 460/3 ROTO | Oil and Gas Parts Equipment |
| NS2-0000-03 | UNIVERSAL AIR SWITCH | Oil and Gas Parts Equipment |
| ZR48K5ETFD800 | COPE 48K R22/407 SCROLL A/C COMP 460/3 W/POE | Oil and Gas Parts Equipment |
| 100183 | GAUGE, ENGINE WATER TEMPERATURE F/K600 SERVICE RIG CARRIER | Oil and Gas Parts Equipment |
| 06DS3286BC365ARP | CARLYLE COMP 10HP H/T 460/3NO OIL | Oil and Gas Parts Equipment |
| 8025990 | DOWEL-BEARING SHELL | Diesel Locomotive Parts |
| 8029147 | DOWEL-BRACKET | Diesel Locomotive Parts |
| 8127868 | 5/8-18 x 1-3/4 BOLT W/WASHER | Diesel Locomotive Parts |
| 103608 | PIN #4 TAPER | Diesel Locomotive Parts |
| 8029569 | SPRING, LOCK | Diesel Locomotive Parts |
| 9097192 | SPRING | Diesel Locomotive Parts |
| 9317971 | GASKETS POWER ASSEMBLY | Diesel Locomotive Parts |
| 40026938 | GASKET | Diesel Locomotive Parts |
| 40026939 | GASKET | Diesel Locomotive Parts |
| 8052307 | BUTTON | Diesel Locomotive Parts |
| 8327002 | VALVE GUIDE .0015 | Diesel Locomotive Parts |
| 8291928 | SPRING | Diesel Locomotive Parts |
| 8292090 | VALVE | Diesel Locomotive Parts |
| 8028724 | NUT LOCK 5/8-18 HEX | Diesel Locomotive Parts |
| 9580758 | SEAL KIT | Diesel Locomotive Parts |
| 8340484 | BUSHING | Diesel Locomotive Parts |
| 8318232 | BUSHING | Diesel Locomotive Parts |
| 8039667 | BUSHING | Diesel Locomotive Parts |
| 8039669 | BUSHING | Diesel Locomotive Parts |
| 4739369G2 | COIL 153 OHMS | Diesel Locomotive Parts |
| 41C624176P1 | VERTICAL SNUBBER | Diesel Locomotive Parts |
| 41C632663P2 | PINION 43 TEETH | Diesel Locomotive Parts |
| 41C637055P5 | 83 TOOTH GEAR | Diesel Locomotive Parts |
| 8360527 | COVER ASSEMBLY .IMPELLER | Diesel Locomotive Parts |
| 8391677 | BLADE. TIP SHAKE DIM -005 TO .020 | Diesel Locomotive Parts |
| 8391676 | BLADE .TIP SHAKE DIM.-021 TO .040 | Diesel Locomotive Parts |
| 9507425 | BLADE .TIP SHAKE DIM .-041 RO .060 | Diesel Locomotive Parts |
| 8380046 | RWTAINER. IMPELLER | Diesel Locomotive Parts |
| 8261074 | NUT. HEX 3/-24 | Diesel Locomotive Parts |
| 8261267 | BOLT. HEX HEAD 3/8-24 x 2-3/4 WHEEL TO SHAFT | Diesel Locomotive Parts |
| 9503854 | BEARING . COMPRESSOR-JOURNAL -SPHERICAL THRUST-REPLACES 8370119 | Diesel Locomotive Parts |
| 9567609 | RETAINER ASSEMBLY . SHROUD-REPLACES 9327497 | Diesel Locomotive Parts |
| 8358566 | BOLT – DRILLED HEX HEAD 3/8-16 x5/8- SEAL MOUNTING | Diesel Locomotive Parts |
| 8424007 | BOLT – HEX HEAD 3/8-16 x 1-1/8 – RETAINING RING TI BEARING SUPPORT | Diesel Locomotive Parts |
| 8488572 | WASHER .. SPECIAL HARDENED | Diesel Locomotive Parts |
| 8291326 | RING.. SEAL | Diesel Locomotive Parts |
| 8289113 | BOLT. HEX HEAD 3/8-24 x 7/8 -RING MOUNTING | Diesel Locomotive Parts |
| 40019583 | BOLT – HEX HEAD 3/8-24 x 2- DUCT MOUNTING | Diesel Locomotive Parts |
| 8289127 | NUT.. HEX 3/8-24- LOCK | Diesel Locomotive Parts |
| 8363538 | SCROLL TURBINE INLET | Diesel Locomotive Parts |
| 8366279 | BOLT. HEX HEAD 3/8-24 x 3-5/8 SUPPORT MOUNTING | Diesel Locomotive Parts |
| 8289062 | BOLT. HEX HEAD 5/8-18 X 2-3/8 -LINK MOUNTING | Diesel Locomotive Parts |
| 8289061 | NUT .. HEX LOCK 5/8-18 | Diesel Locomotive Parts |
| 8460230 | 12 POINT SOCKET HEAD 1/2-13 x 2-1/4 – HOUSING TO COMPRESSOR SCROLL | Diesel Locomotive Parts |
| 8432575 | PLATE .CAM | Diesel Locomotive Parts |
| 8353583 | SPRING .ROLLER COMPRESSION | Diesel Locomotive Parts |
| 9502999 | SCREEN .COVER-LEFT | Diesel Locomotive Parts |
| 9503000 | SCREEN. COVER RIGHT | Diesel Locomotive Parts |
| 8297008 | SCREEN. COVER -CENTER | Diesel Locomotive Parts |
| 8337615 | SHAFT ASSEMBLY -CARRIER | Diesel Locomotive Parts |
| 8358575 | GEAR . CARRIER DRIVER | Diesel Locomotive Parts |
| 8358578 | GEAR IDLER 18:1 68 TOOTH | Diesel Locomotive Parts |
| 8358579 | WASHER. THRUST-IDLER GEAR | Diesel Locomotive Parts |
| 8411281 | IDLER SHAFT 645 | Diesel Locomotive Parts |
| 8261304 | PAD ..OIL JET | Diesel Locomotive Parts |
| 9518760 | DIFFUSER . COMPRESSOR (PROD. NO.9319943) | Diesel Locomotive Parts |
| 9338192 | WHEEL ASSEMBLY . TURBINE WHEEL AND IMPELLER | Diesel Locomotive Parts |
| 9518645 | BLADE .TIP SHAKE DIM. 010 TO .030 | Diesel Locomotive Parts |
| 9518647 | BLADE . TIP SHAKE DIM.- 051 TO .070 | Diesel Locomotive Parts |
| 8441777 | RING. SEAL | Diesel Locomotive Parts |
| WLNA9AP | COMPRESSOR COMP | Diesel Locomotive Parts |
| 118-140-067-ALTER | CABLE, BNC MICRODOT KBA560V 2MTR X 6′ | Oil and Gas Parts Equipment |
| 0600S133 | O-RING, 133 HSN FOR 2.25″-2.31″ FB2/RB2 BAKER MODEL CHECK VALVE | Oil and Gas Parts Equipment |
| 0600S128 | O-RING,128 HSN FOR 2.25″-2.31″ FB2/RB2 BAKER MODEL CHECK VALVE | Oil and Gas Parts Equipment |
| 0600S225 | O-RING,225 HSN FOR 4.31″-4.56 FB2/ RB2 BAKER MODEL CHECK VALVE | Oil and Gas Parts Equipment |
| 568331GU | O-RING, VITON | Oil and Gas Parts Equipment |
| 8345482 | FILTER | Diesel Locomotive Parts |
| 8060008 | IMPELLER | Diesel Locomotive Parts |
| 200151 | D206DC CRIMPER MACHINE DAYCO W/DIES & CABINET | Oil and Gas Parts Equipment |
| G25179-0808 | FITTING , F/0.5″ (1/2″) HYRAULIC 8G-8FJX90S (COMES IN ONE PC) | Oil and Gas Parts Equipment |
| 80143 | FITTING, F/0.5″ (1/2″) HYDRAULIC HOSE STRAIGHT FEMALE SWIVEL JIC 8-8FJX | Oil and Gas Parts Equipment |
| EFG3K-32 | ENVIROFLUID HOSE – 100R12 – 2″ (SOLD PER FT) | Oil and Gas Parts Equipment |
| G22100-3232 | FITTING JICF -2″-32PCS-32MP | Oil and Gas Parts Equipment |
| G22995-0432 | FITTING 32GSP1F-4 | Oil and Gas Parts Equipment |
| 2404-32-32 | FITTING 2″JIC X 2″ NPT STRAIGHT | Oil and Gas Parts Equipment |
| G22170-3232 | FITTING 32GSP-32FJX | Oil and Gas Parts Equipment |
| 8299529 | Gear Oil Pump | Diesel Locomotive Parts |
| FC273-16 | HOSE SPIRAL | Oil and Gas Parts Equipment |
| C01516 | LPS LABORATORIES-C01516 | Oil and Gas Parts Equipment |
| S20B3P2PPUS000 | SANDPIPER ,WARREN RUPP | Oil and Gas Parts Equipment |
| CS-B2 | SEAL ,CLAPPER | Oil and Gas Parts Equipment |
| BU-29100 | BUSHING | Oil and Gas Parts Equipment |
| 9544420 | ROKER ARM INJECTRO | Diesel Locomotive Parts |
| 9544559 | ROCKER ARM EXHUST | Diesel Locomotive Parts |
| 8055346 | SPRING WATER PUMP SEAL RETAINER | Diesel Locomotive Parts |
| 893106026 | HHS PLUS WERSATILE LBRICATING OIL-500mL | Oil and Gas Parts Equipment |
| 6838454 | GAUGE, CLUTCH, ALLISON | Oil and Gas Parts Equipment |
| FM-200 | Fire Suppression Clean Agent HFC-227, (FM-200) (4 Bulk Tanks c/w 1200lbs Recycled HFC-227 Each) | Industrial Parts & Misc |
| 9960997G1 | COIL 189 OHMS 0.318 OHMS | Diesel Locomotive Parts |
| 32000257 | PILOT, TWO WAY HIGH PRESSURE HIGH RANGE | Oil and Gas Parts Equipment |
| AR1 | 6″ GRW D42N BUTTERFLY VALVE, 230 PSI WAFER DI, ASTM 536 BODY, BUNA-N SEAT, #GRW 6 D42N A1 K H1 MFG: KEYSTONE | Oil and Gas Parts Equipment |
| AR1-805 | 4″ GRW D42N BUTTERFLY VALVE, 230 PSI WAFER DI, ASTM 536 BODY, BUNA-N SEAT, #GRW 4 D42N A1 K H1 MFG: KEYSTONE | Oil and Gas Parts Equipment |
| 17447 | 3″ GRW D42N BUTTERFLY VALVE, 230 PSI WAFER DI, ASTM 536 BODY, BUNA-N SEAT, #GRW 3 D42N A1 K H1, MFG: KEYSTONE | Oil and Gas Parts Equipment |
| 17445 | 2″ GRW D42N BUTTERFLY VALVE, 230 PSI WAFER DI, ASTM 536 BODY, BUNA-N SEAT, #GRW 2 D42N A1 K H1, MFG: KEYSTONE | Oil and Gas Parts Equipment |
| 8241561 | CABLE ASSEMBLY "AA" D29 | Diesel Locomotive Parts |
| 8178693 | D29 CABLE ASSEMBLY FF | Diesel Locomotive Parts |
| 42771 | AMI-1TT3,3/8″,SWEAT BY SWEAT,OD FEMAL, EMERSON | Oil and Gas Parts Equipment |
| 8483942 | GEAR – BLOWER DRIVE – 30 TOOTH – 16-567D1 ENGINE | Diesel Locomotive Parts |
| R-6030005 | WHEEL, BLOWER DELHI MODEL G9-7 0.5″ (1/2″) BORE | Oil and Gas Parts Equipment |
| R-6030037 | WHEEL, BLOWER DELHI MODEL G9-DD 0.5″ (1/2″) BORO | Oil and Gas Parts Equipment |
| A8033 | FILOX-R MEDIA | Industrial Parts & Misc |
| 8301912 | SWITCH, PUSH BUTTON | Diesel Locomotive Parts |
| HDF2510L-12MB | FAN ASSEMBLY , 25x25x10mm | Oil and Gas Parts Equipment |
| HDF4012L-12LB-1 | FAN ASSEMBLY 40MMX40MMX15MM | Oil and Gas Parts Equipment |
| 800T-J2B | SWITCH, HAND OFF AUTO | Oil and Gas Parts Equipment |
| 372BX | INSOLATION TRANSFORMER, HAMMOND | Oil and Gas Parts Equipment |
| SLP1032 | LOW PRESSURE SWITCH | Oil and Gas Parts Equipment |
| 41A205337ABP1 | LIGHT WITH RED LENS | Diesel Locomotive Parts |
| 8380922 | RESISTOR 8 INCH LONG | Diesel Locomotive Parts |
| 8405701 | CAPACITOR | Diesel Locomotive Parts |
| 8433714 | COVER SLIP RINGS FORMELY 8433713 | Diesel Locomotive Parts |
| 8408426 | SUPPORT CABLE | Diesel Locomotive Parts |
| 8458815 | VALVE.. Ball cut-out – 1-1/2 PT | Diesel Locomotive Parts |
| 40029131 | DIODE | Diesel Locomotive Parts |
| 40029132 | DIODE | Diesel Locomotive Parts |
| BT4B1602PPE9000UD010 | BETA 4 B METERING PUMP , FLOW: 0.37GPH/ 1.40L/H, PRESSURE :232PSI/ 16 BAR , UNIVERSL 100-240 V AND PLUG 115V, 2M PN #BT4B1602PPE9000UD010A01 | Oil and Gas Parts Equipment |
| GMXA1602PVT7M000UD01 | GAMMAX PUMP METRING PUMP, FLOW :0.24GPH 0.9I/H , PRESSURE:145PSI 10BAR , UNIVERSAL 100-240V , AND PLUG 115V, 2M , PN# GMXA1602PVT7M000UD01000EN | Oil and Gas Parts Equipment |
| 8239601 | INTERPOLE COIL WITH POLEPIECE D29/D29CC | Industrial Parts & Misc |
| 7122130 | POWER BRIDGE RECTIFIERS | Oil and Gas Parts Equipment |
| 8346478 | FUSE ASY, DIODE 800A 100V | Diesel Locomotive Parts |
| 9085001 | PLATE, PANEL CENTER | Diesel Locomotive Parts |
| 8361869 | INSULATOR | Diesel Locomotive Parts |
| 6974772G1 | MOVEABLE CONTACT TIP-28001607 | Diesel Locomotive Parts |
| 9338191 | TURBINE WHEEL | Diesel Locomotive Parts |
| 8303627 | NOZZLE RING 19.05 1612 | Diesel Locomotive Parts |
| 9538549 | WHEEL ASSEMBLY (STANDARD BLADES) 645E | Diesel Locomotive Parts |
| 8306968 | WHEEL ASSEMBLY (STANDARD BLADES) 567 | Diesel Locomotive Parts |
| 9319836 | WHEEL ASSEMBLY (FUEL EFFICIENT BLADES) 645 F | Diesel Locomotive Parts |
| 8358561 | SHROUD RING,MACHINE W/O Metco 567/645 | Diesel Locomotive Parts |
| 8261208 | CARRIER DRIVE GEAR | Diesel Locomotive Parts |
| 8358541 | SUPPORT CARRIER BEARING | Diesel Locomotive Parts |
| 126X1621 | NOZZLE RING | Diesel Locomotive Parts |
| 9503272 | THRUST WASHER HEAT DAM | Diesel Locomotive Parts |
| 8289031 | EXHAUST DUCT RETAINING RING | Diesel Locomotive Parts |
| 8261285 | PLATE, LOCK | Diesel Locomotive Parts |
| 8358542 | INDLER GEAR SUPPORT | Diesel Locomotive Parts |
| 9525376 | DUCT EXHAUST SHORT STACK UTEX | Diesel Locomotive Parts |
| 8460300 | CARRIER SEAL RING | Diesel Locomotive Parts |
| 8363016 | RETAINER | Diesel Locomotive Parts |
| 8313126 | SUPPORT, TURBINE BEARING | Diesel Locomotive Parts |
| 8366277 | RETAINER. OVERRUNNING CLUTCH | Diesel Locomotive Parts |
| 8483643 | COVER ASSEMBLY | Diesel Locomotive Parts |
| 8391864 | COMPRESSOR SCROLL | Diesel Locomotive Parts |
| 8391866 | SCROLL COMPRESSOR | Diesel Locomotive Parts |
| 8306119 | 567 COMPRESSOR LAB SEAL | Diesel Locomotive Parts |
| 8363018 | KEY, PLATE ASSEMBLY | Diesel Locomotive Parts |
| 8338304 | GUIDE, EXHAUST VLAVE, .015 O.S. | Diesel Locomotive Parts |
| 920101 | Air Dryer Desiccant RK-AB-787W-35 | Industrial Parts & Misc |
| 9523800-1 | EMD HYDRAULIC MAIN BEARING WRENCH 110V | Diesel Locomotive Parts |
| 9523800-2 | EMD HYDRAULIC MAIN BEARING WRENCH 230V | Diesel Locomotive Parts |
| 8236718 | EMD LOWER BASKET BOLT WRENCH | Diesel Locomotive Parts |
| 8171633 | EMD PISTON CARRIER RETAINEREMD PISTON CARRIER RETAINER SNAP RING REMOVER | Diesel Locomotive Parts |
| 8487487 | MAIN BEARING CAP LIFTER | Diesel Locomotive Parts |
| T59660 | EMD CRAB NUT TORQUE KIT | Diesel Locomotive Parts |
| 52042 | HI MODULUS, BROWN TAPE | Oil and Gas Parts Equipment |
| 72569 | HI TEMP, C-TAPE, RE-HEAD TAPE | Oil and Gas Parts Equipment |
| 1-204-P | SLEEVE, NICOPRESS #4 SOLID X #4 SOLID | Oil and Gas Parts Equipment |
| 1-204-M | SLEEVE, NICOPRESS #4 SOLID X #4 SOLID | Oil and Gas Parts Equipment |
| 1-289-X | SLEEVE, NICOPRESS #1 SOLID X #1 SOLID | Oil and Gas Parts Equipment |
| 71473 | O-RING ,SLEEVE ITEM 401C FOR SMART TURNER P50-62 | Oil and Gas Parts Equipment |
| 71474 | CASING GASKET, F/ 3 X 2 X 8 CENTRAL DISTRIBUTION PUMP REVERSE OSMOSIS UNIT | Oil and Gas Parts Equipment |
| 8031925 | SPRING | Diesel Locomotive Parts |
| 8355807 | VALVE | Diesel Locomotive Parts |
| 128X1637 | GASKET | Diesel Locomotive Parts |
| 292D333G6 | COIL, EXCITING FIELD WITH POLE | Diesel Locomotive Parts |
| VTC304-13VG15 | TURBOCHARGER ABB | Diesel Locomotive Parts |
| 9319946 | VALVE ASSEMBLY | Diesel Locomotive Parts |
| 8424968 | VALVE, DISCHARGE HP ASM | Diesel Locomotive Parts |
| 9319947 | VALVE ASY – L.P. SUCTION UNLOADING | Diesel Locomotive Parts |
| 8424969 | VALVE, DISCHARGE HP ASM | Diesel Locomotive Parts |
| TAW30001 | MANIFOLD/ ELBOW TAW300 | Water Well Rig |
| ANOT15005 | BEARING SPACER | Water Well Rig |
| 8430993 | CARBON BRUSH | Diesel Locomotive Parts |
| S902-1 | PIPE FITTING SWIVEL BOX 3 | Water Well Rig |
| S902-2 | BUSHING FOR TUBE 3 | Water Well Rig |
| 340039 | PENTAIR SUPERFLO PUMP, 1.5 HP, STANDARD EFFICIENCY, 115/230V | Industrial Parts & Misc |
| 1D106G7A | COIL | Diesel Locomotive Parts |
| 8819420F1 | PLUG | Diesel Locomotive Parts |
| 8457565 | INSERT | Diesel Locomotive Parts |
| 9413378 | RING | Diesel Locomotive Parts |
| 8028701 | STUD | Diesel Locomotive Parts |
| VG10WR | VISE, GRIP 10″ CURVED JAW WITH WIRE CUTTER | Oil and Gas Parts Equipment |
| TB140-N | ASSEMBLY, AIR CYLIN | Oil and Gas Parts Equipment |
| TC650-3.500 | FCI INSERTS F/3-1/2″ TBG | Oil and Gas Parts Equipment |
| 1101-WJ-300-02-21 | SHEAR DISK – STANDING VALVE WJ – 3 | Oil and Gas Parts Equipment |
| GG-2320 | GAUGE 200 PSI | Oil and Gas Parts Equipment |
| 54-55 | 54-55 INSERT SCREW F/ 5493 TONG | Oil and Gas Parts Equipment |
| PBL-01489 | CUSTOM STUD, M33-3.5 MM PITCH X 207 MM LONG , AISI 4340 HTSR | Oil and Gas Parts Equipment |
| MT-M33-3.5/W | SUPERBOLT TORQUENUT, M33-3.5mm PITCH, c/w HARDENED WASHER | Oil and Gas Parts Equipment |
| SPW2 | Docap 560-100 SPW2 General Purpose 18 Gauge Tie Wire | Oil and Gas Parts Equipment |
| 8855153G14 | EXCITING COIL | Diesel Locomotive Parts |
| 8855153G12 | EXCITING COIL | Diesel Locomotive Parts |
| 8843549G4 | COIL | Diesel Locomotive Parts |
| 41A235897P4 | CARBON BRUSH | Diesel Locomotive Parts |
| 41C635677P2 | PINION 18TH | Diesel Locomotive Parts |
| 8843525G1 | BRUSH HOLDER | Diesel Locomotive Parts |
| 8864951P148 | BEARING | Diesel Locomotive Parts |
| 8864950P149 | BEARING BALL COMMUTATOR END | Diesel Locomotive Parts |
| 8448163 | SEPARATOR ASSEMBLY | Diesel Locomotive Parts |
| 9551208 | 645 EC/FB BLADE POWER ASSEMBLY | Diesel Locomotive Parts |
| 9551207 | 645 EC/FB FORK POWER ASSEMBLY | Diesel Locomotive Parts |
| 0M005SO0004 | COMPLETE HYDRAULIC CIRCUIT | Water Well Rig |
| MTDTCD36L490 | RIG DECK ENGINE | Water Well Rig |
| 0M005PC0021 | HYDRAULIC CONTROL PANEL ON ARM | Water Well Rig |
| 0M005PCBIL | PULLDOWN SYSTEM C/W BIT LOAD REGULATION | Water Well Rig |
| 0M005SA0009 | MAST SUPPORT GROUP | Water Well Rig |
| ANANT03 | MAST FOR 118in DRILL PIPE | Water Well Rig |
| 0M005AN0008 | HOSES CHAIN SUPPORT | Water Well Rig |
| PULLDOWN0505 | PULL-DOWN SYSTEM | Water Well Rig |
| 0M006SL0004 | ROTARY HEAD POWER CARRIAGE WITH TILTING | Water Well Rig |
| 0M006TF0001 | TOP OF MAST (CROWN BLOCK) | Water Well Rig |
| AZTR2001 | TRIPLEX " 200″ WATER/MUD PUMP | Water Well Rig |
| PROL06 | MAST EXTENSION | Water Well Rig |
| RGTWL22L80 | WIRE LINE WINCH | Water Well Rig |
| D29CCT | ARMATURE | Diesel Locomotive Parts |
| 8210297 | HANDLE, PHENOLIC | Diesel Locomotive Parts |
| 8240410 | TERMINAL BOARD | Diesel Locomotive Parts |
| 8259784 | TERMINAL BOARD | Diesel Locomotive Parts |
| 8224592 | INDICATOR ASSEMBLY , THROTTLE | Diesel Locomotive Parts |
| 8341962 | GEAR | Diesel Locomotive Parts |
| JMA7200 | AIR CONDITIONER | Diesel Locomotive Parts |
| 580056 | PENTAIR MAGICBOWL LED LIGHT ENGINE (150′ CORD) | Industrial Parts & Misc |
| 580047 | PENTAIR MAGICBOWL ROUND, NATURAL, W/ LIGHT NICHE | Industrial Parts & Misc |
| 580046 | PENTAIR MAGICBOWL ROUND, GREY, W/ LIGHT NICHE | Industrial Parts & Misc |
| 16-645E3B RBLT | EMD/GM REMANUFACTURED PRIME MOVER AS PER ATTACHED WORK SCOPE | Diesel Locomotive Parts |
| 2815000 | LOW PROFILE ROOFROP VAC-OUTLINE | Diesel Locomotive Parts |
| 581661 | AIR COMPRESSOR (3CDC) | Diesel Locomotive Parts |
| 8392480 | HAND BRAKE RATCHET TYPE R/H | Diesel Locomotive Parts |
| 8221444 | SHUNT | Diesel Locomotive Parts |
| 8252022 | SPRING | Diesel Locomotive Parts |
| 8351608 | AIR HORN OPRATING VALVE | Diesel Locomotive Parts |
| 8359773 | VALVE | Diesel Locomotive Parts |
| 8442112 | VALVE | Diesel Locomotive Parts |
| 8465745 | VALVE-AUTO DRAIN | Diesel Locomotive Parts |
| 8477210 | RHEOSTAT 308 OHMS | Diesel Locomotive Parts |
| 9093629 | CONTROLLER MECHANISM DYN. | Diesel Locomotive Parts |
| 8441557 | SWITCH | Diesel Locomotive Parts |
| 8453853 | SWITCH | Diesel Locomotive Parts |
| 117X1061 | LOCKING PLATE | Diesel Locomotive Parts |
| 117×1028-2 | BUSHING , AXIAL GROOVE | Diesel Locomotive Parts |
| 115X2337 | ASSEMBLY WSHERS, GE CRWON TO SKIRT | Diesel Locomotive Parts |
| 142X1034-2 | ASSEMBLY BOLTS, GE CROWN TO SKIRT | Diesel Locomotive Parts |
| 142×1035-2 | GE SKIRT , PISTON WITH BUSHING | Diesel Locomotive Parts |
| 8307151 | VALVE | Diesel Locomotive Parts |
| 16120929 | Housing Support | Diesel Locomotive Parts |
| 16120930 | HOUSING | Diesel Locomotive Parts |
| 114X1059 | SHAFT | Diesel Locomotive Parts |
| 114×1063 | GEAR RETAINER | Diesel Locomotive Parts |
| 114X1073 | BUSHING | Diesel Locomotive Parts |
| 114X1075 | BUSHING | Diesel Locomotive Parts |
| 114X1105-4(114X1218) | FLEX COUPLING | Diesel Locomotive Parts |
| 114X1106-2(114×1072- | BEARING | Diesel Locomotive Parts |
| 114X1191 | RULE | Diesel Locomotive Parts |
| 115X1021 | O RING | Diesel Locomotive Parts |
| 115X1046 | DOWEL PIN | Diesel Locomotive Parts |
| 115X1047-1 | GASKET | Diesel Locomotive Parts |
| 115X1095 | O RING | Diesel Locomotive Parts |
| 115X1155 | NOZZLE GASKET | Diesel Locomotive Parts |
| 115×1224-1 | WASHER | Diesel Locomotive Parts |
| 115X1832 | CLAMPS | Diesel Locomotive Parts |
| 115×1862(115×2480) | BOLT | Diesel Locomotive Parts |
| 115X1876-1 | BUSHING | Diesel Locomotive Parts |
| 115X1944 | GASKET | Diesel Locomotive Parts |
| 115X1905 | O RING | Diesel Locomotive Parts |
| 115X1948 | GASKET | Diesel Locomotive Parts |
| 115X1989-2 | NUT | Diesel Locomotive Parts |
| 115×2071 | BOLT | Diesel Locomotive Parts |
| 115X2145-1 | O RING | Diesel Locomotive Parts |
| 115X2165 | BOLT | Diesel Locomotive Parts |
| 115X2166 | NUT | Diesel Locomotive Parts |
| 115X2167 | NUT | Diesel Locomotive Parts |
| 115X2168 | BOLT | Diesel Locomotive Parts |
| 115X2170 | STUD | Diesel Locomotive Parts |
| 115×2377 | BUSHING | Diesel Locomotive Parts |
| 115X2379 | BUSHING | Diesel Locomotive Parts |
| 115X2393 | SELF-LOCKING NUT | Diesel Locomotive Parts |
| 115X2440 | NUT | Diesel Locomotive Parts |
| 115×2444-1 | BOLT | Diesel Locomotive Parts |
| 115X2460 | O RING | Diesel Locomotive Parts |
| 116X1047 | THRUST BRG | Diesel Locomotive Parts |
| 116X1069 | COVER | Diesel Locomotive Parts |
| 116X1070 | BEARING | Diesel Locomotive Parts |
| 116X1086 | THRUST RING | Diesel Locomotive Parts |
| 117X1012-7/4 | ARTICULATED CON ROD | Diesel Locomotive Parts |
| 117X1013-1 | DOWEL | Diesel Locomotive Parts |
| 117X1028-1 | BUSHING | Diesel Locomotive Parts |
| 117×1029-4 | PIN | Diesel Locomotive Parts |
| 117X1050-1 | BEARING LOWER | Diesel Locomotive Parts |
| 117X1060-1 | MASTER CONN ROD | Diesel Locomotive Parts |
| 119X1058 | KEY | Diesel Locomotive Parts |
| 119X1062-1 | CLAM RING | Diesel Locomotive Parts |
| 119X1079-1 | GEAR HUB | Diesel Locomotive Parts |
| 121X1001 | GROMET RETAINER | Diesel Locomotive Parts |
| 121X1038-1 | COVER | Diesel Locomotive Parts |
| 121X1039-1 | LOCK PLATE | Diesel Locomotive Parts |
| 121X1045-3 | BOLT | Diesel Locomotive Parts |
| 121X1077 | BOLT | Diesel Locomotive Parts |
| 121X1080 | GASKET | Diesel Locomotive Parts |
| 121X1109 | FUEL NOZZLE STUD | Diesel Locomotive Parts |
| 121X1115 | RING | Diesel Locomotive Parts |
| 121X1120-1 | BUSH | Diesel Locomotive Parts |
| 121X1122-2 | CLAMPING RING | Diesel Locomotive Parts |
| 121X1126 | VALVE GUIDE | Diesel Locomotive Parts |
| 121X1144-2 | CYL LINER GASKET | Diesel Locomotive Parts |
| 121X1156-3(121X1231) | COVER | Diesel Locomotive Parts |
| 121X1157-1 | GASAKET | Diesel Locomotive Parts |
| 121X1164-1 | O RING | Diesel Locomotive Parts |
| 121X1163 | ADAPTER | Diesel Locomotive Parts |
| 121X1169 | PLUG | Diesel Locomotive Parts |
| 121X1182-1 | LINER | Diesel Locomotive Parts |
| 121X1186-1 | BOLT | Diesel Locomotive Parts |
| 121X1187 | WASHER | Diesel Locomotive Parts |
| 121X1190-1 | CYLINDER HEAD | Diesel Locomotive Parts |
| 121X1191-1 | WASHER | Diesel Locomotive Parts |
| 121X1197-1 | SEAL RETAINING RING | Diesel Locomotive Parts |
| 121X1215-2 | CYLINDER HEAD | Diesel Locomotive Parts |
| 121X1227-1 | BUSH | Diesel Locomotive Parts |
| 121X1228 | WATER JACKET | Diesel Locomotive Parts |
| 121X1240-2 | EB-LINER | Diesel Locomotive Parts |
| 121X1242 | EB-LINER | Diesel Locomotive Parts |
| 121×1244-2 | LINER HEAD WELD | Diesel Locomotive Parts |
| 121X1296 | SEAL | Diesel Locomotive Parts |
| 123X1001 | UMBRELLA | Diesel Locomotive Parts |
| 123X1037-4/-5 | VALVE, INCONEL 751 | Diesel Locomotive Parts |
| 123X1039 | VALVE LOCK CLAMPS | Diesel Locomotive Parts |
| 123×1041 | FUEL INFECTOR | Diesel Locomotive Parts |
| 123X1053-1 | NOZZLE | Diesel Locomotive Parts |
| 123X1079-1(123×1042) | SPRING SEAT | Diesel Locomotive Parts |
| 123X1085 | ROTATOR | Diesel Locomotive Parts |
| 123X1090 | VALVE, INCONELL 751 | Diesel Locomotive Parts |
| 123X1092 | TRAN BLOCK | Diesel Locomotive Parts |
| 123X1093 | THRUST CAP | Diesel Locomotive Parts |
| 123X1097 | NUT | Diesel Locomotive Parts |
| 123X1110-2 | INJECTOR NOZ | Diesel Locomotive Parts |
| 124X1006 | SPACER | Diesel Locomotive Parts |
| 124X1007 | SPACER | Diesel Locomotive Parts |
| 124X1010-8 | SCREW & TAPPET | Diesel Locomotive Parts |
| 124X1013 | PUSH ROD | Diesel Locomotive Parts |
| 124X1014 | TAPPET ROD | Diesel Locomotive Parts |
| 124X1015-3 | UMBRELLA | Diesel Locomotive Parts |
| 124X1025 | NUT | Diesel Locomotive Parts |
| 124X1030-7 | PUSH ROD | Diesel Locomotive Parts |
| 124X1031-7 | IN & OUT PUSH ROD | Diesel Locomotive Parts |
| 124X1036-2 | CROSSHEAD GUIDE | Diesel Locomotive Parts |
| 124X1058-6 | ROLLER | Diesel Locomotive Parts |
| 124X1059-2 | CROSSHEAD GUIDE | Diesel Locomotive Parts |
| 124X1061 | SPRING RETAINER | Diesel Locomotive Parts |
| 124X1063 | CAM ROLLER | Diesel Locomotive Parts |
| 124X1064 | CAM ROLLER PIN | Diesel Locomotive Parts |
| 124X1065-2 | ROCKER SHAFT | Diesel Locomotive Parts |
| 124X1068-6 | CROSSHEAD | Diesel Locomotive Parts |
| 124×1069 | BUSHING | Diesel Locomotive Parts |
| 124X1070-1 | EXH ROCKER | Diesel Locomotive Parts |
| 124X1072 | PUSH ROD BRG | Diesel Locomotive Parts |
| 124X1075-2 | ROCKER | Diesel Locomotive Parts |
| 124X1076 | ROLLER | Diesel Locomotive Parts |
| 124X1077 | CAM ROLLER PIN | Diesel Locomotive Parts |
| 124X1080-2 | ELBOW ROCKER | Diesel Locomotive Parts |
| 125X1009-2 | SEAL PLATE | Diesel Locomotive Parts |
| 125X1009-4 | SEAL PLATE | Diesel Locomotive Parts |
| 125X1024-6 | OIL SEAL | Diesel Locomotive Parts |
| 125X1078-2 | SHAFT WITH SLEEVE | Diesel Locomotive Parts |
| 125X1081 | SPACER SLEEVE | Diesel Locomotive Parts |
| 126X1451 | BOLT-SHRUD | Diesel Locomotive Parts |
| 126X1452 | NUT TIA | Diesel Locomotive Parts |
| 126X1454 | RETAINER , NOZZLE RING | Diesel Locomotive Parts |
| 126X1455 | BOLT | Diesel Locomotive Parts |
| 126×1556 | RING | Diesel Locomotive Parts |
| 126X1562-1 | OIL SEAL | Diesel Locomotive Parts |
| 126X1563 | OIL SEAL | Diesel Locomotive Parts |
| 126X1572 | SHROUD | Diesel Locomotive Parts |
| 126X1586-1 | NOZZLE RING | Diesel Locomotive Parts |
| 126X1644-1 | LOCKING KEY | Diesel Locomotive Parts |
| 126X1646-1 | SHELL | Diesel Locomotive Parts |
| 126X1661-1 | SHAFT | Diesel Locomotive Parts |
| 126X1701 | SHAFT | Diesel Locomotive Parts |
| 808-103-0015 | SPUD OILl CB-08 BRASS PER RB-180, SO 12406 | Oil and Gas Parts Equipment |
| 808-103-0018 | ATMR OIL CB-08 BRASS, ATOMIZER PER RB-180,SO 12406 | Oil and Gas Parts Equipment |
| 128X1006-1 | GASKETS | Diesel Locomotive Parts |
| 128X1020-1 | MANIFOLD BODY | Diesel Locomotive Parts |
| 128×1021 | MANIFOLD TUBE | Diesel Locomotive Parts |
| 128X1023-1 | RING | Diesel Locomotive Parts |
| 128X1024-1 | HEAD | Diesel Locomotive Parts |
| 128X1353-4 | MAIN SECTION | Diesel Locomotive Parts |
| 128×1357-1 | GASKET | Diesel Locomotive Parts |
| 128X1358 | SEAL | Diesel Locomotive Parts |
| 128×1413 | GASKET | Diesel Locomotive Parts |
| 128X1417-4 | ELBOW | Diesel Locomotive Parts |
| 128×1442 | BOLTING RING | Diesel Locomotive Parts |
| 128X1444-6 | SECTION | Diesel Locomotive Parts |
| 128X1576 | SLEEVE | Diesel Locomotive Parts |
| 128X1594 | ALIGNMENT | Diesel Locomotive Parts |
| 128X1635 | SECTION | Diesel Locomotive Parts |
| 128X1639 | CLAMP | Diesel Locomotive Parts |
| 128X1648-1 | TRANSITION SECTION | Diesel Locomotive Parts |
| 129×1062 | JACKING RING HUB | Diesel Locomotive Parts |
| 129xx1013-1 | PLATE | Diesel Locomotive Parts |
| 131X1005-4 | COVER | Diesel Locomotive Parts |
| 131X1045-1 | INSERT | Diesel Locomotive Parts |
| 131X1051 | LUBE OIL FILL COVER | Diesel Locomotive Parts |
| 132X1093-1 | BEARING | Diesel Locomotive Parts |
| 132X1261 | BEARING | Diesel Locomotive Parts |
| 132×1263 | SUPPORT | Diesel Locomotive Parts |
| 132X1298 | PLATE | Diesel Locomotive Parts |
| 132X1299 | PLUG | Diesel Locomotive Parts |
| 132X1308 | BUSHING | Diesel Locomotive Parts |
| 132X1320-1 | FUEL LEVER | Diesel Locomotive Parts |
| 132X1321 | SHAFT | Diesel Locomotive Parts |
| 132X1322 | FULCRUM | Diesel Locomotive Parts |
| 132X1493-1 | NUT | Diesel Locomotive Parts |
| 132X1498 | SPRING | Diesel Locomotive Parts |
| 132X1622 | FUEL HEATER | Diesel Locomotive Parts |
| 135×1039 | GEAR | Diesel Locomotive Parts |
| 135X1046-1 | GEAR | Diesel Locomotive Parts |
| 135X1059-2 | GEAR | Diesel Locomotive Parts |
| 136X1043 | DRIVE SHAFT | Diesel Locomotive Parts |
| 136X2218 | BASE | Diesel Locomotive Parts |
| 139X1100 | DOWEL | Diesel Locomotive Parts |
| 139X1106 | KEY | Diesel Locomotive Parts |
| 139X1107-1 | NUT | Diesel Locomotive Parts |
| 139X1113 | NUT | Diesel Locomotive Parts |
| 139X1156 | STUD | Diesel Locomotive Parts |
| 139X1157 | STUD | Diesel Locomotive Parts |
| 139X1255 | SHAFT AND GEAR | Diesel Locomotive Parts |
| 139X1258 | FACE PLATE | Diesel Locomotive Parts |
| 139X1261 | SPACER | Diesel Locomotive Parts |
| 139X1265 | SHAFT AND GEAR | Diesel Locomotive Parts |
| 139×1274 | LOAD RING | Diesel Locomotive Parts |
| 140X1083 | COUPLING | Diesel Locomotive Parts |
| 140×1118 | DRAIN VALVE | Diesel Locomotive Parts |
| 140X1488-3 | CONNECTION | Diesel Locomotive Parts |
| 140X1494-3 | SECT | Diesel Locomotive Parts |
| 140X1495-2 | SECT | Diesel Locomotive Parts |
| 140X1496-2 | SECT | Diesel Locomotive Parts |
| 140X1504 | FILTER | Diesel Locomotive Parts |
| 140×1717 | PLUG | Diesel Locomotive Parts |
| 140X1761-3 | LINE & FITINGS | Diesel Locomotive Parts |
| 140X1826 | FUEL LINE | Diesel Locomotive Parts |
| 140X2130 | FLANGE | Diesel Locomotive Parts |
| 140×2189 | ADAPTER | Diesel Locomotive Parts |
| 140X2289 | HOSE | Diesel Locomotive Parts |
| 140×2419 | HOSE | Diesel Locomotive Parts |
| 140×2420-1 | HOSE | Diesel Locomotive Parts |
| 140X2950 | FUEL LINE | Diesel Locomotive Parts |
| 142X1019 | PIN BUSHER | Diesel Locomotive Parts |
| 142X1034-1 | BOLT | Diesel Locomotive Parts |
| 142X1042 | PIN BUSHING | Diesel Locomotive Parts |
| 142X1043-3 | PISTON CROWN | Diesel Locomotive Parts |
| 8482396 | GOVERNOR-EMD PGE | Diesel Locomotive Parts |
| 142X1050 | PISTON | Diesel Locomotive Parts |
| 8216206 | GOVERNOR-PGE | Diesel Locomotive Parts |
| 142X1063 | PISTON | Diesel Locomotive Parts |
| 142X1064 | PISTON CROWN | Diesel Locomotive Parts |
| 142X1070 | PISTON | Diesel Locomotive Parts |
| 142X1073 | PISTON CROWN | Diesel Locomotive Parts |
| 146X1059-1(132×1112) | SPRING | Diesel Locomotive Parts |
| 146X1082-1 | SPRING | Diesel Locomotive Parts |
| 146X1101 | SPRING | Diesel Locomotive Parts |
| 146×1102 | SPRING | Diesel Locomotive Parts |
| 150X1023 | CYLINDER REPAIR KIT | Diesel Locomotive Parts |
| 150X1024 | CYLINDER AND HEAD | Diesel Locomotive Parts |
| 150X1153-1 | CYLINDER LINER | Diesel Locomotive Parts |
| 150X1190-1 | RING SET | Diesel Locomotive Parts |
| 150×1218 | PLUG/GASKET | Diesel Locomotive Parts |
| 150X1221-1 | RING KIT 4 RINGS CHROME BARE | Diesel Locomotive Parts |
| 150X1250 | EB PISTON RING SET | Diesel Locomotive Parts |
| 41A210602P2 | KEY | Diesel Locomotive Parts |
| 41A211200P4 | SELF-LOCKING NUT | Diesel Locomotive Parts |
| 41A211251P1 | PLOT STUD | Diesel Locomotive Parts |
| 41A212361P6 | VALVE | Diesel Locomotive Parts |
| 41A212446G3 | BOLT | Diesel Locomotive Parts |
| 41A212761P1 | RING | Diesel Locomotive Parts |
| 41A212792P1 | CONNECTOR | Diesel Locomotive Parts |
| 41A212813G1 | CONNECTOR | Diesel Locomotive Parts |
| 41A215036P1 | PIN | Diesel Locomotive Parts |
| 41A215037P15 | PIN | Diesel Locomotive Parts |
| 41A215037P2 | BOLT | Diesel Locomotive Parts |
| 41A215037P4 | BOLT | Diesel Locomotive Parts |
| 41A215038P1 | PIN | Diesel Locomotive Parts |
| 41A215058G1 | PIN ASSEMBLY | Diesel Locomotive Parts |
| 41A216250P1 | CUT OUT COCK | Diesel Locomotive Parts |
| 41A232821P1 | SLEEVE | Diesel Locomotive Parts |
| 41A238791P1 | COLLAR | Diesel Locomotive Parts |
| 41A238792P1 | BEARING CAP | Diesel Locomotive Parts |
| 41A238793P1 | BEARING CAP | Diesel Locomotive Parts |
| 41A242497P12 | FITTING | Diesel Locomotive Parts |
| 41A243149P1 | BEARING | Diesel Locomotive Parts |
| 41A244100AAP2 | SNUBBER COMPLETE | Diesel Locomotive Parts |
| 41A244100AAP13 | SNUBBER | Diesel Locomotive Parts |
| 41A250866P20 | BUSHING | Diesel Locomotive Parts |
| 41A251866P1 | PACKING | Diesel Locomotive Parts |
| 41A302307P1 | HOSE | Diesel Locomotive Parts |
| 41A302541P1 | BOLT | Diesel Locomotive Parts |
| 41B500680P1 | FLEX XONNECTOR | Diesel Locomotive Parts |
| 41B515914P1 | MTR MOUNT | Diesel Locomotive Parts |
| 41B531222G2 | CABLE | Diesel Locomotive Parts |
| 41B532597G1 | SEAL | Diesel Locomotive Parts |
| 41B535019P1 | GAP | Diesel Locomotive Parts |
| 41B535025P1 | GEAR | Diesel Locomotive Parts |
| 41B535296P1 | GEAR | Diesel Locomotive Parts |
| 41B535723G3 | DUST GUARD | Diesel Locomotive Parts |
| 41B537074P2 | FLINGER | Diesel Locomotive Parts |
| 41B537075P1 | GAP | Diesel Locomotive Parts |
| 41B547441G1 | DOOR | Diesel Locomotive Parts |
| 41B561446G1 | CONNECTORE | Diesel Locomotive Parts |
| 41C611400P1 | MOUNT | Diesel Locomotive Parts |
| 41C611494P1 | FLEX CONNECTOR | Diesel Locomotive Parts |
| 41C619140P1 | COUPLING | Diesel Locomotive Parts |
| 305432-1165 | O-RING | Oil and Gas Parts Equipment |
| 9527104 | BOLTS | Diesel Locomotive Parts |
| 40034114 | BUTTERFLY BEND | Diesel Locomotive Parts |
| 6301-2RSC3 | DEEP GROOVE RADIAL BEARING | Oil and Gas Parts Equipment |
| C330C822J5G5TA | CAPACITOR, F/ HALLIBURTON FLOW METER | Oil and Gas Parts Equipment |
| 145106BQ | EATON B3 SELF LUBRICATING ROTOR | Oil and Gas Parts Equipment |
| 29925 | LIGHT,STROBE RED BULB F/ TAJ RIGS | Oil and Gas Parts Equipment |
| 129C | REPLACEMENT BULB | Oil and Gas Parts Equipment |
| RCBX12-21 | ROOM AC/WINDOW UNIT | Oil and Gas Parts Equipment |
| 631-LH-TC-P | UNIVERSAL MAGNETEK F48T12HO BALLAST | Oil and Gas Parts Equipment |
| 9T58B0505G30 | TRANSFORMER, CONTROL 0.200KVA 480V PRIMARY 120V SECONDARY 60HZ 1 PH" | Oil and Gas Parts Equipment |
| 39001001 | PUMP MODULE,WG,3500Psi,F/2L PILOT,W/3/4 OD PLUNGER-LTV-PRV & MECH ACCUM,STD/COASTAL SVC | Oil and Gas Parts Equipment |
| 41C619141P1 | COUPLING | Diesel Locomotive Parts |
| 41C619696G1 | SUPORT | Diesel Locomotive Parts |
| 41C619696G2 | SUPORT | Diesel Locomotive Parts |
| 41C624356G1 | DOOR | Diesel Locomotive Parts |
| 41C632663P1 | PINION | Diesel Locomotive Parts |
| 41C633006P1 | BEARING SEAT | Diesel Locomotive Parts |
| 41C633808P3 | CAP | Diesel Locomotive Parts |
| 41C635780P3 | SHAFT | Diesel Locomotive Parts |
| 41C635865G1 | FRAME HEAD | Diesel Locomotive Parts |
| 41C636120G1 | INSERT | Diesel Locomotive Parts |
| 41C636159G2 | COVER | Diesel Locomotive Parts |
| 41D711633P1 | BOOT | Diesel Locomotive Parts |
| 41D711651G3 | PIN | Diesel Locomotive Parts |
| 41D717456G35 | DOOR | Diesel Locomotive Parts |
| 41D723217P1 | DRIVE SHAFT | Diesel Locomotive Parts |
| 41D723709G1 | RADIATOR | Diesel Locomotive Parts |
| 41D731488G1 | INSPECTION COVER BUTTON | Diesel Locomotive Parts |
| 41D732218P1 | FRAM HEAD | Diesel Locomotive Parts |
| 41D756403G1 | DOOR | Diesel Locomotive Parts |
| 41D757626G1 | DOOR | Diesel Locomotive Parts |
| 1X2131 | RING | Diesel Locomotive Parts |
| 1X2132 | SEAL ENCLOSURE | Diesel Locomotive Parts |
| 1X2133 | WEAR RING | Diesel Locomotive Parts |
| 1X2136 | SPACE | Diesel Locomotive Parts |
| 1×6428 | WEAR PLATE | Diesel Locomotive Parts |
| 2X3098 | SPRING | Diesel Locomotive Parts |
| 2X3967 | RETAINER | Diesel Locomotive Parts |
| 2X3968 | RING | Diesel Locomotive Parts |
| 2X3969 | RETAINER | Diesel Locomotive Parts |
| 968X73 | DARER | Diesel Locomotive Parts |
| 968X77 | DOLT | Diesel Locomotive Parts |
| 968X78 | NUT | Diesel Locomotive Parts |
| 968X81 | WEDGE RING | Diesel Locomotive Parts |
| 968X85 | RETAINER | Diesel Locomotive Parts |
| 968X86 | SHIM | Diesel Locomotive Parts |
| 514577 | VALVE PLUG | Diesel Locomotive Parts |
| 514642 | PLUG | Diesel Locomotive Parts |
| 514644 | VALVE GASKET | Diesel Locomotive Parts |
| 517747 | SCREEN | Diesel Locomotive Parts |
| 568941 | LOCK NUT | Diesel Locomotive Parts |
| 332B313G1 | SHUNT | Diesel Locomotive Parts |
| 334B687P1 | SHAFT | Diesel Locomotive Parts |
| 4713640P1 | FLINGER | Diesel Locomotive Parts |
| 4748663G1 | INSPECTION COVER | Diesel Locomotive Parts |
| 4768526P4 | PIN | Diesel Locomotive Parts |
| 489A270P30 | U-BOLT | Diesel Locomotive Parts |
| 489A419P7 | BOLT | Diesel Locomotive Parts |
| 493A790P1 | SHIM | Diesel Locomotive Parts |
| 493A998P1 | CAP | Diesel Locomotive Parts |
| 494A201P1 | SPACER | Diesel Locomotive Parts |
| 495A614P4 | PIN | Diesel Locomotive Parts |
| 495A614P7 | PIN | Diesel Locomotive Parts |
| 497A803P16 | HOSE ASSEMBLY 19 11/16″ LONG | Diesel Locomotive Parts |
| 499A910ABP14 | CLAMP | Diesel Locomotive Parts |
| 6712788P1 | CONTACT | Diesel Locomotive Parts |
| 8804063P1 | NUT | Diesel Locomotive Parts |
| 8805155P1 | FLINGER | Diesel Locomotive Parts |
| 8805484P1 | GASKET | Diesel Locomotive Parts |
| 8805489P1 | FLINGER | Diesel Locomotive Parts |
| 8861284P2 | PIN | Diesel Locomotive Parts |
| 17CP2BC3 | POWER CONTACTORS | Diesel Locomotive Parts |
| 17EA7C112 | RESISTOR | Diesel Locomotive Parts |
| 17LV66J10 | RELAY | Diesel Locomotive Parts |
| 17MV40C1 | VALVE | Diesel Locomotive Parts |
| 388D240P1 | BOLSTER MOUNT | Diesel Locomotive Parts |
| 388D240P2 | BOLSTER MOUNT | Diesel Locomotive Parts |
| 388D240P3 | BOLSTER MOUNT | Diesel Locomotive Parts |
| 388D240P4 | BOLSTER MOUNT | Diesel Locomotive Parts |
| 388D240P5 | BOLSTER MOUNT | Diesel Locomotive Parts |
| 388D240P6 | BOLSTER MOUNT | Diesel Locomotive Parts |
| 8339952 | SUSPENSION PACK | Diesel Locomotive Parts |
| 41A215032G1 | STOP | Diesel Locomotive Parts |
| 41B510214P1 | MOUNT | Diesel Locomotive Parts |
| 84B106377P1 | CLAPBOARD | Diesel Locomotive Parts |
| 126X1698 | SHAFT ASSEMBLY | Diesel Locomotive Parts |
| 126X1491-1 | NOZZLE RING | Diesel Locomotive Parts |
| 126X1634 | MAIN CASING (TURBINE) | Diesel Locomotive Parts |
| 8052327 | SCREW | Diesel Locomotive Parts |
| 8068060 | WEAR PLATE | Diesel Locomotive Parts |
| 8146111 | PIN | Diesel Locomotive Parts |
| 8160209-1 | TUBE | Diesel Locomotive Parts |
| 8250387 | SEAL ASM- FELT WHEEL HUB | Diesel Locomotive Parts |
| 8408985 | 14″ CONNECTOR | Diesel Locomotive Parts |
| 8408987 | 10″ CONNECTOR | Diesel Locomotive Parts |
| 841599 | EMD 645E LINER LASER HARDENED | Diesel Locomotive Parts |
| 8491460 | HOSE ASSEMBLY | Diesel Locomotive Parts |
| 8836855 | CONNECTOR | Diesel Locomotive Parts |
| 9319169 | INSERT LOWER LINER PILOT | Diesel Locomotive Parts |
| 9320120 | HOSE ASSEMBLY | Diesel Locomotive Parts |
| 9320121 | HOSE ASSEMBLY | Diesel Locomotive Parts |
| 9320122 | HOSE ASSEMBLY | Diesel Locomotive Parts |
| 9557143 | SCREEN | Diesel Locomotive Parts |
| 40072989 | FLEXIBLE WATER TUBE | Diesel Locomotive Parts |
| 40007978 | PISTON-FINISHED | Diesel Locomotive Parts |
| 40006129 | PISTON-PLATED | Diesel Locomotive Parts |
| 8459702 | PISTON-FINISHED (EMD710) | Diesel Locomotive Parts |
| 8459704 | PISTON-FINISHED | Diesel Locomotive Parts |
| 9582436 | PISTON-FINISHED | Diesel Locomotive Parts |
| 40006130 | PISTON-PLATED | Diesel Locomotive Parts |
| 95236 | PISTON-FINISHED | Diesel Locomotive Parts |
| 9574501 | PISTON-FINISHED FOR 645EB ENGINES | Diesel Locomotive Parts |
| 40006131 | PISTON-FINISHED | Diesel Locomotive Parts |
| 40003446 | EMD 710G3 PISTON MACHINED | Diesel Locomotive Parts |
| 9562163 | PISTON-PLATED FOR 710G3 TIER | Diesel Locomotive Parts |
| 8409499 | PISTON-FINISHED | Diesel Locomotive Parts |
| 8410130 | PISTON-FINISHED | Diesel Locomotive Parts |
| 8410131 | PISTON-FINISHED | Diesel Locomotive Parts |
| 9573312 | PISTON-FINISHED | Diesel Locomotive Parts |
| 9573817 | PISTON-PLATED | Diesel Locomotive Parts |
| 3730094 | SHAFT | Diesel Locomotive Parts |
| 9090608 | SUPPORT ROCKER ARM | Diesel Locomotive Parts |
| 9090607 | BRACKET | Diesel Locomotive Parts |
| 9556059 | EMD CYLINDER HEAD, SMALL ASSEMBLY | Diesel Locomotive Parts |
| 8455666 | FRONT & INT. LOWER MAIN | Diesel Locomotive Parts |
| 8455668 | CENTER LOWER MAIN | Diesel Locomotive Parts |
| 8455844 | MAIN BEARING SHELL REAR UPPER STD | Diesel Locomotive Parts |
| 8455856 | CENTTER UPPER MAIN | Diesel Locomotive Parts |
| 8455862 | FRONT & INT. UPPER MAIN | Diesel Locomotive Parts |
| 8417859 | PISTON PULLER | Diesel Locomotive Parts |
| 370-20000-6 | TURBINE BLADE | Diesel Locomotive Parts |
| 8300083 | STUD, 1-1/8-7 X 4-7/8 | Diesel Locomotive Parts |
| 8300231 | NOSE PIECE | Diesel Locomotive Parts |
| 8341192 | BEARING INSERT | Diesel Locomotive Parts |
| 8462226 | BEARING CARRIER | Diesel Locomotive Parts |
| 24200424 | PISTON COMPLETE | Diesel Locomotive Parts |
| 24200425 | PISTON COMPLETE | Diesel Locomotive Parts |
| 24200430 | PISTON COMPLETE | Diesel Locomotive Parts |
| 2421092 | PISTON CROWN | Diesel Locomotive Parts |
| 2421093 | PISTON CRWON | Diesel Locomotive Parts |
| 24200440 | PISTON SKIRT | Diesel Locomotive Parts |
| 2420021-2 | PISTON PIN WITH SLEEVE | Diesel Locomotive Parts |
| 2321598 | BUSHING | Diesel Locomotive Parts |
| 2421084 | WASHER | Diesel Locomotive Parts |
| 21400133 | COVER | Diesel Locomotive Parts |
| 21410166 | BEARING | Diesel Locomotive Parts |
| 21410326 | BEARING | Diesel Locomotive Parts |
| 21410365 | BEARING | Diesel Locomotive Parts |
| 2151021 | NUT | Diesel Locomotive Parts |
| 2151022 | NUT | Diesel Locomotive Parts |
| 215142793 | STUD INJECTION TUBE | Diesel Locomotive Parts |
| 21514295 | STUD | Diesel Locomotive Parts |
| 21516311 | NUT | Diesel Locomotive Parts |
| 2153174 | NUT | Diesel Locomotive Parts |
| 2153175 | NUT | Diesel Locomotive Parts |
| 2154025 | GASKET | Diesel Locomotive Parts |
| 21710226 | BEARING | Diesel Locomotive Parts |
| 21710228 | BEARING | Diesel Locomotive Parts |
| 2171052 | BOLT | Diesel Locomotive Parts |
| 2501071 | STUD | Diesel Locomotive Parts |
| 4321021 | RETAINER | Diesel Locomotive Parts |
| 4321022 | SPRING RETAINER | Diesel Locomotive Parts |
| 4321041 | CAM ROLLER | Diesel Locomotive Parts |
| 4321051 | BUSHING | Diesel Locomotive Parts |
| 4321061 | CAM ROLLER PIN | Diesel Locomotive Parts |
| 4321063 | PIN | Diesel Locomotive Parts |
| 80-522-01442-000 | RK2015 PISTON | Diesel Locomotive Parts |
| 80-322-01418-000 | RK270 MK1 PISTON | Diesel Locomotive Parts |
| 80-322-01419-000 | RK270 MK2 PISTON | Diesel Locomotive Parts |
| 80-509-01149-001 | RK215 LINER | Diesel Locomotive Parts |
| 8127051 | FUSE 250 V150 A. | Diesel Locomotive Parts |
| 8127052 | FUSE | Diesel Locomotive Parts |
| 1852886 | BRUSH | Diesel Locomotive Parts |
| 8413190 | CARBON BRUSH | Diesel Locomotive Parts |
| 8366391 | SWITCH, ROTARY | Diesel Locomotive Parts |
| 2261208-1 | BEARING | Diesel Locomotive Parts |
| 17MM24PF1 | ALTERNATOR | Diesel Locomotive Parts |
| 15-5CAVH1E | HV HRC FUSE,1A,15-5CAVH1E,INTERR.80000A | Oil and Gas Parts Equipment |
| BCLF01 | AUXILIARY CONTACT BLOCK; 600VAC; FRONT MOUNT ,1NC; DEFINE PURPOSE CONTACTORS | Oil and Gas Parts Equipment |
| 187190 | INDICATION LAMP,BA9S,MONO LED 130V WHITE | Oil and Gas Parts Equipment |
| 672574 | SHUNT TRIP,TELE L,110-415VAC,110-125VDC | Oil and Gas Parts Equipment |
| 112485 | CONTACTOR,120-125VDC/32A,3P,CL04D310MK | Oil and Gas Parts Equipment |
| 104478 | CONTACTOR,110/127VDC/AC,205A,CK85BE311J | Oil and Gas Parts Equipment |
| 133784 | CONTACTOR,110/127VDC/AC,420A,CK10CE311J | Oil and Gas Parts Equipment |
| 113108 | CONTACTOR,110/127VDC/AC,150A,CK10CE311J | Oil and Gas Parts Equipment |
| 101870 | OVERLOAD RELAY,SERIES RE,6.4-32.0A,RE1S | Oil and Gas Parts Equipment |
| 101873 | OVERLOAD RELAY,SERIES RE,22 – 110A,RE2M | Oil and Gas Parts Equipment |
| 185402 | SELECTOR SWITCH,2POS.,50/60HZ,P9XSCD0K95 | Oil and Gas Parts Equipment |
| BCLF10 | CONTACTOR,120-125VDC/25A,3P,CL25D300TK | Oil and Gas Parts Equipment |
| ABB AF80-30-11-13 | CTR; 3P; 80A; 100-250VAC/DC; 2/2 | Oil and Gas Parts Equipment |
| ABB AF40-30-11-13 | CTR; 3P; 42A; 100-250VAC/DC; 1/1 | Oil and Gas Parts Equipment |
| 9541514 | MAIN BEARING CAP | Diesel Locomotive Parts |
| 40001044 | CLUTCH ASSEMBLY | Diesel Locomotive Parts |
| 40028824 | INTER CRAB | Diesel Locomotive Parts |
| 10478827 | STARTER, 32V, CW | Diesel Locomotive Parts |
| 8206553 | ROTAR PLATE BEARING | Diesel Locomotive Parts |
| 47709 | SULLAIR AIR/OIL SEPARATOR | Diesel Locomotive Parts |
| 8868 | SPRINGS F/ 9-5/8″ CASING SCRAPER CS.COT2 | Oil and Gas Parts Equipment |
| 8215102 | SEGMENT , PISTON OIL | Diesel Locomotive Parts |
| E3764-879F616A1 | VALVE BALL 6 150# LCC RF ENP FP FS TM G/O 1.0 | Oil and Gas Parts Equipment |
| 9F62FDD200 | FUSE, 15.5KV 200 AMP CURRENT LIMITING E JO-1 SIZE DD | Oil and Gas Parts Equipment |
| BPC0962501313CR | CLAMP, BYPASS 3.675″ CL P100LS & P75LS F/9 5/8″ CASING F/2 7/8″ BYPASS TUBING | Oil and Gas Parts Equipment |
| 9318435 | LUBRICATOR ASSEMBLY . D29 & D31 | Diesel Locomotive Parts |
| 1SDA073685R1 | CLOSING COIL,YC E1.2 E6.2,110-120VAC/DC | Oil and Gas Parts Equipment |
| 1SDA073672R1 | OPENING COIL,YO E1.2&.E6.2,110VAC/DC | Oil and Gas Parts Equipment |
| 1SDA073698R1 | UNDERVOLT COIL,YU E1.2&.E6.2,110VAC/DC | Oil and Gas Parts Equipment |
| CL-523R | INDICATION LAMP,CB ON, RED 110V | Oil and Gas Parts Equipment |
| CL-523G | INDICATION LAMP,CB OFF, GREEN 110V | Oil and Gas Parts Equipment |
| CL-523Y | INDICATION LAMP,CB TRIP, YELLOW 110V | Oil and Gas Parts Equipment |
| CP110G-10 | PUSH BUTTON, GREEN | Oil and Gas Parts Equipment |
| CP110R-01 | CP110R-01 | Oil and Gas Parts Equipment |
| 40.52.8.024.0000 | DPCO MINIATURE PCB RELAY; 8A 24 VAC COIL | Oil and Gas Parts Equipment |
| 99.02.9.024.99 | PLUG IN INTERFACE RELAY MODULE 6- 24V DC | Oil and Gas Parts Equipment |
| 55.34.9.024.0040 | 4PDT PLUG IN NON-LATCHING RELAY TAB; 7 A ; 24V DC | Oil and Gas Parts Equipment |
| S8VK-G24024 | POWER SUPPLY ; AC-DC; 24V; 10A;85-26V IN; ENCLOSED; DIN RAIL MOUNT;240W; S8VK SERIES | Oil and Gas Parts Equipment |
| 2800915 | CIR BRKR SOLID STATE 1A 24VDC | Oil and Gas Parts Equipment |
| 2902955 | MODULAR PART; ELECTROMECHANICAL OUTPUT RELAY; 24 V IN ;250 V; 6A OUT ; DIN RAIL MOUNT | Oil and Gas Parts Equipment |
| 1SNA645505R0100 | RBR121G-24VUC | Oil and Gas Parts Equipment |
| 284335N | VALVE, AIR, THROTTLE CAB | Oil and Gas Parts Equipment |
| 2157002 | LOCK WIRE | Diesel Locomotive Parts |
| 85001500 | PENTAIR SKIMMER WEIR FLAP FOR ADMIRAL S15 20 | Industrial Parts & Misc |
| 9570614 | GASKET | Diesel Locomotive Parts |
| 4993721 | SHOCK ABSORBER | Diesel Locomotive Parts |
| KU3T2000333 | RING, SEAL F/ WILSON SNYDER PUMP | Oil and Gas Parts Equipment |
| 568224GU | O-RING, VITON FOR WILSON SNYDER PUMP | Oil and Gas Parts Equipment |
| MVRR2625333 | O-RING, VITON FOR WILSON SNYDER PUMP | Oil and Gas Parts Equipment |
| 22600532 | ROTOR ASSEMBLY | Diesel Locomotive Parts |
| 8358500 | TURBOCHARGER ASSEMBLY | Diesel Locomotive Parts |
| 8358500R | TURBOCHARGER ASSEMBLY REMAN. | Diesel Locomotive Parts |
| 9338194 | TURBOCHARGER ASSEMBLY | Diesel Locomotive Parts |
| 9338194R | TURBOCHARGER REMAN. | Diesel Locomotive Parts |
| 7006B183 | RING, WIPER – DRECO | Oil and Gas Parts Equipment |
| 1625-256 | RING, WIPER – DRECO | Oil and Gas Parts Equipment |
| 5466055 | LINER,5-1/2″NAT.7P-50 SS025754 | Oil and Gas Parts Equipment |
| 1561527 | DISC,VALVE,POLYURETHANE | Oil and Gas Parts Equipment |
| 1625-233 | O RING | Oil and Gas Parts Equipment |
| 1625143 | ELEMENT, FILTER | Oil and Gas Parts Equipment |
| 336B737G1 | FINGER W/TIP SHUNT | Diesel Locomotive Parts |
| Tk15402 | ARM, TORQUE KIT F/ RAYCO 21BFAB-50″ TANDEM RIG CARRIER | Oil and Gas Parts Equipment |
| 1468201 | BUSHING, F/ RAYCO 21BFAB-50″ RIG CARRIER TANDEM | Oil and Gas Parts Equipment |
| 98-2114 | COTTER PIN KIT 130PC | Oil and Gas Parts Equipment |
| 138-3100 | FILTER, FUEL WATER SEPARATOR | Oil and Gas Parts Equipment |
| TK18997 | ARM, TORQUE KIT | Oil and Gas Parts Equipment |
| 8251143-R | SWITCH ASSEMBLY , RESERVER | Diesel Locomotive Parts |
| 8330790 | VOLTAGE REGULATOR | Diesel Locomotive Parts |
| 151407-GS | SEAL, ASSEMBLY | Oil and Gas Parts Equipment |
| KZ10 | HYD. FILTER ELEMENT | Oil and Gas Parts Equipment |
| 1-23408 | PUMP-HYDRAULIC, VANE TYPE | Oil and Gas Parts Equipment |
| 1-24059 | ELEMENT-FILTER | Oil and Gas Parts Equipment |
| 1-26117 | CYLINDER | Oil and Gas Parts Equipment |
| 7032B196 | POWER TAKE OFF | Oil and Gas Parts Equipment |
| 75MWA400 | WATER BOX ASSEMBLY | Oil and Gas Parts Equipment |
| 7040B162 | CONTROL VALVE, PTO | Oil and Gas Parts Equipment |
| 60-MB-703 | BRAKE BAND | Oil and Gas Parts Equipment |
| 7000B040 | CYLINDER, HYDRAULIC STEERING | Oil and Gas Parts Equipment |
| 20120022 | LIPSEAL | Oil and Gas Parts Equipment |
| 20120023 | LIPSEAL | Oil and Gas Parts Equipment |
| 20010092+79 | O-RING | Oil and Gas Parts Equipment |
| 20010093+79 | O-RING | Oil and Gas Parts Equipment |
| 1-17122 | CLUTCH | Oil and Gas Parts Equipment |
| 51300-228-B | O-RING | Oil and Gas Parts Equipment |
| 1-17449 | CLUTCH | Oil and Gas Parts Equipment |
| 7006B312 | O-RING | Oil and Gas Parts Equipment |
| 7006B313 | O-RING | Oil and Gas Parts Equipment |
| 27395 | BRAKE BLOCK | Oil and Gas Parts Equipment |
| R431006328 | ROTAIR VALVE(7P-98S) | Oil and Gas Parts Equipment |
| 102626 | VALVE RELAX (BENDIX R12) | Oil and Gas Parts Equipment |
| PLBTS-3030 30/30 | CHAMBER BRAKE REAR | Oil and Gas Parts Equipment |
| R431003984 | ACTUATOR VALVE A-2-H | Oil and Gas Parts Equipment |
| P50970-1 | CONTROL AIR VALVE HD-2-FX | Oil and Gas Parts Equipment |
| SC30 | CHAMBER BRAKE FRONT (SC30) | Oil and Gas Parts Equipment |
| 229859 | QUICK RELEASE VALVE | Oil and Gas Parts Equipment |
| P59331 | TWO WAY VALVE 2HA-1 | Oil and Gas Parts Equipment |
| 65225 | BENDIX AD-9 AIR DRYER | Oil and Gas Parts Equipment |
| R431005617 | FOOT THROTTLE VALVE H-1 | Oil and Gas Parts Equipment |
| 229800 | FOOT BRAKE VALVE WITH TREADLE E-2 | Oil and Gas Parts Equipment |
| R431003806 | SHIFTER VALVE 8P 1S | Oil and Gas Parts Equipment |
| R431003808 | 8 POSITION SHIFT CYLINDER P555557-3 | Oil and Gas Parts Equipment |
| R431002825 | VALVE DRAWORK CONTROL HD-2-FX | Oil and Gas Parts Equipment |
| 7018B327 | CLUTCH | Oil and Gas Parts Equipment |
| A6671 | DIAPHRAGM-TWIN DISC | Oil and Gas Parts Equipment |
| 20120024 | LIPSEAL | Oil and Gas Parts Equipment |
| 947257 | 24″ DIAPHRAGM | Oil and Gas Parts Equipment |
| 946729 | DRIVE PLATE, 24″ | Oil and Gas Parts Equipment |
| 947253 | INSULATOR PLATE | Oil and Gas Parts Equipment |
| 947682 | CLUTCH DIAPHRAGM | Oil and Gas Parts Equipment |
| 1-19914 | VALVE-AIR | Oil and Gas Parts Equipment |
| 1-20517 | 24″ DIAPHRAGM | Oil and Gas Parts Equipment |
| 1-20514 | DRIVE PLATE, 24″ | Oil and Gas Parts Equipment |
| 1-20518 | INSULATOR PLATE | Oil and Gas Parts Equipment |
| 1-20499 | CLUTCH DIAPHRAGM | Oil and Gas Parts Equipment |
| 9527316 | 645 E3B FORK POWER ASSEMBLY | Diesel Locomotive Parts |
| 9527318 | 645 E3B BLADE POWER ASSEMBLY | Diesel Locomotive Parts |
| C16-10/9 | CONVERTER, FREQUENCY TO ANALOGUE VDC 24 CURRENT INPUT 1-3 MA OUTPUT CURRENT SINK 4-20MA @ 50 VOLTS MAX CALIBRATION RANGE INPUT 0-7800 HZ MAX RANGE 10000HZ | Oil and Gas Parts Equipment |
| DWYER MARK II 25 | MANOMETER, VERTICAL INCLINE MODEL #25 | Oil and Gas Parts Equipment |
| AE30 CV | AUTOMATIC, AIR VENT F/LIQUIC SYSTEM 1/2″ SPIRAX SARCO AE 30 | Oil and Gas Parts Equipment |
| MARK II 25 | MANOMETER, VERTICAL INCLINE MODEL #25 | Oil and Gas Parts Equipment |
| CAS-789-1 | 6 LL CASE ASBY | Oil and Gas Parts Equipment |
| DECS-250 | DIGITAL EXCITATION CONTROL SYSTEM STYLE: CN1SN1N | Oil and Gas Parts Equipment |
| 8358830 | CHAMBER | Diesel Locomotive Parts |
| 8351180 | CHAMBER | Diesel Locomotive Parts |
| 8351181 | CHAMBER | Diesel Locomotive Parts |
| 8487945 | COVER | Diesel Locomotive Parts |
| 8274790 | CAMSHAFT-LEFT | Diesel Locomotive Parts |
| 8274791 | CAMSHAFT-RIGHT | Diesel Locomotive Parts |
| 8365645 | AFTERCOOLER ASSEMBLY .. TURBOCHARGER | Diesel Locomotive Parts |
| 2090 | 3M TAPE, MASKING 3/4 " X 60YD | Oil and Gas Parts Equipment |
| 15-5000-01 | CHAMBER, LIQUID ALUMINUM F/ WILDEN PUMP MODEL T15 | Oil and Gas Parts Equipment |
| UP311 | CYLINDER | Oil and Gas Parts Equipment |
| TD146 | SEAL KIT | Oil and Gas Parts Equipment |
| 21570014 | LOCKWIRE | Diesel Locomotive Parts |
| 2157004 | LOCKWIRE 1 LB SPOOL | Diesel Locomotive Parts |
| 2157005 | WIRE LOCKING S/S 304 | Diesel Locomotive Parts |
| N22P25020B | CAP SCREW | Diesel Locomotive Parts |
| 8323296 | PISTON RING STD | Diesel Locomotive Parts |
| 8100101 | SPRING DOUBLE COIL | Diesel Locomotive Parts |
| 9312708 | CAPACITOR | Diesel Locomotive Parts |
| 9089551 | WARE PLATE | Diesel Locomotive Parts |
| 8235916 | PIN | Diesel Locomotive Parts |
| 8252844 | PUMP ASSEMBLY | Diesel Locomotive Parts |
| 9323404 | CRANKSHAFT | Diesel Locomotive Parts |
| 8479601 | RUBBER SEAL 2-1/2" | Diesel Locomotive Parts |
| 8333752 | BEARING CAP CE | Diesel Locomotive Parts |
| 8242345 | PIN WITH FASTENERS | Diesel Locomotive Parts |
| 9539500 | INTERLOCK | Diesel Locomotive Parts |
| 8204957 | BRUSH | Diesel Locomotive Parts |
| 8051006 | RACE OUTER | Diesel Locomotive Parts |
| 8465002 | TRANSDUCTOR | Diesel Locomotive Parts |
| KB200C | BRAKE BANDS LINED | Water Well Rig |
| 3044131 | TERMINAL BLOCK | Oil and Gas Parts Equipment |
| 3044199 | | Oil and Gas Parts Equipment |
| AF205002G | HEAD ASM,CYLINDER | Oil and Gas Parts Equipment |
| C351/0110/STD | PROCESS CONTROLLER | Oil and Gas Parts Equipment |
| AC00380 | CLEANING GUN, WATER | Oil and Gas Parts Equipment |
| 821-76182-00 | REGULATOR VOLTAGE 125VDC | Oil and Gas Parts Equipment |
| TK60A200 | CIRCUIT BRAKER | Diesel Locomotive Parts |
| CR2940UA202B | SWITCH-PUSH BUTTON | Diesel Locomotive Parts |
| CM30/3S0S0E0/STD | ABB PROCESS CONTROLLER | Oil and Gas Parts Equipment |
| 8650772P1 | ARC CHUTE | Diesel Locomotive Parts |
| 8860474G1 | COIL 467 OHMS | Diesel Locomotive Parts |
| 8650773P1 | CONTACT TIP SUPPORT | Diesel Locomotive Parts |
| ID106G7A | COIL | Diesel Locomotive Parts |
| 3243602P1 | B.O-COIL | Diesel Locomotive Parts |
| CR2800 | CONTACTOR | Diesel Locomotive Parts |
| 560727 | P2A MOVING KIT | Diesel Locomotive Parts |
| 560726 | P2A COMPLETE KIT | Diesel Locomotive Parts |
| 559547 | AUTOMATIC BRAKE VALVE RUBBER KIT | Diesel Locomotive Parts |
| 559548 | AUTOMATIC BRAKE VALVE MOVING KIT | Diesel Locomotive Parts |
| 559549 | INDEPENDENT BRAKE VALVE RUBBER KIT | Diesel Locomotive Parts |
| 559550 | INDEPENDENT BRAKE VALVE MOVING KIT | Diesel Locomotive Parts |
| 559553 | QUICK RELEASE VALVE RUBBER KIT | Diesel Locomotive Parts |
| 559554 | QUICK RELEASE VALVE MOVING KIT | Diesel Locomotive Parts |
| 560728 | J-1 RELAY RELEASE VALVE RUBBER KIT | Diesel Locomotive Parts |
| 559555 | F-1 SELECTOR VALVE RUBBER KIT | Diesel Locomotive Parts |
| 559556 | F-1 SELECTOR VALVE MOVING KIT | Diesel Locomotive Parts |
| 561084 | MU2A VALVE COMPLETE KIT | Diesel Locomotive Parts |
| VALVE 50 PSI | VALVE 50 PSI | Diesel Locomotive Parts |
| VENT VALVE KIT | VENT VALVE KIT | Diesel Locomotive Parts |
| J-1 RELAY MOVING | J-1 RELAY RELEASE VALVE MOVING KIT | Diesel Locomotive Parts |
| H-5 RELAY VALVE | H-5 RELAY VALVE COMPLETE KIT | Diesel Locomotive Parts |
| S-15342 | STAINLESS STEEL STRAPPING-3/4″x.020″x200′ | Oil and Gas Parts Equipment |
| S-11332 | STAINLESS STEEL SEAL 3/4″ | Oil and Gas Parts Equipment |
| S-11330 | STAINLESS STEEL STRAPPING 3/4″x.030×100′ | Oil and Gas Parts Equipment |
| 949C241G3 | ARMATURE WITH COMMUTATOR AND SHAFT MAIN GENERATOR | Diesel Locomotive Parts |
| 41A321555P1 | STRIP CONNECTION | Diesel Locomotive Parts |
| 8587156P1 | CARBON BRUSH WITH PIGTAIL AND TERMINA | Diesel Locomotive Parts |
| 15915314 | BREAKER SWITCH | Diesel Locomotive Parts |
| 492A101DH | SWITCH | Diesel Locomotive Parts |
| 625A712ABG2 | BRUSH HOLDER | Diesel Locomotive Parts |
| 9320186 | HEAT SHIELD | Diesel Locomotive Parts |
| 8358827 | HEAT SHIELD | Diesel Locomotive Parts |
| 8439800 | HEAT SHIELD | Diesel Locomotive Parts |
| 8351251 | HEAT SHIELD | Diesel Locomotive Parts |
| 8351254 | HEAT SHIELD | Diesel Locomotive Parts |
| RPIT-631X | TERMINATION KIT | Oil and Gas Parts Equipment |
| 6742625G7 | FINGER CONTACT-SHUNT & TERMINAL BLOC | Diesel Locomotive Parts |
| 482A768G1 | CONTACT TIP | Diesel Locomotive Parts |
| 426C379G1 | CONTACT | Diesel Locomotive Parts |
| 9960190G7 | CONTACT (1/2 PASTILLE) | Diesel Locomotive Parts |
| 8339440 | CONTACT SHUNT | Diesel Locomotive Parts |
| 8424740 | CONTACT , TIP -PIVOT-MAIN STATIONAR | Diesel Locomotive Parts |
| 9960190G2 | CONTACT TIP (SILVER TIP) | Diesel Locomotive Parts |
| 4739477G2 | COIL 182 OHMS | Diesel Locomotive Parts |
| 1-289X204-X 2 | OIL WELL SPLICING SLEEVE | Oil and Gas Parts Equipment |
| 22612122 | COMPRESSOR END OIL SEAL | Diesel Locomotive Parts |
| 4261151 | NOZZLE RING GUIDE | Diesel Locomotive Parts |
| S2C-H6R | CONTACT, AUXILIARY F/ WARTSILA | Oil and Gas Parts Equipment |
| 8384329 | FLASHTUBE, F/ CPF TOWER BEACON | Oil and Gas Parts Equipment |
| NGA51203D5HS0SA | BATTERY, 12V LEAD ACID 3.5AH A512/3.5 S INDIVIDUAL MSDS REQUIRED UPON MATERIAL RECEIPT | Oil and Gas Parts Equipment |
| 735-5-5-HI-485 | RELAY, FEEDER PROTECTION SR 735 | Oil and Gas Parts Equipment |
| SBP2-8-WBS | PENDANT, PUSH BUTTON STATION W/ MOMENTARY ON/OFF PUSH BUTTON SWITCH" | Oil and Gas Parts Equipment |
| MBC03952SA | C&D CONTROL BOARD, 130 V | Oil and Gas Parts Equipment |
| T01607 | RES REA ARE 130/50 | Oil and Gas Parts Equipment |
| JR00223 | CKT BKR 2P 70A 120/240 VAC | Oil and Gas Parts Equipment |
| MBC03970-130 | PRINT CIR BD ARE HUSD | Oil and Gas Parts Equipment |
| JC00117 | CAP.,30MFD,660VAC,PAPER OIL | Oil and Gas Parts Equipment |
| JC00118 | CAP.,25MFD,660VAC,PAPER OIL | Oil and Gas Parts Equipment |
| JC00144 | CAP 7400MFD 200 VDC FLTR | Oil and Gas Parts Equipment |
| JR00361 | RELAY, 3PDT ENCL 120V 5 A | Oil and Gas Parts Equipment |
| JS00684 | TRIAC 40A 600V TO-48 GE#SC265M | Oil and Gas Parts Equipment |
| JT00258 | CONTROL TRANS TYPE MTC 50VA | Oil and Gas Parts Equipment |
| 75C155001-P101 | BLOCK, TERMINAL FEMALE 3 PHASE | Oil and Gas Parts Equipment |
| 8456128 | ROCKER ARM ASSEMBLY | Diesel Locomotive Parts |
| 8058624 | WATER PUMP ASSEMBLY | Diesel Locomotive Parts |
| 8058625 | WATER PUMP ASSEMBLY | Diesel Locomotive Parts |
| 9530406 | WATER PUMP ASSEMBLY | Diesel Locomotive Parts |
| 8028885 | BUSHING | Diesel Locomotive Parts |
| 8028883-R | BUSHING-REAR | Diesel Locomotive Parts |
| 8069139 | WASHER | Diesel Locomotive Parts |
| 8166495 | WASHER, CAST | Diesel Locomotive Parts |
| 8069157 | BUSHING | Diesel Locomotive Parts |
| 8028466 | COLLAR – THRUST | Diesel Locomotive Parts |
| 8369675 | BEARING ASSEMBLY | Diesel Locomotive Parts |
| 8369674 | BUSHING | Diesel Locomotive Parts |
| 8028883-F | BUSHING-FRONT | Diesel Locomotive Parts |
| 8028869 | GEAR ASSEMBLY -FRONT | Diesel Locomotive Parts |
| 8106723 | BUSHING-REAR | Diesel Locomotive Parts |
| 40171846 | TRACTION MOTOR D31CC | Diesel Locomotive Parts |
| 40164454 | ARMATURE D31 | Diesel Locomotive Parts |
| 901CL1.5 | FILL-RITE 901CL1.5 MECHANICAL FLOW | Oil and Gas Parts Equipment |
| 17787563-001 | CYLINDER, 7 X 36 MUD PUMP TRAILER LEVELLING | Oil and Gas Parts Equipment |
| A25VG-30 | GAUGE | Oil and Gas Parts Equipment |
| PS-201 | SEAL, MECHANICAL F/ JACUZZI DA1A 1 1/4″ | Oil and Gas Parts Equipment |
| 8947T18 | CONNECTOR, THREADED STD JAW 1760LBS WL ZINC PLATED STEEL | Oil and Gas Parts Equipment |
| 9F60DJD005 | FUSE, 5.5KV 5 AMP CURRENT LIMITING EJO-1 SIZE C | Oil and Gas Parts Equipment |
| 9F62DCB080 | FUSE, 5.5KV 80 AMP CURRENT LIMITING EJO-1 SIZE D | Oil and Gas Parts Equipment |
| KLDR-002 | FUSE, 600VAC 2 AMP TIME DELAY CURRENT LIMITING CLASS CC | Oil and Gas Parts Equipment |
| 125E TCC-119-2 | FUSE, 14.4KV 125E TCC-119-2 S & C ON SMU-20 FUSE UNITS CAT # 712125 F/ H-LINE INSTALLATION | Oil and Gas Parts Equipment |
| H7550 | LAMP, HALOGEN 8W 6V/HAND LANTERN RECHARGEBLE | Oil and Gas Parts Equipment |
| GE260IS-MV-N-74474-G | BALLAST, START MULTIVOLT INSTANT 120-277V | Oil and Gas Parts Equipment |
| L161 | L161 LIFEBUOY LIGHT, INTRINSIC | Oil and Gas Parts Equipment |
| F48T12/CW | LINEAR FLUORESCENT LAMP | Oil and Gas Parts Equipment |
| 78HST-200-NTNT | VOTLMETER | Oil and Gas Parts Equipment |
| 78HST-200-NDND | AMMETER | Oil and Gas Parts Equipment |
| 900015 | BRUSH CSN: 1611K22 | Oil and Gas Parts Equipment |
| 01B500EX09 | COOPER BEARING | Oil and Gas Parts Equipment |
| 01B500GR09 | COOPER BEARING | Oil and Gas Parts Equipment |
| M001-210-055 | ACTIVATED ALUMINA | Oil and Gas Parts Equipment |
| 9744940 | GAUGE, PRESSURE 0-200PSI 2.5″ DIAL 1/4″ | Oil and Gas Parts Equipment |
| 1559 | GAUGE | Oil and Gas Parts Equipment |
| POLIM-S | ARRESTER | Oil and Gas Parts Equipment |
| 3 | PADLOCK KEYED ALIKE | Oil and Gas Parts Equipment |
| 4269K51 | GAUGE, PRESSURE 0-100″ WC 4″ DIAL 1/4″ | Oil and Gas Parts Equipment |
| 3T979 | ALIKE-KEYED PADLOCK | Oil and Gas Parts Equipment |
| 1611K22 | BULB, 120V 20W TUBULAR INCANDESCENT T6-1/2 INTERMEDIATE BASE FROST | Oil and Gas Parts Equipment |
| F0300131-00P | SOLENOID DR LK 240VAC 50/60H | Oil and Gas Parts Equipment |
| 9457FB7C1A2A | FLOW METER | Oil and Gas Parts Equipment |
| PS201 | SEAL, MECHANICAL F/ JACUZZI DA1A 1 1/4″ | Oil and Gas Parts Equipment |
| 2729A51 | SCREW, SET EXTRACTOR 12EA/PAC W/ | Oil and Gas Parts Equipment |
| 9528276 | MODULE VR13- AC | Diesel Locomotive Parts |
| 8482633 | MODULE CARD TH14 | Diesel Locomotive Parts |
| 9319866 | MODULE RC12 | Diesel Locomotive Parts |
| 9320047 | MODULE FP15 | Diesel Locomotive Parts |
| 8453967 | MODULE GV12 | Diesel Locomotive Parts |
| 8441478 | CARD SA10 – SAME AS 8412926 | Diesel Locomotive Parts |
| 8458726 | BREAKER – MOQ 3 | Diesel Locomotive Parts |
| 8458727 | BREAKER – MOQ 3 | Diesel Locomotive Parts |
| 8458728 | BREAKER – MOQ 3 | Diesel Locomotive Parts |
| 8458735 | BREAKER – MOQ 3 | Diesel Locomotive Parts |
| 8458741 | BREAKER – MOQ 3 | Diesel Locomotive Parts |
| 8448859 | BREAKER, DP100A – MOQ 3 | Diesel Locomotive Parts |
| 8433383 | BREAKER | Diesel Locomotive Parts |
| 9091052 | CONTROLLER | Diesel Locomotive Parts |
| D270—-4C | PINHOLE DETECTOR -ELCOMETER 270/4 | Oil and Gas Parts Equipment |
| T27018191 | PINHOLE DETECTORS INSPECTOR'S KIT- ELCOMETER 270 | Oil and Gas Parts Equipment |
| A456CFNFBI1 | ELCOMETER 456 DUSL FNF | Oil and Gas Parts Equipment |
| SCH-LRD06 | OVERLOAD RELAY 1-1,6 | Oil and Gas Parts Equipment |
| SCH-CAD50U7 | CONT AUX 240V 50/60 | Oil and Gas Parts Equipment |
| SCH-CAD32U7 | INDUSTRIAL RELAY 3NO+2NC 240V | Oil and Gas Parts Equipment |
| SCH-GB2CD09 | 2P 4A CIRCUIT PROT | Oil and Gas Parts Equipment |
| SCH-XB5AD33 | 22MM OPERATOR,COMLETE UNIT | Oil and Gas Parts Equipment |
| SCH-A9N26927 | CB ACCESSORY, AUXILIARY SWITC | Oil and Gas Parts Equipment |
| 31706 | SERVICE KIT FOR BETTIS T520-SR | Oil and Gas Parts Equipment |
| MC240P | BATTERY,NI-CD,240AH/5HRS,MC240P,ALCAD NICKEL CADMIUM, 1.2V NOMINAL VOLTAGE, SINGLE CELL | Oil and Gas Parts Equipment |
| PR#10275616 | PR#10275616 | Oil and Gas Parts Equipment |
| SS-63TS8 | SS-63TS8 | Oil and Gas Parts Equipment |
| SS-8-HN | 1/2″ NPT HEX NIPPLE | Oil and Gas Parts Equipment |
| PFA-620-6 | UNION | Oil and Gas Parts Equipment |
| SS-8BK | BELLOWS VALVE-SC11 CLEAN | Oil and Gas Parts Equipment |
| SS-4BK | BELLOWS VALVE-SC11 CLEAN | Oil and Gas Parts Equipment |
| MS-HTB-8 | 1/2″ TUBE BENDER | Oil and Gas Parts Equipment |
| SS-810-7-2 | 1/2 OD X 1/8 FNPT | Oil and Gas Parts Equipment |
| MS-TDT-24 | TUBE DEBURRING TOOL , 3/16″- 11/2 ", 4MM-38 MM OD | Oil and Gas Parts Equipment |
| MS-PTS-250 | SWAK 250 CC | Oil and Gas Parts Equipment |
| SS-T8-S-035-20 | 1/2″ TUBING | Oil and Gas Parts Equipment |
| SS-T4-S-035-20 | 1/4″ TUBING | Oil and Gas Parts Equipment |
| SS-6BK | BELLOWS VALVE-SC11 CLEAN | Oil and Gas Parts Equipment |
| PFA-820-1-8 | MALE CONNECTOR, 1/2 " | Oil and Gas Parts Equipment |
| PFA-620-1-6 | MALE CONNECTOR | Oil and Gas Parts Equipment |
| PFA-620-2-6 | MALE ELBOW | Oil and Gas Parts Equipment |
| SS-810-3TFT | FEMALE RUN TEE | Oil and Gas Parts Equipment |
| 304-S3T-PP-8T | POLYPROPYLENE SUPPORT BODY | Oil and Gas Parts Equipment |
| MS-TSS-8 | TUBE SUPPORT STRIP , 6 CHANNELS , 1/2 ". TUBE SIZE | Oil and Gas Parts Equipment |
| MS-TSS-6 | TUBE SUPPORT STRIP, 10 CHANNELS , 3/8″, 10 MM TUBE SIZE | Oil and Gas Parts Equipment |
| MS-TSS-4 | TUBE SUPPORT STRIP, 10 CHANNELS, 1/4: TUBE SIZE | Oil and Gas Parts Equipment |
| 304-S1-PP-6T | 3/8″ SUPPORT KIT | Oil and Gas Parts Equipment |
| 304-S1-PP-4T | 1/4″ SUPPORT KIT | Oil and Gas Parts Equipment |
| 1101-WJ-300-A1-10 | WJ STANDING VALVE C/W INSTRUMENT | Oil and Gas Parts Equipment |
| 312″ X O.D. | MILD STEEL .312″ X O.D. X 20 FT LONG | Oil and Gas Parts Equipment |
| 750658 | VENT VALVE KIT | Diesel Locomotive Parts |
| EDL-H5(BRK DW) | | Diesel Locomotive Parts |
| 9314226 | J-1 RELAY RELEASE VALVE MOVING KIT | Diesel Locomotive Parts |
| 8462-1P | LUB DIELECT SIL GREASE TUB 454G | Diesel Locomotive Parts |
| MOLYKOTE 55 | O-RING SILICONE GREASE LUB. 1Kg | Diesel Locomotive Parts |
| AST-14-S-90-130-AC-R | STROBE LIGHT, AST-14 | Oil and Gas Parts Equipment |
| 2167-7011 | HAYS ELECTRO-MITE SOLENOID VALVE | Oil and Gas Parts Equipment |
| 104-683-03 | 6 REMOTE MT THERMO 4 SW | Oil and Gas Parts Equipment |
| C600S | PARKER C600S CHECK VALVE 3/8 NPTF FEMALE 5 PSI CRACK PRESSURE STEEL | Oil and Gas Parts Equipment |
| SOLA E-971-DD-SO1000 | HIGH PRESSURE SODIUM BALLAST | Oil and Gas Parts Equipment |
| 560724 | 26_F CONTROL VALVE RUBBER KIT | Diesel Locomotive Parts |
| 560725 | 26_CONTROL VALVE RUBBER KIT | Diesel Locomotive Parts |
| 8362237 | 1/2 CUT OUT COCK KIT | Diesel Locomotive Parts |
| 8413596 | 1 CUT OUT KIT | Diesel Locomotive Parts |
| 489-P5-HI-A20-E | 489-GENERATOR PROTECTION SYSTEM | Oil and Gas Parts Equipment |
| 745-W3-P5-G5-HI-E | 745 TRASNFORMER RELAY | Oil and Gas Parts Equipment |
| 339-E-P5-G5-H-E-S-N- | 399-MOTOR PROTECTION RELAY | Oil and Gas Parts Equipment |
| RMIO-H-G-G-G-X | RMIO -REMOTE MODULE l/O | Oil and Gas Parts Equipment |
| 18L0-0080 | SR3 IP20 Kit | Oil and Gas Parts Equipment |
| 0804-0459 | MM200/MM300 1.6FT CONNECTOR CABLE | Oil and Gas Parts Equipment |
| 8142877 | CABLE CONNECTOR CLASP | Diesel Locomotive Parts |
| 9336931 | ASM-CRANKSHAFT | Diesel Locomotive Parts |
| CO-59297 | 59297 COOPER BRAKE BLOCK KIT | Oil and Gas Parts Equipment |
| 55-0970 | WOVEN BLOCKS 10 X 1-1/8 X 12 – 42D NAW | Oil and Gas Parts Equipment |
| 75-0970 | MOLDED BLOCK 10 X 1-1/8 X 12 – 46D MLD | Oil and Gas Parts Equipment |
| 55-0535-1 | WOVEN BLOCK 8 X 1 X 10-29/32 – 36D NAW | Oil and Gas Parts Equipment |
| 75-0535-1 | MOLDED BLOCK 8 X 1 X 10-29/32 – 36D MLD | Oil and Gas Parts Equipment |
| MASILA001-DXT530157 | IMD22H715NWA21528 | Oil and Gas Parts Equipment |
| B84B-BB-6.00-48-WO/P | AMERICAN FLOW CONTROL MODEL 6″ | Oil and Gas Parts Equipment |
| 2508-FF-NRS-IP | AMERICAN FLOW CONTROL MODEL 2508 UL/FM GATW VALVE , 8″ SIZE. | Oil and Gas Parts Equipment |
| NC31200F | MOLDED CASE CIRCUIT BREAKER FRAME NC, 3POLR, 1200 AMP, 600 VAC | Oil and Gas Parts Equipment |
| HNC31200F | CIRCUIT BREAKER | Oil and Gas Parts Equipment |
| 40108837 | TURBOCHARGER EMD | Diesel Locomotive Parts |
| 40108837R | TURBOCHARGER, EMD REMAN | Diesel Locomotive Parts |
| SH-NC31200F | SHUNT TRIP COIL RATING24VDC, .05Amp, RMS (.033 S) | Oil and Gas Parts Equipment |
| SW-NC31200F | AUX SWITCH RATING 480VAC, 6Amp, WR(NC-BO) | Oil and Gas Parts Equipment |
| 12-567-C RBLT | EMD REMANUFACTURED PRIME MOVER AS PER ATTACHED WORK SCOPE | Diesel Locomotive Parts |
| 16-645-E3 RBLT | EMD REMANUFACTURED PRIME MOVER AS PER ATTACHED WORK SCOPE | Diesel Locomotive Parts |
| TFK236175WL | GENERAL ELECTRIC TFK236175WL 3 POLE CIRCUIT BREAKER | Oil and Gas Parts Equipment |
| 9530407 | WATER PUMP ASSEMBLY LEFT | Diesel Locomotive Parts |
| F12 | FLUOPLAS F12 DIAMOND PRISMATIC LENS 22-1/2-INCH X46-1/2-INCH ACRYLIC CLEAR | Oil and Gas Parts Equipment |
| KTA7-25S-6.3A | SPRECHER +SCHUH CIRCUIT PROTECTION DEVICE | Oil and Gas Parts Equipment |
| ZB5-AZ009 | BOODY FIXING COLLAR | Oil and Gas Parts Equipment |
| 280-684 | | Oil and Gas Parts Equipment |
| 280-681 | | Oil and Gas Parts Equipment |
| 280-687 | CLAMP WAGO GREEN | Oil and Gas Parts Equipment |
| FINDER99.80.0.230.98 | PLUG IN INTERFACE RELAY MODULE 110-240V AC/DC | Oil and Gas Parts Equipment |
| XB5AS8445 | EMERGENCY STOP, SWITCH, DPST, PUSH -TWIST RELEASE, SCREW CLAMP, 10 A,600 V | Oil and Gas Parts Equipment |
| ZB5AV033 | SWITCH ACTUATOR, SCHNEIDER XB5 SERIES PUSHBUTTON SWITHCES, ZB4 SERIES | Oil and Gas Parts Equipment |
| ZB5AV043 | SWITCH ACTUATOR, SCHNEIDER XB5 SERIES PUSHBUTTON SWITHCHES ,ZB4 SERIES. | Oil and Gas Parts Equipment |
| ZB5AV013 | PILOT LIGHT FOR PROTECTED LED WHITE ROHS | Oil and Gas Parts Equipment |
| ZB5AV053 | INDICATOR LENS,YELLOW, ROUND , 22MM PILOT LIGHT HEAD | Oil and Gas Parts Equipment |
| XB5AW33B5 | PUSHBUTTON LED 24V 22MM XB5B +OPTIONS ROHS | Oil and Gas Parts Equipment |
| XB5AW34B5 | PUSHBUTTON LED 24V 22MM XB5B +OPTIONS | Oil and Gas Parts Equipment |
| 5714A | PROGRAMABLE LED INDICATOR UNIVERSAL INPUT, 4-DIGIT, ISOLATED, SIZE 48X96MM 24…230 VAC/DC | Oil and Gas Parts Equipment |
| FINDER99.80.8.230.07 | BYPASS RESISTOR MODULE 110-240V AC | Oil and Gas Parts Equipment |
| ZB5AG4 | KEY SWITCH | Oil and Gas Parts Equipment |
| ZB5AVB3 | PUSH BUTTON: MOUNTING BASE;GREEN;22MM;W 24V PROTECTED LED | Oil and Gas Parts Equipment |
| ZB5AVB4 | PUSH BUTTON; MOUNTING BASE; RED;22MM;W 24V PROTECTED LED | Oil and Gas Parts Equipment |
| ZB5AVB5 | LED PANEL MOUNT INDICATOR, PILOT LIGHT , YELLOW,24 V, 22MM, 18 MA,IP65 | Oil and Gas Parts Equipment |
| A6110 | AMS 6110 – MONITOR, 2 CH SHAFT RELATIVE VIBRATION | Oil and Gas Parts Equipment |
| A6312 | AMS 6312 – MONITOR, SPEED KEY | Oil and Gas Parts Equipment |
| A6210 | AMS 6210 – MONITOR, 2 CH THRUST POSITION/DIFF EXPANTION | Oil and Gas Parts Equipment |
| RSB2A080P7 | INTERFACE PLUG-IN RELAY-ZELIO RBS-2 C/O-230V AC-8 A | Oil and Gas Parts Equipment |
| 40.52.8.230.0000 | POWER RELAY, DPDT, 230 VAC, 8A, 40 SERIES, | Oil and Gas Parts Equipment |
| 95.95.3 | RELAY SOCKET, DIN RAIL , PANEL, SCREW, 8 PINS , 10 A , 250 V | Oil and Gas Parts Equipment |
| JGX-1585F | 030-40A660V-1L-G SOLID STATE RELAY FOR ELECTIC ACTUATOR | Oil and Gas Parts Equipment |
| 99.02.0.230.98 | RELAY ACCESSORY , COIL INDICTION AND EMC SUPPRESSION MODULES, 97.0,97.02, 97.51, 97.52 SOCKETS | Oil and Gas Parts Equipment |
| ZB5AVB1 | SCHNEIDER ELECTRIC HARMONY XB5 WHITE LIGHT BLOCK WITH BODY/FIXING COLLAR | Oil and Gas Parts Equipment |
| 99.80.8.230.07 | BYPASS RESISTOR MODULE 110-240V AC | Oil and Gas Parts Equipment |
| 99.80.0.230.98 | RELAY ACCESSORY, COIL INDICATION AND EMC SUPPRESSION MODULES, 99 SERIES | Oil and Gas Parts Equipment |
| 281-611 | | Oil and Gas Parts Equipment |
| 281-611/281-541 | | Oil and Gas Parts Equipment |
| 281-402 | JUMPER(BUSBAR), ADJACENT JUMPER, RAIL MOUNTED TERMINAL BLOCK | Oil and Gas Parts Equipment |
| 12″ LENGHT | ZINC ANODES 12″LENGHT | Oil and Gas Parts Equipment |
| 48″ LENGHT | MAGNESIUM ANODES 48″ LENGHT | Oil and Gas Parts Equipment |
| 203000000000 | SHAFT 6X4X13 | Oil and Gas Parts Equipment |
| CR122A04402AA | INDUSTRIAL TIME DELAY, 10A, 300V, GE | Oil and Gas Parts Equipment |
| TNE-2000-F350 | BRAKE, SET OF 22 BLOCKS, WITH HARDWARE | Oil and Gas Parts Equipment |
| D15C | MAIN GENERATOR RBL OUTRIGHT | Diesel Locomotive Parts |
| A8102 | DC GENERATOR -18 KW, RBL OUTRIGHT | Diesel Locomotive Parts |
| 7000031347 | | Oil and Gas Parts Equipment |
| G2H10N09GMA | 1″ NPT Liquid FlOW METER , DLOMEC , STAINLESS STEEL 5-50 GPM | Oil and Gas Parts Equipment |
| SCB307B075 U | CONNECTION: 1/2″ NPT | Oil and Gas Parts Equipment |
| 34900030 | COMPLETE AIR INSTRUMENT PRESSURE SWITCH | Oil and Gas Parts Equipment |
| MODEL:400425-142 | SOLENOID COIL | Oil and Gas Parts Equipment |
| MODEL:8320G176 | COMPLETE SOLENOID VALVE | Oil and Gas Parts Equipment |
| 529960A | ELECTRO-PNEUMATIC POSITIONER 4-20MA INPUT | Oil and Gas Parts Equipment |
| SCE370A016 | SOLENOID VALVE | Oil and Gas Parts Equipment |
| SCB307B075U | MODEL : SCB307B075U TYPE : 3/2 | Oil and Gas Parts Equipment |
| 038313-51 | WORM SHAFT FOR ACTUATOR 5-WG-1B | Oil and Gas Parts Equipment |
| 125274-05-00 | WORM GEAR FOR ACTUATOR 5-WG-1B | Oil and Gas Parts Equipment |
| 7D-104031 | THRUST BEARING RACE F/ACTUATOR 5-WG-1B | Oil and Gas Parts Equipment |
| SK 3120.200 | FAN SPEEDCONTROLLER; 115-230 V AC, 2A;PHASE CROSS-OVER | Oil and Gas Parts Equipment |
| 3118000 | HYGROSTAT 24-230V AC/DC 24-230V; AC/DC; 2.8 X 2.8 X 1.3 | Oil and Gas Parts Equipment |
| A9N26927 | CB ACCESSORY , ALARM SWITCH | Oil and Gas Parts Equipment |
| S29450 | CIRCUIT BREAKER ACCESSORIES; AUXILIARY SWITCH; FOR POWERPACT | Oil and Gas Parts Equipment |
| 4140010 | ENCLOSURE; ACCESSORY; COMPACT LIGHT 455MM100-240V; 8W; 50/60 HZ | Oil and Gas Parts Equipment |
| 3139100 | ROOF MOUNTED FAN; TOP THERM; 500/525M3/h; 230V 1~; 50/60Hz; 400x133x400 | Oil and Gas Parts Equipment |
| 2838199? | SURGE VOKTAGE; ARRESTER BASE ELEMENT W/REMOTE INDICATOR | Oil and Gas Parts Equipment |
| TCL 060-124 DC | DC/DC CONVERTER 24V 60W | Oil and Gas Parts Equipment |
| DP-3816 | CIRCUIT BREAKER 6 AMP | Oil and Gas Parts Equipment |
| 7D-B003066?? | THRUST BEARING ROLLER FOR 5WG-1B | Oil and Gas Parts Equipment |
| 289747 | TEMPERATURE SENSOR, 470K NTC 1,5m,110VDC UPS | Oil and Gas Parts Equipment |
| IC660EBS101 | 115 VAC/125 VDC ISOLATED GENIUS l/O BLOCK | Oil and Gas Parts Equipment |
| 381-U1 | SETHCO PUMP P-90 115 VOLT MOTOR | Oil and Gas Parts Equipment |
| GD5991429 | VALVE ASSEMBLY | Oil and Gas Parts Equipment |
| 805084 | REPAIR KIT F/TOGGLE VALVE. | Oil and Gas Parts Equipment |
| 145141DF | EATON AIRFLEX HYDRAULIC QUICK EXHUST VALVE | Oil and Gas Parts Equipment |
| R431003664 | REXROTH 4-S RELAY VALVE | Oil and Gas Parts Equipment |
| 7916782 | GASKET- FLUID END VC,0771-70-0 | Oil and Gas Parts Equipment |
| 54273 | MECHANICAL SEAL FOR CLYDE UNION VCM , 2D-229387 | Oil and Gas Parts Equipment |
| 16-645E BLOCK | BLOCK C/W OIL PAN RBLT | Diesel Locomotive Parts |
| 5700121 | ROLLER CHAIN, 1-1/2″ | Oil and Gas Parts Equipment |
| 5700122 | CHAIN, OILFIELD, 1-1/2″P DBL | Oil and Gas Parts Equipment |
| YS4752 | SEAL, OIL | Oil and Gas Parts Equipment |
| YS6250 | SEAL,OIL | Oil and Gas Parts Equipment |
| YS6872 | SEAL, OIL B2 CATHEAD | Oil and Gas Parts Equipment |
| ZT3620 | BEARING, 370 DWKS | Oil and Gas Parts Equipment |
| IB114 | 22220E SKF BEARING | Oil and Gas Parts Equipment |
| ZB3928 | BEARING, JACKSHAFT 370 DRAWWKS | Oil and Gas Parts Equipment |
| 65670570 | BEARING | Oil and Gas Parts Equipment |
| 20488/005 | BEARING, UPPER THRUST, TAPERED ROLLER | Oil and Gas Parts Equipment |
| ZS4720 | BEARING, (ZB4721 & 65670576) S | Oil and Gas Parts Equipment |
| ZS8650 | BEARING | Oil and Gas Parts Equipment |
| ZT3751 | BEARING, B2 CATHEAD/CRANE TIMK | Oil and Gas Parts Equipment |
| ZR4331 | BEARING | Oil and Gas Parts Equipment |
| 7500203 | VALVE, AQUA-MATIC #426-DV8,N.O | Oil and Gas Parts Equipment |
| 651520 | VALVE, BRAKE DISCHARGE | Oil and Gas Parts Equipment |
| 7500204 | VALVE, ANGLE 2 STOCKHAM B222 | Oil and Gas Parts Equipment |
| 651512 | SHAFT, VALEVE LEVER | Oil and Gas Parts Equipment |
| 62027716 | SPACER,AIR VALVE LEVER SHAFT | Oil and Gas Parts Equipment |
| 6202331 | LEVER, RTRY DR AIR V 50 DWKS | Oil and Gas Parts Equipment |
| 620230 | LEVER, AIR VALVE CL DRUM | Oil and Gas Parts Equipment |
| 6229911 | LEVER, AIR VALVE | Oil and Gas Parts Equipment |
| 642811 | LEVER, AIR VALVE | Oil and Gas Parts Equipment |
| 624075 | DIAPHRAGM | Oil and Gas Parts Equipment |
| 625438 | BUSHING | Oil and Gas Parts Equipment |
| 627685 | LINING,CLUTCH, CATHEAD BREAKOUT | Oil and Gas Parts Equipment |
| 627687A | PLATE, BRK OUT CLUTCH FRICTION | Oil and Gas Parts Equipment |
| 627688 | LINING | Oil and Gas Parts Equipment |
| 7818652 | SPRING, 9/16 X 1-1/2 | Oil and Gas Parts Equipment |
| 7818655 | SPRING | Oil and Gas Parts Equipment |
| 1800013+70 | HUB, REVERSE GEAR T-45 | Oil and Gas Parts Equipment |
| 651797 | JACKSHAFT, 370 DWKS | Oil and Gas Parts Equipment |
| 651796 | SHAFT, MAIN DRIVE | Oil and Gas Parts Equipment |
| 651788 | GEAR, REVERSE 112T 4/5P | Oil and Gas Parts Equipment |
| 651740 | DRUM, LOW CLUTCH (28″) | Oil and Gas Parts Equipment |
| 6447251 | DRUM, CLUTCH | Oil and Gas Parts Equipment |
| 780465921 | CLUTCH ELEM, 21.5E475 AIRFLEX | Oil and Gas Parts Equipment |
| 7803020162 | DRUM, CLUTCH | Oil and Gas Parts Equipment |
| 780465416 | CLUTCH ELEM, 16VC600 AIRFLEX 1 | Oil and Gas Parts Equipment |
| 620447 | SPRING, CATHEAD | Oil and Gas Parts Equipment |
| 7500017+70 | VALVE, 1/4 SHUTTLE P-54350-2 | Oil and Gas Parts Equipment |
| 7500176 | VALVE | Oil and Gas Parts Equipment |
| 75002204 | VALVE, 3-WAY NC 1/4 BELLOWS M0 | Oil and Gas Parts Equipment |
| 7500240003 | VALVE, CONTROLAIR | Oil and Gas Parts Equipment |
| 7500248004 | VALVE, CONTROLAIR | Oil and Gas Parts Equipment |
| 7500256 | VALVE, Q-R 3/8 WABCO P529 | Oil and Gas Parts Equipment |
| 7806850 | GAUGE, 63MM DIA | Oil and Gas Parts Equipment |
| 7806846 | GAUGE,63MM DIA | Oil and Gas Parts Equipment |
| 6000019 | VALVE, PILOT | Oil and Gas Parts Equipment |
| 6000017 | VALVE, PILOT AIR | Oil and Gas Parts Equipment |
| 641898A | SPROCKET | Oil and Gas Parts Equipment |
| 7806605 | GAGE, 2-1/2IN MARSH J4848 1/4 | Oil and Gas Parts Equipment |
| 7815077 | PUMP, B&S #3S FTMTG WORV CCW 7 | Oil and Gas Parts Equipment |
| 7500231 | VALVE, 1/4″, 3 WAY | Oil and Gas Parts Equipment |
| 7500208 | VALVE, 2-WAY NC 1/2 ASCO #P210 | Oil and Gas Parts Equipment |
| IA526 | VALVE | Oil and Gas Parts Equipment |
| 7500271 | VALVE, PILOTAIR 2-HA-1L WABCO | Oil and Gas Parts Equipment |
| 7500254 | VALVE, QUICK RELEASE 3/8″ | Oil and Gas Parts Equipment |
| 7500286 | VALVE | Oil and Gas Parts Equipment |
| 6001855 | ROTORSEAL | Oil and Gas Parts Equipment |
| 7817081 | ROTOR SEAL, C2 | Oil and Gas Parts Equipment |
| 7820027 | UNION, 1-1/2″ F/ WTR SPEAR 610 DWKS | Oil and Gas Parts Equipment |
| 610012010 | HOSE, GENERAL PROPRIETARY;-10;L 12 IN;WP | Oil and Gas Parts Equipment |
| 641103338 | GLAND ASSEMBLY 20622A | Oil and Gas Parts Equipment |
| 648402295 | O RING/SEAL, BEARING HOUSING | Oil and Gas Parts Equipment |
| 601102494 | GLAND BOLT ASSEMBLY B3701A | Oil and Gas Parts Equipment |
| 641215603 | IMPELLER 13″ 3×2 19204-90-30 | Oil and Gas Parts Equipment |
| 648403012 | GASKET, CASING | Oil and Gas Parts Equipment |
| 648405082 | SEAL, IMPELLER O-RING 19110 | Oil and Gas Parts Equipment |
| 661007005 | PACKING SET SHAFT 25014-04M-B | Oil and Gas Parts Equipment |
| 641102181 | SHAFT SLEEVE (PACK PUMP) | Oil and Gas Parts Equipment |
| 72200017 | O-RING, O.B. BEARING COVER | Oil and Gas Parts Equipment |
| VS2EXR-24 | MURPHY EXPLOSION-PROOF SHOCK AND VIBRATION SWITCH 24 VDC | Oil and Gas Parts Equipment |
| CQPKSTDN0000 | TOUCH SCREEN PANEL GLASS FOR FANUC CQPKSTDN0000 TOTAL CONTROL QUICKPANEL TOCUH DIGITIZER | Oil and Gas Parts Equipment |
| 26805 | SPRAY NINE MULTI PURPOSE CLEANER AND DISINFECTANT 5 GAL KNIGHTS MARKETING GROUP | Oil and Gas Parts Equipment |
| 567478 | TUBE | Diesel Locomotive Parts |
| MA-5RG | Brandt" MA-5RG Mud Agitator, Rev. 0 | Oil and Gas Parts Equipment |
| 22600198-2 | TURBOCHAGER 350C | Diesel Locomotive Parts |
| 22600198-2 RBLT | TURBOCHAGER 350, RBLT | Diesel Locomotive Parts |
| 8462288 | CABLE XXE STRANDS 1325/24 | Diesel Locomotive Parts |
| 9094890 | CABLE XIVE STRAND 775/24 | Diesel Locomotive Parts |
| 9094887 | CABLE XXll 1AWG STRANDS225/24 | Diesel Locomotive Parts |
| 9094886M | CABLE lVE 3AWG STRANDS 125/24 | Diesel Locomotive Parts |
| 9094885 | CABLE lll5AWG STRANDS 91/24 | Diesel Locomotive Parts |
| 40056040-D | CABLE Vl 4AWG STRANDS 2100/30 | Diesel Locomotive Parts |
| 8460547 | WIRE lE 12AWG STRANDS 37/0133 | Diesel Locomotive Parts |
| 8470764 | WIRE 14AWG STRANDS 37/30 | Diesel Locomotive Parts |
| 8451158 | CONTACTOR, LTT | Diesel Locomotive Parts |
| 908092 | TOGGLE SWITCH 10A 250V | Diesel Locomotive Parts |
| 8346425 | ROTARY SWITCH | Diesel Locomotive Parts |
| 8373198 | SWITCH | Diesel Locomotive Parts |
| 41A230358P4 | BRUSH T.M CARBON | Diesel Locomotive Parts |
| 8460647 | WIRE IE 12AWG STRANDS 37/.0133 | Diesel Locomotive Parts |
| 9094888M | Cable IXE 2AWG STRANDS 325/24 | Diesel Locomotive Parts |
| 9094889M | CABLEXIIE 4AWG STRANDS 550/24 | Diesel Locomotive Parts |
| 8433191 | SWITCH-ROTARY SNAP | Diesel Locomotive Parts |
| 9518740 | SWITCH | Diesel Locomotive Parts |
| 8282851 | SWITCH, PRESS VAC BRK | Diesel Locomotive Parts |
| 271705 | BOLT, 1-8 X 3-3/4 HEX HEAD | Diesel Locomotive Parts |
| 9406824 | HEX SOCKET HEAD, 1/2-13 X 2-1/4, PLATED MOQ – 100 PCS | Diesel Locomotive Parts |
| 9581263 | COMPOUND THREAD | Diesel Locomotive Parts |
| 40108741 | HEX HEAD SOCKET CAP, 3/8 -16 X 3-3/4 | Diesel Locomotive Parts |
| 40162371 | BEARING ASSEMBLY- D.E | Diesel Locomotive Parts |
| 40105125 | BEARING HOUSING- B END, MACHINED | Diesel Locomotive Parts |
| 40126292 | BEARING HOUSING- MACHINED A END | Diesel Locomotive Parts |
| 40043503 | OUTER RING-D.E – FOR STRAIGHT SHAFT | Diesel Locomotive Parts |
| 40064845 | BEARING SEAL D.E -TM | Diesel Locomotive Parts |
| 40043501 | TRANSMITTER WHEEL (SPEED SENSOR) | Diesel Locomotive Parts |
| 40106309 | PINION- 16T | Diesel Locomotive Parts |
| 8358583 | SHIM | Diesel Locomotive Parts |
| 9414081 | PIN STEEL ROLL | Diesel Locomotive Parts |
| 40045958 | SPRING, ROLLER COMPRESSOR | Diesel Locomotive Parts |
| 8116738 | WIRE- LOCK – 3/64 DIA. – 500FT LONG | Diesel Locomotive Parts |
| A3432 | NEW – TRACTION MOTOR | Diesel Locomotive Parts |
| 126X1842 | 126X1842 TURBOCHARGER 12 CYLINDER SMALL FRAME | Diesel Locomotive Parts |
| M001-213-055 | DESICCANT, F/ INSTRUMENT AIR DRYER | Oil and Gas Parts Equipment |
| 94283 GX05-30 | GE HYTREX GX05-30 DEPTH SEDIMENT 5 MICRON FILTER CARTRIDGE 2.5″X30 | Oil and Gas Parts Equipment |
| FI-336-5P WS | FILTER , ELEMENT PECO | Oil and Gas Parts Equipment |
| SS-600-C | FITTING,SWAGELOK,SS,MALE,CAP, 3/8″ | Oil and Gas Parts Equipment |
| F4BSCM307 | DODGE 126198 BALL BEARING, FLANGE 3.4375IN, RINGS SCM | Oil and Gas Parts Equipment |
| 3150-14M-55 GOODYEAR | REPLACMENT TIMING BELT | Oil and Gas Parts Equipment |
| NDT-DUBNC-MMD-6′ | CABLE, DUAL BNC TO MALE MD 6′ > sub for 118-140-067 | Oil and Gas Parts Equipment |
| 5641-8470 | MECO PRESSURE REGULATOR 0-225psi 1/4″FNPT | Oil and Gas Parts Equipment |
| WILLI K812S | KALREZ SEAL SET | Oil and Gas Parts Equipment |
| A-14101 | COUPLING, TR5 BOI TO TR4 G.S USING ADAPTER | Oil and Gas Parts Equipment |
| A-14024 | COUPLING, 513 BOI TO 400 FLEX 3.2 CT PUMP USING MINGO ADAPTER/HANGER & CL 513/400 ADAPTER PLATE | Oil and Gas Parts Equipment |
| 908410 | BEARING | Diesel Locomotive Parts |
| 908415 | BEARING | Diesel Locomotive Parts |
| 8335840 | CONTACT (REPLACED BY 9314870) | Diesel Locomotive Parts |
| 8247063 | GASKET | Diesel Locomotive Parts |
| 8275292 | GASKET TOP DECK | Diesel Locomotive Parts |
| 8366616 | LATCH ASSEMBLY | Diesel Locomotive Parts |
| 8168872 | LATCH | Diesel Locomotive Parts |
| 9094557 | LATCH ASSEMBLY | Diesel Locomotive Parts |
| 8084685 | GASKET | Diesel Locomotive Parts |
| 8469590 | VALVE KIT | Diesel Locomotive Parts |
| 8383293 | VALVE, LOCK | Diesel Locomotive Parts |
| 5228895 | INJECTOR ASSEMBLY | Diesel Locomotive Parts |
| 5226571 | SEAL | Diesel Locomotive Parts |
| 5228013 | ELEMENT | Diesel Locomotive Parts |
| 381-09040-ST P90S-40 | P90S-40S, P-90 Drum Pump Tube | Oil and Gas Parts Equipment |
| H222101 | SLINGER, WATER F/ HALCO PUMP SERVICE | Oil and Gas Parts Equipment |
| 9323294 | RING. COMP- BARREL FACE- DUCTILE IRON- THICK CHROME PLATED SIDES- STD. diameterX1/640. S. WITH -NO. 1 GROOVE | Diesel Locomotive Parts |
| 9323295 | RING. COMP -BARREL FACE-DUCTILE IRON- THICK CHROME PLATED SIDES-STD. diameterX 1/32 O.S. WITH – NO. 1 GROOVE | Diesel Locomotive Parts |
| 5667C | PLATE DRIVING 24″ | Industrial Parts & Misc |
| B1363A | SEPARATOR PLATE | Industrial Parts & Misc |
| 142265 | FAWICK CLUTCH, SINGLE 20CB500 | Industrial Parts & Misc |
| 5658W | PLATE DRIVING | Industrial Parts & Misc |
| B1395 | SEPARATOR PLATE | Industrial Parts & Misc |
| A6642 | DIAPHRAGM FOR AIR CLUTCH 18″ | Industrial Parts & Misc |
| F224881 | MAINTENANCE KIT TU-FL0 500/700 REPLACE 229417 | Industrial Parts & Misc |
| 289324N | MAJOR KIT | Industrial Parts & Misc |
| R431004051 | AVENTICS PNEUMATIC REGULATOR REPAIR KIT | Industrial Parts & Misc |
| R431004154 | AVENTICS PNEUMATIC VALVE REPAIR KIT | Industrial Parts & Misc |
| 239357N | BENDIX MOUNTING NUT FOR BENDIX PUSH/PULL VALVES | Industrial Parts & Misc |
| 248433N | BENDIX BUTTON FOR PUSH/PULL VALVES, PIN-TYPE, 3/8″ SHAFT , 1-3/4″ SQUARE PARKING BRAKE | Industrial Parts & Misc |
| OR276566X PP-1 | BENDIX PUSH/PULL VALVE, 20 PSI RESEASE | Industrial Parts & Misc |
| 5007121N | BENDIX TYPE-30 BRAKE CHAMBER S-CAM DIAPH | Industrial Parts & Misc |
| 5007118N | BENDIX TYPE-16 BRAKE CHAMBER S-CAM DIAPH | Industrial Parts & Misc |
| 802487 | BENDIX TYPE-16 DIAPHRAGM ( 10 PACK) | Industrial Parts & Misc |
| 229859N | BENDIX QR-1 QUICK RELEASE VALVE, 3/8″ NPT SUPPLY, 3/8″ NPT DELIVERY | Industrial Parts & Misc |
| 277340N | BENDIX TR-2 INVERSION VALVE | Industrial Parts & Misc |
| 260519 | BENDIX QR-1 & QR-1C MAINTENACE KIT | Industrial Parts & Misc |
| 9984 | PNEUMATIC CONTROL VALVE | Industrial Parts & Misc |
| 280375 | R-6 RELAY VALVE BENDIX | Industrial Parts & Misc |
| R431003038 | QUICK RELEASE VALVE | Industrial Parts & Misc |
| 242019 | DIAPHRAGM | Industrial Parts & Misc |
| 2402020 | DIAPHRAGM | Industrial Parts & Misc |
| 242020 | DIAPHRAGM | Industrial Parts & Misc |
| 280856 | BENDIX RELAY VALVE REPAIR KIT(R-6) | Industrial Parts & Misc |
| R431003973 | AVENTICS PNEUMATIC CYLINDER SEAL KIT | Industrial Parts & Misc |
| R431004887 | AVENTICS PNEUMATIC VALVE REPAIR KIT | Industrial Parts & Misc |
| R431004971 | AVENTICS PNEUMATIC VALVE REPAIR KIT | Industrial Parts & Misc |
| R431005614 | AVENTICS PNEUMATIC VALVE REPAIR KIT | Industrial Parts & Misc |
| R431005410 | AVENTICS PNEUMATIC VALVE REPAIR KIT | Industrial Parts & Misc |
| 1330-4100 | SELECTOR VALVE FOUR-WAY 1″ | Oil and Gas Parts Equipment |
| TAS85062 | GEAR STEERING | Oil and Gas Parts Equipment |
| 22600557 | ROTOR, ALCO | Diesel Locomotive Parts |
| R4V06-5B310A125 | PRESSURE CUT_OFF VALVE | Oil and Gas Parts Equipment |
| 20735-S | TULSA HYD. WINCH ASSEMBLY 18G | Oil and Gas Parts Equipment |
| 2100-SERIES | 3-1/2″ EUE HK SAFETY VALVE 5000 PSI NACE | Oil and Gas Parts Equipment |
| 533-019 | HOLDER, DOUBLE FUSE CLIP TYPE 3″ DIAMETER | Oil and Gas Parts Equipment |
| KR1025 | LINING SET C/W HARWARE | Oil and Gas Parts Equipment |
| 9544892 | KIT | Oil and Gas Parts Equipment |
| 8426398 | AXLE CAP D29CC | Oil and Gas Parts Equipment |
| 8246382 | SPRING | Oil and Gas Parts Equipment |
| 8260105 | CONTACT, STATIONARY-SINGLE-TIP | Oil and Gas Parts Equipment |
| 6215DDUC3 | NSK 6200 SERIES SINGLE ROW DEEP GROOVE BALL BEARING | Oil and Gas Parts Equipment |
| 17447101 | P RUPTURE DISC | Oil and Gas Parts Equipment |
| HOB00-271008 | HOBART 3/8″ VACUUM BREAKER | Oil and Gas Parts Equipment |
| HOB00-271006-00001 | HOBART VALVE, SOLENOID, 3/8″, 110-120V | Oil and Gas Parts Equipment |
| HOB00-914431 | HOBART l, ASSEMBLY , SPRING WOUND TIMER KIT | Oil and Gas Parts Equipment |
| B767S30 | ASHCROFT PRESSURE SWITCH EXPLOSION PROOF ENCLOSURE | Oil and Gas Parts Equipment |
| IS-50UX-C1-ME | 50-700 MHZ FLANGE MOUNT COAX PROTECTOR, UHF(M) EQ-UHF(F) | Oil and Gas Parts Equipment |
| IS-B50HU-C0 | 1.5-700 MHX BLKHD MT HI POWER COAX PROTECTOR W/UHF FEMALES | Oil and Gas Parts Equipment |
| 151851 | CARLISLE 4.10/3.50-6 SAWTOOTH 4PLY (13.1″OD@85PSI)(495LB CAP)(4LBS) | Oil and Gas Parts Equipment |
| 40007146R | MODULE FS28 | Diesel Locomotive Parts |
| 120G00G-0602283 | OCV RATE OF FLOW CONTROL VALVE | Oil and Gas Parts Equipment |
| FANUC IC660BBR101 | DISCOUNTINUED BY MANUFACTURER | Oil and Gas Parts Equipment |
| FANUC IC660EBD110 | DISCOUNTINUED BY MANUFACTURER, ELECTRONIC ASSEMBLY FOR GENIUS I/0 BLOCK, FOR IC660BBD110,115 VAC, 16 CIRCUIT | Oil and Gas Parts Equipment |
| FUNUC IC697CPX782 | DISCONTINUED BY THE MANUFACTURER, CPU MODULE, SERIES 90-70, 96 MHZ,32-BIT, FLOATING POINT, 1 MBYTE MEMORY | Oil and Gas Parts Equipment |
| FANUC IC754VSL12CTD | OPERATOR INTERFACE, QUICKPANEL VIEW | Oil and Gas Parts Equipment |
| FANUC IC697CPX782 | DISCONTINUED BY MANUFACTURER, CPU | Oil and Gas Parts Equipment |
| 700-N400A1 | RELAY CONTROL 10AMP 4P 110/120VAC 50/60HZ 4NO | Oil and Gas Parts Equipment |
| L5004A | ELEC. MOTOR | Oil and Gas Parts Equipment |
| TC1500 | TRANSFORMER, 1500 W 220/240-110/120 V | Oil and Gas Parts Equipment |
| ELT16 | LIGHT, EMERGENCY | Oil and Gas Parts Equipment |
| 8501XO20XTE1V02 | SQUARE D 8501XO20XTE1V02 : RELAY 600VAC 10AMP NEMA | Oil and Gas Parts Equipment |
| 1555 | NOZZLE, 5.5 15 0 1/4″ MNPT F/ WB-2004-3 | Oil and Gas Parts Equipment |
| H400 | PUMP, HAWK H400 WASHGUN TRIPLEX ,HM4030R PUMP HOTSY HM4030R | Oil and Gas Parts Equipment |
| 87155050 | UNLOADER VBR W/O SPACE BLUE CAP 971555 | Oil and Gas Parts Equipment |
| 87528860 | WAND, 36″ W/ VALOX GRIP F/ WB-2004-3 | Oil and Gas Parts Equipment |
| 87512350 | 10.5 ZGPM 5000 PSI GUN | Oil and Gas Parts Equipment |
| 648232 | SHAFT, PINION | Oil and Gas Parts Equipment |
| 629267 | CAGE,BALL BEARING UPPER | Oil and Gas Parts Equipment |
| 629269 | CAGE, BALL BEARING LOWER A-205 | Oil and Gas Parts Equipment |
| 7817600470 | O RING | Oil and Gas Parts Equipment |
| 629275 | NUT, PINION SHAFT C-275 | Oil and Gas Parts Equipment |
| ZH5512 | BEARING | Oil and Gas Parts Equipment |
| ZS4722 | BEARING, C-205/C-275 RTRY TABL | Oil and Gas Parts Equipment |
| YS5873 | SEAL, OIL C205/C275 | Oil and Gas Parts Equipment |
| 7817600460 | O RING,RUBBER ARP-568-460 | Oil and Gas Parts Equipment |
| 7801611 | BALL, BEARING 2- CHROME ST. T | Oil and Gas Parts Equipment |
| 7801614 | 3″ diameterBALLS | Oil and Gas Parts Equipment |
| 644337 | PIN LOCK PAWL | Oil and Gas Parts Equipment |
| 644394 | HANDLE, LOCK PAWL | Oil and Gas Parts Equipment |